Bruce Jenner's Hearing Loss Leads To Brain Tumor Scare On Kardashians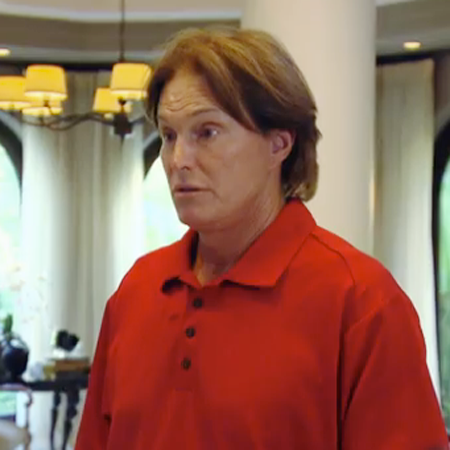 Keeping Up With the Kardashians' beloved patriarch Bruce Jenner's hearing loss led to a brain tumor scare for the Olympic legend.
That's what viewers found out on Sunday night's episode of the family's E! show, when the former decathlete went to the doctor after driving wife Kris Jenner and the kids crazy by blasting the TV and not being able to hear their conversations. When Bruce checked out his hearing loss, however, he got the shock of his life -- an ear growth was discovered and he had to undergo an MRI to rule out a brain tumor.
Article continues below advertisement
But luckily, the sports hero, 63, is going to be just fine. With Kris, Kim and Khloe Kardashian by his side at Dr. Rick Friedman's office, Bruce learned he didn't have a tumor. "Your MRI is clear. Your brain's good," Dr. Friedman said, as Bruce's relieved family members cheered. The doctor said Bruce just needed a hearing aid.
The proud Olympian sighed, "I don't want it to be seen," but when his doctor recommended a tiny one, Bruce said he would consider the idea.
Before the medical drama, the Kardashian clan poked gentle fun at Bruce for not hearing them speaking to him at the table, with Khloe talking about his bad ears and Scott Disick joking, "I think he can hear, he just doesn't want to."
radar_embed service=youtube src="https://www.youtube.com/embed/Ahi4z8vvCTo?feature=player_detailpage" width="560" height="315"
Bruce claimed although his hearing wasn't as sharp as it used to be, it was good enough. However, Kim convinced Bruce's older son, Brandon Jenner, to pressure him on the issue, and the athlete admitted to Brandon irritably, "I have to get it checked out."
Article continues below advertisement
Dr. Friedman said he had a substantial decline in high frequency sound, then said he had a growth in his ear. But everything ended well for the famous dad!
Meanwhile, in another storyline on the show, Scott and Kourtney battled over her second cousin CiCi, who has had cancer for more than 15 years and needs a bone marrow transplant. Kourtney was going to get tested to see if she was a match, but Scott didn't want to hear anything about it.
Later, Kourtney called Scott and said she wanted to arrange a trip to see CiCi in Las Vegas.
"I'm not that good around people who are in bad shape," reluctant Scott whined.
But Scott also learned a Keeping Up With the Kardashians fan named Josie was very sick and before she died, wanted to meet him.
"It's kind of 'out there,'" he admitted of the bucket list request, but Kourtney urged him to go hang out with her.
Article continues below advertisement
Later, when Kourtney went wig shopping for CiCi, Scott ran away instead of talking about her ill relative. Kourtney got even more agitated about Scott hesitating to visit his fan, Josie -- and after Kourtney got visibly angry, Scott explained, "I'm not good at talking about death. I'm not so sure I want to be around someone dying."
"I think you need to deal with these things and not run away from it," Kourtney said.
Scott finally decided to visit Josie and her two daughters, ages 10 and 18, at their Ohio home. They put him on a throne like a king but when all the joking ended, Josie told Scott her emotional story of learning in July 2010 that she was sick with lung cancer. Although aggressive chemotherapy and radiation worked for awhile, another scan showed the cancer had returned--in five places.
Scott shared with the family that his own dad had diabetes and a million other things wrong with him.
Article continues below advertisement
"He needs a heart transplant," Scott said, but added he and his mom tried to live every day like it was his last.
"I don't really talk about it all that much because it's hard for me," the Kardashian clan's black sheep confided to viewers.
After being hugely inspired by Josie and her equally upbeat friends, however, Scott realized, "Life is short."
And although he thought the meeting was going to be extremely sad, it was "really the opposite," he said.
radar_embed service=youtube src="https://www.youtube.com/embed/1J9-haWq6N0?list=UUj7V_ikJOXO9RC8at6kYfHQ" width="560" height="315"
Scott gave Josie an expensive Rolex watch as a gift and she broke down in tears. "I'm not big on giving," Scott said, but added, "I feel like I want to give her something."
The two shared a hug and later, on the phone with Kourtney, Scott said his visit with Josie was "life changing. You never realize how lucky you are to be healthy."
Article continues below advertisement
After his positive experience with the cancer-ridden woman, Scott vowed he would meet Kourtney in Las Vegas to visit her ill cousin, CiCi.
Meanwhile, the mood was lightened on Sunday's show with a silly storyline about Scott playing a prank on Kris, making her believe she was being stalked by a man named Todd Kraines. The practical joke had her daughters in stitches, but as the episode ended, Kris was still clueless that the "creepy" stalker who sent her $200 worth of flowers didn't actually exist.
"My mom is so gullible," Kim giggled.
And in another funny moment on Sunday's Keeping Up With the Kardashians, Khloe was showing off the new puppy that she and husband Lamar Odom had brought into their home. The couple named the adorable boxer Bernard Hopkins, after the American boxing star and friend of Lamar.
Khloe explained to her family, "Lamar said he just won the world title, he's 41 years old and one of the best boxers in the world. But we're calling the dog B-Hop for short!"
The basketball player was shown petting the dog and chanting his name "B-Hop" at him, and Khloe smiled, "Lamar really wanted the dog and I've always wanted a dog, so we've got a dog!"
Will the precious pooch be a child substitute for the famously infertile Khloe? Fans might wonder. Also in the episode, Bruce called Khloe "baby" and she misunderstood, snapping, "I don't have a baby!"
Well, thanks to B-Hop she now has the closest thing to it!