Craziest Reality Show Ever? 'Best Funeral Ever' Gives Breakfast Enthusiast A Sizzling Sendoff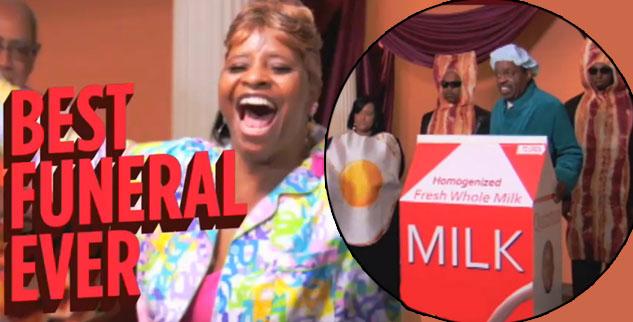 Best Funeral Ever is going six feet under to raise the bar on what could be the wackiest reality show on TV.
And in Radar's sneak peek of the premiere episode, a man named Quinton who loved breakfast--bacon, eggs, and waffles hot off the grill--is given an appropriately sizzling send-off you have to see to believe!
The series, about Dallas-based Golden Gate Funeral Home, which specializes in unusual funerals, will be treating viewers to a wild and wacky good time instead of the usual solemn graveside ceremonies.
Article continues below advertisement
A minister standing at a milk carton podium honors Quinton, who ate breakfast three times a day, while family members dress in egg and bacon costumes during the Dec. 2 premiere.
As breakfast is served, the gospel choir honors Quinton by singing a hymn: "Breakfast! Breakfast! Waffles, eggs, and bacon all mine!"
Future episodes will feature a casket dipped in chocolate for a late dessert fan and a track-and-field themed funeral for runner Ronnie Ray Smith.
Best Funeral Ever airs on TLC Mondays at 10/9c.