Housewives, The Movie! Lots Of 'Choking & Hair Pulling' In Brandi Glanville, Kyle Richards & Camille Grammer Big Screen Debut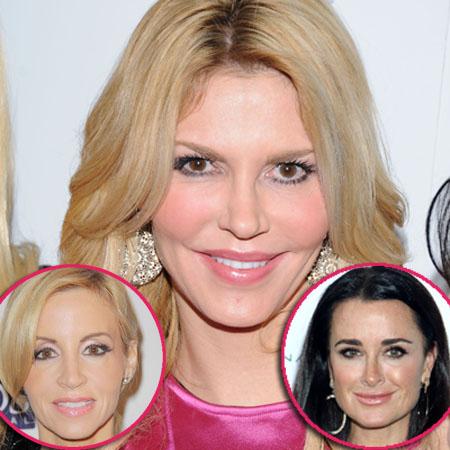 The Real Housewives of Beverly Hills are hitting the big screen!
During an exclusive interview with OK! Magazine on Wednesday, Brandi Glanville let it slip that she and fellow housewives Kyle Richards and Camille Grammer recently shot a spoof movie together, and RadarOnline.com has all the details.
"Kyle and I worked together the other day, we shot this movie," Brandi told OK! via Google Hangout.
"We did a movie called…I don't think I'm supposed to tell you this but, I'll tell you. It's called The Hungover Games. It's a spoof on The Hunger Games and The Hangover. We were the 'housewives tribe'. It was Camille, Kyle and myself."
Article continues below advertisement
And while it was all supposed to be fun and games, Brandi revealed that things got a little physical between the girls in a very real way during a very fake fight.
"We had the best day…we were all laughing. They had us pretend fight and Kyle started to really choke me, so I pulled her hair," Brandi said.
"The guys that they got to do the movie, they look exactly like the guys in The Hangover! They're all really nice."
Brandi, 40, said the flick has a "September-ish" release and hopes she's not in trouble for spilling the beans about the movie.
"I think I just gave a whole bunch of stuff away that I'm not supposed to talk about," she said.
Watch the video on RadarOnline
"But there was no one here stopping me and that's the problem!"