Brad Paisley And LL Cool J Explain Controversial Song 'Accidental Racist,' SNL Style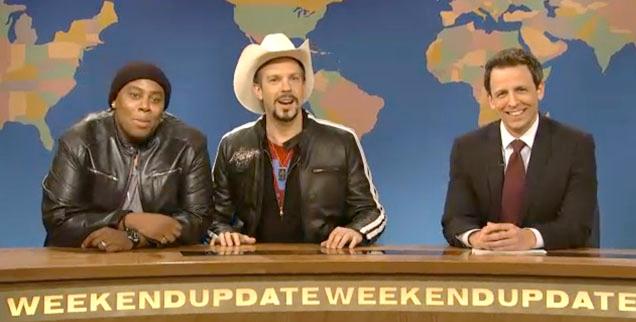 Country superstar Brad Paisley and rap star/actor LL Cool J -- in the form of Jason Sudeikis  and Kenan Thompson  -- visited the Weekend Update desk on Saturday Night Live  and took a stab at explaining their controversial collaboration, Accidental Racist.
Weekend Update Seth Meyers never had a chance with these two.
"We know the song's not perfect," admits Jason/Brad.
"It's not even good!" confesses Kenan in an absolutely perfect impersonation of LL.
Article continues below advertisement
Their efforts at trying to rationalize the song go downhill from there.
You can watch the skit here!