Barack Obama Is Not Wearing His Wedding Ring In Viral Selfie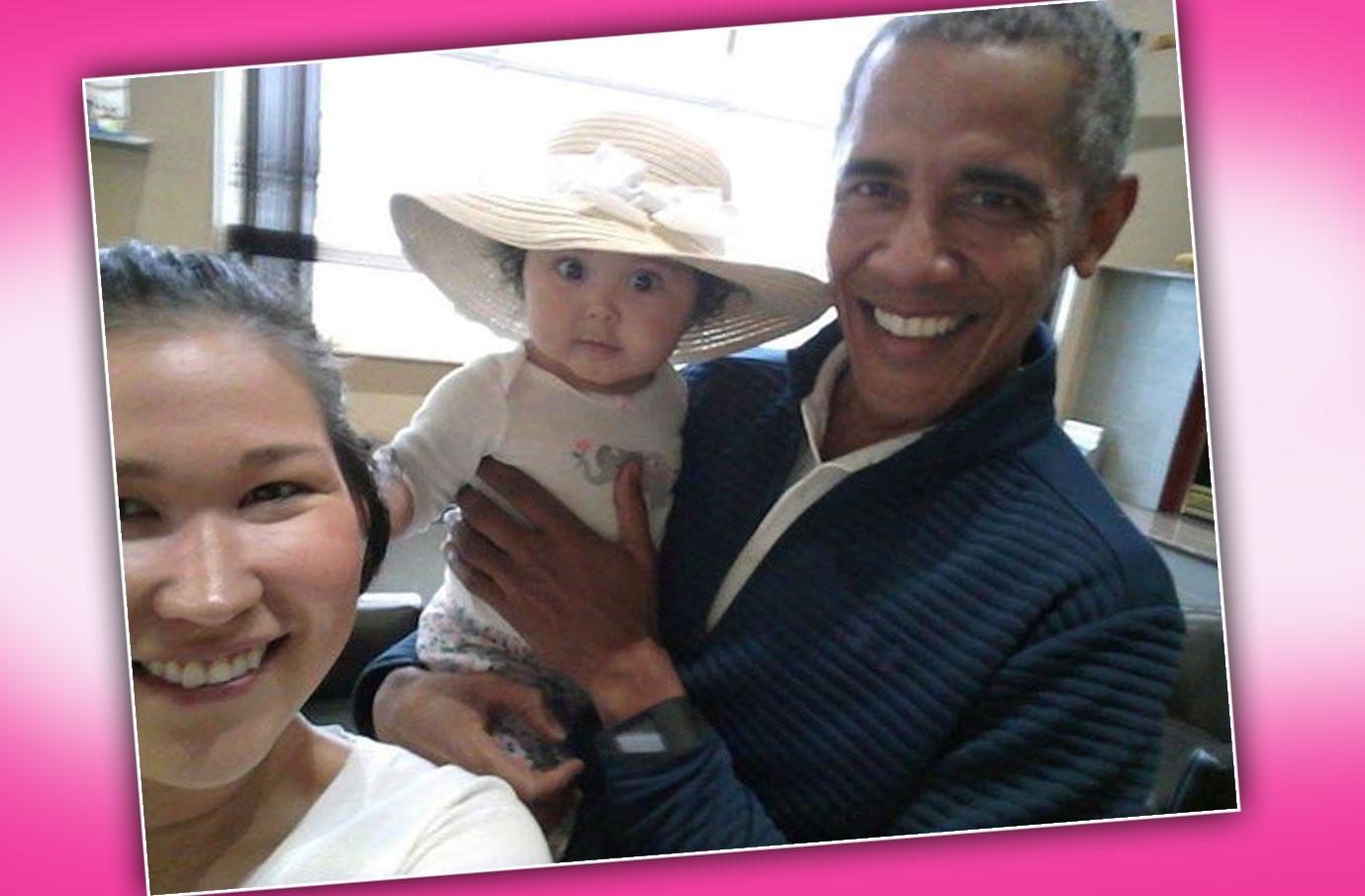 Former President Barack Obama has stoked rumors of a split from wife Michelle by being photographed without his wedding ring!
A selfie taken by Obama fan Jolene Jackinsky has gone viral online and in it, the ex-President is noticeably ring-free, as the Gateway Pundit reported. And it has the right-leaning, pro-Donald Trump website wondering if there is "trouble in paradise" for Barack and former First Lady Michelle.
Article continues below advertisement
Young mother Jackinsky, who was with her six-month old baby girl at the Anchorage International Airport in Alaska, was shocked when she spotted a man who looked like Barack.
"As I got closer, I thought: Oh my God, it is Obama," she recalled on Friday from Newhalen, a small Alaska village where she's vacationing, as Gateway Pundit noted.
Obama then walked up to her and asked, "Who is this pretty girl?"
According to Jackinsky, they talked about how fast children grow while Barack held baby Giselle. The ex-politician told the happy mom he was headed home from a holiday.
Thrilled, Jackinsky took some cellphone photos of her baby being bounced by an obliging Barack with the mom also smiling by their side.
Although such sites as Yahoo News fawned over Jackinsky's tale and photos, as Gateway Pundit pointed out, the real head-scratcher is what's missing—Barack's wedding ring.
Article continues below advertisement
And some eagle-eyed Twitter users picked up on this, as tweeter "Lance in the City" wrote, "Obama not wearing his wedding ring. Uh ohhhh."
AnwarCadde also wrote on Twitter, "@BarackObama no wedding ring. @MichelleObama divorcee." "The Obama's living with a lie."
As Radar has reported, Barack recently made a wisecrack that made people wonder about his marriage, as he thanked Michelle for "sticking around" during their eight years in the White House.
Sources have called Michelle the queen of mean because she was reportedly an angry first lady.
The Obamas are no stranger to rumors about their rocky marriage as the Daily Mail reported in 2014, a prominent Japanese politician claimed it was an "open secret" that Barack and Michelle were headed for divorce, and that the president had been using Secret Service agents to cover for him as he pursues extramarital affairs.
Article continues below advertisement
Three years ago, Kazuyuki Hamada, who sat in the upper house of Japan's parliament, made his startling cheating claim about Barack, according to the Daily Mail.
Hamada also raised eyebrows earlier, in 2009, by joining the ranks of the so-called 'birthers,' arguing in a book titled "Who is Obama" that the president likely wasn't born in the United States.
Hamada alleged in a 2014 blog, while Obama was POTUS, "The biggest reason – of many – for the collapse of his reputation is his failed relationship with his wife.
"It is an open secret that the pair are already negotiating their divorce, and that they are waiting for his term in office to be over, and then they'll separate," Hamada claimed.
But Barack has claimed in the past he does not wear his wedding ring over fears it may be damaged or lost, as Glamour Magazine has reported.
And he and Michelle, with their two daughters in tow, recently enjoyed a luxury vacation in Bali together, where nothing looked amiss, as Radar reported.
We pay for juicy info! Do you have a story for RadarOnline.com? Email us at tips@radaronline.com, or call us at (866) ON-RADAR (667-2327) any time, day or night.