Aviva Drescher Revisits Farm Where She Lost Her Leg: 'I Feel Like I Could Slip In All Over Again'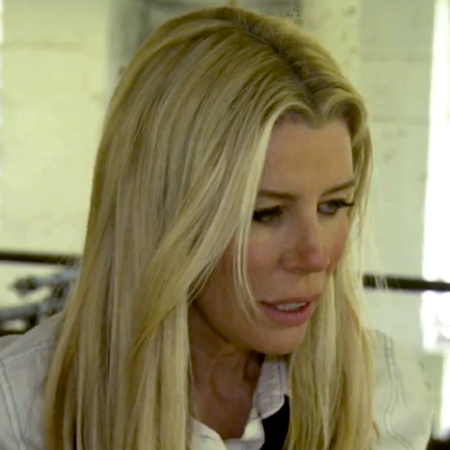 Aviva Drescher was just 6-years-old when she was in a conveyor-belt accident that required amputation of her leg -- and on Tuesday night's episode of The Real Housewives of New York City, she returned back to the site of the incident that caused her so much pain.
Listen! 'RHOP' star Wendy Osefo breaks down the "most intense fight in the show's history" in under 2 minutes.
Her journey began when she received an email from the friend, whom she was visiting when she lost her leg 36-years-ago, asking if she'll come to the farm.
Article continues below advertisement
After deliberating, Aviva and her husband Reid Drescher decide to make the trip to meet Rebecca "Becky" Morgan and revisit the accident site.
"I'm a little edgy but anytime I'm afraid of things, I'm facing them head on," Aviva said. "Hopefully this trip will help resolve a lot of fears and issues," she said, adding that meeting Becky would help them finally put the horrific accident behind them.
"I didn't feel pain. It all happened so fast. I don't blame anyone for this accident. Accidents happen," she added.
As they arrived to the Franklin, New York farm, Aviva greeted Becky with a huge hug.
"I sense this burden that you carry," Aviva told her.
"We were children, but at 7, you feel a sense of responsibly," Becky said.
"Honestly, you saved my life. You turned off the machine, otherwise, I would have died," Aviva said as she began to cry.
Aviva forgave her friend and asked to go into the barn where her accident occurred.
Article continues below advertisement
"I physically feel a little bit of fear. I feel like I could slip in all over again. I can't believe this little motherf—ker did this to me," Aviva said as she stepped onto the conveyer, reenacting that fateful afternoon.
"It was a shock to step into this barn after so many years.
Now, I'm just not afraid of it anymore," Aviva said before thanking her friend for inviting her to the farm.
Earlier, the "bookgate" battle continued, as Aviva's image consultant Amanda Sanders and Heather Thomson, who took opposing sides, that finally came to blows.
"You are so insulting to everybody. You are nasty to everybody. You need to back off of everybody's sh*t," Heather told Amanda, as the pair got in each other's faces.
Heather told the cameras, "She is loud. She's sloppy. Take your sloppy a** home."
"You're insecure," Amanda said.
Heather shot back to her fellow housewives: "Someone needs to take out the trash."
The tables turned back to Aviva who tried to put "bookgate" behind them with a toast, but Carole and her BFF Heather said they wanted to part of it.
Article continues below advertisement
"Aviva is manipulative and dangerous," Heather said, about the ghostwriting claims.
When the "Leggy Blonde" author chose to walk away, instead of fighting, Heather called her out, "Don't walk away. You are full of lies, and you don't want to talk about it?"
As LuAnn de Lesseps tried to pull Heather away from Aviva, Heather continued to rail on her co-star for her "character assassination" of Carole.
"Don't tell me anything, motherf**ker! She is so full of sh*t!" Heather yelled at Aviva.
Later, Sonja Morgan confronted Aviva's ex-husband Harry Bubin, whom she casually dated, why he seemed interested in "the new girl" Amanda.
"What are you doing with her? You like her? She's a psycho. Psychos are always good in bed. I know what you're thinking, " Sonja told him.
Finally, the ladies got confused for drag queens when they dressed up for the Coney Island Mermaid Parade and got to ride on a float.
How Housewives Stars Go From Home To Hot – See The Photos
"Sonja, it just occurred to me that everybody probably thinks we're drag queens," new cast member Kristen Taekman, said to Sonja. "I'm standing there waving, thinking, 'Oh my god, everybody thinks we have penises.'"
But the question of Sonja's identity wasn't the only issue she had to deal with: She also had a dental emergency.
"I broke another tooth," Sonja told her costars. "I got the other one fixed and now this one broke. I'm falling apart at the seams."