Ashley Under Attack! Karl Rove Unleashes Negative Campaign Against Judd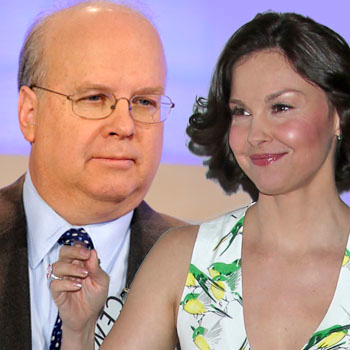 Ashley Judd may be gearing up for a run for political office, but the Hollywood actress has already made some high powered enemies, with Republican mastermind Karl Rove already spending thousands of dollars to start running ads against her.
Rove's super PAC, American Crossroads, has targeted Judd with a short video titled "Ashley's Story" where they preemptively try and strike against the woman they have deemed an "Obama-following radical Hollywood liberal."
Article continues below advertisement
Ashley, 44, is being touted as a potential senate candidate running against incumbent Republican Senator Mitch McConnell in Kentucky, but Rove has said he plans an extensive negative campaign against her.
"We are making fun of her," Rove said to Fox News host Bill O'Reilly about the video his PAC produced, which according to the organization cost $10,000 to make.
"This is just the opening story," he explained about his crusade against the actress who has yet to announce her candidacy.
"This is the opening ad. She's not going to be able to wait until the screenwriters from California and producers make her look good and prepare the ads and give her lots of lines to memorize so that she can handle these things. We're going to make her start saying where she's coming from … She's said a bunch of stuff that the people of Kentucky are not going to like, and we are going to lay it out in plenty of time for people to get a handle on it."
Article continues below advertisement
The veteran actress' rep released a statement, saying: "Ashley thanks Senator McConnell, Karl Rove, and their negative allies for all the attention as she considers her future political plans, although a decision hasn't been made yet."
Rove's early attacks on Ashley have been categorized as "white hot terror" by Salon.com's Mary Elizabeth Williams, who said he's "just some mean old man brazenly admitting he's making fun of someone for something she hasn't even done."
Do you think Ashley Judd would be a good senator? Tell us in comments.
radar_embed service=youtube src="https://www.youtube.com/embed/gK0KQW0ppeE" width="560" height="315"