Dancing With The Stars, Harlem Shake Edition! Karina Smirnoff Gets Down With Jacoby Jones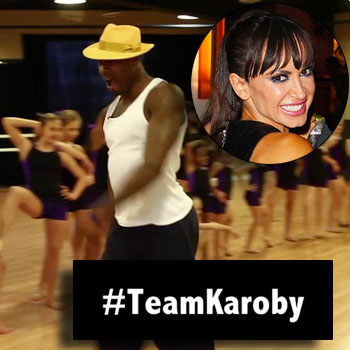 Karina Smirnoff and Jacoby Jones are the latest stars to get their Harlem Shake on!
The sexy professional dancer and the NFL star, who are partners on this season's Dancing with the Stars, were joined by a group of kids from Dance Works in Houston, Texas, where they busted out into the popular dance – and RadarOnline.com has the video.
The group of kids visited the stars while they were rehearsing, hoping to score some autographs, but got a whole lot more than they could've imagined when Karina and Jacoby treated them to a dance.
Article continues below advertisement
"Karina and Jacoby have been working really hard this week," a source exclusively dished to RadarOnline.com. "They are having a blast with one another and can't wait to hit the dance floor on Monday!"
To vote for the dancing duo on tonight's DWTS, call 1-800-868-3412 30 minutes after the show. You can also text the word VOTE to 3412 if you are an AT&T subscriber.
youtube