Ariel Castro's Daughter 'Embarrassed, Disappointed & Devastated' By Dad's Horrifying Abductions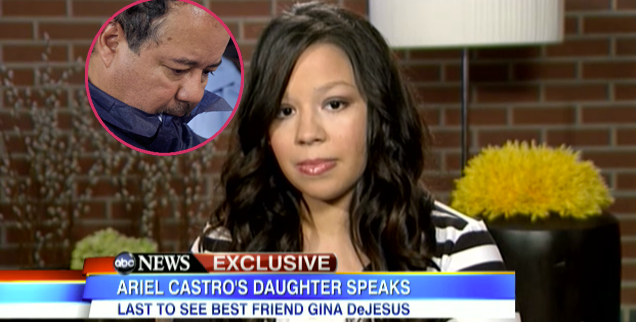 Arlene Castro -- the daughter of Cleveland house of horrors suspect Ariel Castro -- says she's "disappointed", "embarrassed" and "devastated" by her father's depraved actions, and in another startling revelation, we're learning that Arlene was reportedly the last person to have seen one of the kidnapping victims, Gina DeJesus, her best friend at the time, prior to her abduction.
"I'm just mainly devastated about this whole situation," an emotional Arlene, 22, told George Stephanopoulos on Good Morning America on Thursday.
Article continues below advertisement
Speaking about her friend, Gina, Arlene wanted to convey a message to her.
"I am absolutely so, so sorry," Arlene said, as she fought back tears. "I really want to see Gina and I want you to meet my kids. I'm so sorry for everything."
In wake of Gina's disappearance in 2004, Arlene did an interview in 2005 with Fox's America's Most Wanted to help stir interest in the missing person's cold case.
Arlene said the two friends were walking together after school in April 2004 and separated after Arlene's mom told her to come home.
"My mom said, 'No,' I can't go over to Gina's house. I told her I couldn't. She said, Well, I'll talk to you later' and just walked," Arlene told America's Most Wanted.
On Thursday's GMA, Arlene revealed she had not spoken to her father since "late last month" and had "no idea" that he could have been the man who allegedly abducted and held three women in his home for nearly a decade.
"Me and my father were never really that close," Arlene -- who now lives in Indiana -- told GMA. "Every time we would talk it would just be short conversations, just a hello, how are you doing and let me know if you need anything and that was it."
Article continues below advertisement
|
|
Entertainment & Celebrity News
Despite the shocking details that have emerged about how the three women -- Amanda Berry 27, Michelle Knight 32, and Gina DeJesus, 23 – were treated while in captivity, Arlene said she "never" witnessed any violence in her family's home. She also said she never saw Amanda's 6-year-old daughter, Jocelyn, who was born in captivity and is believed to be Ariel Castro's child, and therefore, Arlene's half-sister.
"I have never met her before," Arlene told GMA.
As RadarOnline.com previously reported, Ariel Castro ,52, was charged Wednesday with four counts of kidnapping and three counts of rape and made his first appearance in court Thursday morning, where a judge set his bond at $8 million.
He's expected back in court within thirty days to enter a plea.