Applebee's Waitress Fired For Posting 'I Give God 10 Percent, Why Do You Get 18?' Receipt Online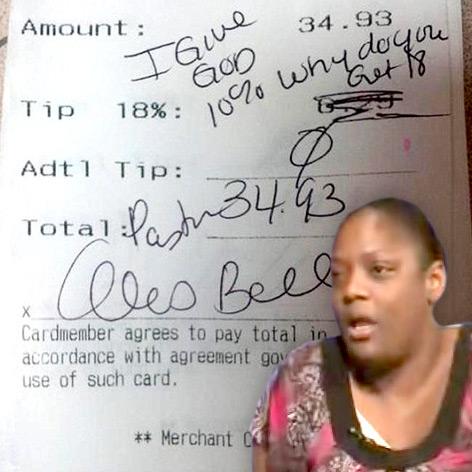 A Missouri Applebee's waitress was fired after posting a photo of a receipt with what she called a "comically immature" note written on it, and RadarOnline.com has all the details.
Last Friday, when St. Louis patron Alois Bell got her bill she left the waitress her two cents in writing instead of a cash tip, noting, "I give God 10%, why do you get 18?"
The waitress' co-worker, Chelsea Welch, posted a photo of the receipt on the website Reddit with the caption, "My mistake sir, I'm sure Jesus will pay for my rent and groceries" and was fired two days later.
Article continues below advertisement
"I thought it was humorously silly, the fact that someone would not only refuse to tip, not only make themselves out to kind of be a jerk, but also play the religious card as an excuse," Welch said in an interview with Fox2Now in St. Louis.
But Bell, who signed the check Pastor Alois Bell and is a minister at a downtown storefront called Truth In The Word Deliverance Ministries, admits leaving the note on the receipt was a lapse in judgment.
"It was just dumb. It was dumb of me and I can say that because I take responsibilities for all my actions," she said.
"What they didn't show is the money that I left and that we all left on the table."
According to Bell, she and her party of 10 all left the appropriate 18 percent tip, and in fact Bell says she left $6.29 on the table and her credit card was also charged the tip amount.
After Welch was fired, Bell said she was notified by Applebee's and said, "I told the man… I didn't want this to happen, I just wanted you to know that this may be happening at your store."
Meanwhile, a petition has been launched online to get Welch her job back.
"We don't fault them for erring on the side of an angry customer, but a closer look at the matter reveals that this particular angry customer was in the wrong," the petition says.
"Applebee's should correct the error and show that it stands up for its employees who are doing their jobs."
radar_embed service=youtube src="https://www.youtube.com/embed/NPyIpq6LOoE" width="560" height="315"