Anderson Cooper Dishes On First Visit To A Strip Club, Admits 'I Talked To The Ladies About Their Shoes!'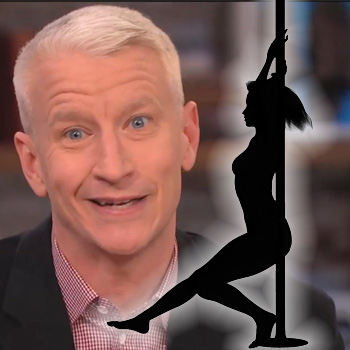 Here's someone you wouldn't expect to see at a strip club – Anderson Cooper!
The Anderson Live host spoke of his first - and only - visit to a gentleman's club on his talk show Wednesday, and RadarOnline.com has the video!
Sitting alongside co-host Lisa Rinna, Anderson asks: "How do you have a missed connection in a strip club? Either you are sitting there and someone is grinding on you or, what's the missed connection?"
Article continues below advertisement
With a cheeky smile on her face, Lisa replies, "you just said grinding, I love that you said grinding," to which Anderson says, "that's not a beepable word."
Feeling the heat in the room, Lisa reveals: "That almost got me hot, I think it did."
Then, Anderson quizzes: "Isn't that what happens in those strip clubs?"
"I think there are many things that happen in strip clubs," Lisa says.
Anderson continues: "I don't want to know. I went to one once for a bachelor party when I was in college and I literally was like talking to the ladies about their shoes. I mean I was so not into it. I was like I am not even going to fake this one. It was Tampa, Florida. It was all guys from college, my team was there.
Lisa then fesses, "I've been too."
"Have you? Was it fun?" Anderson enquires.
"I don't know, I guess. Yeah, kind of. I kind of liked it. I mean I don't go a lot," Lisa explains.
"Whatever floats your boat," Anderson tells Lisa looking more than a little red in the face.