American Idol: Good, Bad & Ugly Reviews Pour In For The Boys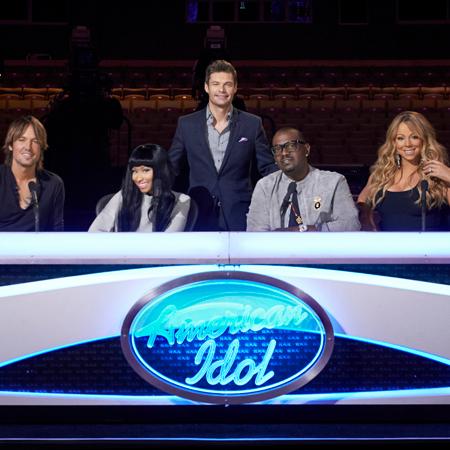 A night after Amber Holcomb seemed like the second coming of Whitney Houston, the top 10 male semifinalists took the stage on American Idol Wednesday night in Las Vegas, to mixed results from judges Nicki Minaj, Mariah Carey, Keith Urban and Randy Jackson.
First the good: Curtis Finch Jr. soared with his performance of R. Kelly's I Believe I Can Fly, getting a standing ovation from the judges.
"That is not something that can even be measured in the amount of votes that you get tonight" Nicki said. "I don't care how many votes you get for the rest of your life, you have a calling on your life to bless people and do so much good!"
Article continues below advertisement
Urban said of the soulful performance, "We just had us a sermon in Vegas baby!"
Lazaro Arbos' stealth performance of Michael Bublé's Feeling Good had the judges … feeling good!
"I loved it and I love you," Nicki told him, while Randy threw out his campy catchphrase, "Lazaro's in it to win it!"
Now for the bad news (and we mean BAD): Charlie Askew went astray with his performance of Genesis' Mama, taking as brutal a beating from the judges as we can remember,
While Randy called it "terrible," Nicki was more verbose, but had the same message to Charlie about his missing mojo.
"Last time I saw you, I wanted to cradle you in my arms," she said. "And you know how obsessed I am with you. Where's my little baby at, Charlie? What happened? I don't know what happened. I feel like someone stole my kid."
Nicki called out his look on the night as well, telling the singer, "I don't want to see your arms. I don't want to see you working out. I don't want to see that ponytail. I don't want to see that earring. Lose that mustache immediately!"
Article continues below advertisement
Keith told him, "I wish I knew what people at home were saying right now -- if nothing else, we definitely have offered some diversity tonight."
As a defeated Askew walked from the stage, Ryan Seacrest told him, "I can see on your face, that was a tough one."
He replied, "The message I was really trying to send is a lot of people think I'm a very happy, buoyant person a lot of the time, and the only reason I smile so much is because I feel like I have to."
Watch the video on RadarOnline.com
American Idol's 12th season continues Thursday on Fox at 8/7c.