American Idol Reveals Its Top 10 Finalists!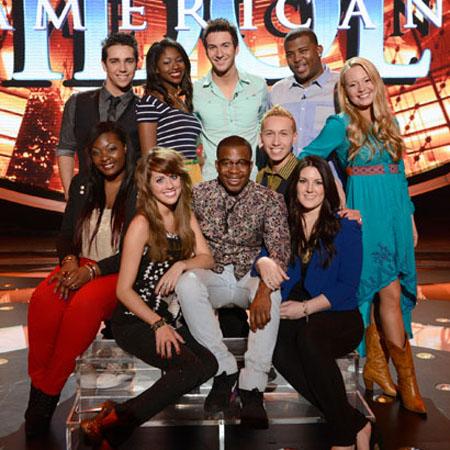 The 20 remaining singers in this year's American Idol competition were whittled down to 10 Thursday night, with the finalists taking the stage sing in celebration of advancing.
"Aside from the finale," host Ryan Seacrest said at the show's intro, "this is the most important event of the season," in reference to the 10 finalists getting a spot on the show's summer arena tour.
The finalists selected out of 39 million viewer votes are, in alphabetical order: Lazaro Arbos, Janelle Arthur, Curtis Finch Jr., Candice Glover, Kree Harrison, Amber Holcomb, Paul Jolley, Angela Miller, Burnell Taylor and Devin Velez.
Article continues below advertisement
Arbo, 21, who's overcome issues with stuttering to thrive in the annual talent competition, took to the stage to sing Simon & Garfunkel's Bridge Over Troubled Water after he was named as a finalist.
"Congratulations, Lazaro!" Mariah Carey told the resilient crooner. "The people who were watching last night, they related to you on several levels. Every time you get on the stage, you seem to have grown, whether it's your confidence or everything and so I'm really proud of you."
On the women's side, Holcomb said, "I'm going to pass out right now!" when she was named to the top 10.
The gorgeous Holcomb, who's garnered comparisons to Whitney Houston, sang Chaka Khan's 1978 hit I'm Every Woman (a song the late Houston remade in the 1993 for The Bodyguard soundtrack).
"Amber, you are, that was, I can't even know what to say," Carey told the 18-year-old Houston native. "Honestly, I feel like you have everything.
"You're so young, with so much potential, and such a great heart."
Watch the video on RadarOnline.com
As the show ended, Seacrest said that next week's program will feature a special sing-off between the male and female finalists who just missed the cut, with the prize being a spot on the summer tour.
American Idol's 12th season continues next Tuesday on Fox at 8/7c.