Top Ten Finalists Perform Live On American Idol – Who Stood Out?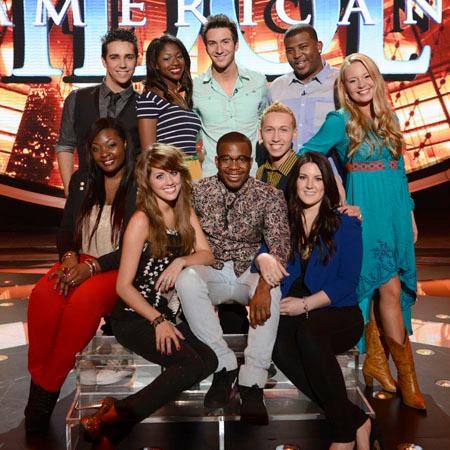 The 10 remaining singers in this year's American Idol took the stage on a live broadcast Wednesday, in which they had to sing songs made popular by past contestants of Fox's juggernaut.
As RadarOnline.com previously reported, the top 10 finalists are, in alphabetical order: Lazaro Arbos, Janelle Arthur, Curtis Finch Jr., Candice Glover, Kree Harrison, Amber Holcomb, Paul Jolley, Angela Miller, Burnell Taylor and Devin Velez.
Article continues below advertisement
While a late Nicki Minaj wasn't there to see it, 25-year-old St. Louis Curtis got nice feedback for his rendition of Fantasia's I Believe.
Keith Urban called Curtis's performance "excellent," telling him, "You always pick the right songs and you know who you are.
"You have so much personality and you look great tonight," he said.
Mariah Carey said she was glad he added a "choir feeling" to his act, saying, "I want to hear more of that gospel tinged stuff and even more raw."
Glover, 23, received a standing ovation from the judges after belting out a sterling rendition of Jordin Sparks' I Who Have Nothing, highlighted by her special skill of hitting the high notes with ease.
"If we had more time," Urban said, "we would still be standing and clapping. Gosh, I love you so much. When you hit notes they are so effortless and beautiful!"
Nicki told her, "It would be in everybody's best interests to never ever perform that song ever again -- they should ban that song, no one should be able to sing that again on Idol because you just destroyed and annihilated it."
Article continues below advertisement
Randy, calling Glover's outing Wednesday one of the "greatest performances on this season of Idol," said the performance "had everything" and "was perfect."
Mariah said she's "mesmerized" and "transfixed" watching the South Carolina native with the mic.
"A singer of your caliber can do pretty much anything," the One Sweet Day singer said. "I listen and it is in my heart after you do these performances."
But perhaps the biggest winner to emerge Wednesday was upstart Holcomb, as the 18-year-old Houston, Texas native wowed the judges -- and drew more Whitney Houston comparisons -- with the song that helped put the show on the map 11 years ago, Kelly Clarkson's A Moment Like This.
Nicki told the gorgeous singer, "That was the best performance of the night.
"Your voice and aura reminds me of Whitney Houston's first album," she said. "That last night was giving me Whitney, Whitney baby. I am impressed with your beauty charisma and grace. Your voice is on another level and this is so simple for you."
Mariah called Holcomb's singing talent "a natural gift that is beautiful and cannot be explained."
youtube