American Idol: 5 Of 10 Male Singers Survive Sudden Death Elimination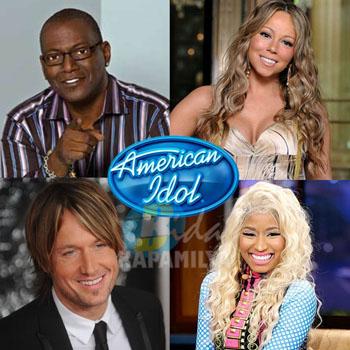 American Idol's 12th season continued with Thursday's tense semifinal in Las Vegas, with 10 male singers taking the stage -- and five being sent home -- and we've got all the details here for you on RadarOnline.com.
SPOILER ALERT: Who was sent home on American Idol?
Johnny Keyser, Kevin Harris, Chris Watson, Jimmy Smith and JDA are going home, while Charlie Askew, Devin Velez, Elijah Liu, Curtis Finch, Jr. and Paul Jolley made it through the sudden death elimination.
Article continues below advertisement
Judges Nicki Minaj, Mariah Carey, Keith Urban and Randy Jackson assessed the talent from Sin City, where Nicki was flirty with the boys, while Randy was more heavy-handed than usual.
"I want to have your babies," the Super Bass singer told Liu, who performed Bruno Mars' Talking to the Moon. "You're 18 years old, you're my new favorite boy, I'm obsessed with you!"
"I would sign you today!"
youtube
Mariah was a tad more reserved, complementing Liu on his multi-cultural background.
"I love that you're Mexican and Chinese," she told him, "and I think that's a great combination."
Nicki was also seeing hearts for Askew, who sang Rocket Man by Elton John. She told him, "Your weirdness, your awkwardness, it excites me … I love you so much … I want to cradle you in my arms."
Urban said Askew's intriguing talents bring up the possibility that "Freddy Mercury had a love child out at Woodstock somewhere."
Article continues below advertisement
As for Randy, nothing was sugarcoated Thursday, as he told Harris -- who sang Bryan Adams' classic 90s ballad Everything I Do (I Do It For You) -- "I was bored. It was karaoke."
youtube
He was equally curt with JDA, knocking the singer's steps after his performance of Adele's Rumor Has It.
"I've felt like I've seen every move 20 million times," Randy said.
Watch the video on RadarOnline.com
Earlier this week, female singers Angela Miler, Tenna Torres, Kree Harrison, Adriana Latonio and Amber Holcomb all got a berth to the next round.
American Idol's 12th season continues next Wednesday on Fox at 8/7c.