16-Year-Old With Cystic Fibrosis & Ventriloquist Amaze American Idol Judges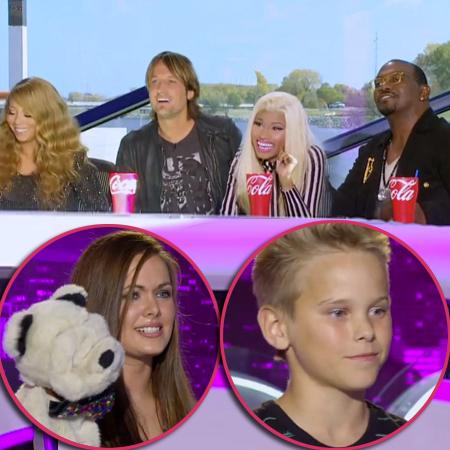 American Idol's 12th season ventured into Oklahoma City Thursday, where Randy Jackson said -- in a statement some would refute -- the show found its' all-time greatest contestant ever, in country wunderkind Carrie Underwood.
Judges Jackson, Nicki Minaj, Mariah Carey, and Keith Urban sent 45 competitors ahead to Hollywood. Thursday's standouts included Kayden Stephenson, a 16-year-old with cystic fibrosis; and Halie Hillburn, a 26-year-old ventriloquist who brought along her puppet, Oscar.
Article continues below advertisement
Hillburn, who said the puppet has been a presence at her side since she was 9 years old, began yodeling, but later wowed the judges, sans Oscar, with a brief recital of her own that got her a ticket to Hollywood -- without the puppet.
"I think you and Oscar will have to sever the ties … you have a beautiful voice," Carey told her.
"Oscar is holding you back -- baby, you can sing," Urban cracked. "Boy, that's going to be a difficult car ride home, with Oscar -- he'll be so upset."
Stephenson, who said he has a life expectancy of 35 years old with cystic fibrosis, said he's been singing since the age of 4.
"Ever since then I knew I was the one," he said. "Looking at me, people would never think I had something wrong with me. Knowing that my illness is terminal is definitely scary, but, also, it gives me an opportunity to do everything now, while I'm young."
While Stephenson's backstory was harrowing enough, his talented singing put him over the top with the judges, who he impressed with his rendition of Stevie Wonder's I Wish.
Nicki compared him to a young Michael Jackson, saying "so many children would be inspired " by Kayden's talent and optimism.
"I'm like, 'Let's go make the record now,'" Mariah said. "With the swag, and everything … I think girls will fall on the floor."
"That's the goal!" the young singer said, before getting a unanimous vote to Hollywood.
youtube
Watch the video on RadarOnline.com
American Idol's 12th season continues Wednesday on Fox at 8/7c.