You're Fired! 'Slipperier Than An Eel' Contestant Booted Off All-Star Celebrity Apprentice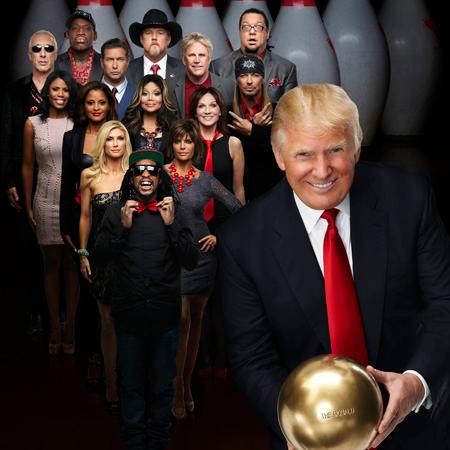 Donald Trump uttered the words, "You're fired" to another famous face on Sunday's edition of All-Star Celebrity Apprentice.
SPOILER ALERT: Who Was Eliminated On All-Star Celebrity Apprentice?
It's over for Omarosa.
The star of Trump's original show, The Apprentice, faced the ax after her squad, Team Power (including team captain Lil' Jon, and former NBA star Dennis Rodman) lost a competition in which they sold their artistic creations at a gallery.
Article continues below advertisement
Omarosa's past rivalry with Piers Morgan came back to bite her on Sunday's show, when former winner Piers, appearing as an advisor, made sure her teammates would know who to throw under the bus if they came up on the short side.
"Omarosa is slipperier than an eel," Piers told the team, before gleefully doing everything in his power to unhinge her during the work process. She ignored the taunts with a smile, but the damage might have been done.
After the other team won, Omarosa was confident her her staying power under The Donald's wing, boasting, "I have survived more attempts to get me fired than anyone else on the show.
"They are quite intimidated by my fortunate reputation," she said.
While Rodman raised less money than Omarosa, he said the negative impact she left on her teammates alone should be grounds for her dismissal.
"They pick my ass every day but this b*tch, who pisses everyone off, nobody messes with her," the former rebounding ace groused. "I ain't scared of her, what's she going to do to me -- I got some bag of tricks to so it's between her and me now."
Article continues below advertisement
During the boardroom exchange, Piers was present, and didn't hesitate to needle his longtime enemy a bit more.
"My argument has been all along that you aren't a celebrity and you don't have star power," the CNN personality said.
With the decision all The Donald's to make, the billionaire said he wanted to see Rodman continue to develop.
He told Omarosa, "I adore you, you helped make me a star, but you're fired."
"I'll miss you Omarosa," Piers said in a final dig.
Omarosa, in her farewell limo ride, said she didn't second-guess her strategy to "stir things up a little bit," and that she didn't think she would have made it to the fifth week if she hadn't.
Watch the video on RadarOnline.com
Omarosa appears on Late Night with Jimmy Fallon Monday at 12:35/11:35c on NBC; All-Star Celebrity Apprentice returns on NBC Sunday at 10/9c.