Ex-New York Housewife Alex McCord BLASTS 'Irrational' Jill Zarin Over Flirt Claims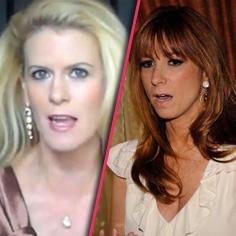 Former The Real Housewives of New York City star Alex McCord claims Jill Zarin is lying about co-star Ramona Singer's husband trying to hit on her.
And McCord, who appeared on seasons 1-4 of RHONYC, implies it's another example of real housewives fakery in which producers try to pump up the drama for ratings.
In the latest reality TV shocker, ex-RHONYC star Zarin told In Touch magazine that Ramona's husband, Mario Singer, 60, made a series of advances towards her.
Article continues below advertisement
But McCord shoots the story down on her video blog for The Stir!
"I don't buy it for a red hot minute," McCord says.
"Having known the Singers for six years, Mario is a flirt but all talk and no action!
"He might flirt with a housewife; he might yell at a housewife. He's not going to sleep with a housewife -- except Ramona."
She adds of her former co-star Zarin, who also appeared on RHONYC seasons 1-4, "I think Jill is up to her old shenanagins, trying to keep her name in magazines and feeding her irrational hatred of Ramona. Why do this? I'm shaking my head."
But McCord also suspects housewives' producers are behind it!
"For years, reality producers are trying to make Mario a Lothario, just like any time you saw ever saw Ramona sip a drink or Kelly roll her eyes or me turn red--any time Mario's attention was distracted, the producers showed it," she says
"But if all they've got is edited clips, they've got nothing. If all they've got is him flirting with ladies at parties, they've got nothing!
"I've flirted with him! It's all in good fun. It doesn't mean you're actually doing anything."