Alabama Quarterback's Gorgeous Girlfriend is Unexpected Star Of BCS Championship Game, Stirs Controversy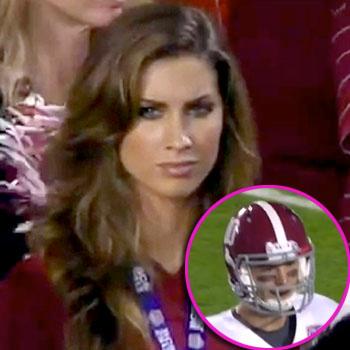 The beauty queen girlfriend of Alabama quarterback AJ McCarron became the unexpected star of the BCS Championship Game between Alabama and Notre Dame in Miami Monday night when the camera flashed on the stunning brunette, prompting announcer Brent Musburger to practically start drooling over her -- creating a moment that ignited both positive and negative comments on social media sites.
As No. 2 Alabama jumped out an early 14-0 lead over No. 1 Notre Dame in the game, Musburger, 73, and his broadcast partner Kirk Herbstreit, 43, gushed over McCarron's girlfriend like prepubescent teens.
Article continues below advertisement
"Wow, you quarterbacks get all the good looking women. What a beautiful woman, whoa!" Musburger fawned as ESPN cameras focused on McCarron's girlfriend, Katherine Webb, in the stands. "If you're a youngster in Alabama, start getting the football out and throw it around the backyard with pops."
Webb -- a former Miss Alabama -- had raised some eyebrows leading up to the game because she is an Auburn alum, and she had tweeted her support for her alma mater's nemesis.
Musburger's comments sparked a lot of comments on social media -- some positive and some critical of his oohing and aahing.
On the positive side, one user tweeted: "By far the best part of the #BCS game and my MVP is KatherineWebb! WOW! Roll Tide indeed! AJ is #blessed!"
Other people took to Twitter to call Musburger's remarks "inappropriate" and "creepy."
Webb, who reportedly had a very modest Twitter following before the game, gained more than 100,000 followers after the Alabama win, including from Arizona Cardinals defensive linemen Darnell Dockett, who tweeted his phone number to her.