The 2013 MTV Movie Awards: From Best Kiss to Best Abs, All The Big Winners!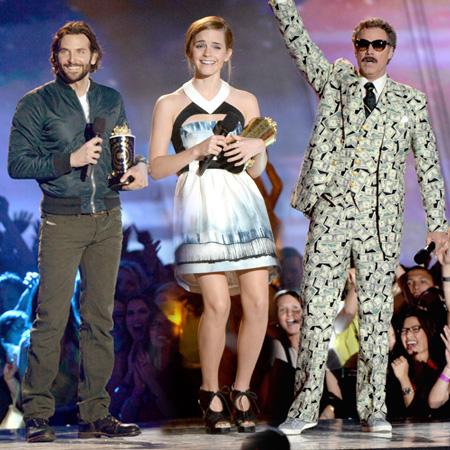 It was all about the viewer's choice at Sunday night's 2013 MTV Movie Awards. Celebrating fans' favorite movies and performances in a mix of traditional and fun categories (best kiss, best shirtless performance, best fight, to name a few), the night's big winners included many of the usual suspects, as well as some unsung heroes.
The night's big superhero was The Avengers, which didn't get much love during awards season, but took home three awards last night, including movie of the year.
Article continues below advertisement
Accepting the award on behalf of the movie's cast and crew, Avengers writer and director Joss Whedon joked, "What's the opposite of humbled? We're Biebered to be standing here," before calling the popcorn trophy "the award that means the most to me" and promising fans an Avengers 2 in 2015.
The action flick also won best fight and best villain for Tom Hiddleston.
Continuing its winning streak, Silver Linings Playbook was the night's other big winner, with its stars -- Bradley Cooper and Jennifer Lawrence -- earning double awards. Cooper's performance finally earned him a win, as fans honored him with a popcorn trophy for best male performance. Although she wasn't in attendance, Lawrence's performance in Silver Linings Playbook" earned her yet another award to add to her collection.
Article continues below advertisement
Article continues below advertisement