18-Year-Old Singer Reminiscent Of Whitney Houston On American Idol's Semifinals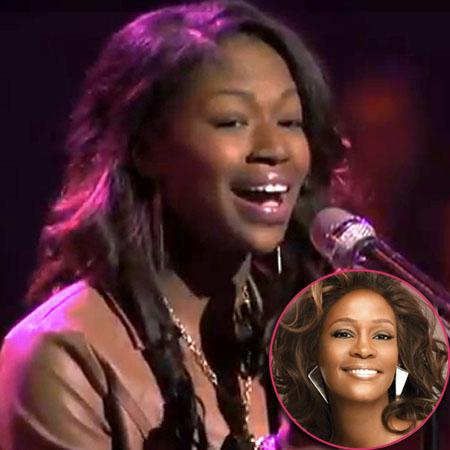 American Idol's 12th season continued with a two-hour show Tuesday, as the show went live with the female semifinalists from The Mirage in Las Vegas, where a trio of standout songstresses struck the jackpot with their respective performances, with one bringing back memories of a recently-departed legend.
Amber Holcomb did an amazing job of channeling Whitney Houston in her rendition of I Believe In You and Me, and Mariah Carey was quick to note that the singer was less of a copycat and more of an innovator.
Article continues below advertisement
"You're not taking anybody on, you're paying homage," Mariah said, while Randy gave the 18-year-old Houston native his trademark seal of approval.
"Amber is definitely in it to win it, right here!" Randy Jackson said. "I'm so proud of you."
youtube
Other standouts Tuesday included Candice Glover and Angie Miller, who each delivered solid performances in hopes of passing to the next round.
Carey said she had "goosebumps" watching Glover take on John Legend's Ordinary People, and Randy, a 30-year-veteran of the music industry said he was "learning as he was listening to" her.
"That was ridiculous, because you sang notes that people don't even understand how they could fit into a chord," he told her.
youtube
Miller, singing Colton Dixon's Never Gone, was hailed as a "true artist" by Keith Urban, who told her, "That was beautiful.
"When you play the piano, that's when I hear you the clearest and truest."
She received equally encouraging sentiments from Nicki Minaj, who told her, "The trumpets should sound when you walk in the room … can I just get your album?"
Watch the video on RadarOnline.com
The male singers will take the stage when American Idol's http://www.americanidol.com/ 12th season continues Wednesday on Fox at 8/7c.