Top 12 Bikini-Body Transformations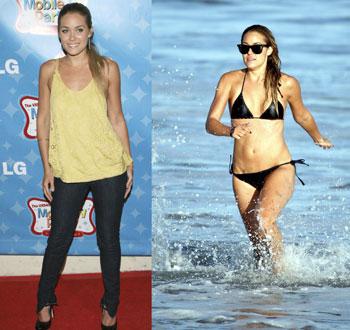 Trading in a chubby tummy for a rockin' bod is not an easy task. With swimsuit season around the corner, the question is -- how do the stars slim down, shape up, shed the pounds, so that they can make a splash at the beach?
New York nutritionist and Shape columnist Cynthia Sass gives RadarOnline.com the lowdown on some of the biggest body transformations in Hollywood. From Valerie Bertinelli's flab to fab figure to Heidi Klum's post-prego bounce back - check out their bangin' bods and learn the stars' fitness secrets!
Article continues below advertisement
1. #6 Kathy Griffin: Griffin shocked and awed the audience at April's GLAAD Awards when she accepted her award in a teeny bikini. "I think she's an inspiration," says Sass, who thinks the 48-year-old is a great example for other women. "It's never too late to transform and change your relationship with exercise and food." (Photo: WENN/Landov)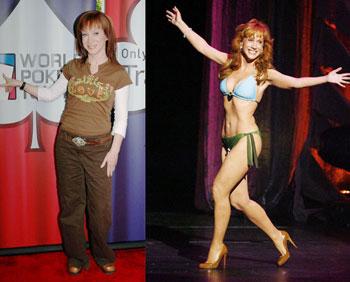 #6 Kathy Griffin:
Griffin shocked and awed the audience at April's GLAAD Awards when she accepted her award in a teeny bikini. "I think she's an inspiration," says Sass, who thinks the 48-year-old is a great example for other women. "It's never too late to transform and change your relationship with exercise and food."
(Photo: WENN/Landov)
2. #5 Mariah Carey: Mariah Carey has talked about her no-deprivation diet in the past, saying that she allows herself just one "morsel" of a food she craves. Sass says the strategy can work. "Having just 100 extra calories a day that you don't burn off can cause you to gain ten pounds a year," she says. (Photo: WENN/Splash News)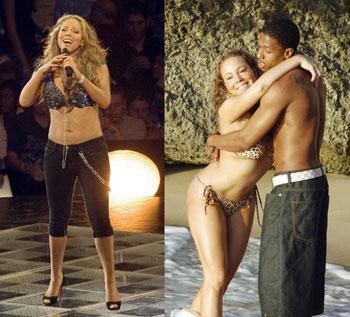 #5 Mariah Carey:
Mariah Carey has talked about her no-deprivation diet in the past, saying that she allows herself just one "morsel" of a food she craves. Sass says the strategy can work. "Having just 100 extra calories a day that you don't burn off can cause you to gain ten pounds a year," she says. (Photo: WENN/Splash News)
Article continues below advertisement
3. #4 Jennifer Love Hewitt: Hewitt's curves have occasionally gotten out of control, but her new look is slim and trim thanks to a diet high in protein and whole grains and kettle bell workouts. "Whole grains keep you fuller longer," Sass says, "so you delay the return of hunger compared to eating white rice or white pasta—even with fewer calories." (Photo: Splash News/National Photo Group)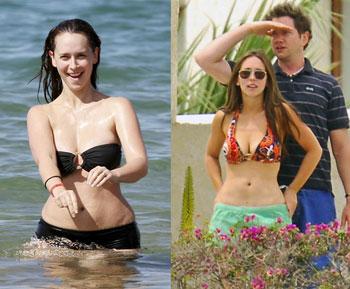 #4 Jennifer Love Hewitt:
Hewitt's curves have occasionally gotten out of control, but her new look is slim and trim thanks to a diet high in protein and whole grains and kettle bell workouts. "Whole grains keep you fuller longer," Sass says, "so you delay the return of hunger compared to eating white rice or white pasta—even with fewer calories." (Photo: Splash News/National Photo Group)
Article continues below advertisement
4. #3 Britney Spears: It's been a long time since we saw a photo of Spears carrying her signature Frappuccino—and it shows. "A Frappucino is a liquid meal, not a beverage," says Sass. The singer is currently on tour, which has also helped her reshape her body. "Dancing is a full-body workout," says Sass, "and it gives you both cardio and strength training." (Photos: Splash News)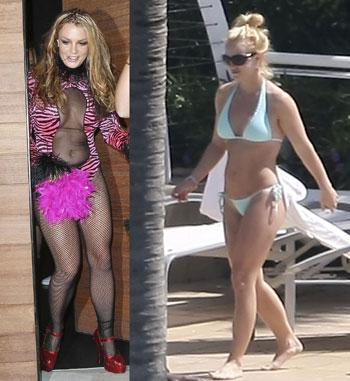 #3 Britney Spears:
It's been a long time since we saw a photo of Spears carrying her signature Frappuccino—and it shows. "A Frappucino is a liquid meal, not a beverage," says Sass. The singer is currently on tour, which has also helped her reshape her body. "Dancing is a full-body workout," says Sass, "and it gives you both cardio and strength training." (Photos: Splash News)
Article continues below advertisement
5. #2 Valerie Bertinelli: Bertinelli has lost almost 50 pounds since she became a Jenny Craig spokesperson, and credits the program and her diverse workout regimen with her new shape. "Mixing up your workout keeps your body guessing and prevents you from getting into a rut," says Sass. As far as the benefits of Jenny Craig? "I think one of the most useful things about that is the built-in support community that comes with it."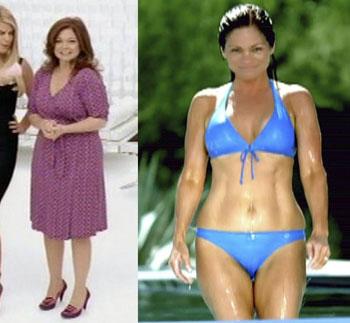 #2 Valerie Bertinelli:
Bertinelli has lost almost 50 pounds since she became a Jenny Craig spokesperson, and credits the program and her diverse workout regimen with her new shape. "Mixing up your workout keeps your body guessing and prevents you from getting into a rut," says Sass. As far as the benefits of Jenny Craig? "I think one of the most useful things about that is the built-in support community that comes with it."
Article continues below advertisement
6. #1 LeAnn Rimes: The country singer has erred on the side of pudgy over the years, but recently debuted a chiseled physique on the cover of Shape. She says planning workout dates with her hubby and making low-cal versions of her fat-bomb faves (like grilled cheese) have made the difference. Cooking light "can not only trim calories, but help adjust your tastebuds to lighter cuisine," says Sass. (Photo: Splash News/Shape Magazine)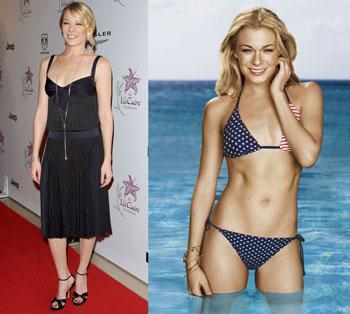 #1 LeAnn Rimes:
The country singer has erred on the side of pudgy over the years, but recently debuted a chiseled physique on the cover of Shape. She says planning workout dates with her hubby and making low-cal versions of her fat-bomb faves (like grilled cheese) have made the difference. Cooking light "can not only trim calories, but help adjust your tastebuds to lighter cuisine," says Sass. (Photo: Splash News/Shape Magazine)
Article continues below advertisement
7. #12 Lauren Conrad: The Hills star favors hiking and eating six mini-meals a day to stay trim. "Small, frequent meals are one of the best ways to keep your metabolism revved up all day," Sass says, adding that "hiking is my personal favorite workout." (Photo: WENN/X17online.com)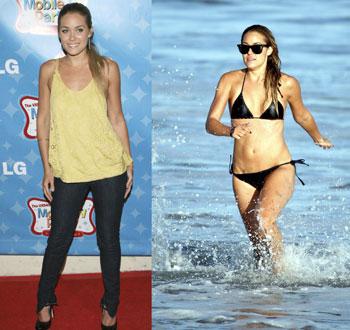 #12 Lauren Conrad:
The Hills star favors hiking and eating six mini-meals a day to stay trim. "Small, frequent meals are one of the best ways to keep your metabolism revved up all day," Sass says, adding that "hiking is my personal favorite workout." (Photo: WENN/X17online.com)
Article continues below advertisement
8. #11: Heidi Klum: Klum was reportedly under major pressure from Victoria's Secret to lose weight after giving birth. She used circuit training to whip herself into shape. "Circuit training combines cardio and strength training, so it's like two workouts in one," Sass said. "When you're trying to rebound from a pregnancy, both of those are critical." (Photos: Splash News)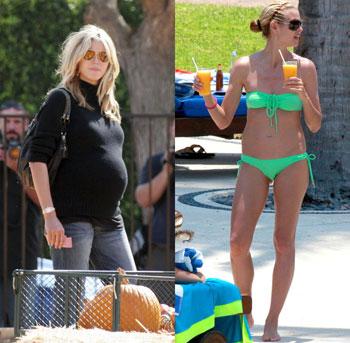 #11: Heidi Klum:
Klum was reportedly under major pressure from Victoria's Secret to lose weight after giving birth. She used circuit training to whip herself into shape. "Circuit training combines cardio and strength training, so it's like two workouts in one," Sass said. "When you're trying to rebound from a pregnancy, both of those are critical." (Photos: Splash News)
Article continues below advertisement
9. #10 Hilary Duff: Duff, a former gymnast, does Pilates to achieve a lean--not squatty--shape. "Pilates has the power to completely transform your body," Sass says. "She looks strong. She looks incredibly healthy." (Photo: Splash News/Most Wanted)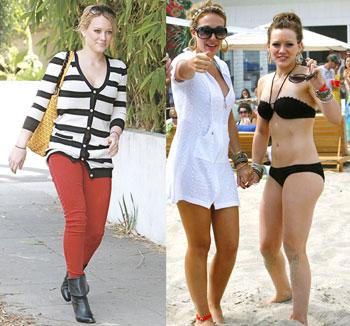 #10 Hilary Duff:
Duff, a former gymnast, does Pilates to achieve a lean--not squatty--shape. "Pilates has the power to completely transform your body," Sass says. "She looks strong. She looks incredibly healthy." (Photo: Splash News/Most Wanted)
Article continues below advertisement
10. #9 Beyoncé: Beyoncé says she starts her day with cereal and a workout, a move Sass applauds. "Breakfast-eaters are significantly more likely to keep weight off," she says. The diva also eschews beef, bread and alcohol, moves that Sass says can cut lots of calories. (Photo: WENN/Bauer-Griffin)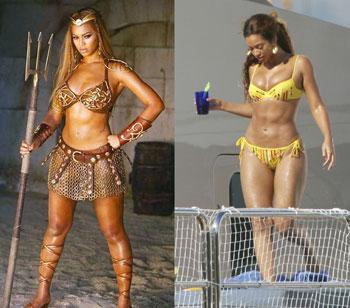 #9 Beyoncé:
Beyoncé says she starts her day with cereal and a workout, a move Sass applauds. "Breakfast-eaters are significantly more likely to keep weight off," she says. The diva also eschews beef, bread and alcohol, moves that Sass says can cut lots of calories. (Photo: WENN/Bauer-Griffin)
Article continues below advertisement
11. #8 Drew Barrymore: Barrymore, who Sass says "looks better than ever," says she loves exercising because it makes her feel good about herself. And she refuses to follow an overly-strict diet, a choice Sass agrees with. "Depriving yourself is a guaranteed backfire," she says. "You'll rebound and binge eat." (Photos: Bauer-Griffin/Splash News)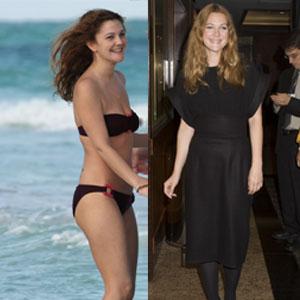 #8 Drew Barrymore:
Barrymore, who Sass says "looks better than ever," says she loves exercising because it makes her feel good about herself. And she refuses to follow an overly-strict diet, a choice Sass agrees with. "Depriving yourself is a guaranteed backfire," she says. "You'll rebound and binge eat." (Photos: Bauer-Griffin/Splash News)
Article continues below advertisement
12. #7 Jessica Simpson: The Newlyweds star has taken to Twitter to bemoan her trainer's love of squats, but there's no doubt they're working for the pop star, who is clearly bouncing back from a widely-publicized weight gain. "Squats can build muscle mass," Sass says. "And the more muscle you have, the more calories you burn." (Photo: Splash News/Flynet)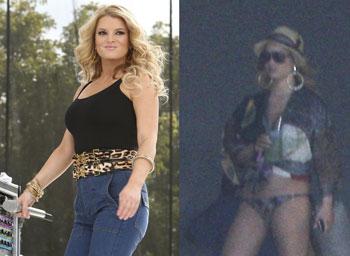 #7 Jessica Simpson:
The Newlyweds star has taken to Twitter to bemoan her trainer's love of squats, but there's no doubt they're working for the pop star, who is clearly bouncing back from a widely-publicized weight gain. "Squats can build muscle mass," Sass says. "And the more muscle you have, the more calories you burn." (Photo: Splash News/Flynet)