Golden Globe 2015
The Best, Worst & Wackiest Dressed Stars At The 2015 Golden Globes -- Who Shocked & Who Rocked!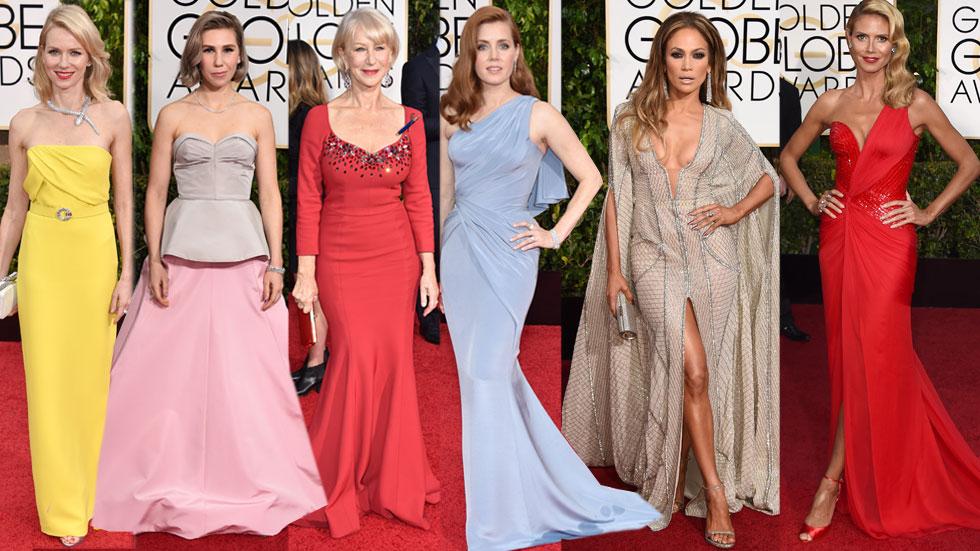 The Golden Globe Awards features Hollywood's most diverse red carpet as everyone's favorite TV and movie stars mingle in one big fashion stew.
So who brought the luster and who looked like a loser at the 2015 Globes?
Click on RadarOnline.com's photo gallery to see the best, worst and wackiest dressed stars at Sunday's ceremony at the Beverly Hilton Hotel in Beverly Hills.
Article continues below advertisement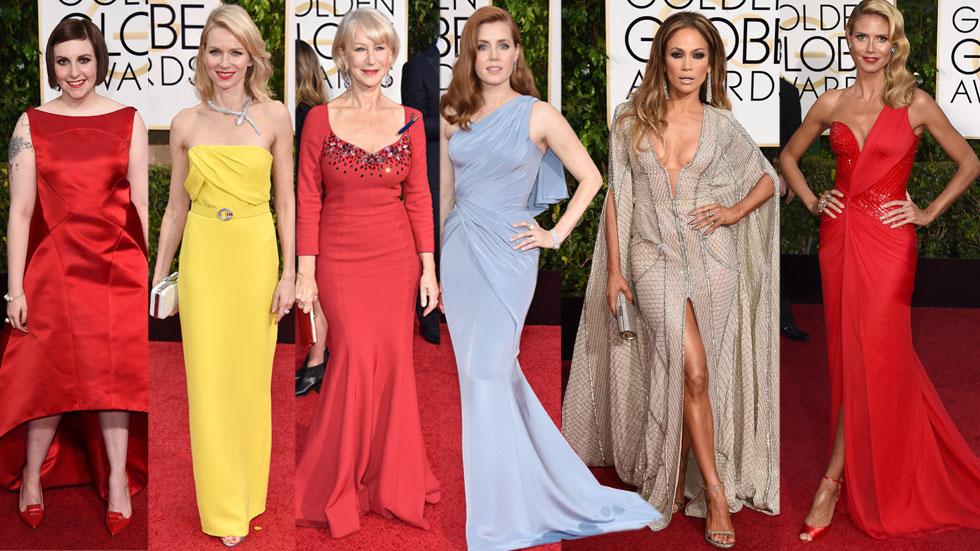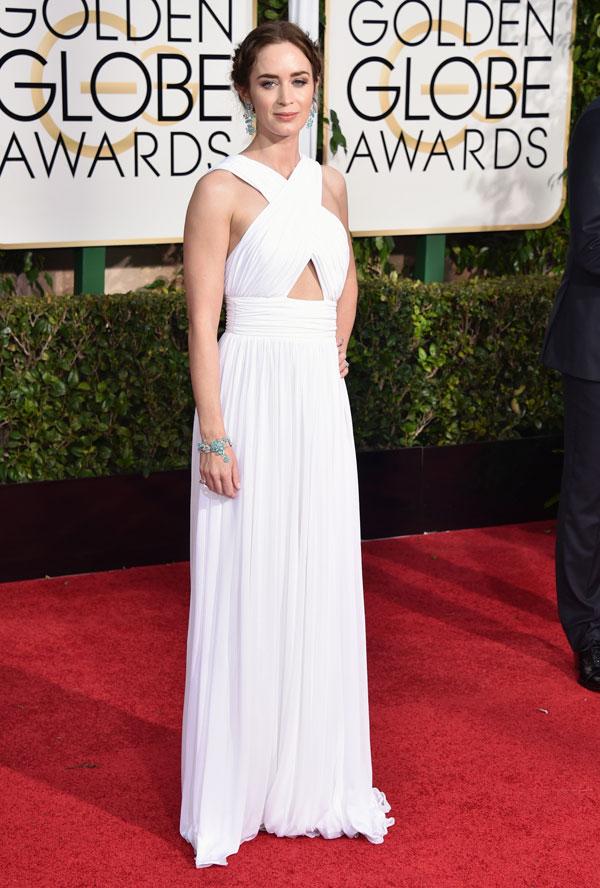 Best: Emily Blunt: We'd go Into the Woods with her any time! The actress lit up the red carpet in a cross-body white gown that Michael Kors made just for her. "It's a little soggy at the bottom" after Los Angeles' rain, Blunt admitted to E!'s Ryan Seacrest. We couldn't tell as she looked simply stunning.
Article continues below advertisement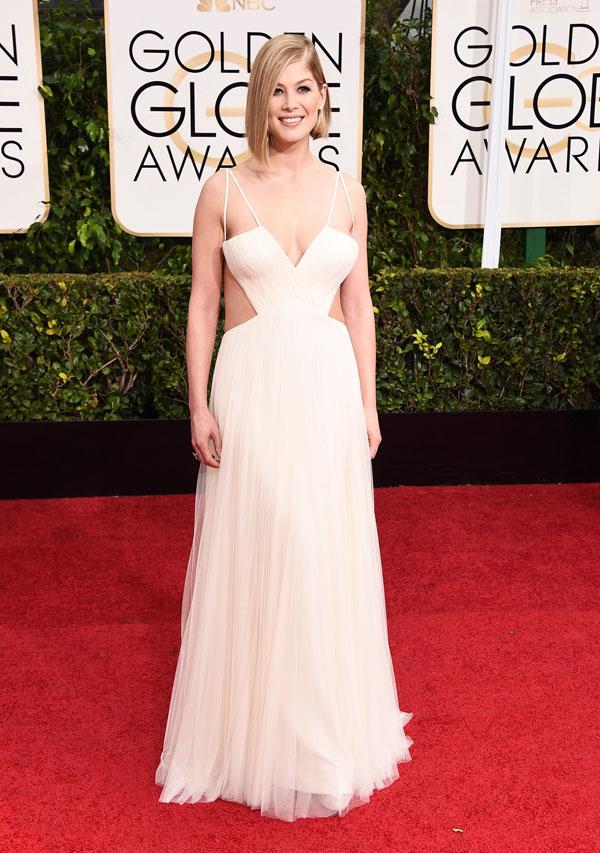 Worst: Rosamund Pike: We hate to pick on the Gone Girl star, who just had a baby boy five weeks ago, but this revealing cutout white Vera Wang gown was too much for her body. Pike's fashion showed more post-baby skin than we wanted to see. But Pike was enthusiastic, telling E! she saw the dress "assembled from the word go."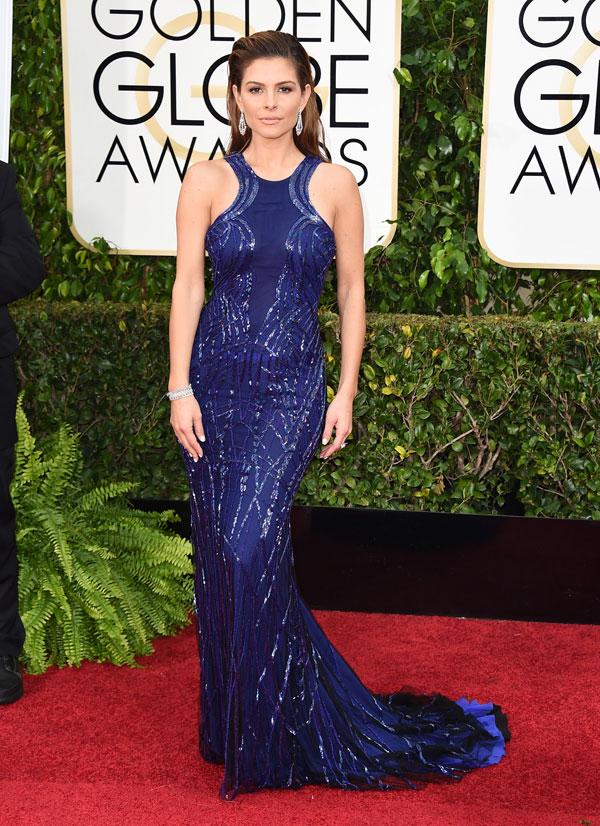 Worst: Maria Menounos: The TV hostess and reality star's dark blue gown's halter cut was too severe. And all the glitter screamed beauty queen.
Article continues below advertisement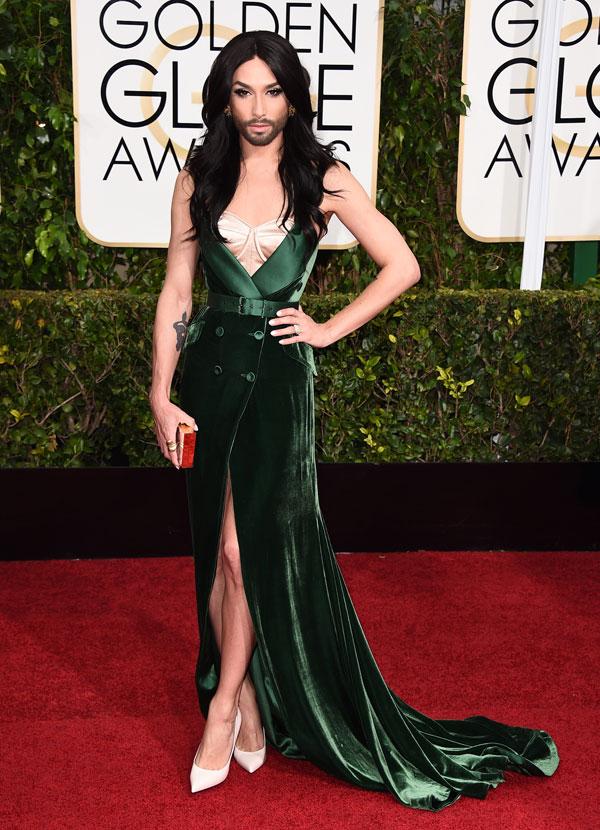 Wackiest: Conchita Wurst: The Austrian drag queen musician made her way onto the Golden Globes red carpet in a tacky green velvet getup that showed off plenty of push-up bra! Never heard of her? Well, now you have. FYI: she won the Eurovision song contest.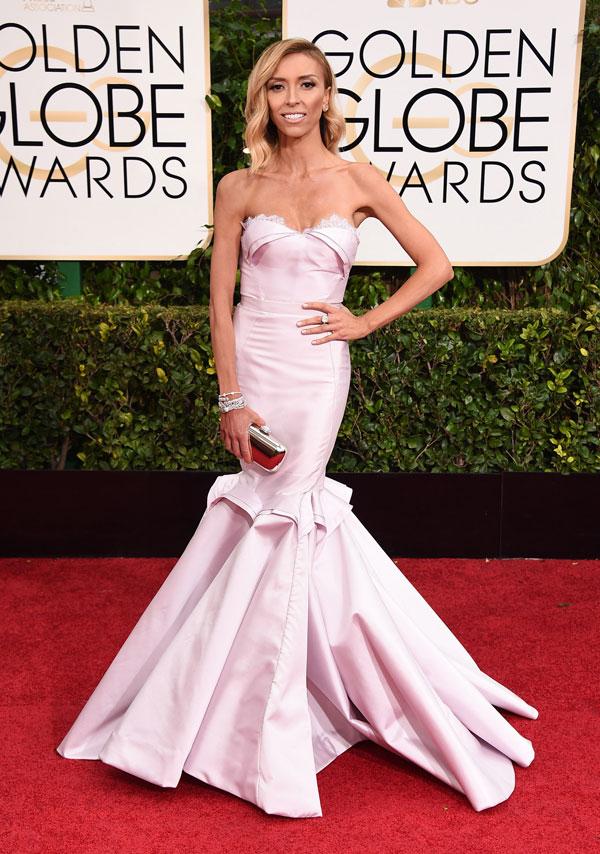 Worst: Giuliana Rancic: The longtime E! red carpet hostess has been dissed for her ultra skinny look and this overdone blush-colored strapless confection displayed her stick-thin arms. Why not cover them up?
Article continues below advertisement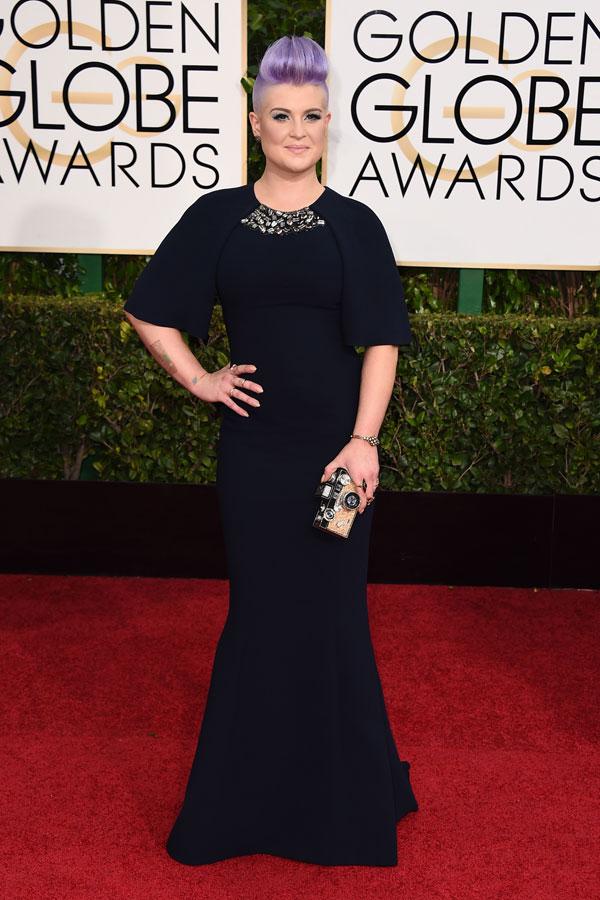 Worst: Kelly Osbourne: Call the Fashion Police! E! style watcher Osbourne looks like a fright in a black gown featuring too much material. It was a dreary night in Beverly Hills after some rain, but really?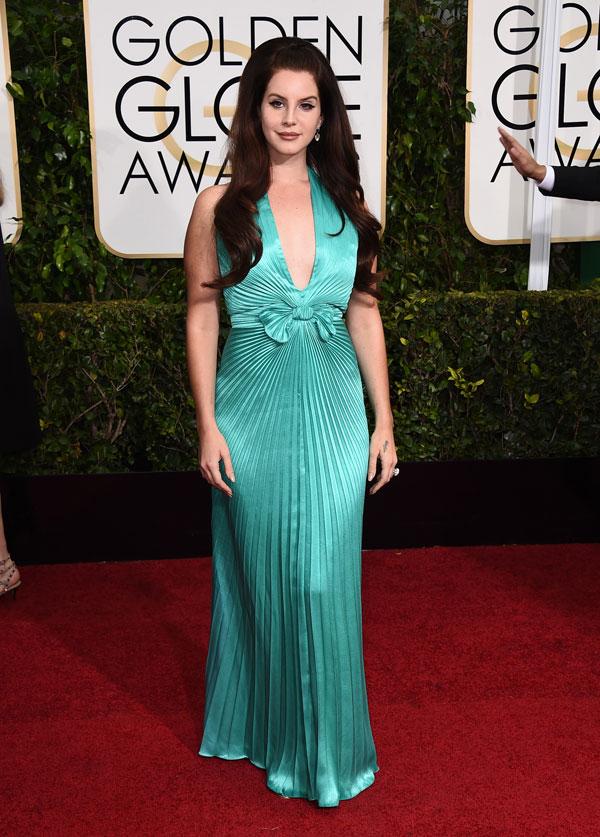 Worst: Lana Del Rey: That's a whole lotta shine! The singer channeled an aqua-colored mermaid in a gown that hugged her curves but looked too retro.
Article continues below advertisement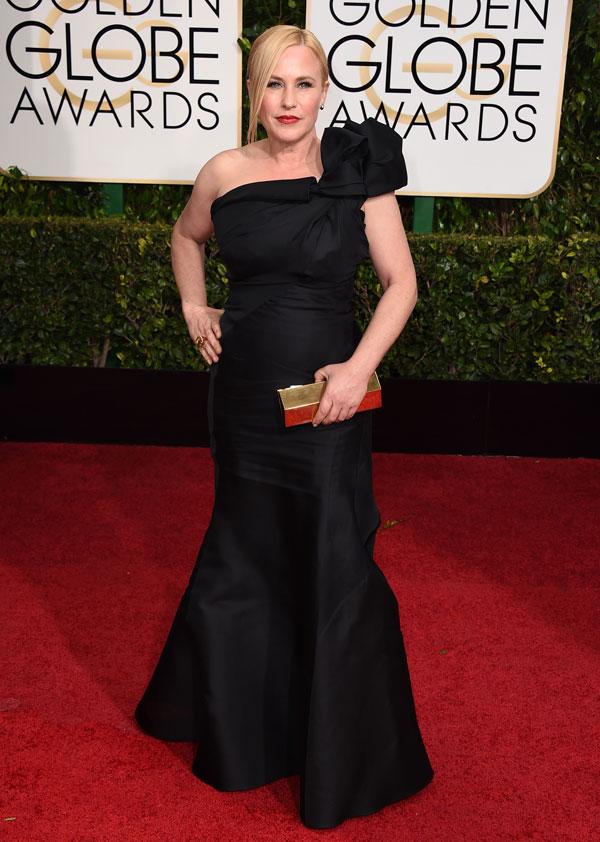 Worst: Patricia Arquette: Oh, dear. The Boyhood actress sported a big black puff on one shoulder, which made her neck look even shorter. Just the wrong choice.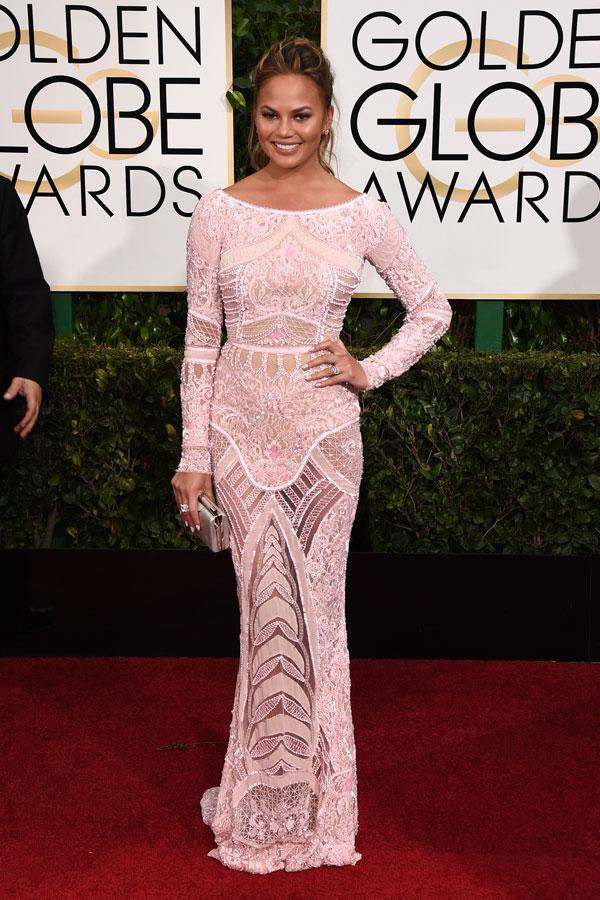 Worst: Chrissy Teigen: John Legend's beautiful model wife had to do a lot to look bad and this old-fashioned boatneck gown reminded us of an oversized doily with too many fussy elements.
Article continues below advertisement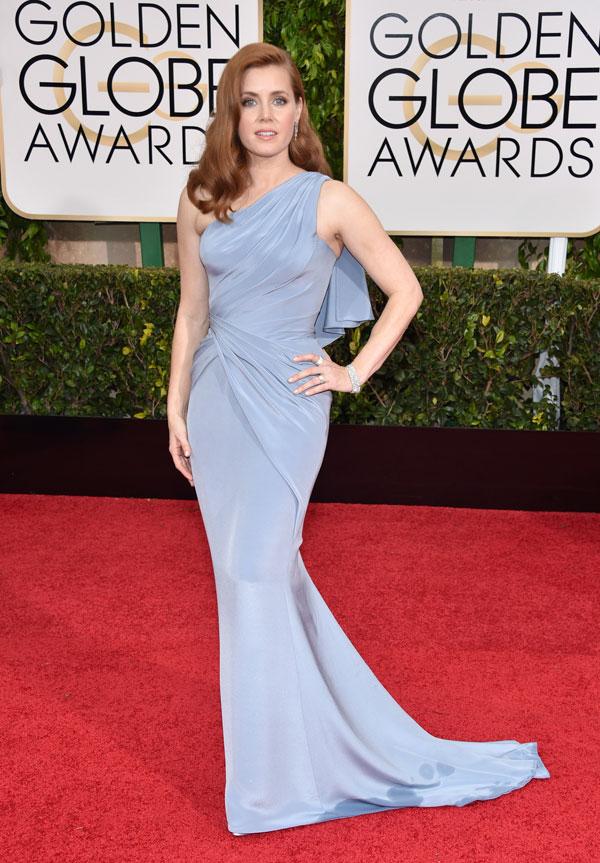 Best: Amy Adams: Our eyes widened in a happy way over the Big Eyes' beauty's periwinkle Versace gown. Adams told E! that she saw the gown as "glamorous and fun" and we couldn't agree more. It's just right for the Globes.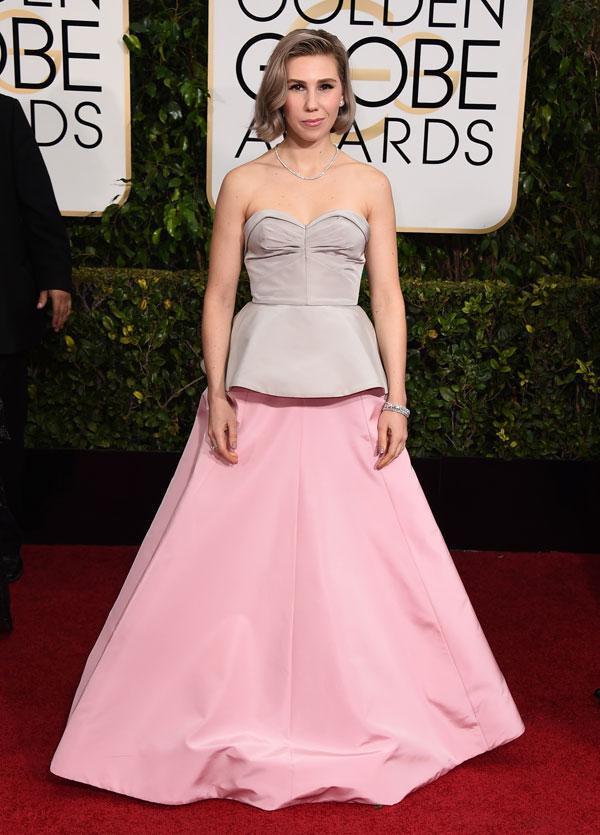 Wackiest: Zosia Mamet: WTF?! The Girls star just seemed sad in this ensemble which struck out with a fitted strapless grey top and long A-line pink skirt. It made Mamet look bottom heavy and her two black eyes didn't help.
Article continues below advertisement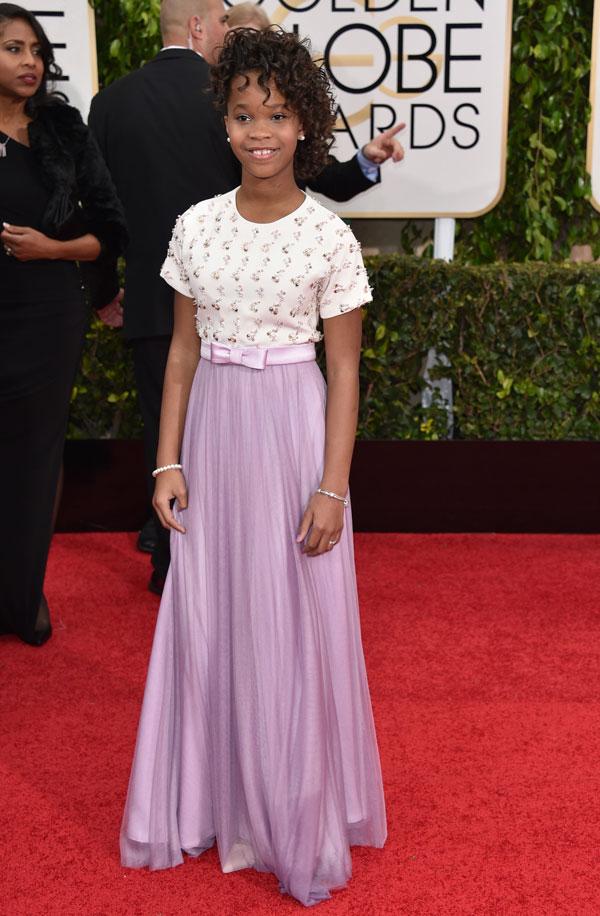 Best: Quvenzhane Wallis: The sun DID come out on Sunday in Beverly Hills as the adorable Annie star, a Golden Globe nominee, wore a darling age appropriate ensemble.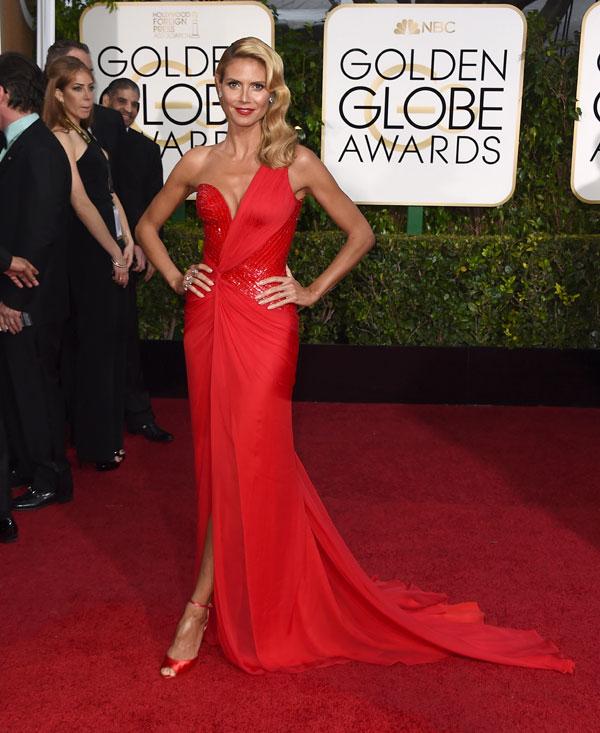 Best: Heidi Klum: Va-va-voom! The supermodel has never looked better in this tight eye-catching orange gown and perfectly curled hairdo.
Article continues below advertisement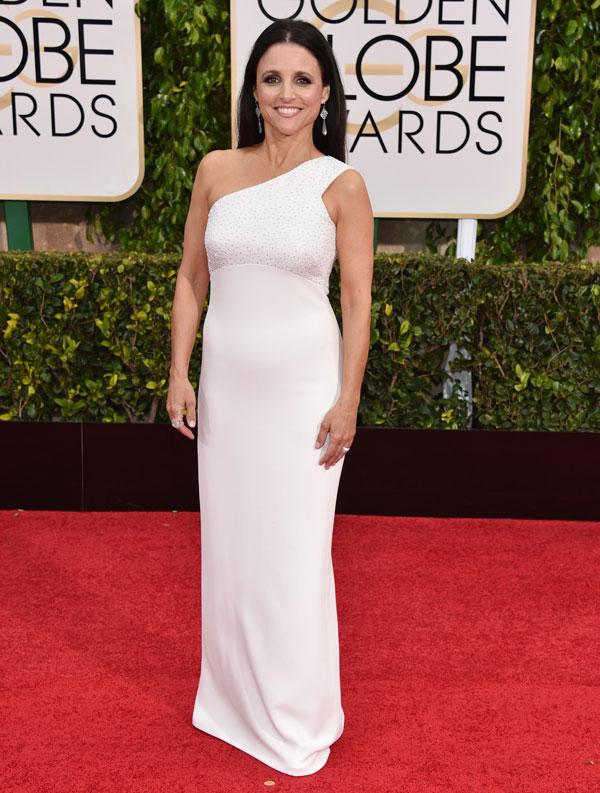 Worst: Julia Louis-Dreyfus: The Seinfeld legend, who now makes us laugh on Veep, chose a very fitted white gown that didn't do her body any favors. Dare we say it? Not right for a lady of a certain age. Plus, the hair was stiff.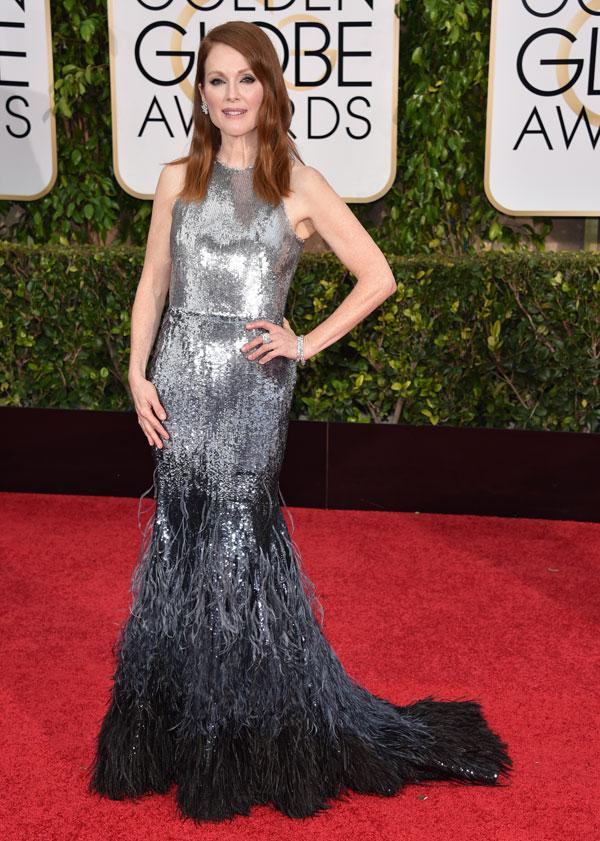 Worst: Julianne Moore: The Still Alice star's silver dress by Givenchy was way overdone—too shiny, too many feathers, and it didn't even properly fit her waist. A mess.
Article continues below advertisement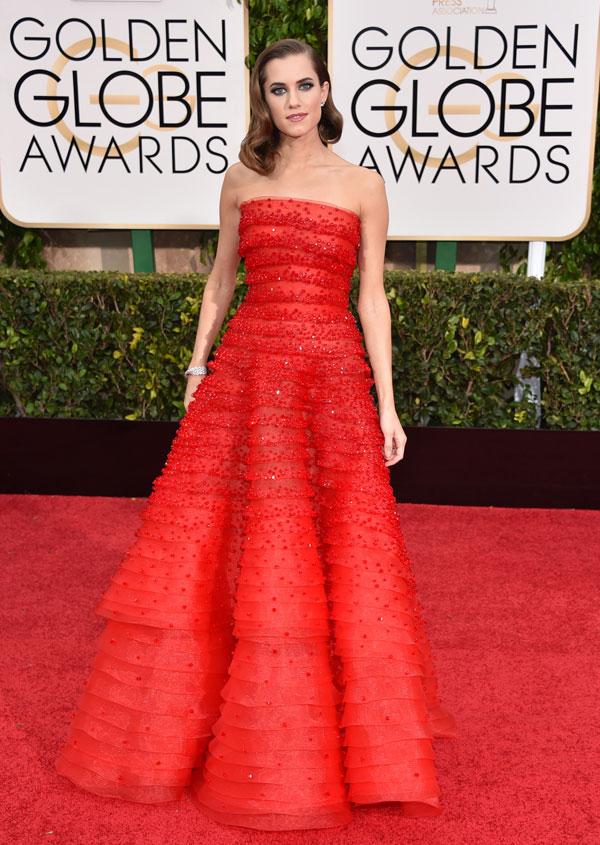 Best: Allison Williams: The Girls and Peter Pan star wore strapless red embellished Armani Prive which she said was "girly enough for me" after playing the famed flying boy. Oh, to be young and gorgeous and choose the absolutely right dress.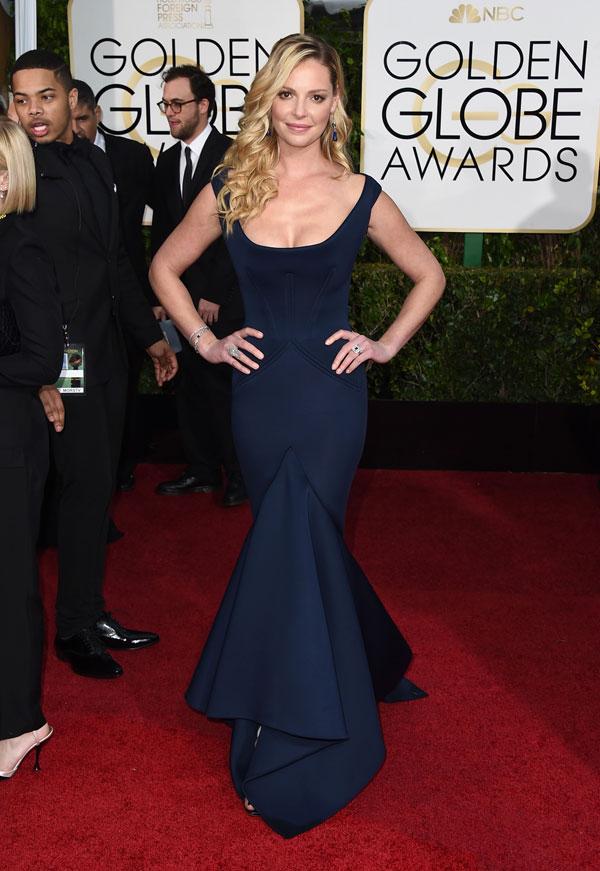 Best: Katherine Heigl: What a State of Affairs! Heigl surprised on the red carpet by going for a muted navy blue gown. Although she should have included a necklace, the Zac Posen origami-style gown fit the actress like a glove and her curly hair gave the whole look a lift.
Article continues below advertisement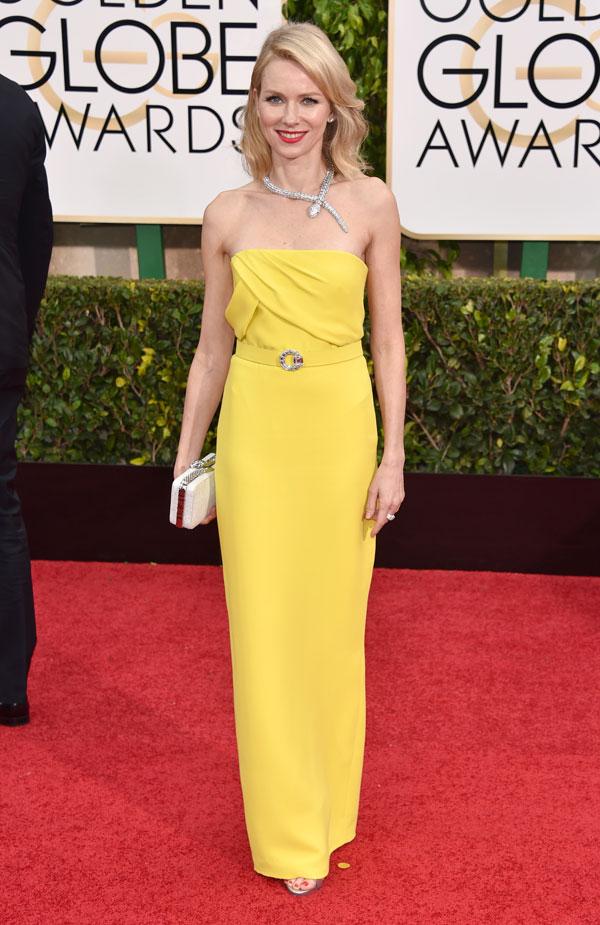 Best: Naomi Watts: The petite veteran star shimmered in a lovely yellow strapless gown set off with a glam diamond necklace. "I loved the color," Watts said on the red carpet about her Gucci number. She looked happy and comfortable.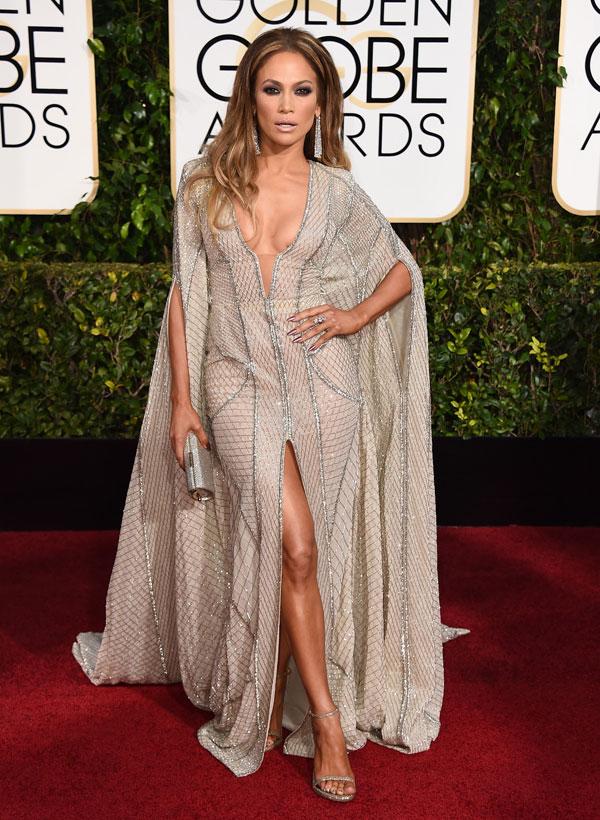 Worst: Jennifer Lopez: This time she went too far. The singer/actress had a tacky time, flaunting both her boobs and legs in a Vegas-style Zuhair Murad disaster on the Golden Globes carpet. And her face desperately cried out for a red lip. But J. Lo had fun with the look: "It has a big cape," she boasted.
Article continues below advertisement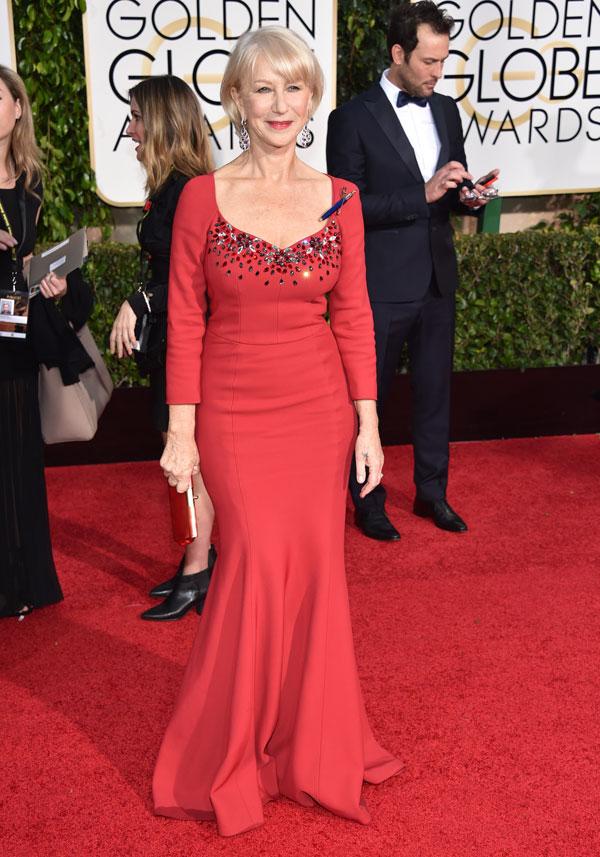 Best: Helen Mirren: THIS is how it's done! As usual, the 69-year-old actress bowled us over with her older woman elegance and sex appeal. And she had her red carpet pose down pat.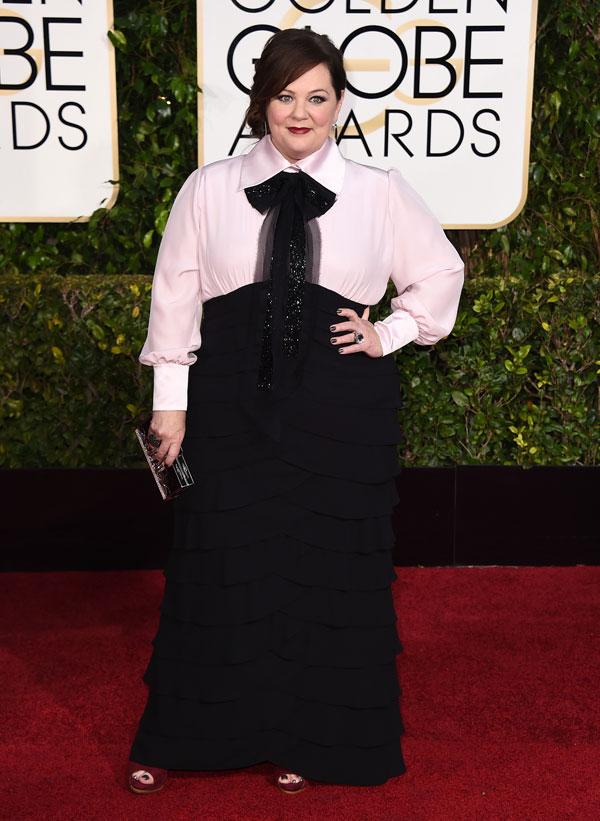 Wackiest: Melissa McCarthy: Oh, no, the beloved comedian was one of the night's fashion losers. This ill-conceived dress made McCarthy appear wider with a trash bag style black bottom, a puffy shirt top, and an overly-girly bow at the neck. She told E! vaguely that it was a "chop shop from my closet." We were guessing two dresses sewn together? Sadly, it did look like a mishmash.
Article continues below advertisement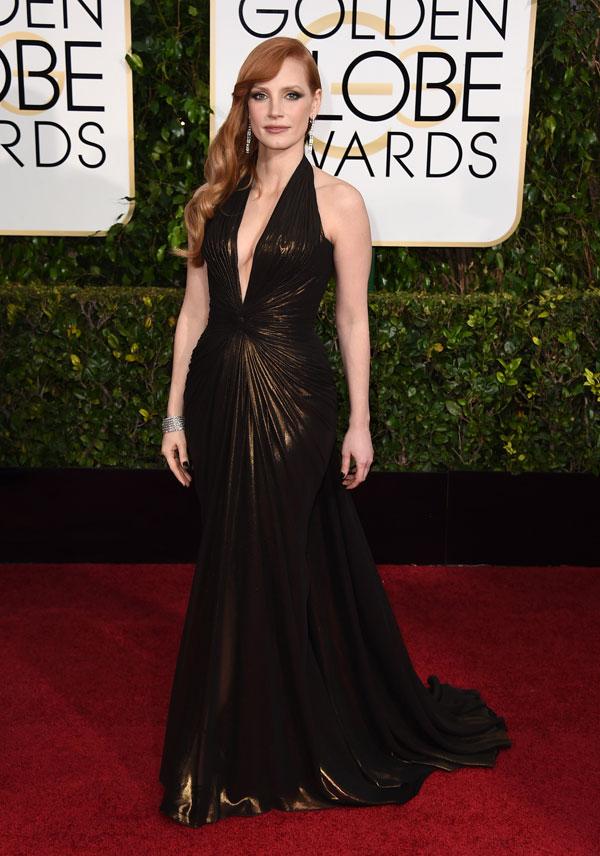 Best: Jessica Chastain: This actress always is a force to be reckoned with in fashion and she didn't disappoint for the 2015 Golden Globes. The Versace dress had a cut reminiscent of something Marilyn Monroe would have worn, and Chastain committed to the retro appeal with her very precise coif. She brought the glamour. Again.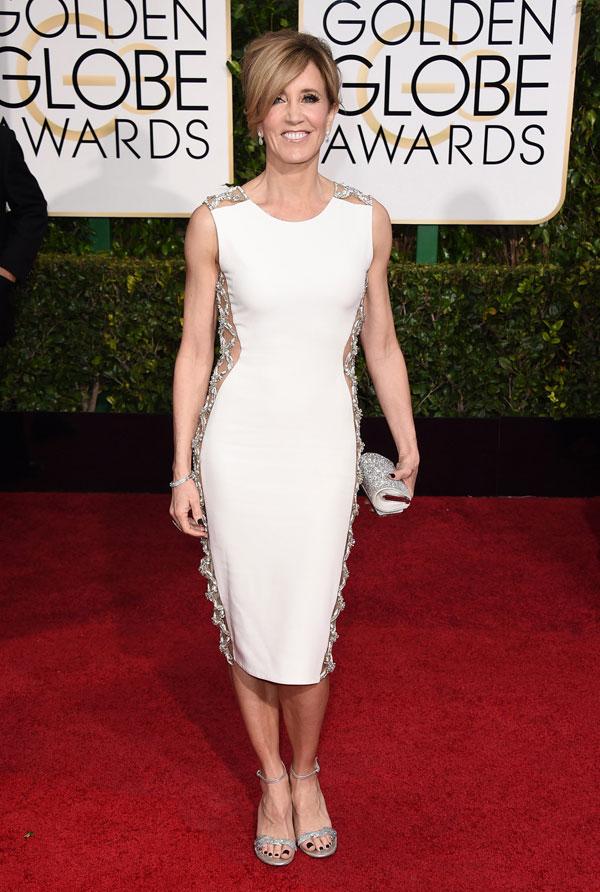 Worst: Felicity Huffman: The former Desperate Housewives star looked like one in a short dress that was more ladies who lunch than Golden Globes. The style was too casual for the red carpet, especially because of Huffman's sandals, which didn't appear high enough.
Article continues below advertisement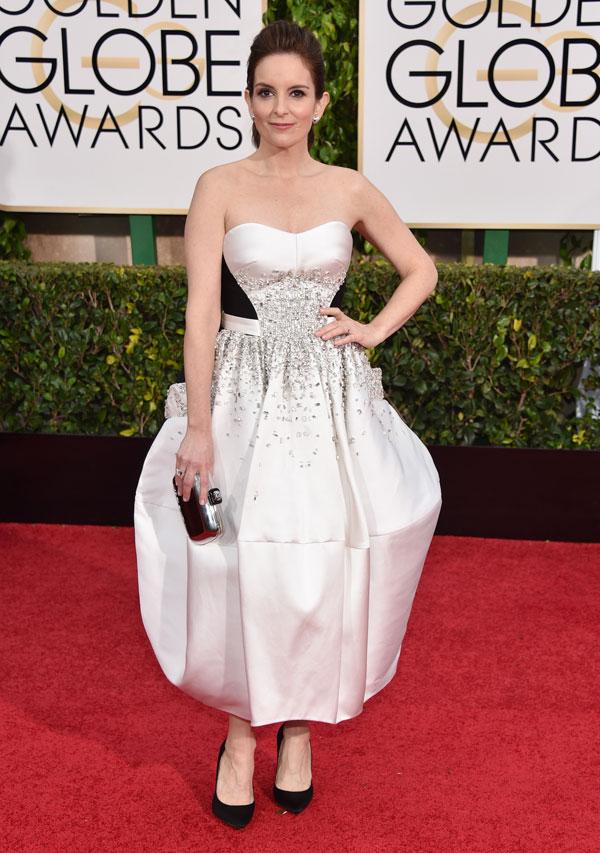 Wackiest: Tina Fey: The funnygal's hilarious Golden Globe hosting with pal Amy Poehler can't be beat, but what was she thinking with this strapless monstrosity that bizarrely bubbled out at the bottom? It was the wrong color and style for Fey, doing nothing for her lovely pale skin and figure.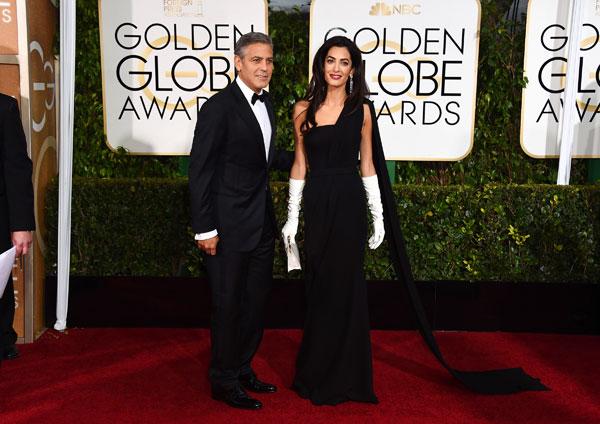 Best: George Clooney and Amal Alamuddin: The most incredible looking couple of the night--or maybe ever in the world? The veteran actor, who broke a lot of hearts when he recently wed lawyer Alamuddin, donned his trademark black tux while she rocked the carpet like a movie star. Both sizzled in their simple yet effortlessly right ensembles. "The gloves are my own," the shy wife confided to E! of the look that harkened beautifully back to classic Hollywood.
Article continues below advertisement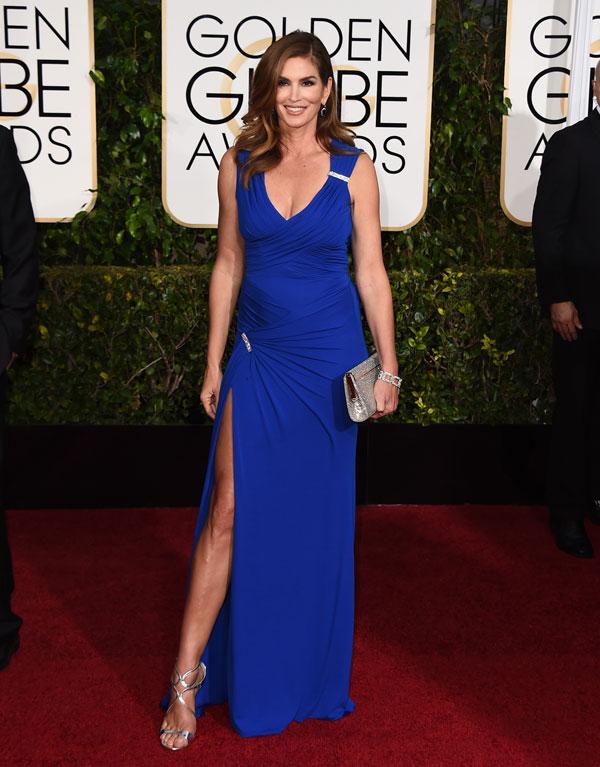 Worst: Cindy Crawford: The supermodel is older now, and shouldn't have chosen this bright blue dress that emphasized her tummy pooch with a clip. And too much was going on here with both Crawford's cleavage and gams on full display.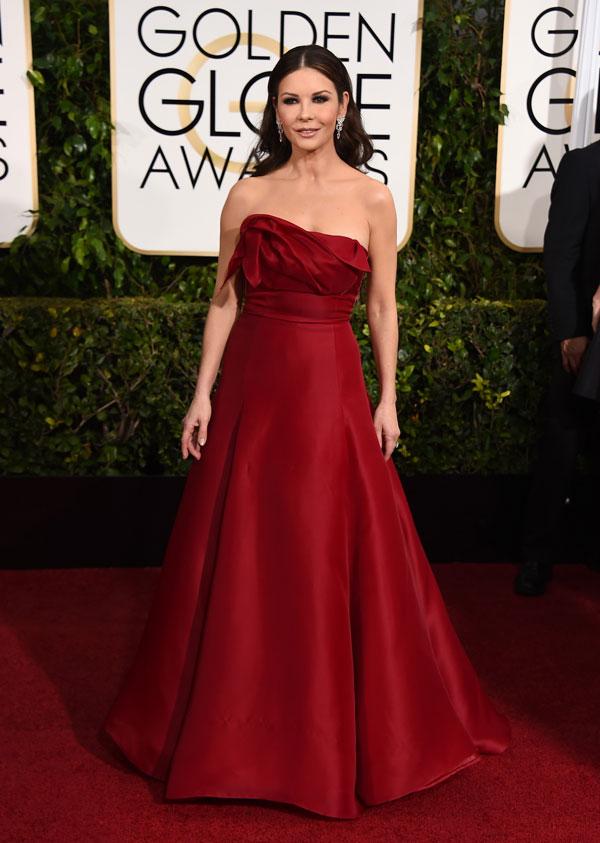 Worst: Catherine Zeta Jones, is that you? The longtime actress' face looked so frozen that it was hard to focus on the dress. But that didn't work either, as the red flared gown seemed to be too much like what she's done before. Too safe and stiff.
Article continues below advertisement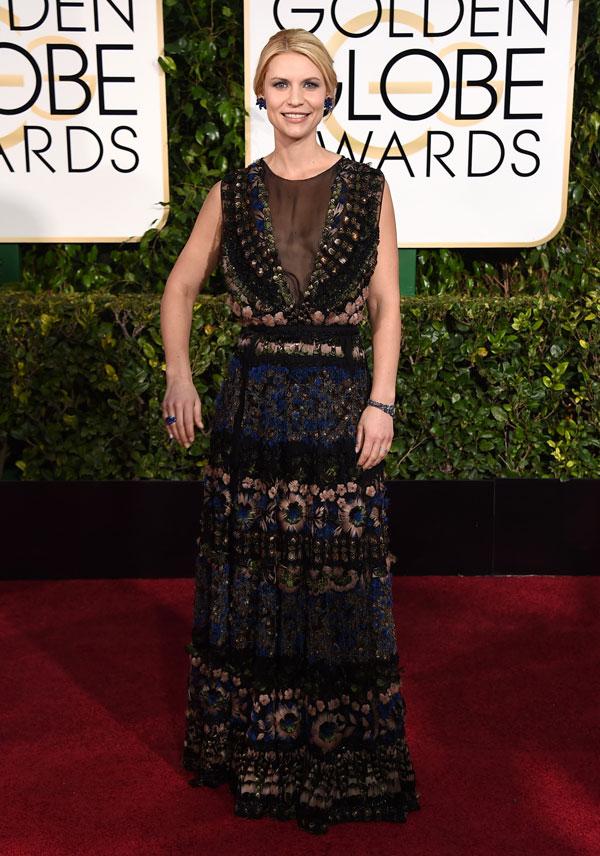 Wackiest: Claire Danes: Feathers are hard to handle and Danes, who has often thrilled on the red carpet, took a walk on the plucking weird side this time. Blue and brown feathers stuck to the dress. And the Homeland star's Valentino gown also sported a see-through V-neck inset which didn't enhance her flat chest.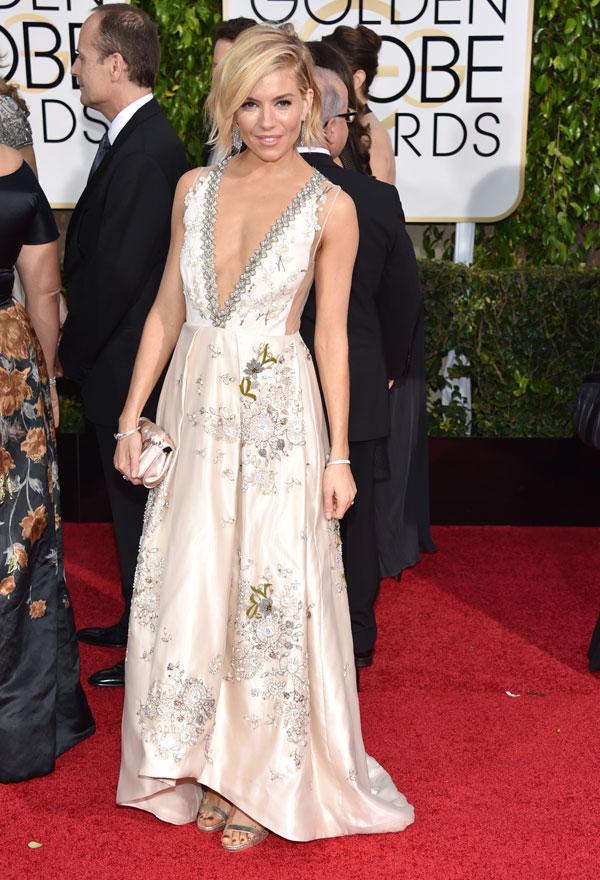 Worst: Sienna Miller: The petite Foxcatcher star is so pretty, so why is she putting the focus on her bony chest? The low cut cream-colored embellished Miu Miu confection was otherwise lovely; a round neckline would have made Miller magnificent but instead, it just missed.
Article continues below advertisement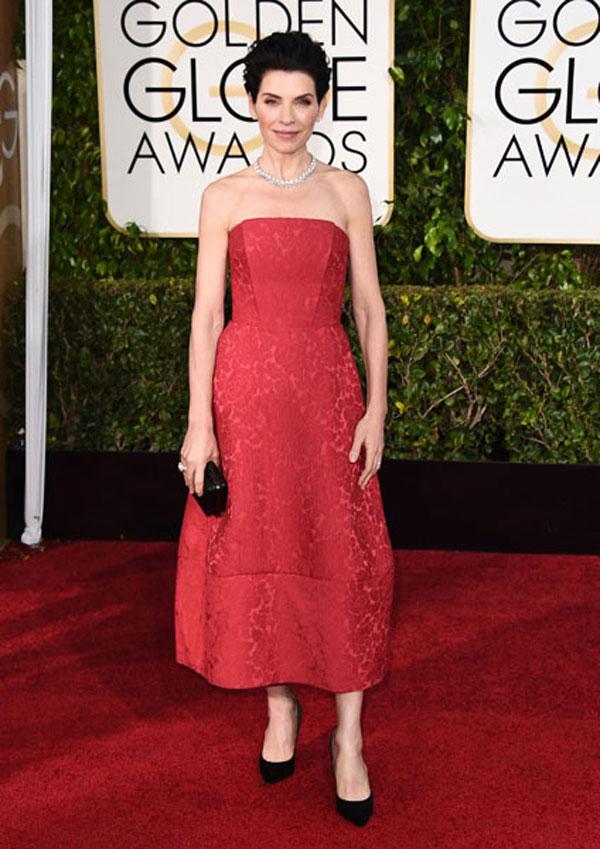 Worst: Julianna Marguiles: The Good Wife went bad as this red strapless gown didn't hug her waist tight enough at the Golden Globe Awards. The length looked awkward, also, and exposed some freezing looking white legs!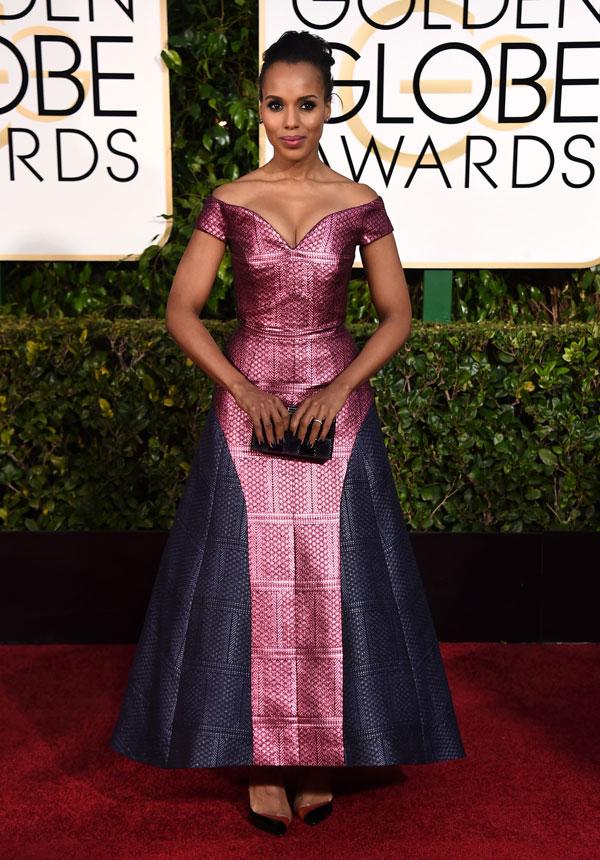 Best: Kerry Washington: The Scandal stunner always takes fashion risks, and at the Globes, it completely paid off. What would have looked strange on someone else suited Washington as she chose an unexpected color and cut. We didn't understand why this worked, but it did. Fresh and fun!
Article continues below advertisement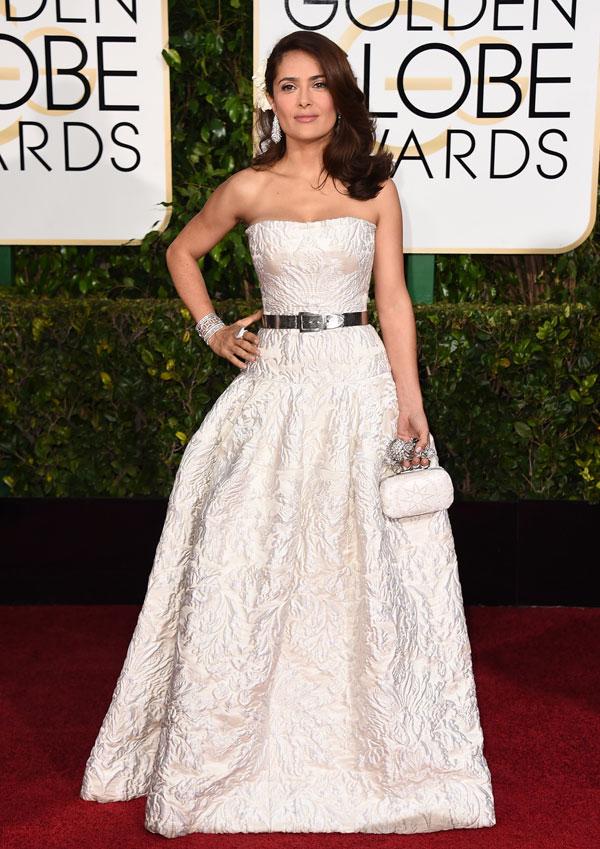 Best: Salma Hayek: The sexy star played it somewhat safe, but she was fully red carpet ready in a strapless white dress with a belt at the waist to show off her banging body. And the long earrings and little white purse? Movie star glamour at its best. Hail, Hayek!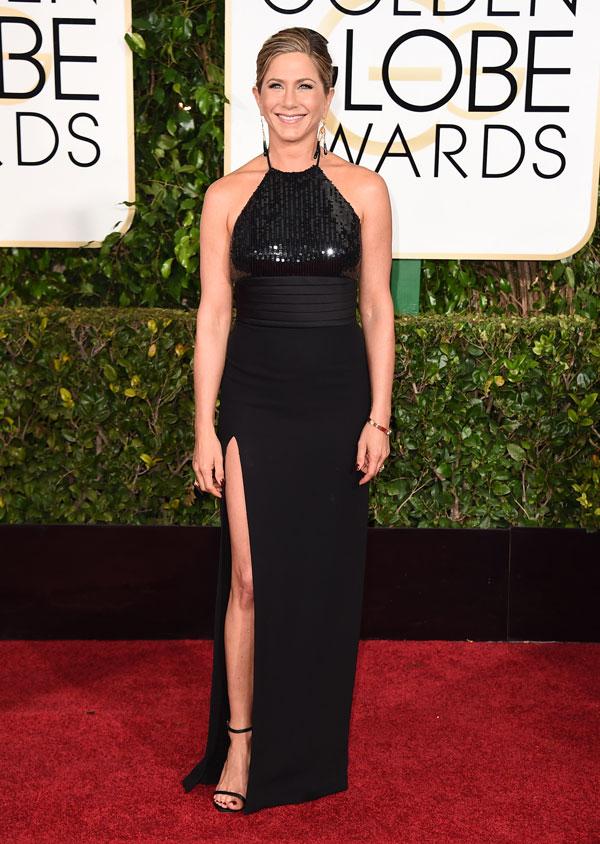 Worst: Jennifer Aniston: The Friends star's usual flawlessly sleek look was MIA for the 2015 Golden Globe Awards, boo hoo. Although Aniston stuck to her basic black, the cummerbund at the waist was too big and visually cut up her body. The leg slit and halter neckline didn't work either.
Article continues below advertisement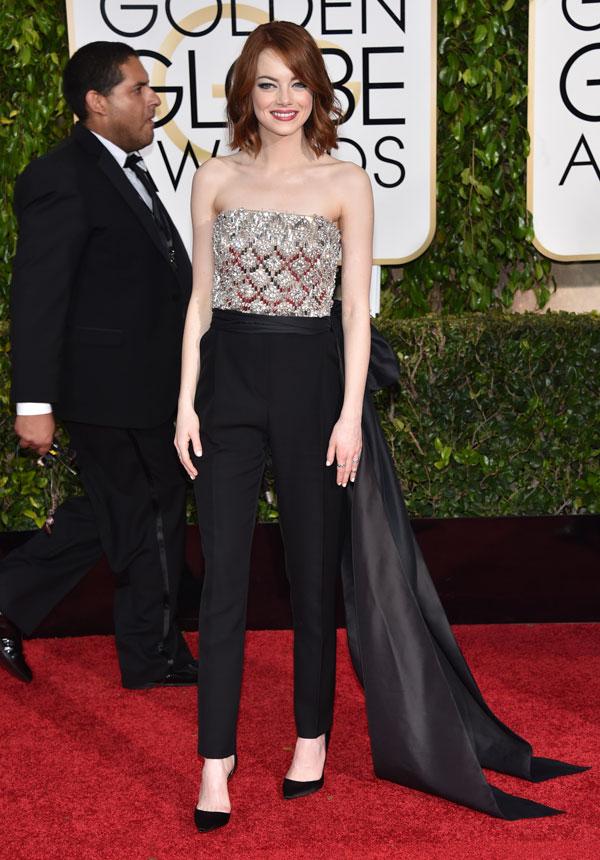 Wackiest: Emma Stone: She's known for her love of fashion, but didn't choose to dress right for the Golden Globes. Maybe Stone thought this simple yet edgy jumpsuit would stand out, but if we can't see the adorable The Help star dressed to the nines and sporting major bling, what's the point?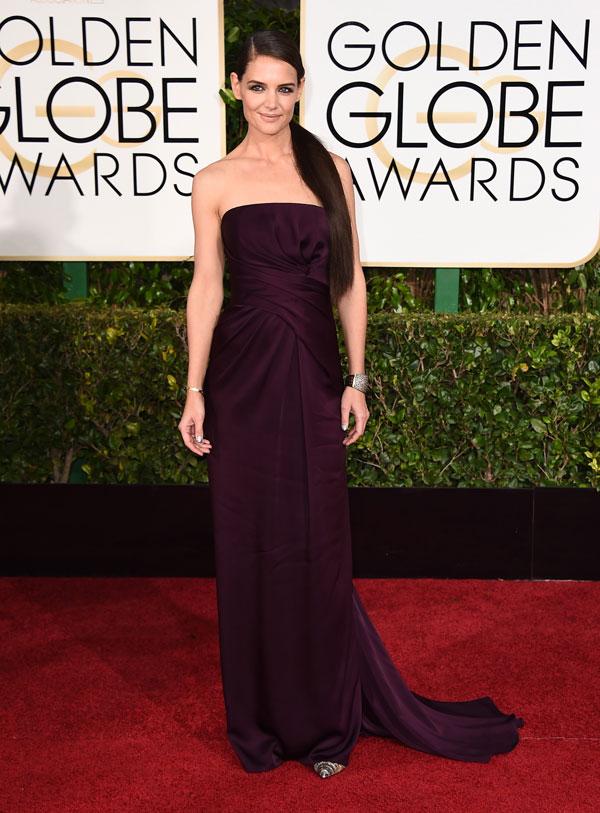 Worst: Katie Holmes: This was so dark and aging on Tom Cruise's still young and cute ex-wife, who runs her own fashion line. Back to the drawing board? The purple strapless column gown and tight ponytail gave off a grim vibe; a playful necklace or earrings might have helped. Lighten up, Katie!
Article continues below advertisement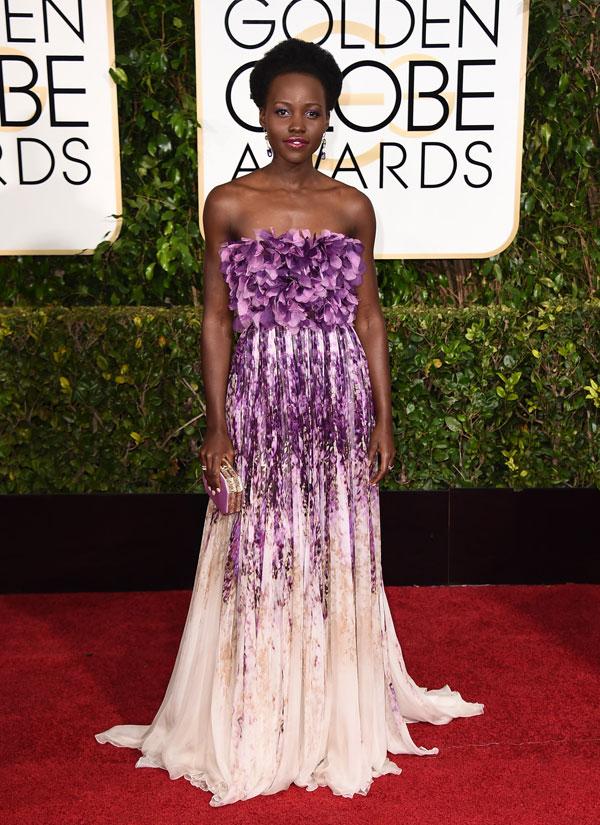 Wackiest: Lupita Nyong'o: The red carpet darling's strapless purple dress with its strange flowered bodice certainly stood out. And in a good way! Nyong'o was simply enjoyable to look at, which is the whole point of being a star. Eccentric fashion equals cool for the 12 Years a Slave actress.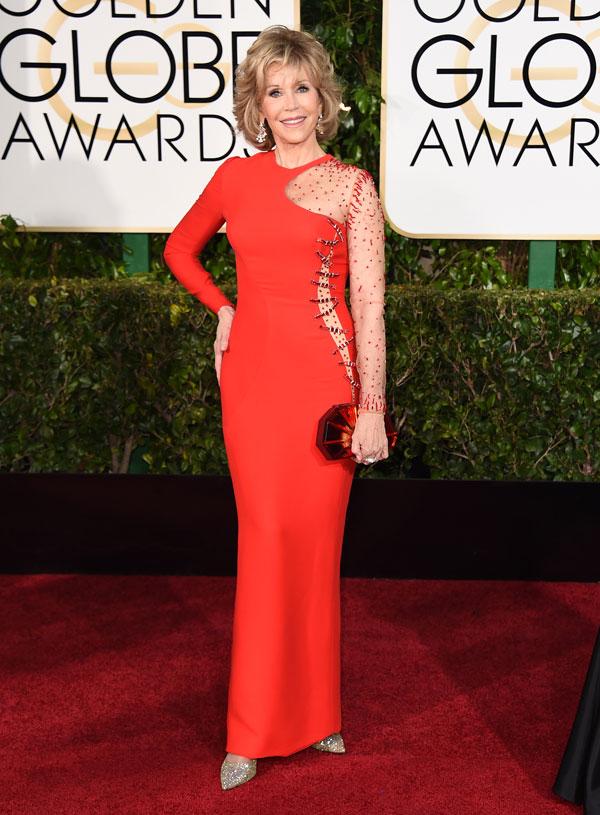 Wackiest: Jane Fonda: Were those staples on the side of the 77-year-old movie icon's bright orange dress? And was the sheer cutout part a little over the top for an, um, older woman? It was wacky but we loved it. Fonda wasn't hiding at the Golden Globes with this bold choice, and her hair and makeup looked terrific.
Article continues below advertisement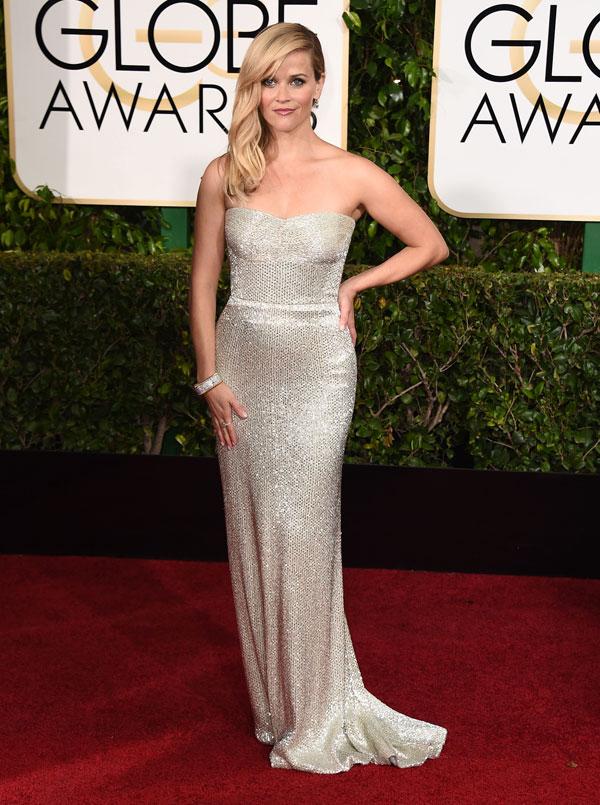 Worst: Reese Witherspoon: This was something much, much less than Wild. The Oscar winner took no chances and looked blah in this shimmery strapless Calvin Klein number. It wasn't offensive, but annoyingly faded into the carpet. You could have done much better, Reese, as your black Academy Awards dress years ago was one of the best ever.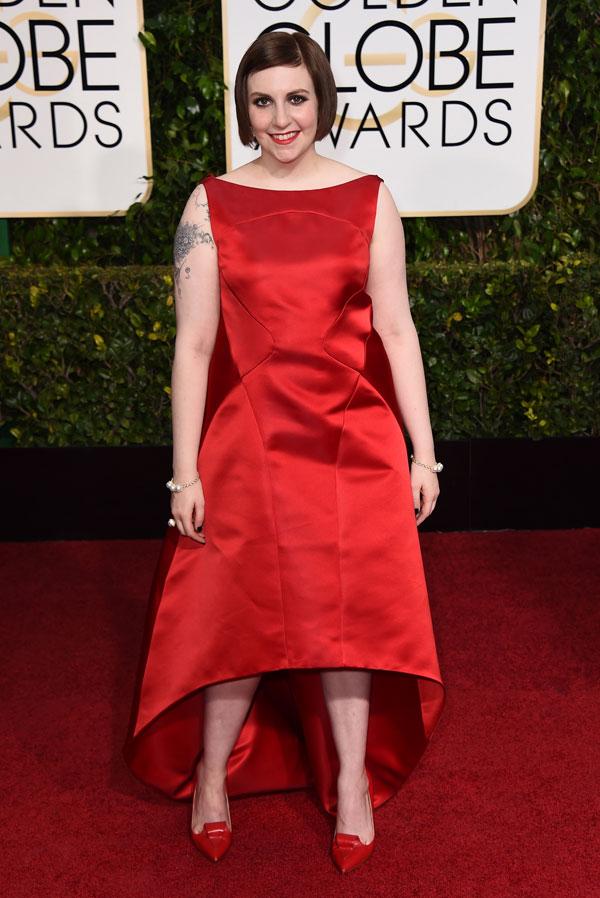 Worst: Lena Dunham: Oh, girl! Dunham bombed again with an odd red carpet look that should have never left home, offering shapelessness, shine, exposed tattoos, horribly cut material that didn't enhance her body, and pointed buckled witch-style shoes. The funny lady's friend (and former babysitter) Zac Posen designed this dress. Why didn't it fit?