Photoshop Scandal! Kim Zolciak Busted Altering Pics For Slimmer Waist & Thighs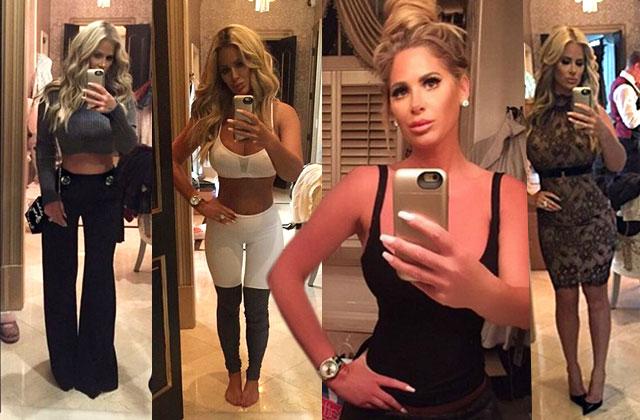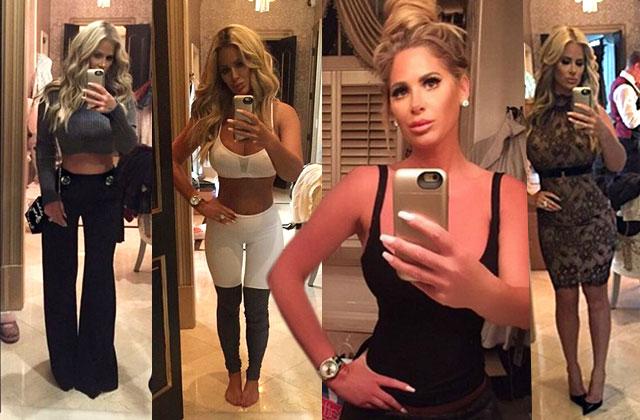 Kim Zolciak is known for showing off her trim and toned body in skin-baring Instagram snaps. Although the former Real Housewives of Atlanta star has been busted Photoshopping images in the past, is she still up to her old tricks? A Photoshop expert exclusively revealed to RadarOnline.com that the reality star's recent pictures are still being altered!
Article continues below advertisement
"On the left-hand side of her waist that looks really straight, there is a curve to the table underneath," photographer Alan Barry said of her too-trim waist. "The way her hand is indented into her waist on her right, it looks like she's grabbing fat there. Her thumb got lost in the Photoshop process." Barry also believes the reality star used the photo-altering app Facetune to make her skin "absolutely flawless." He added, "That's not her face."
Barry believes the mother-of-six altered the photo to make her stomach free of lines. "The skin of her abdomen is completely smooth and there appears to be a slight highlight near her belly button," he explained of the photo, which was posted on April 13. "The woman's had six children, that's not possible." The photographer also believes her face looks "incredibly distorted." He continued, "If you look at the side of her face from where her hair is indented on her cheek, it looks like it was twisted."
Article continues below advertisement
A week before the line-free Instagram photo was posted, Zolciak, 37, shared another snap that included a tiny stomach bulge! "All of a sudden, she has this very curvy abdomen," he noted. "There is a line running along the left side of her stomach, and it's not on the other side. Someone took a brush and darkened that." Barry also pointed out the "rippling" on the inside of her right thigh. "That's not human," he quipped. "That's a really, really bad Photoshop job."
The Don't Be Tardy star was accused of Photoshopping her thighs again in a photo posted two months ago when Barry pointed out the difference between her legs. "Her right thigh looks like it was taken in if you compare them," he said. "One is straight, while one is curved."
Article continues below advertisement
Beach-body ready? Barry explained how easy it is to alter this image because the shot was taken from far away and her arms are away from her body. "Her belly looks unusually flat," he said. "You don't see lines, a bulge, abs, nothing. Her belly button seems to have almost disappeared!"
But not all of Zolciak's images are Photoshopped, as she posted a picture looking curvier only two weeks ago. "You can't have the abdominal muscles that were displayed in the prior shots and have your abdomen as bloated as this," he said. "This picture is the proof that this is the most accurate example of what she looks like. This photo looks like it's free of Photoshop."
Do you think Zolciak altered the images? Tell us in the comments!