Pot Party! See Farrah Abraham Flaunt Smoking Body At Marijuana Bash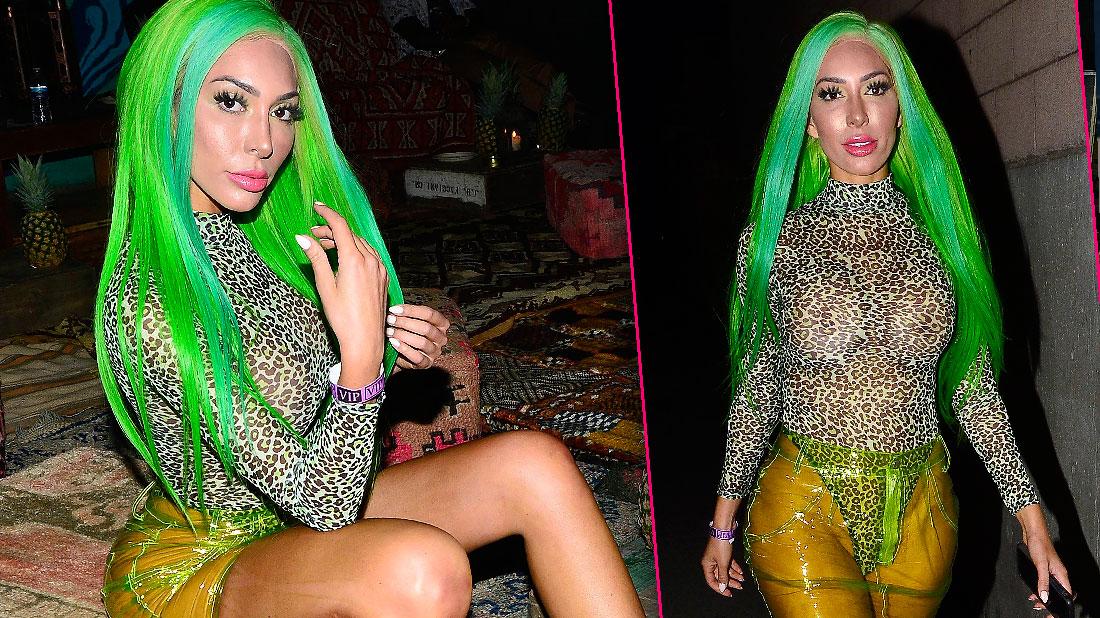 Farrah Abraham loves showing off her surgically-enhanced body and RadarOnline.com has the pictures to prove it!
This time, though, she was spotted in an environment very much different than the beaches and pools that the former Teen Mom OG star, 27, has featured in the past.
On Saturday, Farrah celebrated 4/20 day, the marijuana holiday that gives fans of the drug an excuse to toke up. And she made sure to flaunt her smoking shape.
Article continues below advertisement
The reality TV beauty chose to wear a green-themed outfit to give weed its due out at the third annual Budtrader Ball for Cannibis Events in Los Angeles.
Sporting a leopard print bodysuit with a neon green plastic skirt, Farrah enjoyed her time among pot enthusiasts.
While it is not clear Farrah still indulges in marijuana, her past drug use has been well documented in reports and on television.
In September 2018, Radar reported she tested positive for a drug test she took on the show Face The Truth.
"She did test positive for barbiturates," Judge Mary A. Chrzanowski said at the time. "But that could be a prescribed drug. If her doctor legally prescribed barbiturates for her then that's fine."
Prior to that, a blind gossip item noted that someone was suffering from a pills and alcohol nightmare. It was later learned that the reports were about Farrah.
"The drinking of this Teen Mom is out of control," the report read. "Combine that with some pills she was prescribed and her already notorious temper and she was a walking train wreck."
Article continues below advertisement
Later, ex-boyfriend Simon Saran was unable to deny claims she mixed prescription drugs with alcohol. He replied that he is "not sure" if he could comment on the rumor.
Her mother Debra Danielson, however, jumped to her defense saying, "We don't believe in that and that's not happening."
Check out Radar's gallery for photos of Farrah out at the gala celebrating the national holiday for marijuana smokers!
Article continues below advertisement
Article continues below advertisement
Happy 4/20!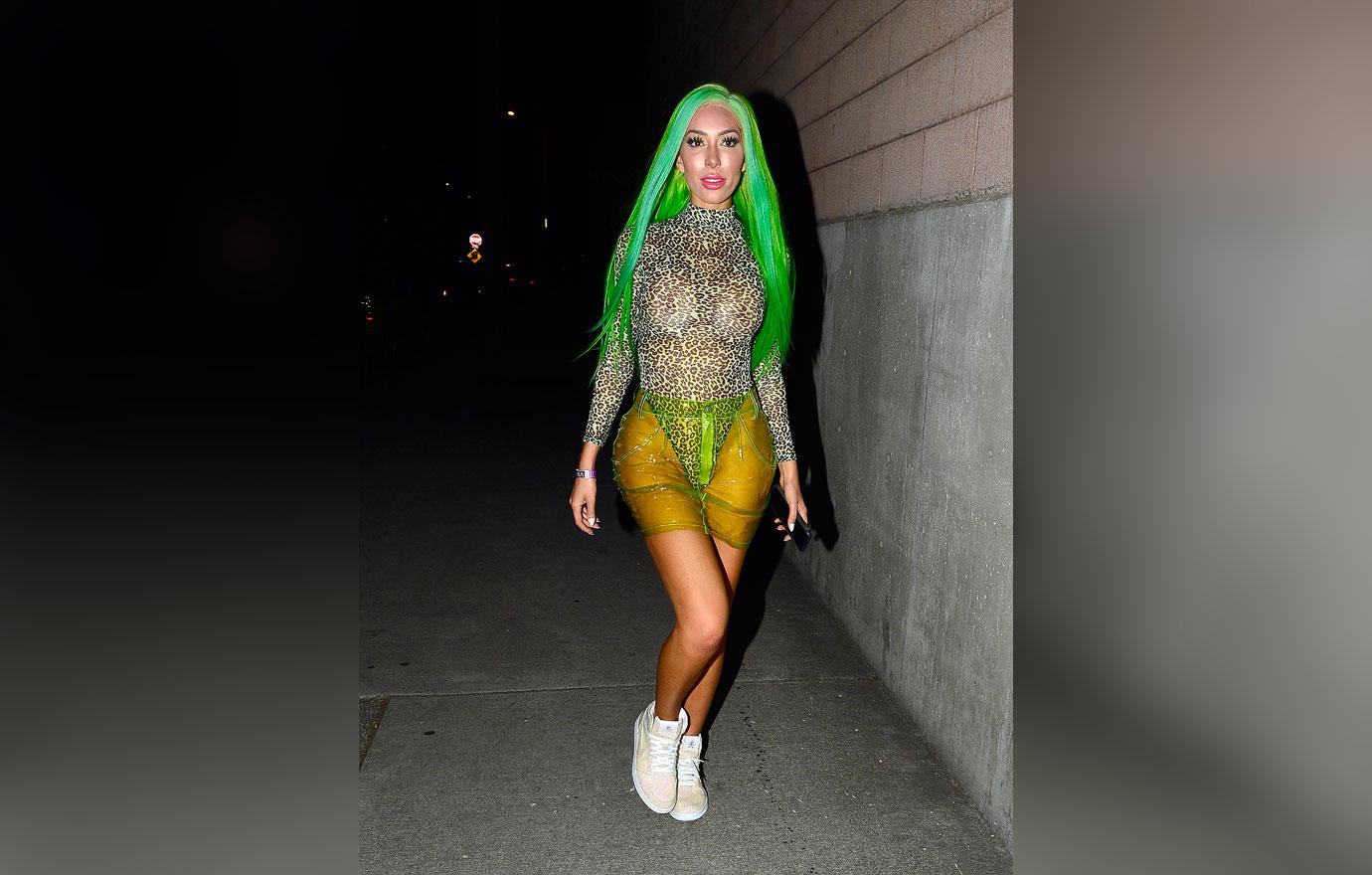 Farrah spent her Saturday night celebrating 4/20, the national holiday for those who smoke marijuana.
Article continues below advertisement
Supporting Budtrader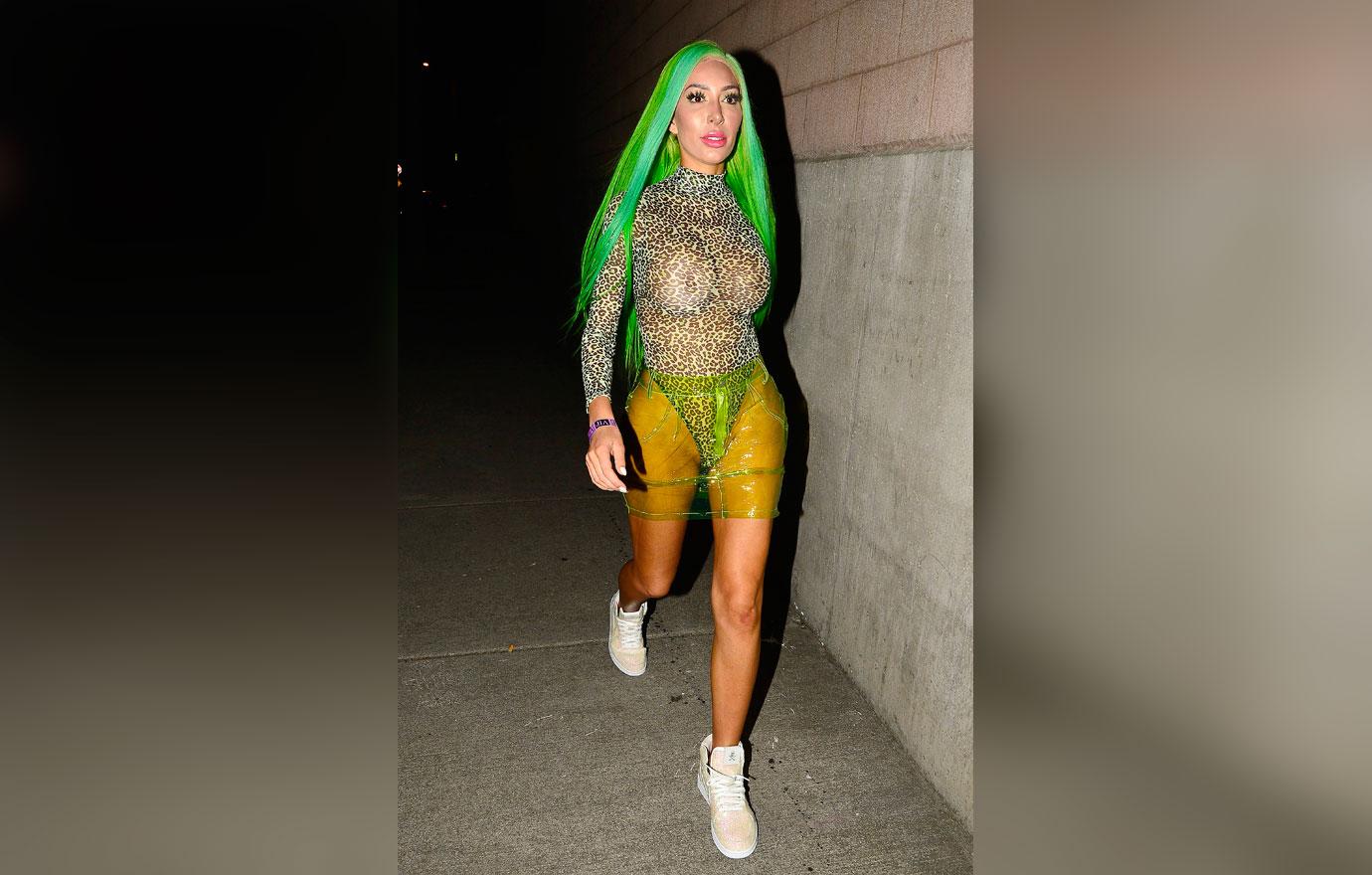 She popped up at the 2019 Budtrader Ball in Los Angeles, California.
Article continues below advertisement
No Bikinis!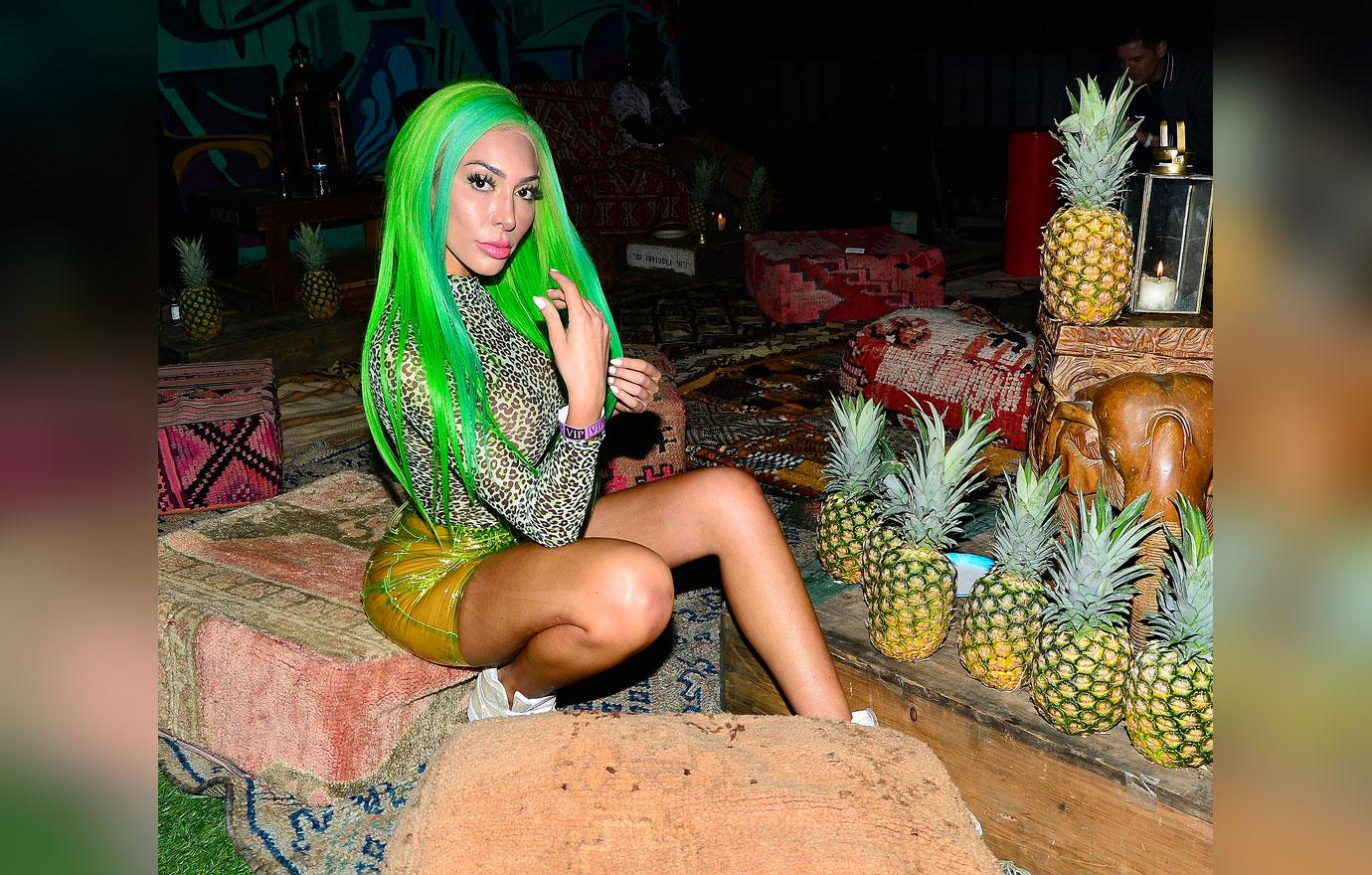 The Back Door Teen Mom porn star showed up to the event wearing a risque outfit that left little to the imagination.
Article continues below advertisement
Not Easy Being Green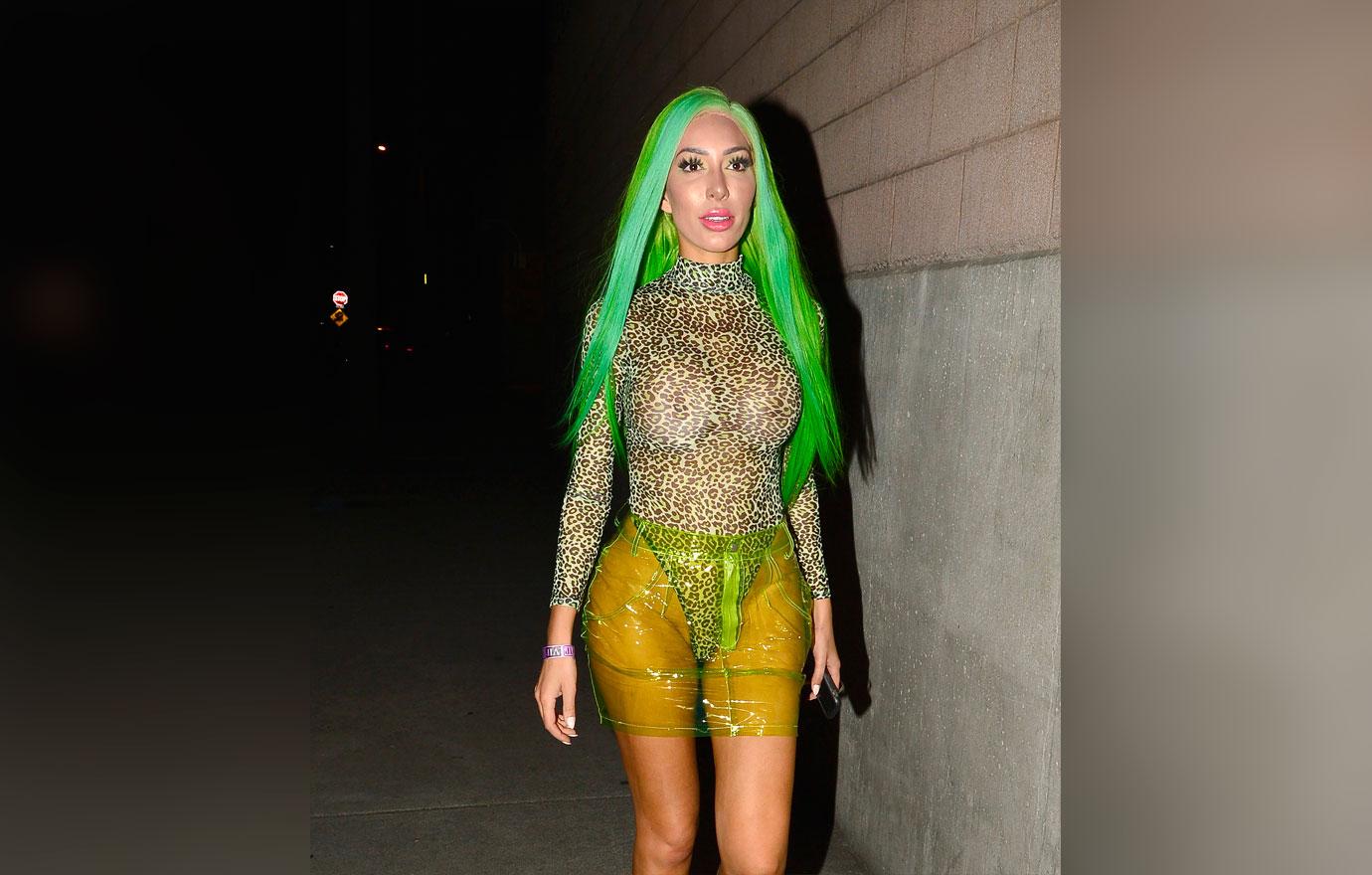 Farrah sported a green transparent plastic skirt that matched her bright green wig, covering a long-sleeved leopard print leotard. Sneakers were her shoe of choice.
Article continues below advertisement
All Smiles For Pot
Farrah grinned as she posed for pictures next to nicely arranged pineapples and men wearing costumes.