Celebrity Sightings In Las Vegas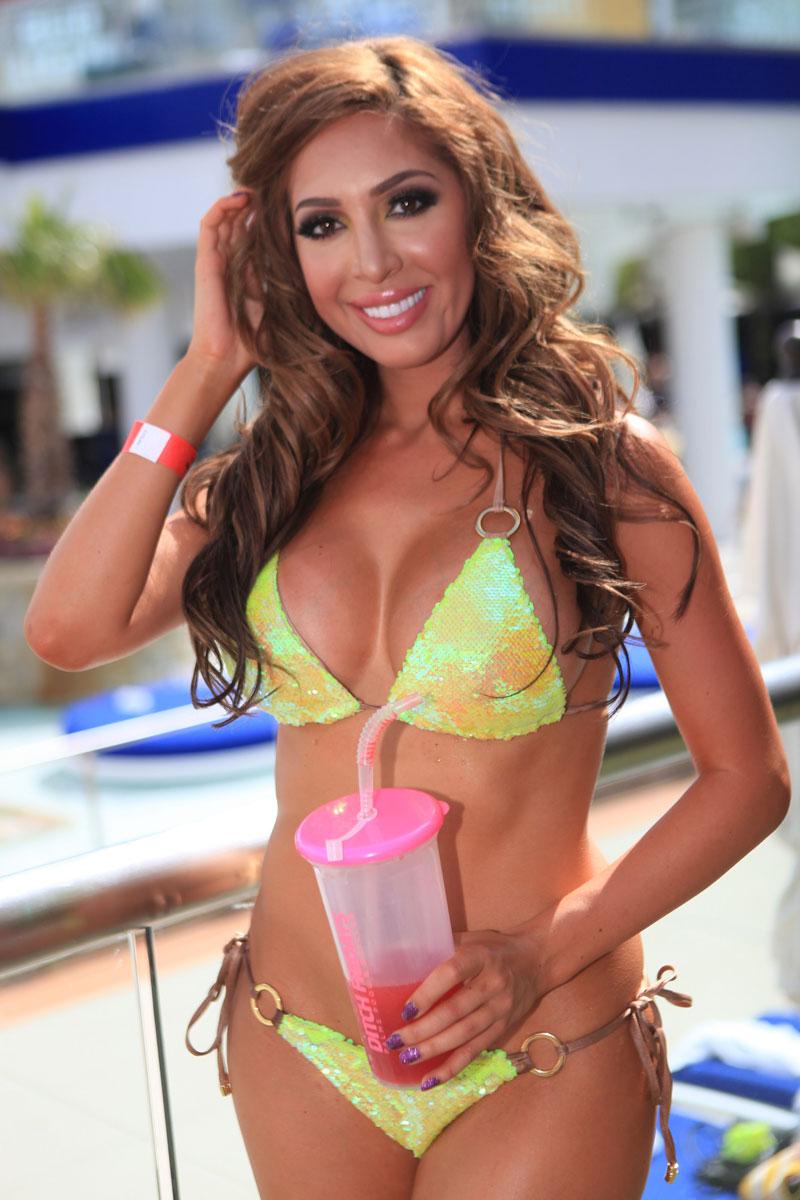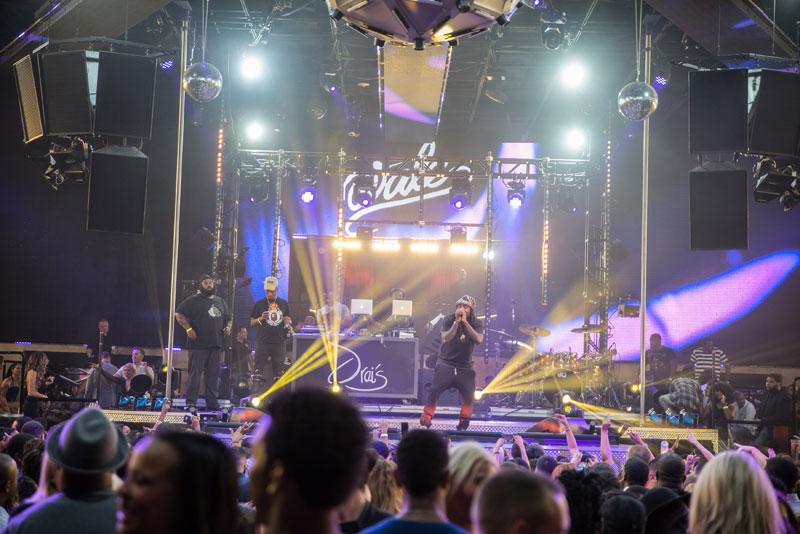 Celebrated rappers Wale and Waka Flocka Flame made highly-anticipated returns to the Drai's LIVE stage at Drai's Nightclub at The Cromwell in Las Vegas to deliver an unforgettable full-length concert performance with DJ Whoo Kid manning the tables. The trio was met with wild cheers as they helped kick off EDC Weekend at the dazzling rooftop venue with an incredible late-night show packed with a huge set of crowd favorites served up by DJ Whoo Kid, including Wale's "My PYT" and "Lotus Flower Bomb," and Waka Flocka Flame's "Hard In Da Paint" and "No Hands." The revelry continued late into the night as the legendary artists enjoyed the venue's luxurious stageside VIP booths with friends. The party continues around-the-clock all weekend long with Adventure Club, ZEDS DEAD (Saturday) and Quintino (Sunday) at Drai's Beachclub; a Drai's LIVE performance by Travis Scott at Drai's Nightclub (Saturday); and Nicole Moudaber (Saturday) and Chris Garcia & Friends (Sunday) spinning at Drai's After Hours.
Article continues below advertisement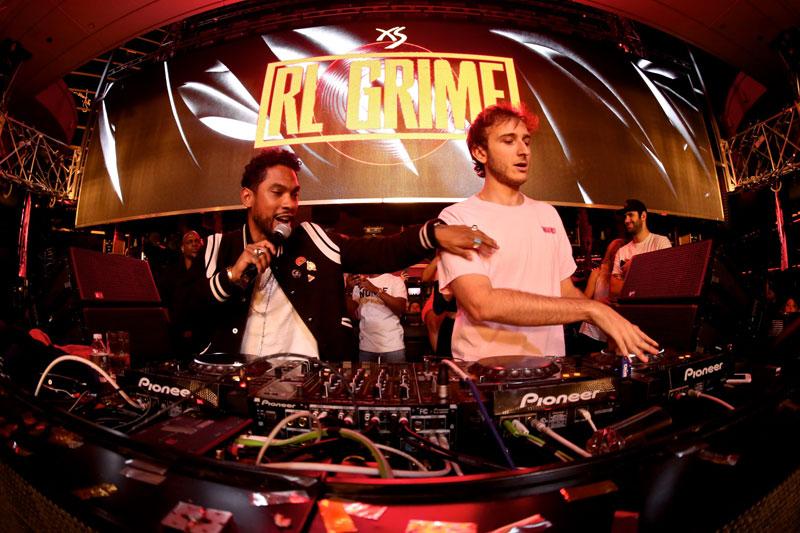 Singing sensation Miguel surprised a packed house last night at XS Nightclub in Encore at Wynn Las Vegas when he joined RL Grime on stage for a surprise performance of "Adorn."
Miguel's fiancé Nazanin Mandi was also in the house.
Ciara_EncoreBeachClub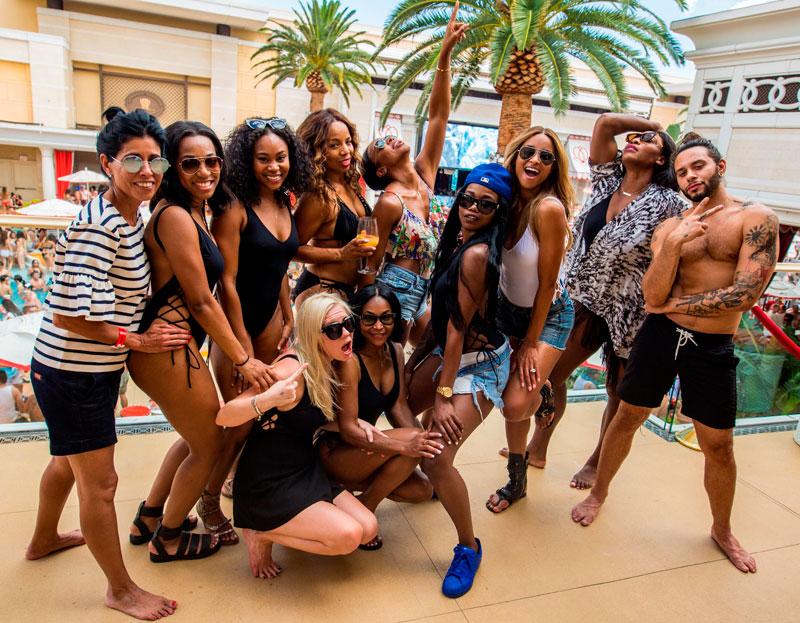 Besties Ciara, Serena Williams and Kelly Rowland had a high-style girls getaway weekend at Wynn Las Vegas.
Arriving Friday evening with a few other close pals, the ladies took in the dazzling aquatics show Le Rêve – The Dream. They spent Saturday afternoon in a luxury bungalow at Encore Beach Club where they overlooked the hot pool party action and a DJ set by superstar producer, ZEDD.
That evening, the group of gals dined at the resort's Lakeside restaurant which overlooks the spectacular Lake of Dreams.
Article continues below advertisement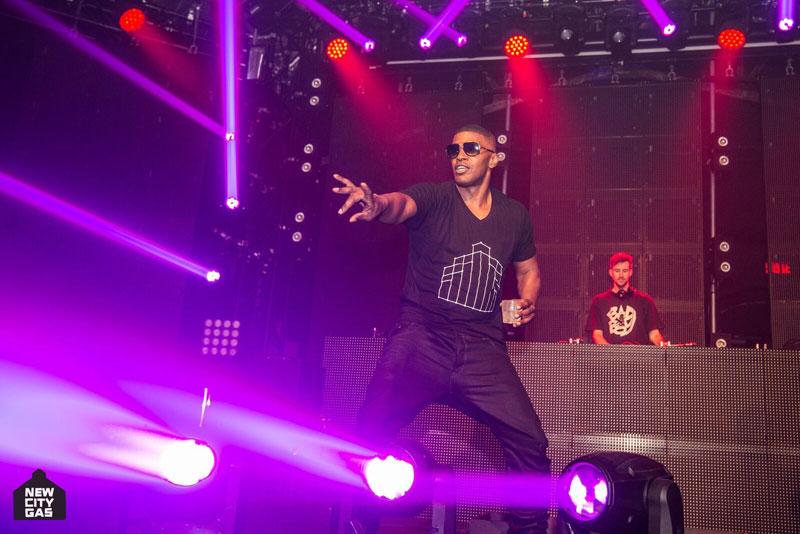 Star Jamie Foxx performed at New City Gas in Montreal during F1 Grand Prix Festivities.
Produkt welcomed Grammy, Golden Globe, and Academy Award winner Jamie Foxx to Red Bull Racing event, as he hosted the most anticipated party of Grand Prix weekend at New City Gas, even surprising the thousands of fans in attendance by beginning his performance 10 minutes ahead of schedule!
The multi-talented entertainer took control of the mic and never let it go until 3am, performing for more that an hour and a half, leading the crowd through an extensive selection of hits by Beyoncé, Kanye West, Drake and Calvin Harris and an incredible a cappella rendition of his hit track Gold Digger – a definite highlight of the night.
Jamie Foxx was accompanied on New City Gas' main stage by DJ Ross One – a staple on the Hollywood party circuit, having toured with Kanye West & Rihanna and performing at exclusive events for Louis Vuitton, Victoria's Secret, and the official Oscar after party.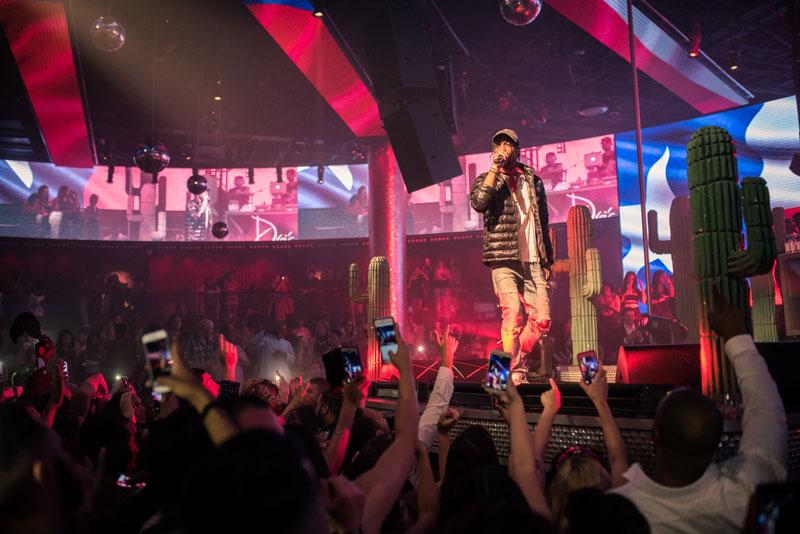 Celebrated rapper Travis Scott made a highly anticipated return to Drai's Nightclub at The Cromwell in Las Vegas to serve up an unforgettable anniversary performance presented by Drai's LIVE. In celebration of Drai's Beachclub • Nightclub's second anniversary, the "Antidote" rapper took the stage to deliver hit after hit for the sea of fans inside the ultra-packed rooftop nightclub, including "Upper Echelon," "Mamacita" and more. Known for always bringing the party, Travis pulled out all the stops during the late night show, even crowd surfing while rapping. The party continued late into the night as Travis enjoyed one of the dazzling venue's luxurious stageside VIP booths with friends.
Article continues below advertisement
Exclusive resident artist Tip "T.I." Harris returned to the Drai's LIVE stage for a special anniversary performance at Drai's Nightclub at The Cromwell in Las Vegas. In celebration of Drai's Beachclub·Nightclub's second anniversary, Tip served up a variety of hits, including "Live Your Life," "No Mediocre," "What You Know" and many more.
Earlier that afternoon, Tip met with Mark, a nine year-old Make-A-Wish recipient with a congenital heart condition. Mark's wish was to meet with Tip, his favorite rapper and ultimate inspiration, to learn more about his life and how he makes music. Tip and Mark's family met at GIADA at The Cromwell where they had a chance to bond over their love for music, talk about their influences, favorite sports teams and share laughs over lunch. A fan of Tip's reality show, T.I. and Tiny: The Family Hustle on VH1, Mark got a special surprise when Tip took to FaceTime to call his wife and children to introduce them to Mark.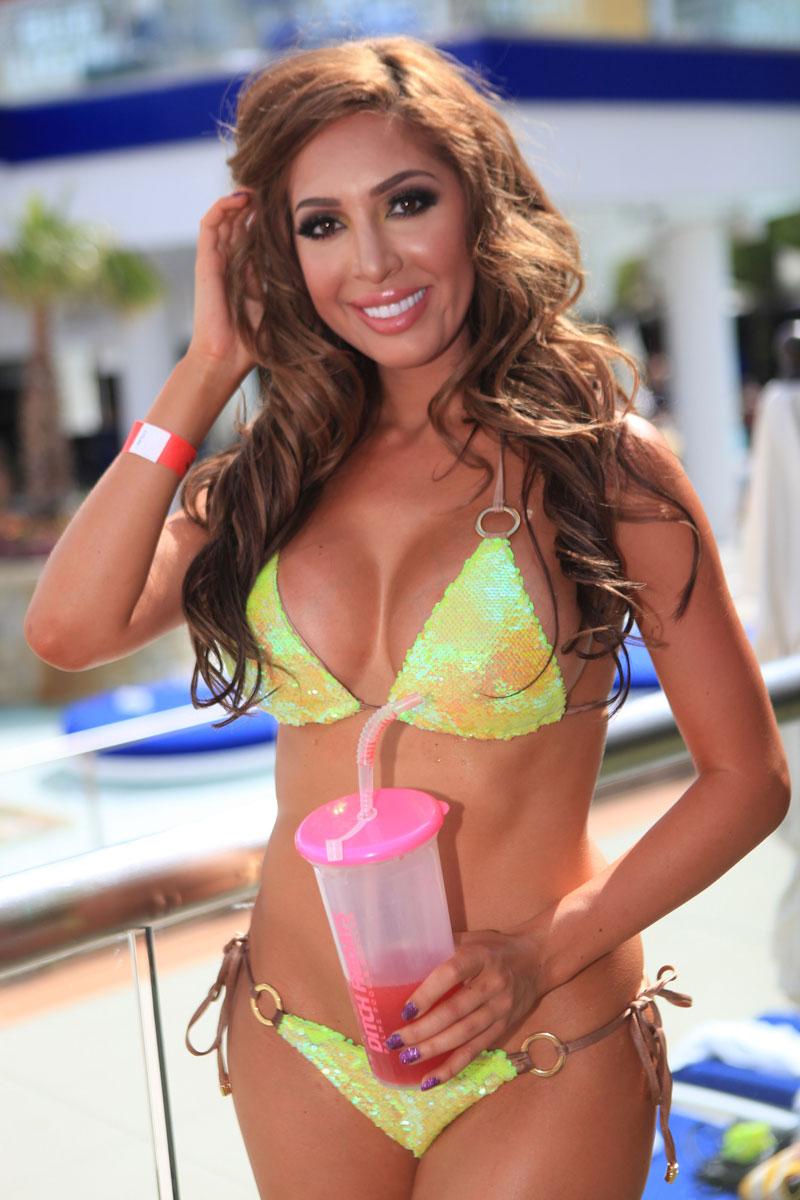 Famed TV personality, Farrah Abraham, spent the afternoon partying at Ditch Fridays at Palms Pool & Dayclub on June 10. Abraham who sparkled in a sexy, barely-there yellow sequin bikini, spent the afternoon celebrating the birthday of her good friend, Heather Marianna, local Beauty YouTuber and star of Bravo's "Tour Group."
The dynamic duo was all giggles while making their way over to popular social influencer, Kirill Was Here, best known for his wild party antics, where Abraham requested he do a champagne shower on Marianna's backside.
Abraham cheered him on before grabbing a bottle of champagne herself and joining in on the action. When Kirill, who was also celebrating a birthday, was presented with an over-the-top birthday presentation featuring jumbo score cards, a sparkly red Mercedes SUV kids-size power wheels and a boob-themed cake, the trio went wild.
Abraham was overheard talking about her quest to find true love. Abraham announced earlier today on her Facebook that she would be appearing on Patti Stanger's new million dollar matchmaking show on WE TV, "Millionaires Club," which premieres July 8.
Article continues below advertisement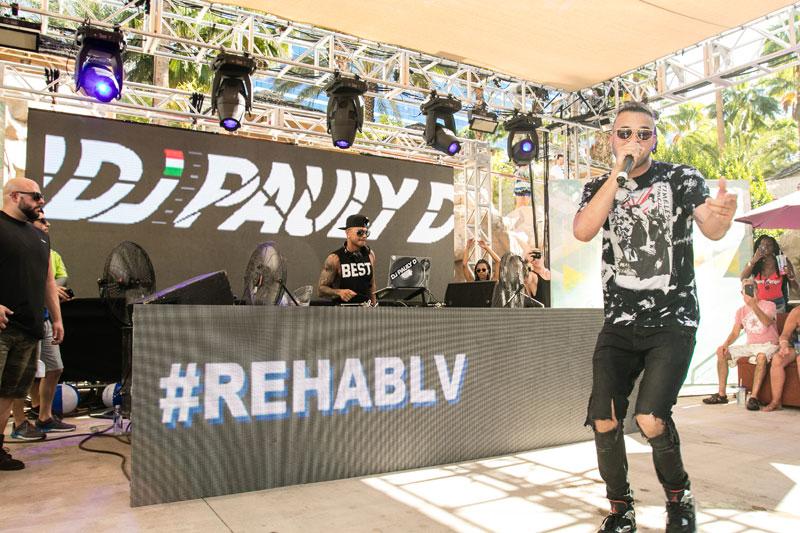 DJ Pauly D returns to Hard Rock Hotel & Casino for another performance on REHAB Beach Club's poolside stage on Sunday, June 5. This is part of his summer residency at the world-famous dayclub.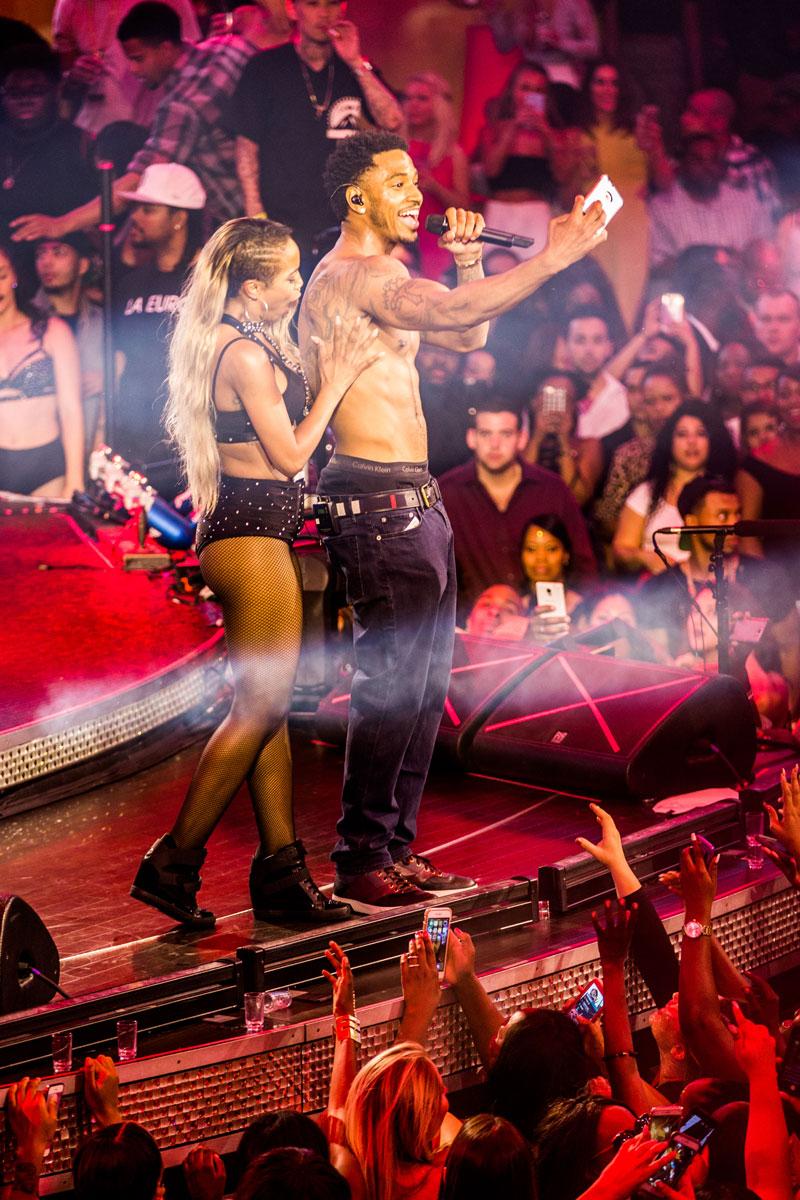 Exclusive Drai's LIVE resident artist Trey Songz returned to Drai's Nightclub at The Cromwell in Las Vegas to deliver a one-of-a-kind, full-length concert performance. During the high-energy show, which served as an unforgettable birthday celebration for his mother April Tucker, the R&B crooner treated the packed rooftop venue to a huge set of fan-favorites like "Can't Help But Wait," "Na Na" and many more. After taking shirtless selfies on the phones of a few lucky revelers and handing out shots of his SX Cha Cha Cha honey tequila, Trey invited the giant sea of fans and partygoers to join him in singing a special rendition of "Happy Birthday" to his mom. Following the show, Trey and his mom continued the celebration late into the night while enjoying a luxurious stageside VIP booth with friends.
Article continues below advertisement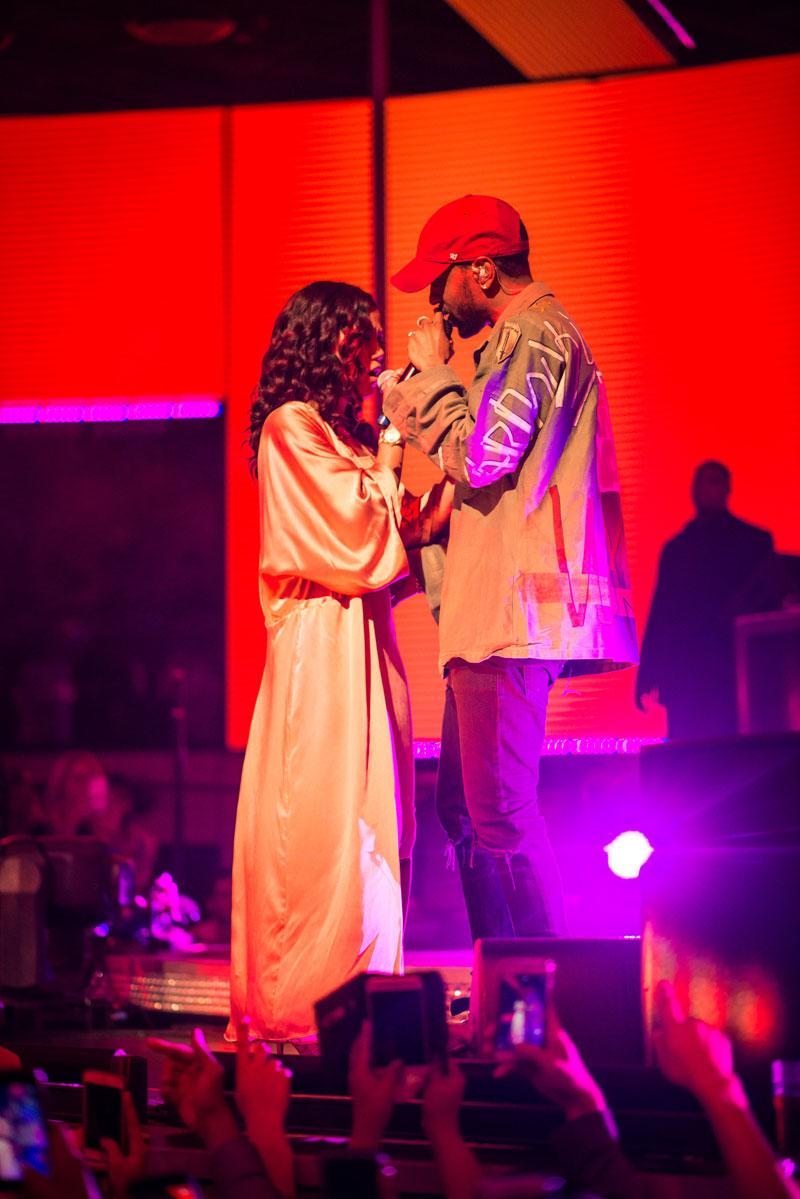 Exclusive resident artist Big Sean hit the stage at Drai's Nightclub at The Cromwell in Las Vegas to deliver a full-length concert performance presented by Drai's LIVE. Partygoers at the dazzling rooftop venue welcomed the "Clique" rapper to the stage with wild cheers as he served up an unforgettable set of hits like "I Don't F**k With You," "Blessings" and more. During the set guests were surprised with a special performance by singer-songwriter Jhené Aiko who took the stage alongside Sean.
Following the performance, the party continued late into the night as Sean enjoyed one of the venue's stageside VIP booths with friends. Spotted attending the high-powered performance was Houston Rockets forward Josh Smith.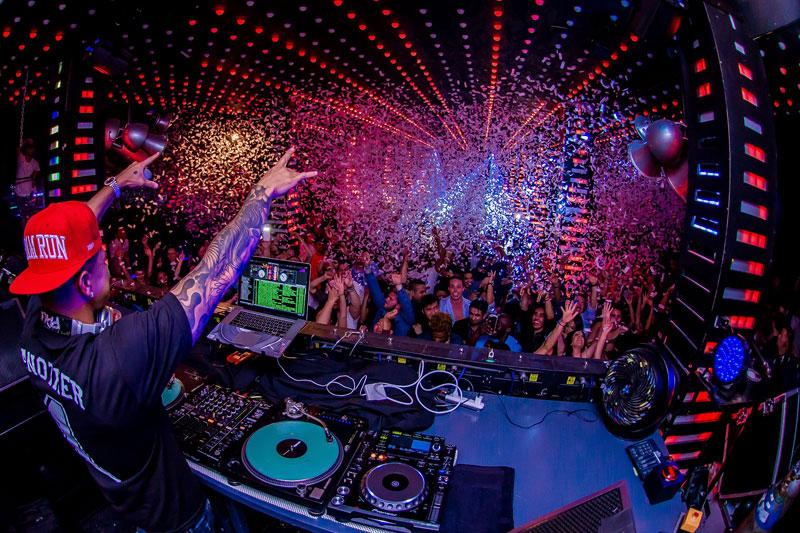 Former reality star and DJ, DJ Pauly D and girlfriend, Danity Kane member, Aubrey O'Day, partied in honor of Memorial Day at Temple Nightclub, located in the SOMA district in San Francisco on Saturday night.
Widely known for his role on the MTV's hit reality show, "Jersey Shore," Pauly D has made a name for himself in the DJ world starting with his residencies in various Las Vegas nightclubs and his own television show, "The Pauly D Project." The DJ, alongside O'Day, who is most famous for being in P Diddy's band, Danity Kane, flew in from Las Vegas and immediately headed over to the club where they partied throughout the night with bottles of Dom Perignon. Keeping the crowd pumped, Pauly D did several DJ sets spanning over two hours of high energy beats complemented by the club's lasers and LED light shows.
Article continues below advertisement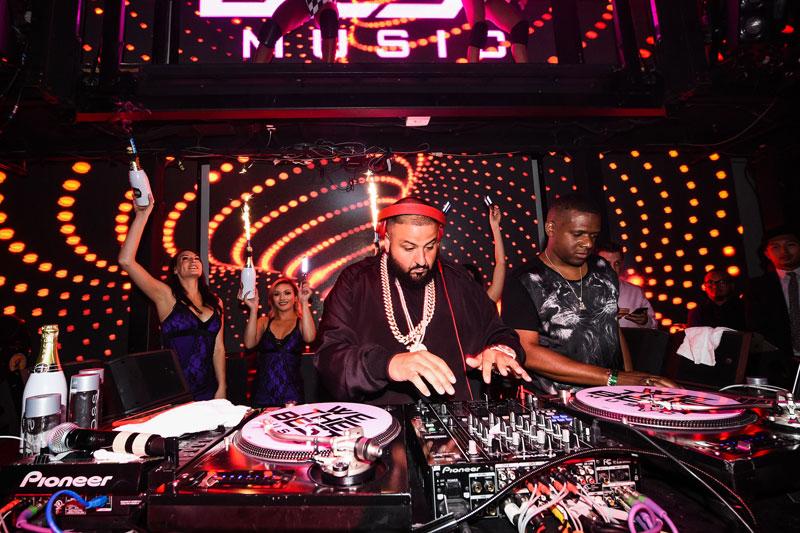 Snapchat master DJ Khaled closed out the Memorial Day Weekend festivities by kicking off "Unlock Your Mondays" at Marquee Nightclub in The Cosmopolitan of Las Vegas Monday, May 30. After receiving a key to city in a special ceremony on Sunday, the "Major Keys to Success" artist enjoyed dinner at Beauty & Essex before heading to the nightclub for his set. As he made his way to the stage, the crowd cheered uncontrollably as the Marquee Dolls danced around with giant DJ Khaled heads. The artist performed a selection of hits on the stage before taking over the DJ booth where he kept the party going into the wee hours of the morning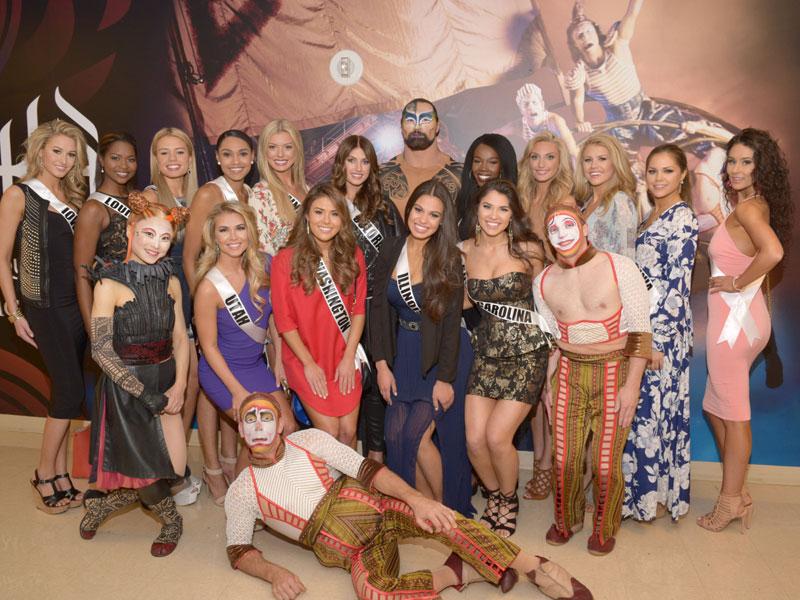 With just one week until the highly anticipated 2016 Miss USA Pageant, 15 contestants spent a girls' night out in Las Vegas, where they enjoyed one of the most exciting shows on the Las Vegas Strip: the world-famous KÀ by Cirque du Soleil®. Dressed in cute summer dresses with immaculate hair and makeup, the beauties attended the show while in town for the pageant. Their excitement was evident as the performers dazzled the audience with their breathtaking skills, brimming with exuberance during the final battle scene. Following the show, they happily took photos with their favorite artists in the lobby, thanking them for the wonderful evening.
Article continues below advertisement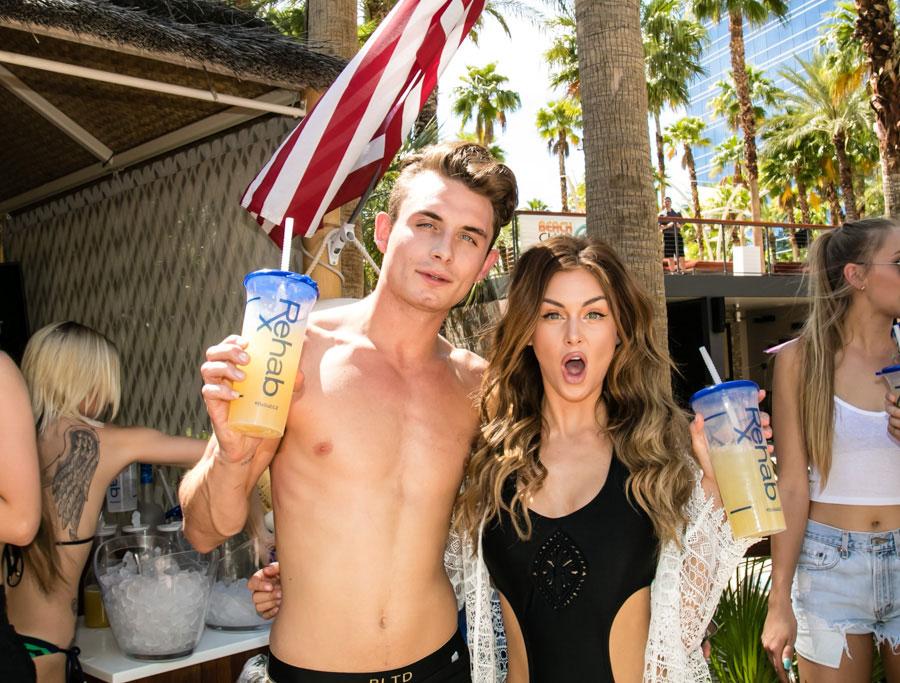 La La Kent and James Kennedy of Vandrpump Rules host Memorial Day at REHAB Pool Party at Hard Rock Hotel & Casino in Las vegas, NV on May 30, 2016.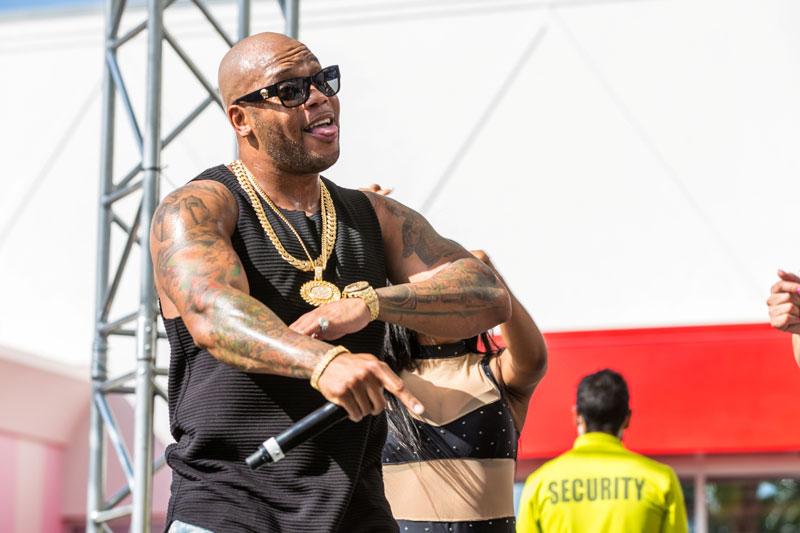 GRAMMY Award-winning artist Lil Wayne turned up the heat at SLS Las Vegas® during his Memorial Day Weekend performance at Foxtail Pool on Sunday, May 29. The hip-hop superstar kicked off the unofficial start to summer as only Weezy can, hyping up fans and performing some of his most iconic tracks, including "A Milli," "Got Money" and "Go DJ."
Earlier that weekend, Flo Rida, a resident favorite at SLS Las Vegas, brought down the house at Foxtail Pool when he performed his chart-toppers "GDFR," "My House" and "I Don't Like It, I Love It" on Saturday, May 28. Later that evening, he gave an encore performance at SLS' newest live music venue The Foundry and finished the night at Foxtail Nightclub where he delivered an electrifying show for hundreds of excited fans during the official concert after party. Following his set, Borgore kept the crowd dancing until the early morning hours.
Article continues below advertisement
ESPN broadcaster, Marcellus Wiley, aka "Dat Dude," hosted an all-American celebration in honor of Memorial Day Weekend on Sunday at Chateau Nightclub & Rooftop at Paris Las Vegas.
Known for his 10 year career as a defensive end in the NFL and his current role as an ESPN broadcaster and sports analyst, Wiley arrived at the club around midnight with an entourage of friends ready to spin beats for partygoers. Heading straight to the DJ booth, Wiley wowed clubgoers and got the party started with a live DJ set. Afterwards, the group sipped on cocktails and enjoyed the rooftop views overlooking the famous Las Vegas Strip from his VIP booth while DJ Seize played today's hits and Top 40 late into the evening.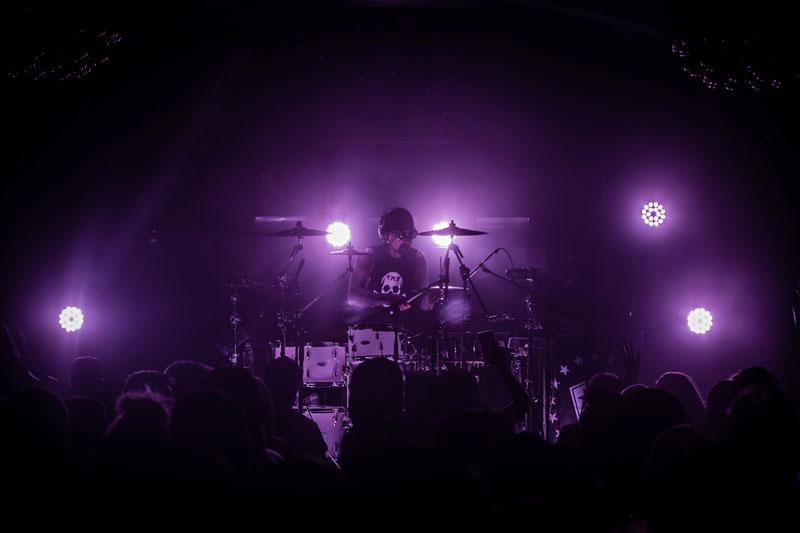 On Saturday, May 28 legendary Blink 182 drummer, Travis Barker, kept the party going at Hyde Bellagio in Las Vegas with the final performance of his "Give the Drummer Some" residency. Prior to his appearance, Barker tweeted about the show, posting "I'll be at @HydeBellagio mañana doin my #GiveTheDrummerSome Residency. #Vegas" The crowd went wild when Barker took the stage, opening with Desiigner's hit "Panda" followed by "All the Way Up" by Fat Joe, Remy Ma, French Montana and Infared. Barker dominated the drums and DJ booth during his set, blending beats by Ludacris, Jay Z, Drake and ACDC among others.
Article continues below advertisement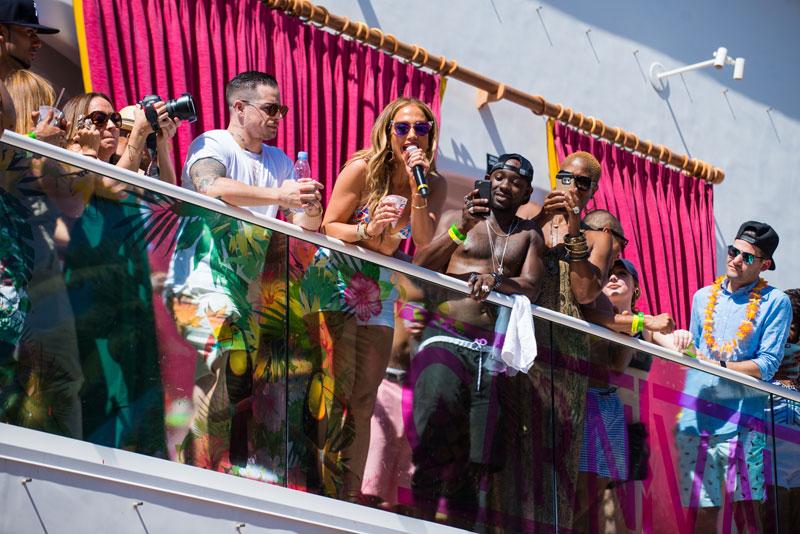 Global superstar and Las Vegas headliner Jennifer Lopez made her Drai's Las Vegas hosting debut at CARNIVAL DEL SOL at Drai's Beachclub at The Cromwell. Accompanied by boyfriend Casper Smart and a large group of friends and dancers from her Planet Hollywood Resort & Casino residency, Lopez welcomed fans and partygoers to the rooftop bash with confetti showers and danced the day away to the pulsating beats of MAKJ and Cipha Sounds from the sky-high paradise's luxurious Grand Cabanas.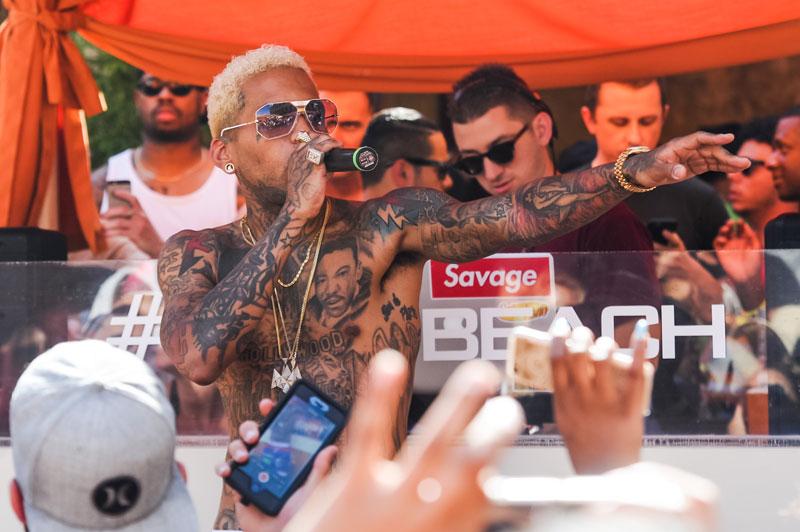 On Sunday, May 29 during Memorial Day Weekend, hip hop artist Kid Ink treated party goers to an all-star performance at TAO Beach in The Venetian. The rapper had the pool party jumping along to each song as he delivered a stellar set from the beach's stage.
Article continues below advertisement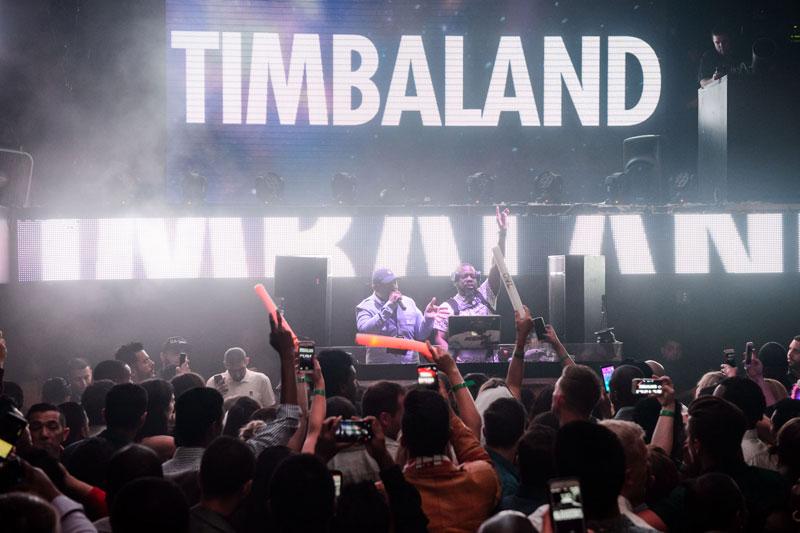 Timbaland took over TAO Nightclub as he provided the soundtrack to the party from the DJ booth for a packed crowd.
The multi-faceted artist took to the stage to perform an array of his top hits.
After his performance at TAO Beach earlier in the day, Kid Ink and his entourage re-fueled with dinner at LAVO in The Palazzo before heading to TAO Nightclub where they took in Timbaland's set.
Also in the crowd was Jillian Rose Reed from MTV's "Awkward". The actress was joined by a group of friends and sat at a VIP table.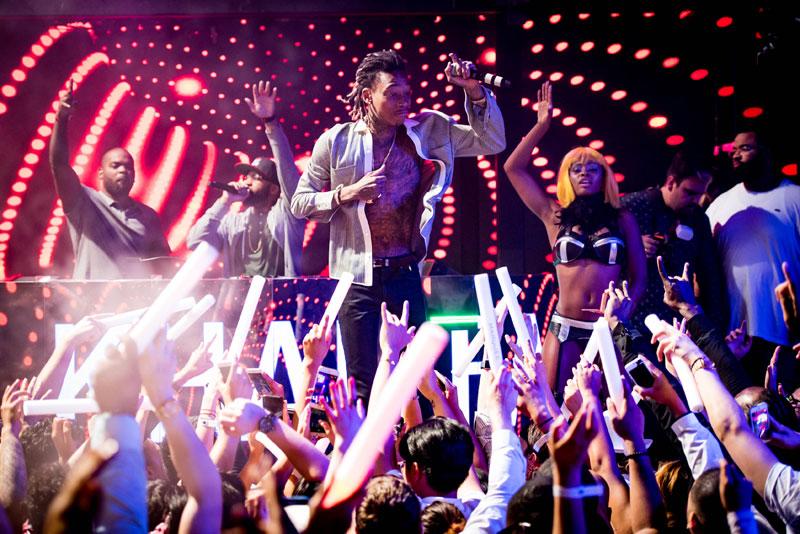 Over at Marquee Dayclub in The Cosmopolitan of Las Vegas, it was another exciting daytime party as Carnage manned the decks. Wiz Khalifa and Travis Scott joined in on the festivities and even initiated a squirt gun water fight before Wiz got on the mic and hyped up the crowd from the DJ booth.
Returning to Marquee Sunday night, Wiz Khalifa took over the club as he rapped a set of his top hits for a full house. The hip hop artist kicked off his performance with "We Dum Boyz" and "Black and Yellow" before getting the crowd going with his new single "Pole Up". While performing "Bake Sale" Travis Scott, who is featured on the on the song, surprisingly appeared on stage. The rapper, who was staying in a bungalow at The Cosmopolitan, heard the song starting and ran straight from his room to the stage to finish off the single with Wiz. For the grand finale, Travis Scott dove into the crowd while Wiz sprayed champagne on them.
Article continues below advertisement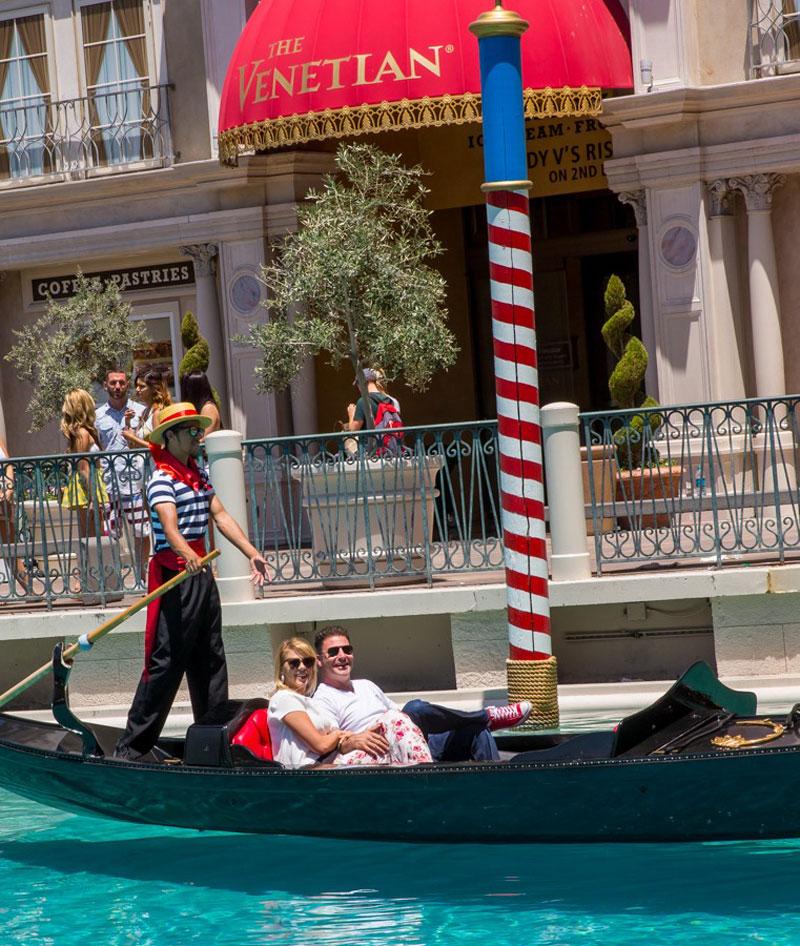 Jodie Sweetin and her Fiancé Justin Hodak sighting on a Gondola ride at The Venetian Las Vegas in Las vegas, NV on May 29, 2016.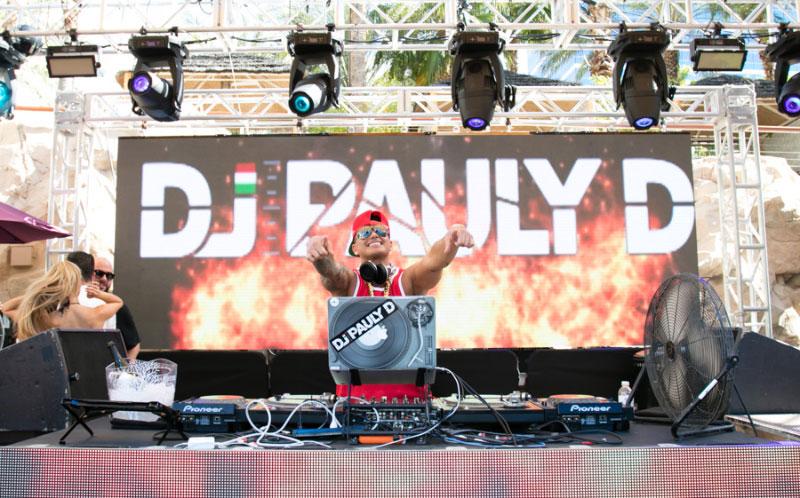 DJ Pauly D at Rehab at Hard Rock Hotel & Casino in Las Vegas, NV.