Bitter Or Sweet? Late Night Hosts Spoof Beyonce's 'Lemonade'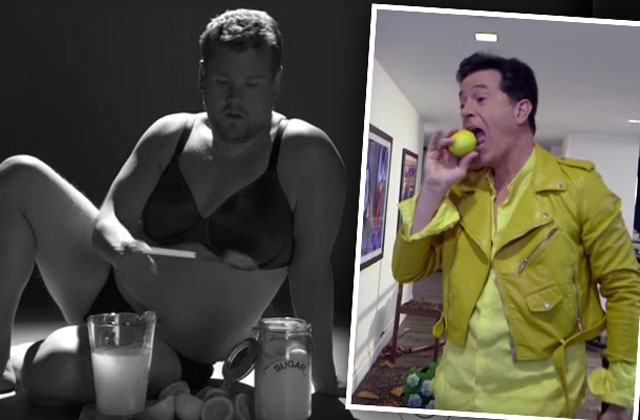 When Beyonce released her surprise album Lemonade, many people took notice, including the hosts of the late night television shows! Ever thought of what Lemonjames and Stephen-ade looks like? Well take a look at this gallery!
Article continues below advertisement
James Corden: Lemonjames
James Corden created his own parody of Queen Bey's video album called Lemonjames, sharing his personal experience of trying to create monologues for his show. Corden shares he wants to make people laugh like "Jimmy with the good hair."
Stephen Colbert: Stephen-ade
Stephen Colbert, dressed all in yellow, re-created one of the most iconic moments of Lemonade during the song Hold Up, by smashing props inside his TV studio!
Article continues below advertisement
Stephen Colbert: White-Mansplains 'Lemonade'
Colbert doesn't stop there. He ends up doing a white man-splaining video about her hit album. "For my fellow white men, her carrying hot sauce in her bag is like how we white men keep our Newman's Own Mild Pineapple Salsa in our fanny packs," Colbert explains.
Jimmy Kimmel: Explains 'Lemonade' Controversy With Emojis
Jimmy Kimmel also had some fun by explaining Queen Bey's new album and the surrounding controversy through emojis. "Beyonce took Jay-Z's lemons and squeezed them really hard, and made lemonade," Kimmel joked.