Dangerous Woman! Ariana Grande's 10 Sultriest Instagram Pics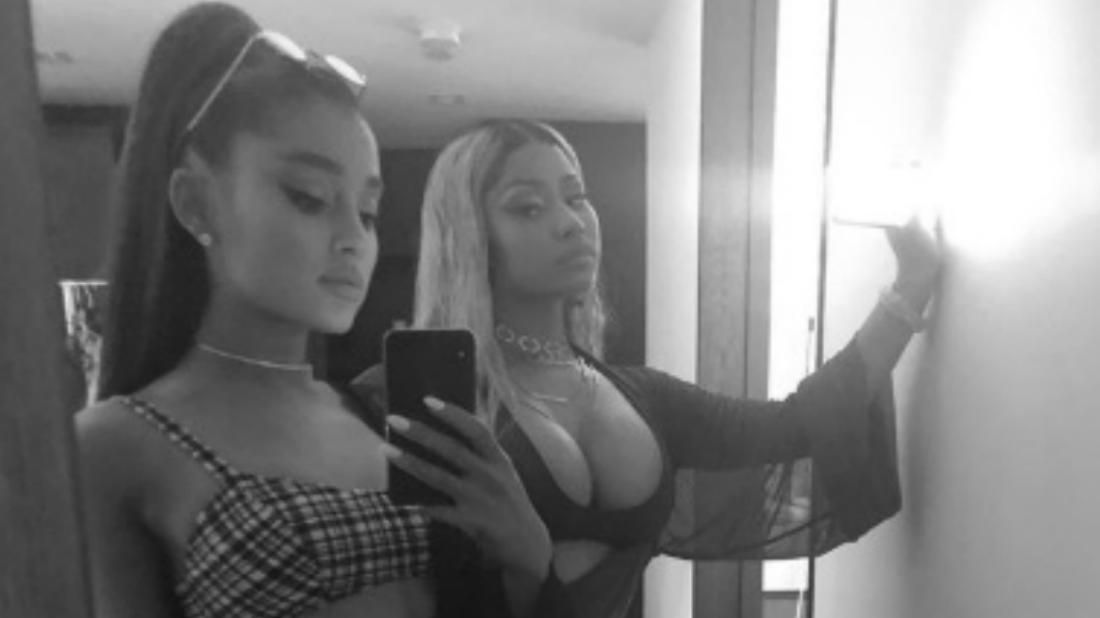 Pop superstar Ariana Grande has had ups and downs both professionally and personally. From her much publicized relationship with Saturday Night Live star Pete Davidson to health issues, the Grammy Award winning musician has not always been able to keep the focus on the music.
MORE: She's Back! Ariana Grande Headlines Night 3 Of Coachella After Year Of Struggles
But one thing that has remained a constant in her life is her ability to entertain fans both on stage and with her Instagram account that is packed full of behind-the-scenes moments, personal updates and sexy photos. Here are some of the best examples of the "Almost Is Never Enough" singer's sultry Instagram pics.
Article continues below advertisement
1. Sexy Selfie With Nicki Minaj To Celebrate A New Song.
On June 12 2018 Grande took a selfie in the mirror with fellow singer Nicki Minaj that might have broken the internet. The pair were together to announce their collaboration on the song "Bed" which was released two days later, according to Hello Giggles.
2. Fur Coat, High Heels Nothing Else?
As she prepared to hit the road in January 2017 for her "The Dangerous Woman Tour" to promote her third studio album, the singer posted to her account. She shared a photo of herself appearing to be in high heels and a fur coat. It was a sultry squatting selfie with the caption, "See you in one week, my loves #dangerouswomantour."
Article continues below advertisement
3. She Makes A Sweatshirt Look Sultry.
In June 2017, Grande took to Instagram for a quick selfie in the mirror with the simple caption, "Hi." The seemingly casual photo of the singer quickly collected over three million likes proving that she can make even a sweatshirt look sultry.
Article continues below advertisement
4. Dressing Room Selfie.
While making a stop in Chicago in December 2016, Grande posted a thank you note to fans who came out to her show. Along with the caption, "thank you Chicago," the singer sent a personal pic from her dressing room backstage at the arena.
Article continues below advertisement
5. Kissy Face For The Win.
There is nothing better than a pop superstar giving a "kissy face." Grande did just that with this sexy selfie, which she posted to her official account in November 2016. She captioned the photo, "No I don't want to live without love."
Article continues below advertisement
6. Trying Out A New Look: Blonde!
A newly "blonde" Ariana Grade posted another sexy selfie to her Instagram in November 2016. The black and white photo of her in a wig and T-shirt was posted with the caption, "blonde (wig) ambition @chrisappleton1 ☕️..... just for now ♡ #Faith @singmovie." The caption was a reference to the song she created with Stevie Wonder, titled "Faith" for the animated feature film "Sing" according to InStyle.
Article continues below advertisement
7. Another Cute View Of The Blonde Wig
Grande posted another picture of her as a blonde in November 2016. This time fans were able to get a better look at her as a blonde as the photo was in color. With a selfie in front of a keyboard, the "Faith" singer reminded everyone of her true hair color with the caption, "I'm not a blonde."
Article continues below advertisement
8. A Short Skirt And A Long Jacket.
In July 2016 Grande posted a selfie with a funky patterned jacket featuring a fox on one side. Her outfit also included a short skirt and a bare midriff, which gave off a sultry vibe. She referenced her friend in the background, "He won't stop singing Sondheim but I have a great jacket on."
Article continues below advertisement
9. A Red Dress And A Sparkling Earring For The Grammys
Showing off a classic red dress and a large sparkling earring, Grande gave fans a preview of the outfit she wore to the 58th Annual Grammy Awards in February of 2016. The singer was a featured presenter at the ceremony that night.
Article continues below advertisement
10. Stick Out Your Tongue … Say Something Nice.
In an October 2015 selfie posted to Instagram, Grande stuck out her tongue with a sultry expression while sitting in a chair. The pop star captioned the fun photo with, "please comment 3 nice things about yourself below (example: "I'm cute af", "I'm funny af", "I have a great ass", "I like my freckles", "I love my tummy" etc)."