Cannes Or Can't? The Best, Worst & Wackiest Dressed Stars At The 2014 Cannes Film Festival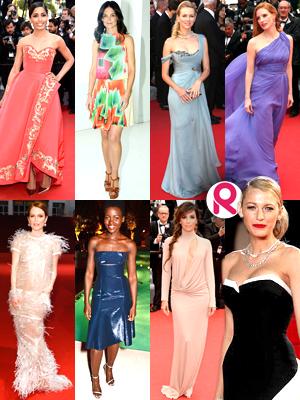 Article continues below advertisement
Freida Pinto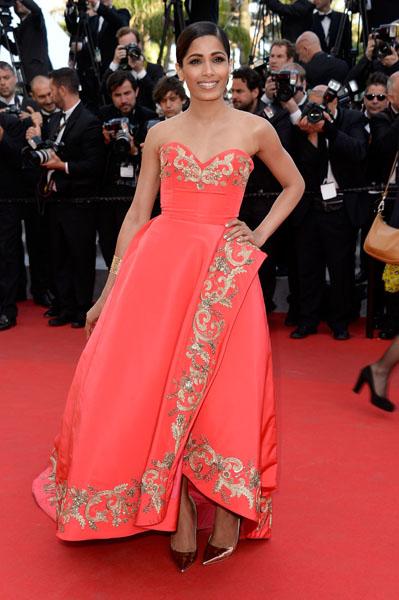 #1 Best: Freida Pinto: The Slumdog Millionaire star donned strapless Oscar de la Renta on day five of the festival, and honored her Indian heritage with this dress featuring a bright color and tasteful embellishment. Her pulled-back hair also let the gown take center stage. Pinto looks like a princess!
Karlie Kloss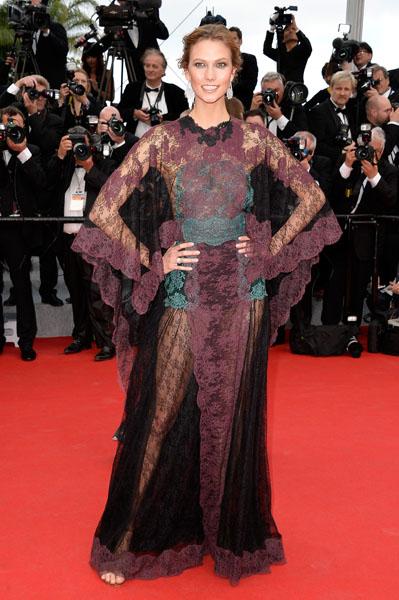 #2 Wackiest: Karlie Kloss: The model looks like she's wearing lingerie in this sheer brown Valentino number with a bright green onesie underneath! The colors don't flatter Kloss and her hair is also a mess.
Article continues below advertisement
America Ferrera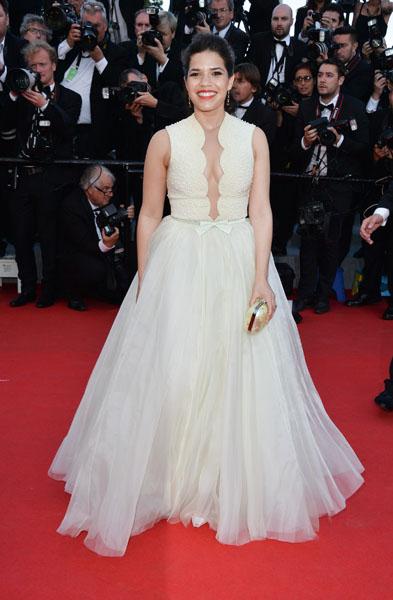 #3: Worst: America Ferrera: The Ugly Betty star's gown looks like a wedding dress gone bad with the bodice squishing down her boobs and a corny little bow at her waist. During Ferrera's How To Train Your Dragon 2 premiere at Cannes, a prankster dived under the dress to see more of America. The scary guy got tangled up and it's no surprise as this gown has a lot of chiffony cream puff material at the bottom -- it's just not right for an actress who lacks an ethereal vibe.
Article continues below advertisement
Christina Hendricks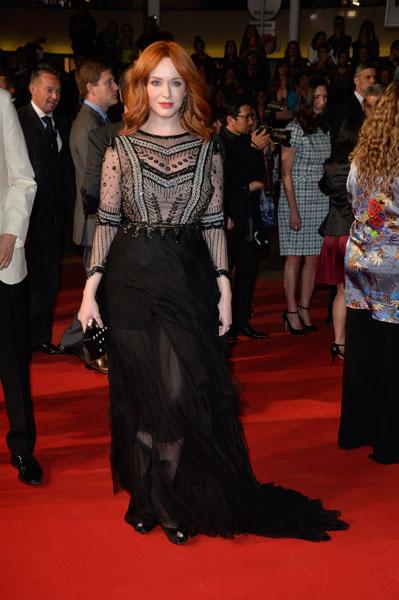 #4: Worst: Christina Hendricks: The Mad Men beauty's black gown doesn't show off her best assets, covering up her breasts with an overly fussy top half. One's eyes wander to the sheer skirt at the bottom that awkwardly reveals part of her legs. Neither polished nor va-va-voom, Hendricks doesn't look sexy like her character Joan this time.
Article continues below advertisement
Jessica Chastain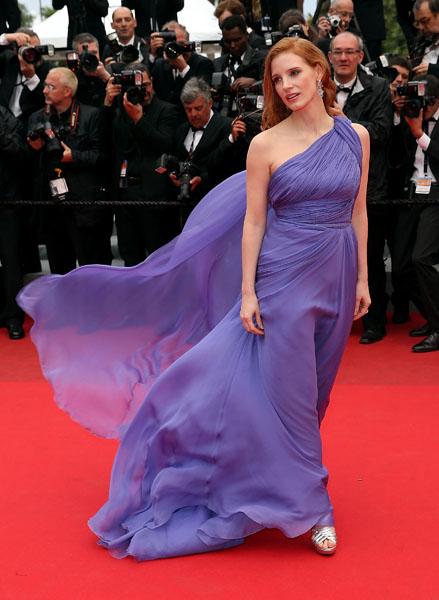 #5: Best: Jessica Chastain: Perfection! Chastain's flawless fashion sense scores again as she hit Cannes in a flowing Grecian-style periwinkle gown by Elie Saab. The Foxcatcher star opted for simplicity and a lot of tailoring; eyewitnesses were thrilled when the dress blew beautifully in the wind. It doesn't get better than this.
Article continues below advertisement
Eva Longoria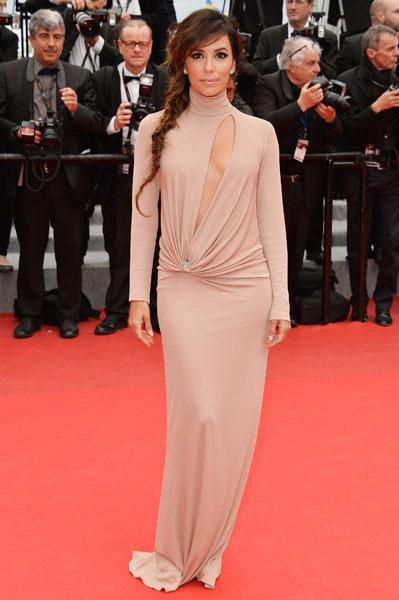 #6: Wackiest: Eva Longoria: We'll try to put this as delicately as possible: when you're a lady with a petite chest, you might not want to flash flesh in an asymmetrical cleavage-baring turtleneck gown. The Desperate Housewives beauty showed up at the Foxcatcher premiere in this daring Vionnet dress with a nude color that also washed out Longoria's lovely skin. Plus, the twisted hair gives her a wacky air.
Article continues below advertisement
Rosario Dawson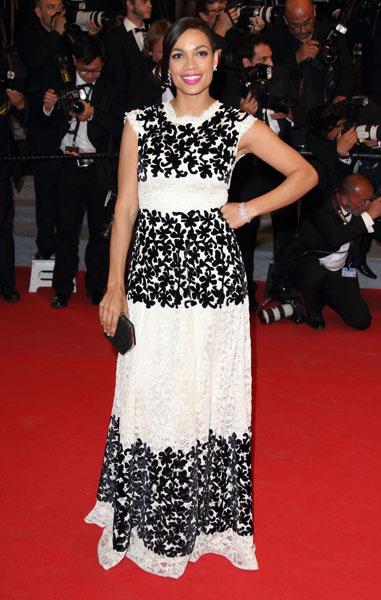 #7: Best: Rosario Dawson: The actress' classy Dolce & Gabbana gown has plenty of pattern, and she has enough presence to pull it off. Dawson, who was promoting the movie Captives at Cannes, also impresses with flawless hair and makeup to complete the total star package.
Article continues below advertisement
Nicole Kidman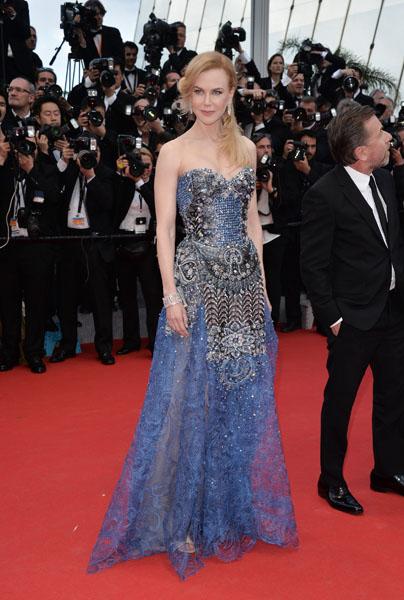 #8: Worst: Nicole Kidman: Fashion Police co-host Joan Rivers is always joking about Kidman's Botoxed face, and she looks as stiff as a board in this Armani Prive strapless gown featuring a blue and grey bustier encrusted with crystal baguettes and pearls. It's too much bling for Kidman, who has lost her fashion way lately.
Article continues below advertisement
Sofia Coppola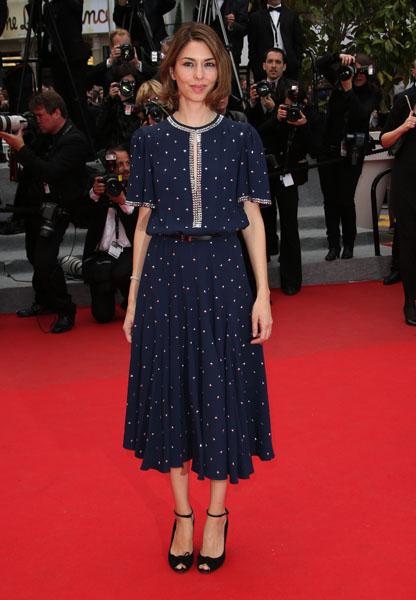 #9: Wackiest: Sofia Coppola: Is she going to church or Cannes? The fashionista movie director looks like a choir girl in her ultra conservative knee-length navy blue Michael Kors dress with T-strap heels. An odd choice for the red carpet, but Francis Ford Coppola's daughter has her own demure style and she always sticks to it!
Article continues below advertisement
Salma Hayek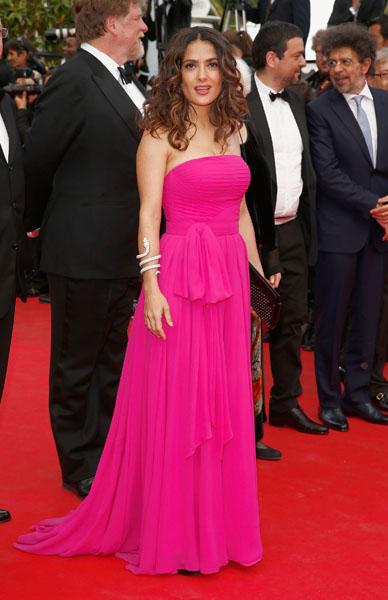 #10: Best: Salma Hayek: She doesn't need much to look sexy, and Hayek brings the heat to Cannes in this strapless, flowing bright pink Yves Saint Laurent gown. Love the snake bracelet crawling up her arm, too!
Article continues below advertisement
Zoe Saldana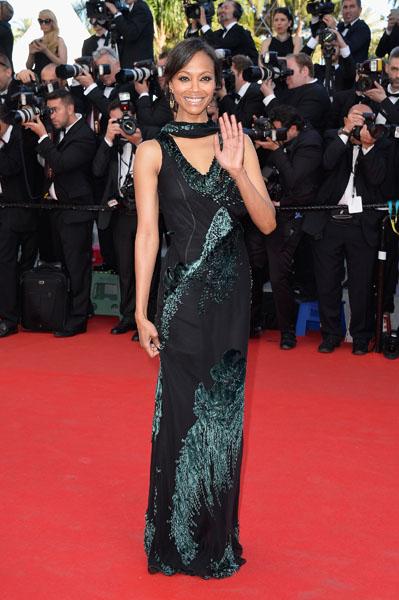 #11: Worst: Zoe Saldana: The Avatar actress is usually ahead of the fashion pack, but the green and black patterned gown's color and v-neck shape doesn't do enough for her. The velvet gown was too shapeless for the Cannes Mr. Turner premiere.
Article continues below advertisement
Lupita Nyong'o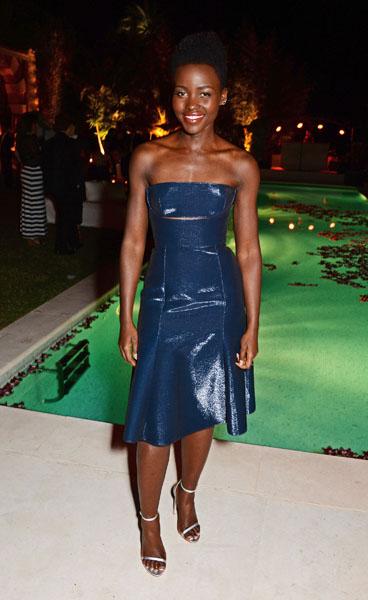 #12: Best: Lupita Nyong'o: Whew, she's back! After raising eyebrows at the MET ball with an oddball netted and feathered dress, the 12 Years a Slave star impresses poolside at Cannes in a shiny blue strapless number. Just below the knee is the perfect length for Nyong'o to show off her great gams.
Article continues below advertisement
Alessandra Ambrosio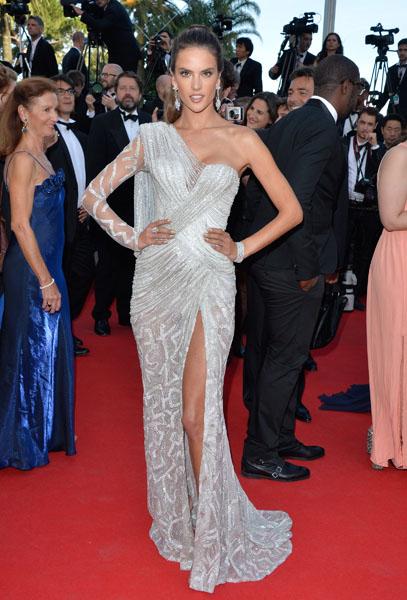 #13: Worst: Alessandra Ambrosio: The Brazilian supermodel does it up big and shiny in this Atelier Versace gown with a thigh-high split. The silver blingy look somehow seems too much on Ambrosio--but then again, we're used to seeing her in underwear for Victoria's Secret!
Article continues below advertisement
Julianne Moore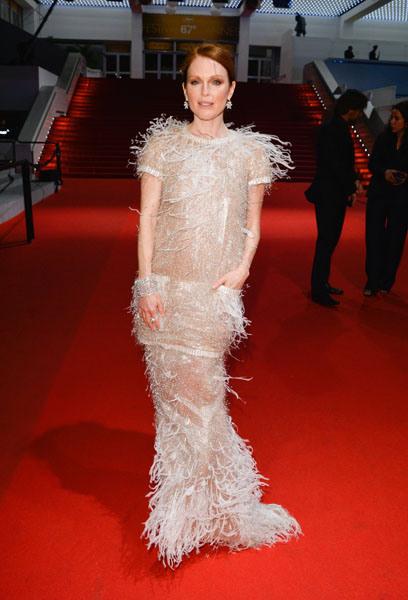 #14: Wackiest: Julianne Moore: While at the festival's premiere for her latest movie Maps to the Stars, Moore donned this feathered gown that also had buttons on the back! It looks like a huge feather duster and the pockets in the front don't help. Surely Chanel has better dresses to choose from?
Article continues below advertisement
Rooney Mara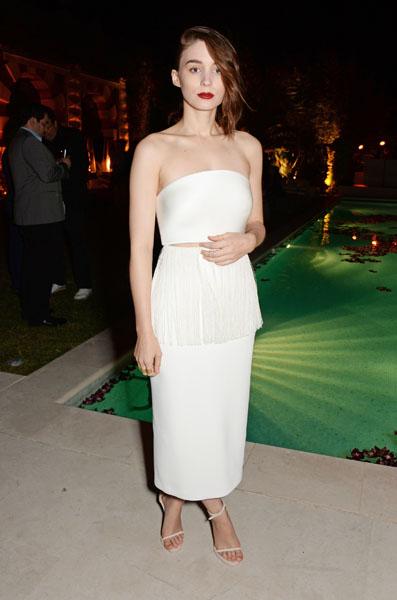 #15: Best: Rooney Mara: Okay, so we are getting weary of the crop top trend, but this one has just a tiny slit and Mara always looks stunning and fashion forward in white. She's an alabaster queen and adding red lipstick for contrast was just the right touch.
Article continues below advertisement
Cate Blanchett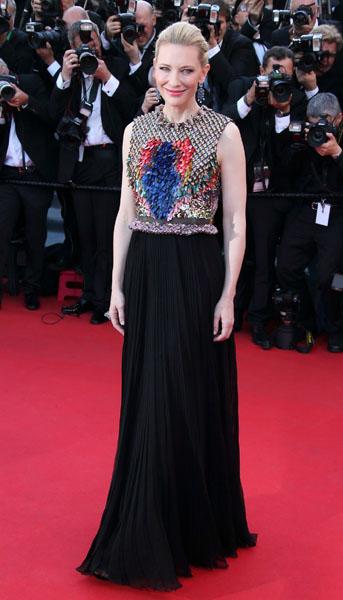 #16: Best: Cate Blanchett: Never afraid to push the style envelope, Oscar winner Blanchett showed up to her How to Train Your Dragon 2 premiere in this colorful Givenchy gown. Although you can't see it in this photo, the dress also has a sheer back. Blanchett later posed with a giant puppet of the dragon and we think she chose the dress to go with Toothless for the photo op! This is odd in the best way.
Article continues below advertisement
Naomi Watts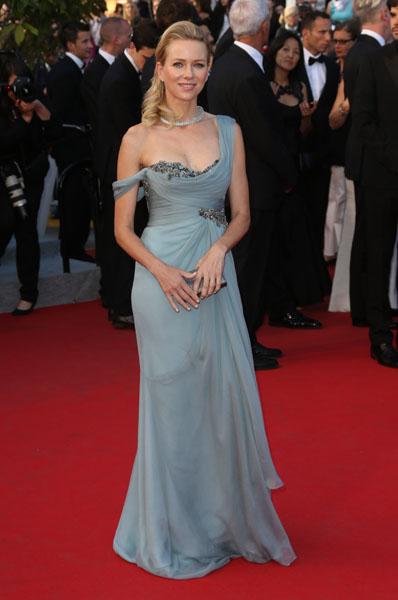 #17: Worst: Naomi Watts: Good fashion seems to be hard for The Impossible star lately. This grey Marchesa gown with a strap falling off one shoulder exposes too much flesh in a bad area for her. Although the gown is well cut, it's too much on the Australian actress and she should have left the diamond necklace at the hotel.
Article continues below advertisement
Amber Heard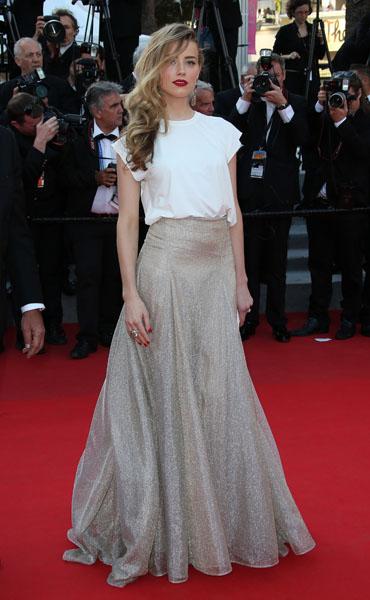 #18: Best: Amber Heard: It's nice to see Johnny Depp's fiancee looking fresh and understated as she blends a casual white loose top with a shiny gold ball gown skirt by Vionnet. Heard's red lips and nails add sex appeal and pretty earrings make the ensemble stand out. Memo to other young Hollywood hotties: You don't have to show off your body parts to look great!
Article continues below advertisement
Blake Lively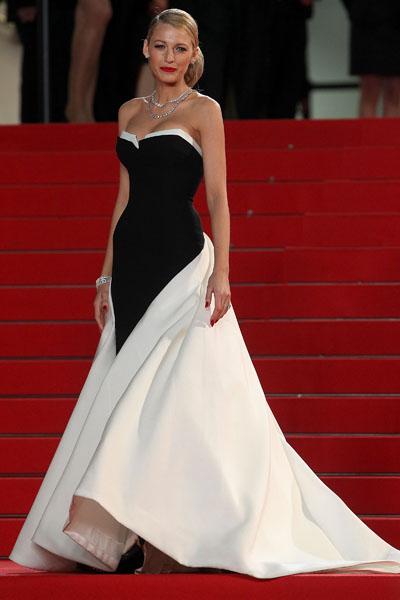 #19: Best: Blake Lively: The Gossip Girl star is inspiring lots of positive fashion whispers in Cannes and this fitted Gucci strapless black and white strapless masterpiece is a total knockout. We're thinking classic movie star! She left most of the other actresses in the dust and looked even better, if that's possible, later on with husband Ryan Reynolds on her arm at his premiere for the movie Captives.
Article continues below advertisement
Jennifer Lawrence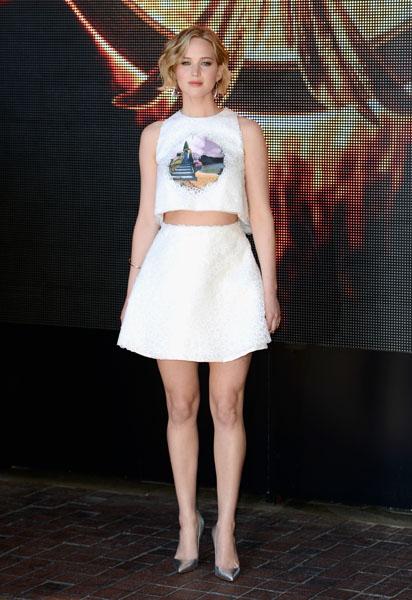 #20: Wackiest: Jennifer Lawrence: Another day, another actress in a crop top! The Silver Linings Playbook cutie brought her midriff to the film festival and although Lawrence IS fun and youthful, why does she want to look like age 14? The skirt's too short, her knees look knobby, and the weird bodice resembles something that should be on a little girl's tee shirt.
Article continues below advertisement
Sharon Stone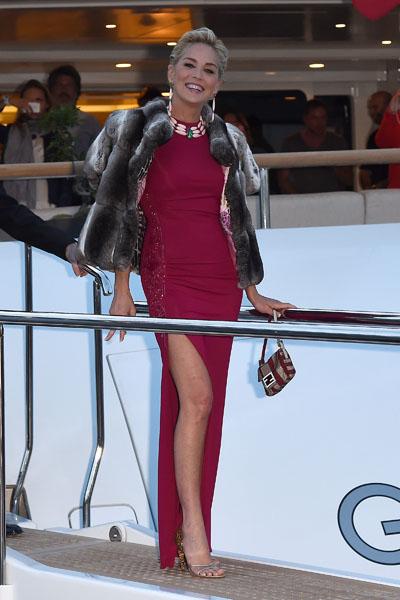 #21: Worst: Sharon Stone: The 56-year-old Basic Instinct beauty always looks great for her age, but there are too many busy elements going on here and it winds up looking tacky. Stone needed to ditch either the fur, the purse, or the earrings for a more sleek appearance. Still, she did take the fur off at another point in the evening -- and look at that shapely leg any woman would envy! Wow.
Article continues below advertisement
Hilary Swank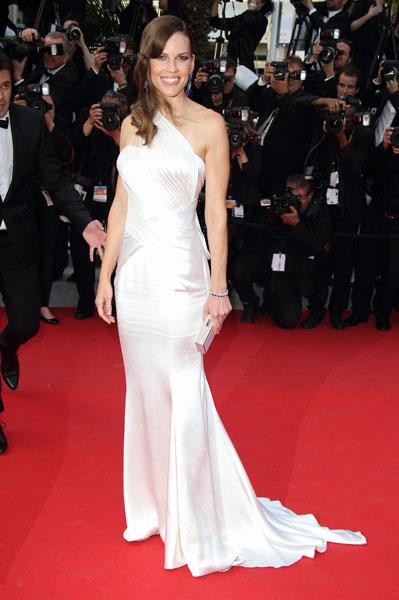 #22: Best: Hilary Swank: The Boys Don't Cry glamazon shows off her toned body again in this fitted shiny white dress. Swank knows what looks best, so bravo! She manages to appear both chic and comfortable.
Article continues below advertisement
Marion Cotillard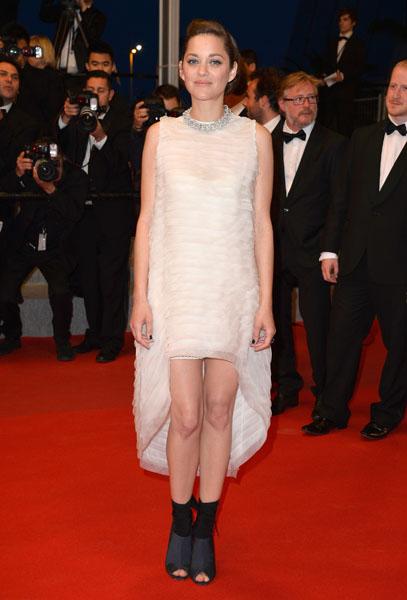 #23 Wackiest: Marion Cotillard: You can never expect what the French actress will wear, which is both good and bad! At Cannes, she took a walk on the wild side with this asymmetrical and sheer gown by Dior while promoting her new movie, Two Days, One Night. The dress is too experimental and emphasizes her knee caps and black peep-toed shoes.
Article continues below advertisement
Paris Hilton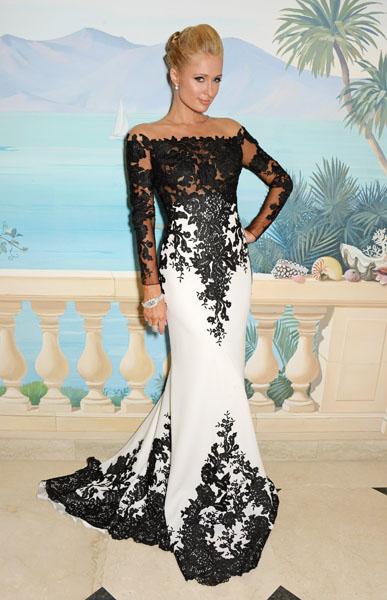 #24: Best: Paris Hilton: Although this skirts the edge of being over-embelished and matronly, Hilton IS getting older and it's a refreshing fashion moment for the socialite. She's all pulled together and let's face it, The Simple Life star really knows how to strike a pose to best show off the details in the intricate black and white gown.
Article continues below advertisement
Katie Holmes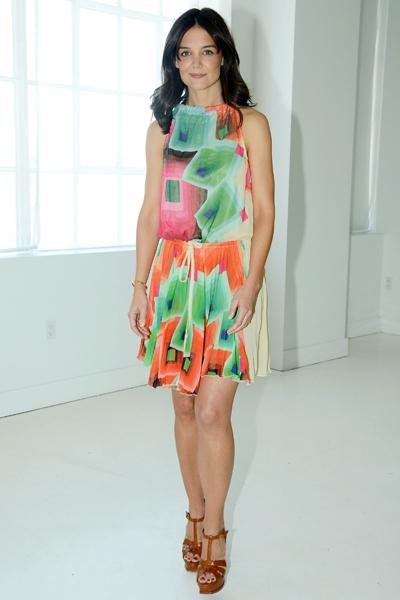 #25: Worst: Katie Holmes: Tom Cruise's ex-wife's style has been all over the place lately, and she opted for a rainbow-colored mini dress that is way too loud for the shy actress and compounds the problem with clunky brown sandals. Is this for France or Florida? We know she's escaped from Scientology, but it's is a psychedelic DON'T from designer Desigual! Although it's better than her MET Gala dress disaster, we'd like the more streamlined and sophisticated Katie back.