Exclusive
University Of Notre Dame Sued By Ex-Swimming Coach For Gender Discrimination And Retaliation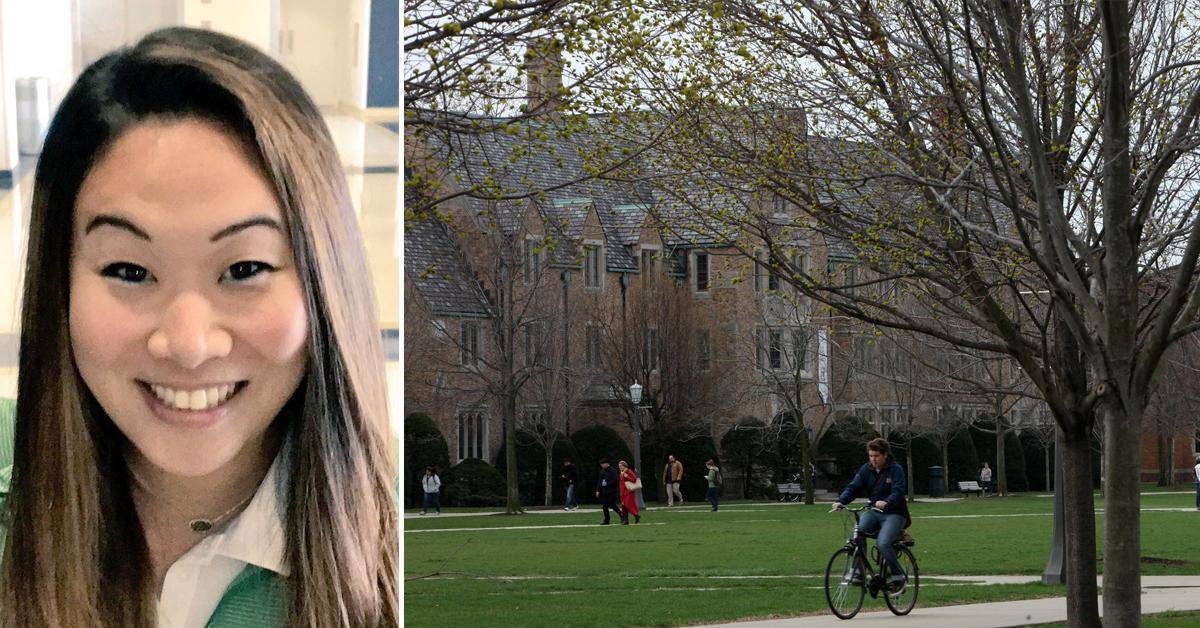 A former University of Notre Dame swimming coach is suing the school for gender discrimination, pregnancy discrimination and retaliation.
Article continues below advertisement
In the lawsuit, obtained by RadarOnline.com, former Associate Head Coach of Men's and Women's Swimming April Jensen alleges she was fired from her post in May 2020, three days after filing a complaint with an operations leader and a human resources representative about gender inequities at the university.
She says the school discriminated against her by treating her less favorably than male employees in similar rankings due to her sex, pregnancy, childbirth and related medical conditions.
Article continues below advertisement
"During her employment at Notre Dame, Coach Jensen was devalued because of her gender both in the assessment of her worth that affected her pay relative to similarly situated males and in the evaluation of her performance, again relatively to similarly situated males," the complaint states. "These differences in the evaluation of her behavior, her value and her performance were the result of gender bias or stereotypes that were later exacerbated by her pregnancy."
The complaint argues that "female coaches at institutions across the nation are at a high risk of gender bias adversely affecting the terms and conditions of employment," noting that Jensen is a perfect example.
Article continues below advertisement
Because Notre Dame receives federal funding, it is prohibited from discriminating based on gender – including stereotypes, biases, and unequal pay and benefits.
Therefore, "if Notre Dame prefers to seek an exception to permit it to directly discriminate against women based on the outdated view that women are subservient to men or that if pregnant, need to be confined to the home or denied access to work as a professional, then [Jensen] seeks as part of her equitable relief that Notre Dame give up all access to federal funds, federal contracts or loans backed by federal money."
Article continues below advertisement
According to the filing, Jensen announced her pregnancy to her supervisor, Head Coach Mike Litzinger, in May of 2019. When the fall term commenced, Jensen returned to coach as a visibly pregnant woman.
She allegedly informed Litzinger of her postpartum plans to only take a few weeks of maternity leave so she could return to work in time to attend the team's two-week training trip to Florida at the end of December 2019. Litzinger is said to have disagreed with Jensen's plan and openly patronized her.
Article continues below advertisement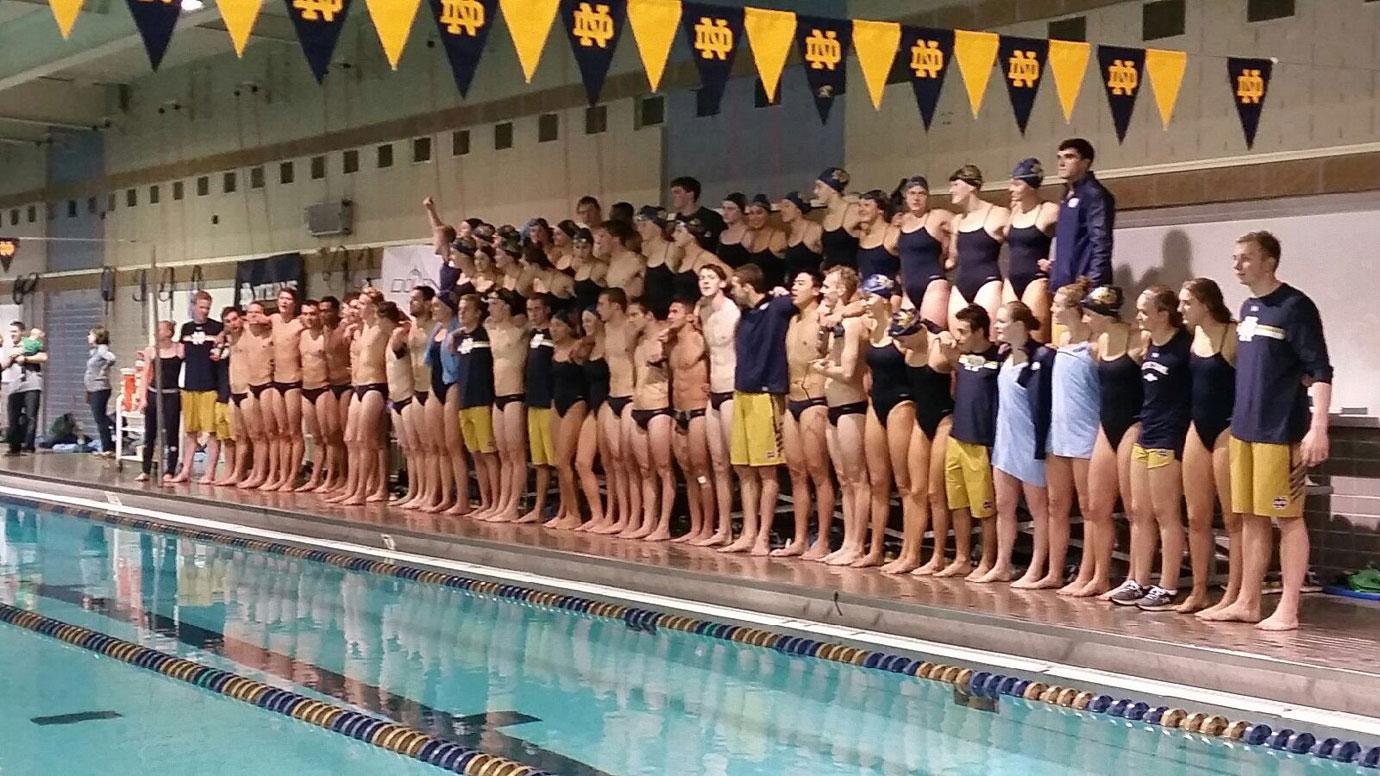 For the record, Notre Dame offers its employees 12 weeks of maternity leave.
Article continues below advertisement
Jensen claims that when Litzinger wasn't mocking her, he was ignoring her. She also says she was held to a double standard in regard to swimmer performances and was given contradictory guidance on how to coach the team. She allegedly did not receive positive feedback when her swimmers excelled.
On December 8, 2019, Jensen delivered a healthy baby girl. She took five weeks of maternity leave and returned to work on January 13, 2020. Under doctor's orders, she was unable to attend the training trip.
Article continues below advertisement
According to the filing, Litzinger told Jensen she first needed to obtain a return-to-work form, which she acquired, even though it was the first time she says she had been told she needed one.
She says Litzinger continued his dismissive treatment of her, reiterated her designated role to her, assigned her tasks beneath what she was used to and soon stripped her of her job duties in front of all other coaching staff and all student athletes.
Article continues below advertisement
Because of Litzinger's continued cold and demeaning treatment of her, says Jensen, the student athletes no longer went to her for coaching and instruction.
During a meeting requested by Litzinger, Assistant Athletics Director Juli Schreiber told Jensen that Litzinger had supported her by paying her a full-time salary for working a "modified schedule."
Article continues below advertisement
Jensen says she explained her absences and trips to the bathroom were to pump breastmilk. She also says she explained that she had to attend well-child exams and receive treatment for mastitis, postpartum depression and anxiety following her delivery.
Litzinger allegedly told her that "nobody cares what you went through."
Article continues below advertisement
The filing claims Jensen asked to meet with Associate Director of Operational Effectiveness Juile Boser on February 28, 2020, to report discriminatory treatment during and after her pregnancy.
The suit alleges she made the same complaint on March 10, 2020, during a meeting with Associate Director of HR Consulting Lori Mauer.
Article continues below advertisement
Jensen was terminated three days later, on May 13, 2020, allegedly based on her performance over the last three years and not the last six months.
Litzinger allegedly said the firing had nothing to do with Jensen's coaching abilities or relationships with the athletes.
Article continues below advertisement
Indeed, Jensen says she received no write-ups or performance-improvement plans prior to her termination.
She is requesting "judgment against [Notre Dame] in an amount which will fully and fairly compensate her for her injuries and damages; lost wages and benefits; compensatory damages for loss of employment, loss of wages and benefits, emotional pain and suffering, indignity, humiliation, embarrassment, inconvenient and damage to her reputation, loss of career, and out-of-pocket expenses; punitive damages, any other relief the Court deems just and necessary to make [Jensen] whole and effectuate the purpose of the law, including equitable and injunctive relief, prejudgment and post-judgment interest as allowed by law; attorneys' fees; expert witness fees; and costs."