Legendary Trader & Media Tycoon Luiz F Costa Macambira Immortalized By Artist Marcos Marin At The 2022 WIBA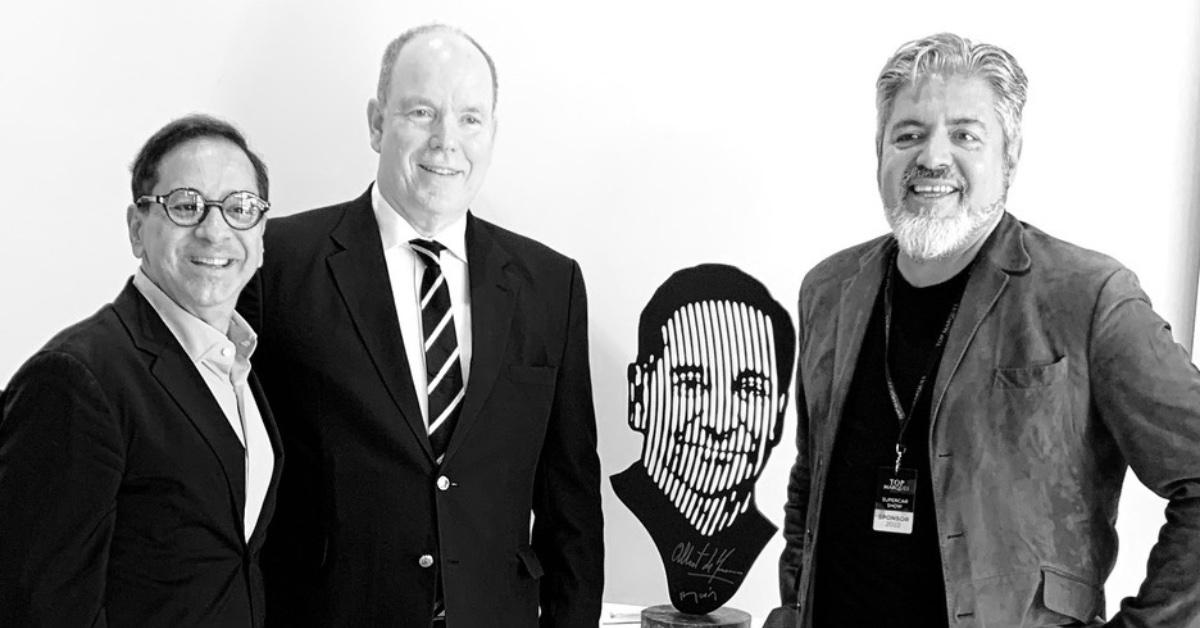 Social Media's finest gathered for the 4th annual World Influencers and Bloggers Awards (WIBA) during the 2022 Cannes Film Festival.
The world's top creators—which together account for half a billion followers on Instagram and TikTok were in attendance.
There, among the glitzy crowd, serial legendary Monegasque entrepreneur and publishing mogul Luiz F Costa Macambira was immortalized in statue form to celebrate his presence in the media world.
Artist Marcos Marin created the statue of Costa Macambira's face in his iconic optical totem contemporary style.
Article continues below advertisement
Marin, who is well known in the art world for creating several commissioned pieces for the Monaco Princely family, was in attendance to sign the statue on the spot.
His artistic resume boasts official portraits commissioned for many notable figures, including former president of Singapore, Lee Kuan Yew, multibillionaire maximum monetary authority of Macao, Stanley Ho, actors and friends of the artist, Michael Douglas and Robert Redford, the former French president Sarkozy, Eduardo dos Santos of Angola, and Aníbal Cavaco Silva of Portugal, to name a few.
Article continues below advertisement
"I have been Inspired by Luiz' personality, energy and charisma and all that he means to our community in South of France. He is one of those people who doesn't want to be famous. He just uses his entrepreneurial talent to make our world a better place. His trailblazing certainly doesn't end here with his statue," expressed Marin.
The statue of Costa Macambira stands at 55cm tall—an optical totem made of carved plexiglass, making it possible to see through the work from different angles, and from the spectator's movement. It allows viewers to appreciate various kinetic, volumetric, and chromatic effects, which leave the optic nerve very excited, and often even moved.
Article continues below advertisement
In the final minutes of the WIBA's glamourous event, a composed Luiz Costa Macambira made his way through the frantic crowd of influencers and movie stars, to receive his optical face statue from the artist.
"It is a very beautiful thing for me, I am humbled and very touched by Marcos Marin's initiative to honor me," Luiz said of the statue.
The unveiling was part of the events and activities of the evening. As Chairman, Costa Macambira played a role in leading the organization and the celebrations of the 4th edition of the World's Influencers and Bloggers Award.
As with many works by Marin, Luiz Costa Macambira's sculpture has a very intense social agenda, which brought the piece to the Top Marques Monaco.
At the glamorous event, inaugurated by HSH Prince Albert II, the Prince himself graciously co-signed Marin's sculpture, adding priceless value to the masterpiece.
With two prestigious social events in its "pocket" and a signature from European royalty, the work of art is well on its way to developing a reputation as rich and esteemed as the legendary trader tycoon and media mogul Costa Macambira himself.