Timing Your Tribe Cbd Sessions — When Should People Take Cbd Oil?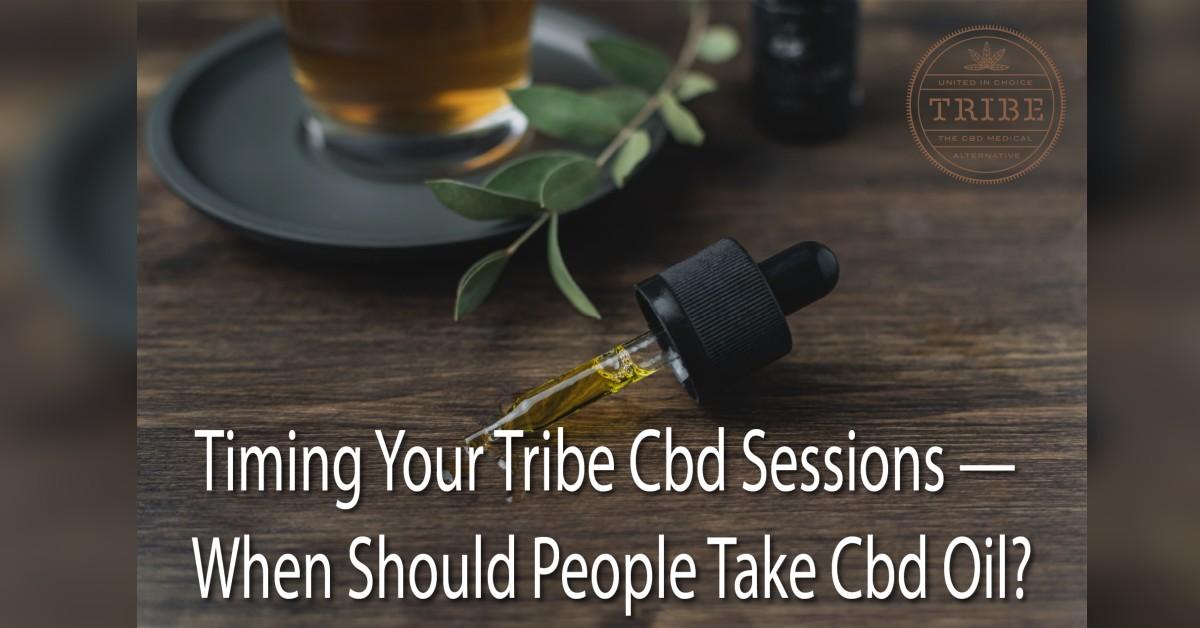 After asking how much CBD they should take, new customers often wonder when to schedule their CBD sessions. Is it better to take advantage of CBD's benefits early in the day? Will users get too sleepy after taking this cannabinoid? Heck, does it even matter when you take CBD oil?
Like figuring out your ideal CBD dosage, it will take some trial and error to figure out when CBD works into your wellness routine. However, there are a few considerations you could use to "clock in" your cannabidiol chill.
Article continues below advertisement
To Understand When, Ask "How Much?" — Why Dosage Influences When To Take CBD
We can't talk about when to take CBD without mentioning dosage. How much CBD oil you take will have the most significant impact on how it affects your endocannabinoid system.
Generally speaking, the more CBD oil you take, the more likely you will experience sedating effects. So, if you're planning to take high doses of CBD in one session, you're better off scheduling it for later in the day.
Alternatively, people who enjoy "microdosing" CBD have a better chance of enjoying effects like heightened focus and gentle anxiety relief. Therefore, if you're interested in taking CBD during the day, you should experiment with lower doses and spread them throughout a longer timeframe.
Of course, there's no set standard for a "high" or "low" dose of CBD oil. Since everyone has a different body structure, there's no standard CBD absorption rate.
You need to keep track of different CBD doses in a journal to uncover how they affect you. Over time, you'll probably discover different doses of CBD work better at different times of the day.
What Type Of CBD Are You Taking?
Along with dosage, you need to know how quickly your preferred CBD product will affect you. For instance, edibles like Tribe's vegan CBD gummies take longer to make an impact versus traditional CBD tinctures.
Since CBD edibles are subtler than taking CBD oils sublingually, they're a better option for people who want sustained calm throughout the day. By contrast, people who don't care about feeling a little sleepy may prefer the full-potency of CBD tinctures.
Yet again, you'll have to mix and match different CBD products and dosages to figure out when to take them.
Article continues below advertisement
Look Out For Special Secondary Ingredients
Another factor to consider before timing your CBD is whether your product has specialty ingredients. Since CBD could either induce relaxation or boost productivity, some manufacturers use other herbs to "nudge" CBD in a particular direction. Obviously, the choice of these secondary compounds will influence when you should take your CBD product.
For instance, Tribe CBD now offers all-natural "shots" with unique effects. Our CBD energy shots have all-natural caffeine, making them perfect for use early in the day (or to get through the dreaded "lunch coma!"). On the other hand, you should only use our melatonin-enhanced CBD sleep shots about 45 minutes before bed.
If you're interested in using CBD for a specific purpose, it may be worthwhile to seek out these specialty items.
Got More Questions About Timing Your CBD? Ask The Tribe!
Although CBD is non-intoxicating, there are "better" times to take this cannabinoid. Factors like your CBD dosage and the type of CBD you're using could have a dramatic impact on how it affects you. While it may take some time to track your CBD dosage, this info will be invaluable when scheduling your Tribe CBD oil.
Do you still have questions about properly dosing Tribe CBD oil? If so, please reach out to our team of hemp experts on this Contact Us page.