'Real Housewives Of New Jersey' Stars Melissa Gorga And Jennifer Aydin Exchange Jaw-Dropping Insults Ahead Of Dramatic Reunion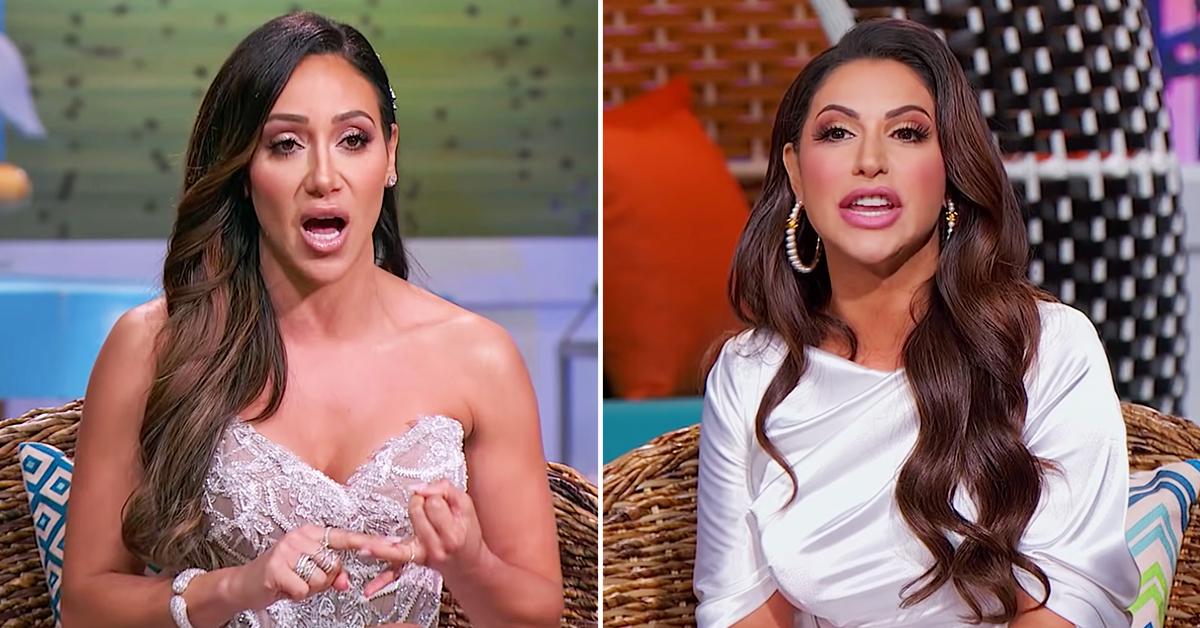 Article continues below advertisement
Though the two have been at odds for most of Aydin's time on the reality series (three years now), Gorga ignited their current social media spat with an Instagram post that showed a series of photos of her at the reunion with Bravo boss Andy Cohen and every cast mate – except for Jennifer.
After promoting the two-part special and expressing to fans that she, too, wishes the season had been longer, Melissa took aim at Jen.
Article continues below advertisement
"I posted everyone except for one person who I feel is truly happy when family and friends are divided," wrote Gorga. "Probably because she would throw her own mother under the bus for TV. Or if it would make Teresa happy."
Article continues below advertisement
One of Aydin's biggest hurdles this past season was being in the impossible position of mediating between two fighting parents. Her strained relationship with her super traditional mother was at the forefront.
But Gorga thinks it was all an act. She's also always accused Jennifer of being up the you-know-what of the former's sister-in-law, Teresa Giudice, who has been at odds with Melissa since day one.
Article continues below advertisement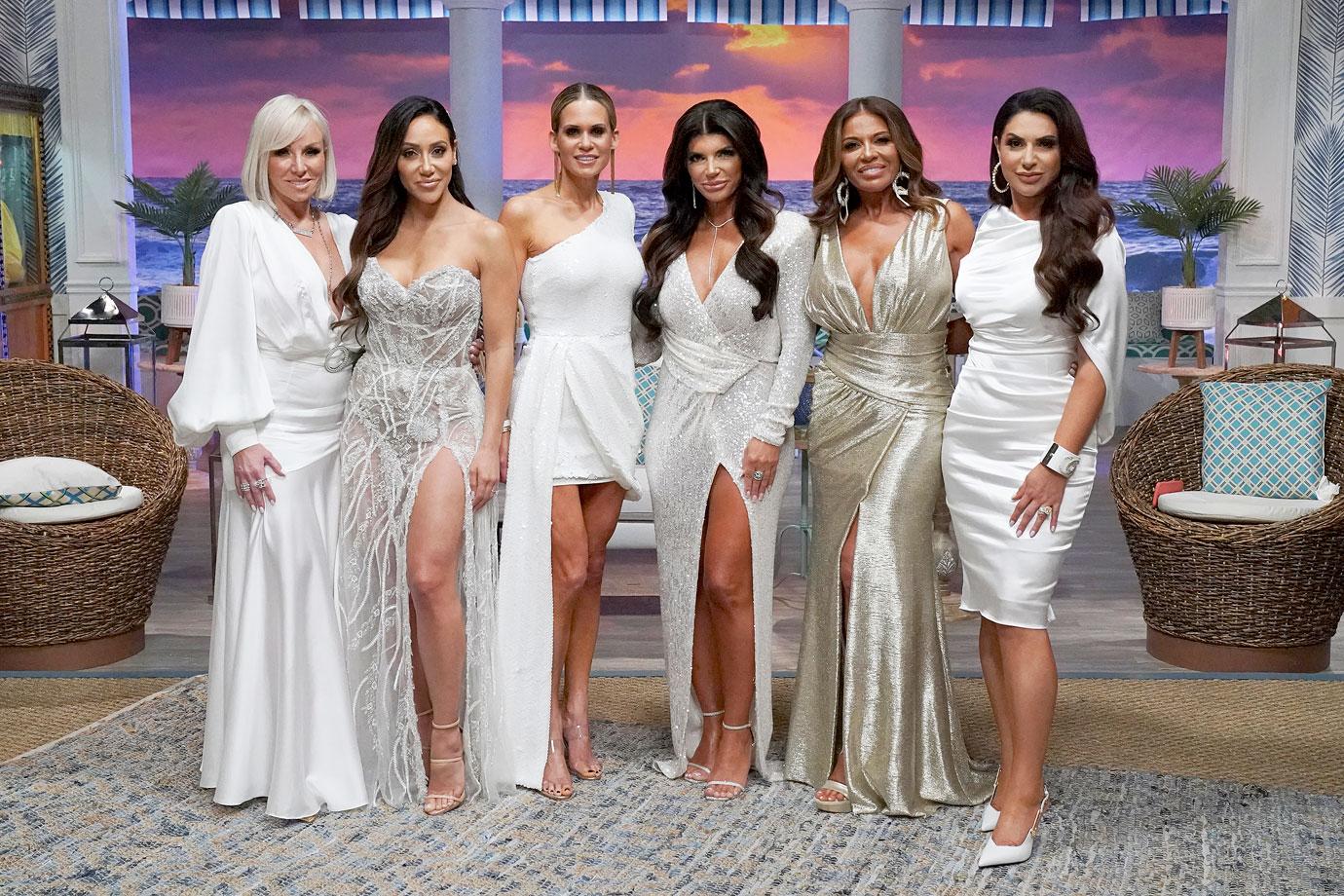 "I've been on the show a long time and I know fake and conniving when I see it," said the Envy Boutique owner. "When you don't come for someone at all, and they are constantly trying to put you down and trying to cause riffs in your relationships, that's a huge red flag. ENVY BABY!"
Article continues below advertisement
Gorga then called Aydin's various drunken moments on the show, writing, "They might want to try to be the fun tipsy one like you, but they fail and just look sloppy. Lots of skeletons in the closet over there. I'm nice until I'm not. Pay attention everyone- you will see it. I love you all. thank you for your support always."
Never one to not have the last word, Jen responded with a shady Instagram post of her own. Not only did she come for Melissa's husband, Joe Gorga, but she also accused one of the members of Melissa's "group" of being a "snake."
Article continues below advertisement
"Take a good look at what unbothered looks like. I'm on this show because of me- not because my sister-n-law or A more entertaining husband," Jennifer, whose husband is plastic surgeon Bill Aydin, fired back. "My husband is a class act who respects women and would never stoop low for the cameras. I guess people envy what they don't have - I share real and authentic stories, not fake, made up ones. And I see that some people are threatened by that."
Article continues below advertisement
This season, Melissa and Joe struggled over her desire to be more than just his stay-at-home wife, and his desire to have her be the same person he married almost 17 years ago. He also called Dolores Catania a "broken women" for being divorced and in an unconventional relationship with her current boyfriend.
"You can take your 'sloppy' comments and run with it all you want-hold on to it for dear life- ya got nothing else," Aydin continued in her fiery caption. "Your group is infested with a snake that talks behind all your backs and you're just Salty...And Boring to Boot! So careful with all that reach, you're gonna pull a muscle #Rhonj #reunion #Tonight! #IRetaliate."
Article continues below advertisement
Melissa then commented on Jennifer's post, "Yea- this is getting old- was expecting this. You've been saying the same s--t since you got on. Got anything new?! I think your [sic] the one that's uses everyone around you for storyline let's be real. YOUR WHOLE FAMILY. Nothing ever about you. Got anything new?! Not trashy CLASSY & still going strong. A lot harder in the HW's world then being the Hot Mess!! GET IT?!! It's been 11 years for me. Kiss my ass."
Jen later posted and quickly deleted an article claiming Melissa's store had been "caught selling fake Chanel bags," but she removed it because she felt she had gone too far.
Article continues below advertisement
"Ok- that was a low blow. I'm done now and I want to enjoy watching the reunion with everyone else," read her post, as she added in the caption, "In Case you saw it.... I really don't know why she started with me today and you all know me by now that my words are sharp and cut throat. But I'm over it now. Next!"
Article continues below advertisement
Of the women on the show, Gorga is admittedly closest to Margaret Josephs and Jackie Goldschneider, both of whom expressed support for Melissa on her post.
Article continues below advertisement
Jackie wrote, "Damn straight!!!!!" while husband Joe added, "You tell them baby! Haters are going to hate."
Margaret commented, "Love you!! Omg the queen has spoken!!" She added in a shady Instagram post of her own, "We might all look angelic in white but the demons come out tonight ... We are reunion ready and never sloppy."
Article continues below advertisement
Gorga and Aydin feuded this season specifically over Aydin's constant remarks about how "selfish" Melissa is. In fact, when Melissa said last season that she and Joe were considering having another child, Jennifer questioned whether her so-called self-absorbed co-star – who she constantly refers to as ME-lissa – would have the time to tend to a fourth baby.
Also, based on the Season 11 reunion trailer, we think the alleged snake is Margaret.
Article continues below advertisement
Will Teresa Guidice reveal the source of Evan's cheating rumor on part two of the RHONJ reunion? Click here and play on RadarOnline's Versus Game channel, answer correctly, and win money!