Sex, Lies & Audiotapes: How New York's Establishment Protected Revered Opera Maestro James Levine From Sex Abuse Claims
This is the harrowing sex abuse story The New Yorker asked to be written, but declined to publish — and haunted a New York Times journalist who refused to "pile on" against one of the city's most prominent figures.
IN THE SUMMER of 2013, after suffering more decades of sexual abuse at the hands of one of the most powerful music conductors in the world, a traumatized Ashok "Shoky" Pai hit breaking point.
Article continues below advertisement
Through intense therapy, a series of gut-wrenching, realizations surfaced: Shoky, then 45, recalled how as a teenager in 1986, as a violin, piano and conducting student he had been subjected to prolonged and humiliating abuse by one of the stars of the classical music world, who would force him to strip naked and submit to mutual masturbation.
That conductor was James Levine, 74, who until earlier this month was the Metropolitan Opera music director emeritus. It was part of Shoky's "professional development," Levine reportedly convinced him at the time.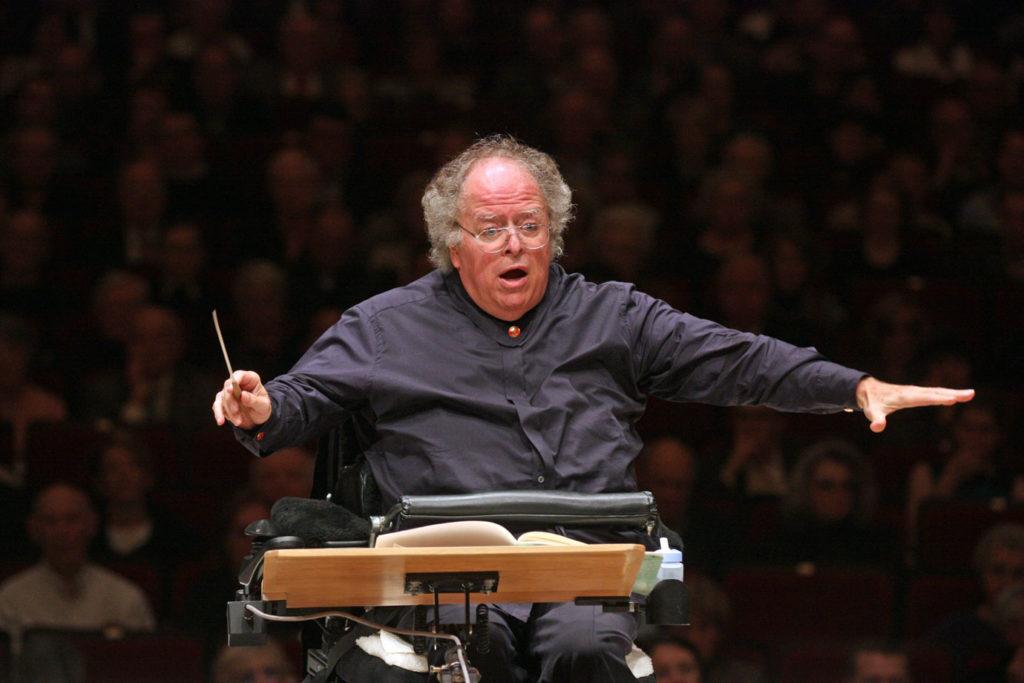 Haunted by the trauma, Shoky wanted justice — and he wanted the world to hear the truth about Levine. He went to the police and lodged a formal complaint, and began the hunt for a journalist to tell his story of sex abuse.
The resulting three-year battle to achieve any kind of justice can now be told. And according to dozens of pages of documents, emails, a police report, and interviews with multiple people directly involved in the scandal, the story of Ashok Pai and James Levine is an extraordinary tale of abuse of power, position and stolen innocence.
Article continues below advertisement
It also raises serious questions about how two of the country's most revered journalistic institutions, The New Yorker and The New York Times — presently and rightfully being lauded for their roles in sparking the national discussion about gender and power — closed ranks to protect one of the city's most powerful men.
Reporters at both media outlets, despite the evidence and repeated allegations of further abuse, as well as personal pleas by Shoky, were, it seems, not prepared to investigate an alleged pedophile – perhaps because it looked unseemly to do so, or because they feared offending the great and good of the Metropolitan Opera.
SHOKY, TODAY AGED 49, began playing the violin at age four and the piano at age six. He went on to conducting orchestras when he was just 14. As a child, his parents would take him to the Chicago Symphony in the summers at the Ravinia Festival where he met Levine.
"I ran backstage with my mother after seeing him conduct the Chicago Symphony," he told RadarOnline.com of their first encounter, aged just four. "He said he'd never seen so much enthusiasm in his life."
Article continues below advertisement
When Shoky turned 15, he went to a summer concert by himself to see Levine, then aged 41, in action. When he learned the trains had shut down, and he was stranded, Shoky accepted a generous offer: a ride home from his idol.
Levine's motivations, it seems, were not rooted in generosity.
"He started holding my hands in the car in a very kind of sensual and uncomfortable way," explained Shoky.
"In my driveway, he started holding my hand in a prolonged and incredibly sensual way. I was not aroused, as I never was during my relationship with him as I am a heterosexual individual. But there were some feelings of affection and mostly confusion. He was saying things that I wanted to hear and was intrigued by. Things like, 'I want to see if you can be raised special like me. You can use me any way you want to. I can easily create a foundation to fly you to Salzburg. Come to New York so I can audition you as a conductor.'"
From that moment, a classic pattern of abuse began, as the older, powerful man used his position to exploit the hopes and dreams of his younger, ingenuous victim.
When Shoky was 16, Levine began inviting him to concerts without his parents, and later, private one-on-one dinners. The evenings often would end at Levine's apartment or hotel.
"He always said I should take off my clothes when I come to his hotel," said Shoky.
Article continues below advertisement
"The very first time I went to Levine's hotel he greeted me in a bathrobe. He would get me naked and into bed. He would masturbate me and try to and masturbate himself. We met more often at his hotel or apartment. He said it was part of my development."
The abuse would happen "a couple of times a week" in the summers, and. While all his friends and family knew about the "mentorship", Shoky didn't tell anyone about the sexual acts except for his best friend. It continued until 2009 when Shoky finally realized Levine was only after "the physical stuff."
"I was drinking his Kool-Aid," Shoky told RadarOnline.com.
"I was in awe of his celebrity. He started making a lot of promises to me, so I was holding onto those promises. That was what made me want to stay. I was greedy and selfish in that way. He was saying all these wonderful things about me, so I thought he was going to come through with a certain type of career… mentorship that never happened. Wyeaith his position in society, wealth and lifestyle, it really was hard to question that."
Article continues below advertisement
According to Shoky the last of the incidents occurred between 2009 and 2010. Levine would ask Shoky "to openly masturbate him with my hands."
"Sexually, this was always a 'no don't touch me' situation, while vocationally I was saying, 'Please honor your promises to help me,'" explains Shoky. "He was in a position of supervision and authority over me. I felt doubtful about my sexuality. I accommodated Levine.
"I kept saying, 'I'm a straight man, I'm uncomfortable with this,'" Shoky added. "He kept saying, 'I am trying to help you develop in a way other people won't help you. Society doesn't understand. Your parents don't understand.' I don't think it was consensual."
He also claims that Levine lavished him with gifts over the time of the abuse, and that far from the relationship being a secret known only to himself and Levine, the conductor's brother Tom was also aware of his abusive behavior. Shoky said Levine's personal assistant was also aware of the misconduct.
Article continues below advertisement
Before Shoky found a "good physiatrist and support network" to help him "heal and recover" from the alleged abuse, he turned to drugs and alcohol. He also contemplated suicide.
"I was numbing myself, engaging in numbing activities," he explained. "I had issues with alcohol, marijuana, intimacy and other compulsive activities. It started when I was 18. I have been sober for 18 years. In terms of exploitive relationships, I've just been sober from that for a few years."
IT TOOK FIVE years of intensive therapy, but in 2015 Shoky, distressed by over 20 years of abuse at the hands of a man he once idolized, finally found the courage to go public about Levine.
He reached out to the one figure in the classical music industry he hoped would want to tell his story: Alex Ross, music editor of The New Yorker. Ross, who became the magazine's chief critic in 1996, had been covering Levine and the Met for decades. A respected journalist with access to the levels of city society Shoky was accusing, he was perfect for the assignment. At least that's what Shoky thought.
Article continues below advertisement
At the time, allegations about sexual misconduct against the legendary maestro had not made headlines. But according to individuals in Manhattan's status and wealth driven social scene, there was scuttlebutt, and the rumors swirled.
Classical music blogger Greg Sandow later admitted: "The rumors of Levine's alleged abuse have been widespread for decades and in my experience they seemed to be widely believed inside the classical music field."
Johanna Fiedler, a former press representative for the Met, had even written in her 2001 book "Molto Agitato: The Mayhem Behind the Music at the Metropolitan Opera" that such sordid stories had circulated dating back to at least 1979.'
In 1987, Levine himself had acknowledged the existence of the rumors in an interview with The New York Times, saying that 10 years earlier, the general manager of the Met had "called me about reports of a morals charge in Pittsburgh or Hawaii or Dallas… I don't have the faintest idea where those rumors came from or what purpose they served."
Article continues below advertisement
And it seems that in 1987, as it would two decades later, The New York Times took the predatory conductor at his word.
RUMORS MAY HAVE been rife for decades, but at the time Shoky decided to go public with his accusations, Levine was an immensely powerful figure. A winner of 10 Grammy Awards (and 37-time nominee) he had been music director at the Met for nearly 40 years and in 2015 alone was paid $1.8 million by the institution.
But if Shoky's story was to be true, it would be an explosive scandal with the power to not only bring down one of classical music's most feted figures, but taint forever the good name of the Met. The kind of story, in fact, that any journalist would jump at.
But All The President's Men this wasn't to be. Instead of finding a reporter with the appetite to peel back the veneer of Levine's twisted double life, Shoky was about to be on the receiving end of more torment.
Article continues below advertisement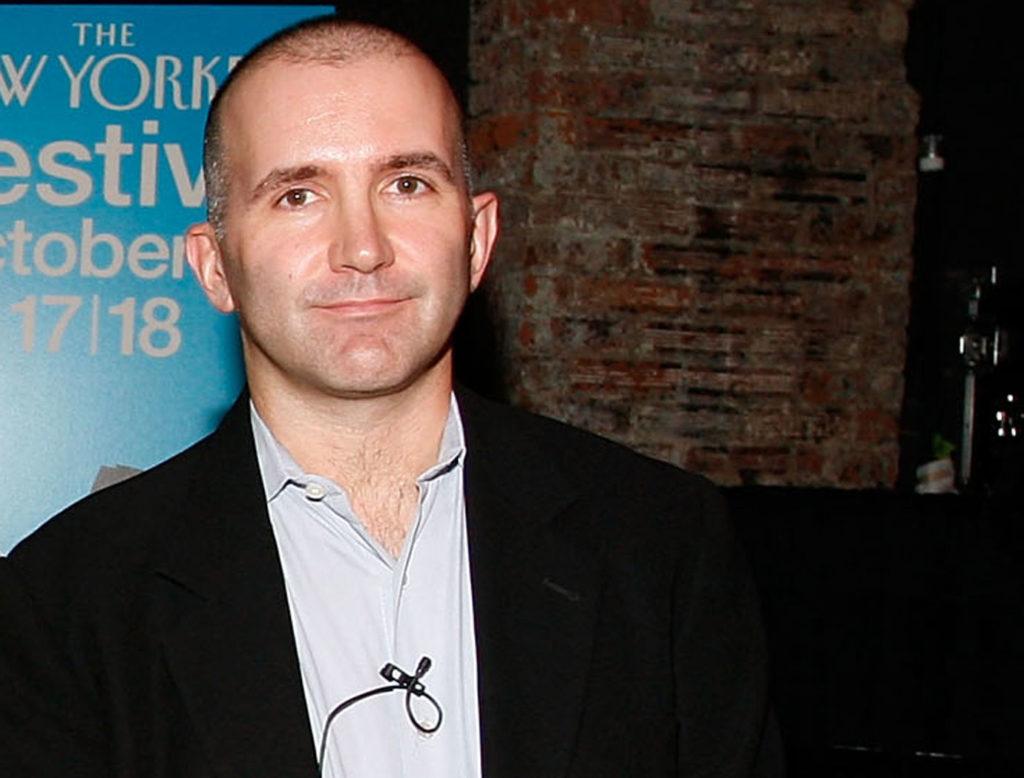 When Shoky picked up the phone and called Ross at his home office, he was amazed at The New Yorker critic's reaction to his revelations.
"I was shot down and told, 'I'm not interested,'" said Shoky, who claims he was simply hung up on. Shocked but undeterred, he made a second attempt to have a conversation with Ross, but it ended just as awkwardly. According to Shoky, Ross labeled him a liar. Worse: he said the conversation made him feel intimidated, and worried that something more sinister was at play. (Ross, via a spokesperson, disputed this account.)
A defiant Shoky was not about to let things go, however.
He also contacted James Stewart, another newsman, who splits duties as a staff writer at The New Yorker and a columnist at The New York Times. In a series of emails obtained by RadarOnline.com, Shoky raises his interactions with Ross, a colleague of Stewart's.
"I do want to reflect again about Alex Ross and his screaming at me, I want to make sure you are clear I think it's totally unethical, inappropriate and wrong for Alex Ross to speak and yell at a sex abuse victim the way he did with me," Shoky wrote. He concluded, "It's not cool."
Article continues below advertisement
Stewart pledged to take on Shoky and personally discuss the story with The New Yorker editor in chief David Remnick. He would later concede investigating the story himself would take too much time — and, remarkably, it "would seem like piling on" by reporting about the Met, as he'd recently written about Levine.
Nevertheless, he wrote on May 21, 2015: "I haven't forgotten you. I talked to David Remnick. He's pondering this. I'm on vacation this week but will check in with him next week."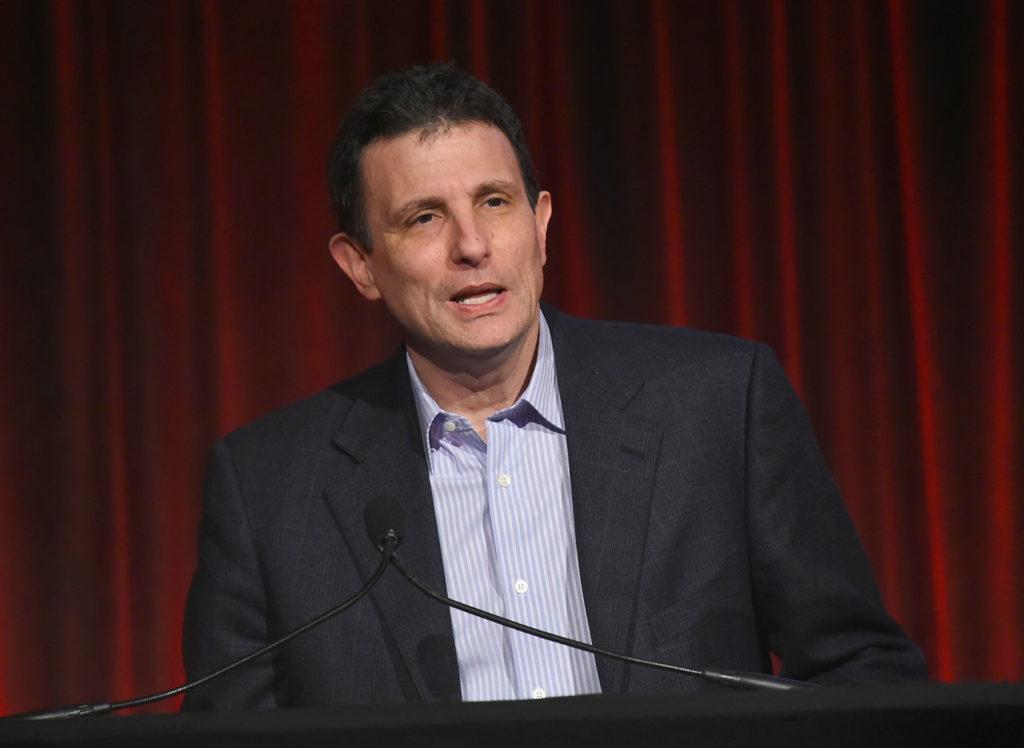 After nearly a month of silence, Shoky pointedly emailed Stewart again: "So have you decided to let Levine's interest in underaged individuals go unreported?"
Two days later, Stewart responded. In an astonishing email he declares that the decades of sexual abuse that Shoky had received at the hands of the New York Metropolitan Opera's most high-profile figure were not the kind of story that he wanted to write – for either The New Yorker or The New York Times.
Article continues below advertisement
The reasons Stewart gave for this read increasingly bizarrely.
First, because his usual focus was business, and sexual harassment was not his field of expertise. Second, that he doesn't usually write much "about classical music or opera per se". Third, that an expose of Levine as a sexual predator might "seem like piling on." And fourth, perhaps most disgracefully, helping secure justice for Shoky and any other victims would simply involve more work than he was prepared to take on. He wrote:
Here's my thinking at this point: I don't think your story is for me personally, for three main reasons: my focus is on business, and I've never written about sexual harassment and don't have any expertise on the subject. Nor do I write about classical music or opera per se, and having just written about the Met, it would seem like piling on to turn now to Levine. And finally, it's an enormous research project that would squeeze out other work I want to do for months.

But I would like to steer you to someone who would give you the thorough, fair and sensitive coverage the subject merits. I don't know him personally, but Marc Fisher seems to fit the bill. He wrote about Horace Mann for the New Yorker: So I spoke to David about this. We've traded some messages, but I don't know how he feels at the moment. I'll ask him again.

The pair continued to trade emails about the potential of an exposé. "I was talking about referring you to Mark (Fisher) and he (David) said he wanted to talk to you himself, which impressed me," Stewart wrote on Jul 23, 2015.
The next day, Stewart wrote: "We'll find a plan to go forward."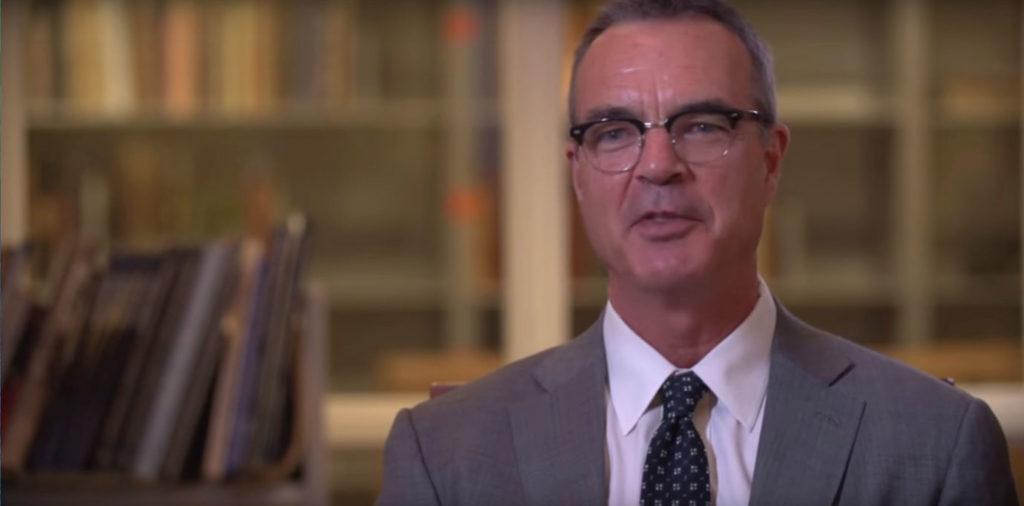 Eventually, Stewart brokered a phone call between Remnick and Shoky. He promised, "David said he wants to talk/meet with you. He's a wonderful person, very empathetic and trustworthy. He said to call him next week. His number is: XXX-XXX-XXXX."
Article continues below advertisement
SPEAKING TO RadarOnline.com in his first interview since the Metropolitan Opera fired Levine on March 12 citing credible evidence that he'd engaged in "sexually abusive and harassing conduct", Shoky said that his discussions with Remnick elicited an apology from the publication.
The Editor in Chief also attempted to explain Ross' ambivalence for the story, saying it was "because he's not an investigative reporter."
Remnick wanted to make amends, and suggested Shoky write a first-person account of the abuse he said he'd endured for potential publication in The New Yorker. But Shoky had something more tantalizing: he presented Remnick with a one-and-a-half-minute audio recording from 2008.
The conversation – obtained by RadarOnline.com, and a transcript of which is published below – is not only evidence of the two men's relationship, but also came at a time during which Shoky believes that Levine "became paranoid" that the younger man was about to expose him as an abuser.
Article continues below advertisement
JL: … just show you what your part of it is, are you there?

AP: Yeah

JL: You're defining my part and your part. You're telling me what you can do and what I can do. And if I don't buy that hook, line and sinker, then I'm a bad person.

AP: Emhmm. Um.

JL: My phone's running out and I'm over pass anyway. I will either call you back a little later if I get a hole again or I will call you back again on Sunday. And if I can't call at length, I'll call short. Ok?

AP: Yeah, it's just um. Uh. Yeah. I mean I just, uh.

JL: Have to stop.

AP: Yeah. I mean so you're, if I, you know, it's too bad I'm not there at the hotel, wherever you are now. You know?

JL: Why?

AP: That, then we could ta-, we'd have a normal situation. You know? If I had been a …

JL: I can't talk now anymore.

AP: Yeah.

JL: I'm totally overloaded. You never understand this. You don't understand what the responsibility is and where it comes. And you, and you (sounds like he is about to say indulge) I'll get back. I think my phone's running out of battery, I think that's what the noise is.

AP: Ok.
Remnick, however, did nothing with the recording, insisting that Shoky proceed instead with writing his first-person account.
On October 28, 2015, at 2.21pm, Shoky sent him an email: "I have not yet completed the 200 or 500-page item yet, have been procrastinating on it," he wrote.
"Shoky (nickname) PLEASE don't write at such huge length for my sake," Remnick responded. "I meant something far more compact! I don't want to put you out like that."

It took a full year before Shoky finally submitted his account. It landed in Remnick's inbox on Oct. 24, 2016, at 11:55 a.m.
Seven minutes later, Remnick told him: "Thank you for this, and I greatly appreciate it. And I take note that on the phone that you've asked me to keep it off the record, at least for now; obviously that will remain the case until such time as we both agree to do otherwise. Again, thank you. I am sure this is enormously difficult to write and recount. Warm regards, David."
Article continues below advertisement
Shoky wrote later that afternoon: "I very much appreciate your kind words and patience on this matter. While my words are off the record for now, until I figure out what to do, you are certainly free to quietly investigate what I wrote about."
It had taken Shoky two years to reach this point. And still, it seemed, nothing was happening. There was only one question: why?
IT IS A QUESTION that only poses further questions: about who knew what, when they knew, and why they didn't act on it.
Following Shoky and Remnick's email exchange, The New Yorker, rather than "quietly investigating" his accusations, sat on its hands, and perhaps worse still, turned a blind eye, according to Shoky.
Six months earlier, prior to Remnick receiving the warts-and-all written expose but long after the Editor in Chief was not only aware of Shoky's story, but had heard his audiotape, the same journalist who Shoky had originally tipped off to the impending scandal, Alex Ross, wrote a fawning 863-word tribute to his abuser, titled 'James Levine's Accomplishment at the Met.'
Article continues below advertisement
In it, he stated: "He is an outwardly voluble man who has kept his personal life hidden, and few people, even those who have worked with him for decades, can say that they know him well. But as a musical personality he has exuded warmth and inspired trust."
When asked why he allowed Ross to publish, despite having knowledge of his abuses, Remnick declined to answer questions, and instead, via a spokesperson told RadarOnline.com: "The New Yorker often receives information about potential news stories and can't pursue all of it. Inevitably, some of those stories appear elsewhere, as this one did."
Remnick would not address whether he covered up or suppressed Shoky's story, despite his own links to the Met – he and wife, Esther Fein, were photographed as guests of honor at Levine's season opening performance of Richard Wagner's Das Rheingold in 2010.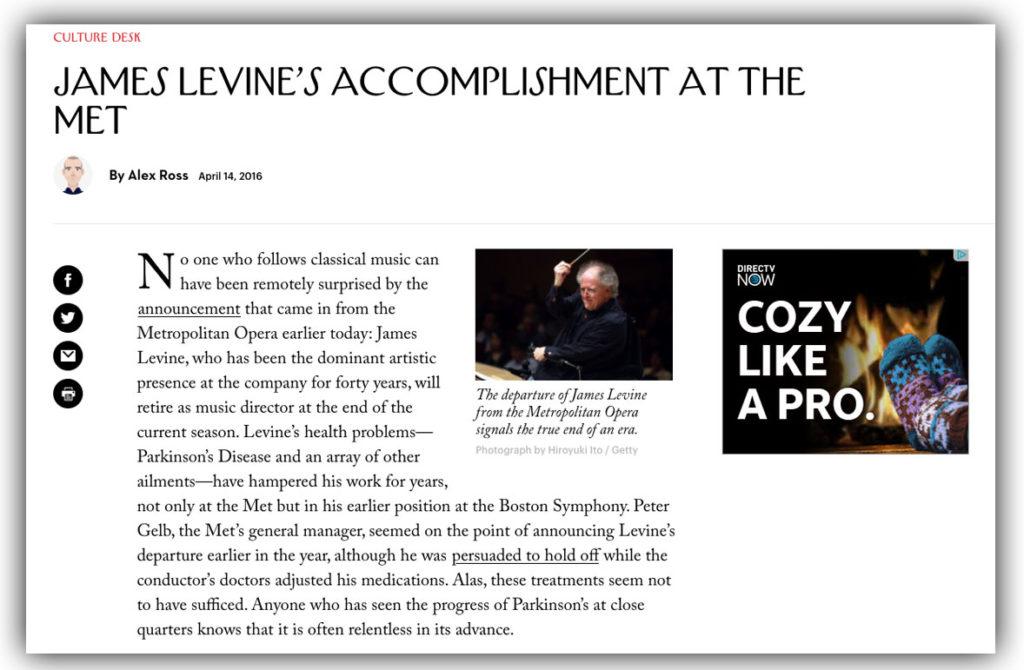 He also refused to answer the question if it was a failure or error of judgement, having read and heard emails and documents that warned of Levine's unsavory side, to publish Ross' tribute to that very same man.
Article continues below advertisement
PERHAPS FRUSTRATED with the media silence – and with having to read fawning eulogies to his abuser in the very publication he had furnished with details of his abuse – in the fall of 2016 called Beth Glynn, the one board member James Stewart had written about who raised questions about James Levine.
Stewart wrote about how she was screamed at by Chairman of the Executive Committee of the board with no term limit, William C Morris. After being screamed at she quit and told her story to James Stewart. Shoky called Beth who told him repeatedly "call the police. after a series of appointments with renowned Buddhist, psychiatrist and meditation expert, Dr. Joe Loizzo, Shoky filed a police report with the Lake Forest Police Department in Illinois.
"I began seeing a 41-year-old man when I was 15, without really understanding I was really 'seeing' him," he said, in a written statement. "It nearly destroyed my family and almost led me to suicide. I felt alone and afraid. He was trying to seduce me. I couldn't see this. Now I can."
But the department could find no grounds for a criminal case against Levine because he was not younger than the age of consent at the time of the alleged abuse. The state's age of consent is now 17 — and 18 in some cases.
Article continues below advertisement
"They called me and told me they believed my story," he said. "I was disappointed. I expected something like that. It was hard for people to believe me. It was something that may have had to do with my race or my class."
The Lake Forest Police Department turned its findings over to the Lake County State's Attorney. They say the case is "still under review". No charges have yet been brought.
Shoky also contacted a former Met board member, who brought the allegations to the attention of general manager Peter Gelb.
"This first came to the Met's attention when the Illinois police investigation was opened in October of 2016," Gelb said. "At the time Jim said that the charges were completely false, and we didn't hear anything further from the police."
The media, the police, even the Met itself – all were unwilling or unable to act upon Shoky's allegations. The establishment had closed ranks.
ON JAN. 26, 2017, David Remnick received the 500 words he requested. In response, he issued a terse response that read, "Thank you Ashok." Here, for the first time, it can be published in full:
Article continues below advertisement
My name is Ashok Sanjay Pai and my nickname is Shoky.

This is what happened to me.

James Levine is the former conductor and artistic director of the Metropolitan Opera in New York City, the former conductor of the Boston Symphony, formerly the artistic director and conductor of the Ravinia Festival which is summer home of the Chicago Symphony, the former conductor and artistic director of the Salzburg and Bayreuth Festivals in Austria and Germany, and the former conductor of the Verbier Festival in Switzerland. This man is very well-known, renowned and important culturally.

I met him at a very young age, when I was 4, because of my interest in music. Then when I was 15 he started to become physical with me--seductively touching me, in an inappropriate way. The next year he went further and i didn't know what to say. I was confused spoke to friends at Choate Rosemary Hall summer program it. Because i didn't know any better and I thought he was my mentor, I developed a relationship. It ended up that he would repeatedly try to get me in bed with him and be sexually inappropriate with me. I was under his influence and under his sway as my mentor. He became progressively more intrusive and abusive. He sexually assaulted me on hundreds of occasions especially during the summers of 1986 and 1987 when I was 16 & 17 years old mostly at the Deerpath Inn in Lake Forest. This man tried and got me into bed hundreds of times as a minor.

I was vulnerable, I was under this man's sway, I saw him as a safe, protective person, he took advantage of me, he abused me and it has really messed me up. He was a predatory man in a position of power. He did these horrible things to me. I now realize it has interfered with my ability to have healthy relationships.

When I talked to former Met Opera board member Beth Glynn, she said to call the police, so I did. On October 20th, 2016 I contacted the Lake Forest Police about these many incidents of assault and abuse. I contacted the police because i strongly feel this is wrong and something should be done about it. When I get the police report I will make the copies available. It looks like it maybe beyond the statute of limitations.

James Levine was hired by the Chicago Symphony and Ravinia Festival and they were acutely aware of his proclivities. The New York Times article of 1983 by Will Crutchfield spoke of his sexual life and in the many writings of Norman Lebrecht, author of the book Who Killed Classical Music, referred to Levine's pedophilia, but the board of the festival and symphony glossed over these obvious sick facts. Levine was hired with the complicity of the community even with these well-known stories around. He committed these crimes and there were published rumors regarding this and no one checked it out. There was reason for people to be concerned and nobody stopped him. The board of the Ravinia Festival and the community simply didn't pay attention, didn't follow up and were asleep at the wheel.

Im making this public because this behavior can be continuing and may have affected other people. In the press the general consensus is there are strong, well circulated, known rumors about James Levine's pedophilia but no one has officially come forward, so I am doing so.
Shoky's account never made into the pages of The New Yorker. Neither did it prompt an investigation by that publication, or by Stewart at the New York Times, into the horrific abuse meted out by James Levine.
THIS DECISION to neither publish or even investigate, fits with a worrying pattern. According to Shoky, the actions of Remnick, Ross and Stewart, corroborate and complement the behavior of the Met itself, an elite group of powerful individuals who dominate Manhattan society and culture.
"He was protected at all levels," said Shoky. "Levine was insulated by major board members at the Met, his brother, his assistant, his music teacher and for all intents and purposes members of the media that idolized him. This guy was viewed a god in this world."
"The New Yorker's role in this is important," he added. "It wasn't until The New York Times story hits in December when the Met decided to commence an investigation. But I had made the allegations to the Met prior to that — as I did with The New Yorker too.
Article continues below advertisement
"If The New Yorker or The New York Times had ran a story maybe this all would have went into motion earlier than when it did. Instead, they attacked a victim, apologized and acknowledged it, but ran interference on the real story, while running a glowing story defending the guy a year later."
The New York Times did eventually publish the story, but only after The New York Post broke the story and three more victims of Levine's abuse came forward.
The involvement of Stewart – who apparently cared so deeply for Shoky's plight that he secured the introduction to Remnick – certainly suggests that The New York Times had the wherewithal to investigate Levine nearly two years before they did.
Whether wittingly or otherwise, Remnick, Ross and The New Yorker provided a shield for Levine, according to Shoky, behind which Levine could hide his dark secret. A string of opportunities was clearly missed, and Shoky's email have laid bare the extent of the failures and errors of judgment when it came to telling the truth about the Met.
Article continues below advertisement
Asked why they stayed silent, Ross and Stewart refused to answer questions by our deadline.
Ross also declined to be drawn on the most important question: if he knew of Levine's inappropriate sexual behavior, shouldn't he have demanded his obsequious tribute piece be spiked, or never written at all?
Publicly at least, Stewart and Ross now have expressed regret.
In an Oct. 17 email last year, Stewart told Shoky: "I saw your FB (Facebook) post today. Your story has haunted me now for some time and these new details make it more compelling. I've reached out to some people here at the Times who I really trust and encouraged them to get in touch with you. Feel free to contact me if I can help."
Ross, too, has backtracked from his glowing endorsement of Levine. In a mea culpa on Twitter in December, he insisted: "At the time, I thought that Levine was being victimized by false rumors. I was disastrously wrong and am ashamed to have written this. My feelings don't matter, though. What counts is what the real victims have endured."
The final word goes to Shoky, for so long fobbed off and kept quiet by the very people he trusted to tell his story: "If other people are not believed, I believe them," he said. "I believe you if you're reading this. You're not alone. I'm not the only one."