Newly Leaked Navy Video Shows UFO-Like Object Off Southern California Coast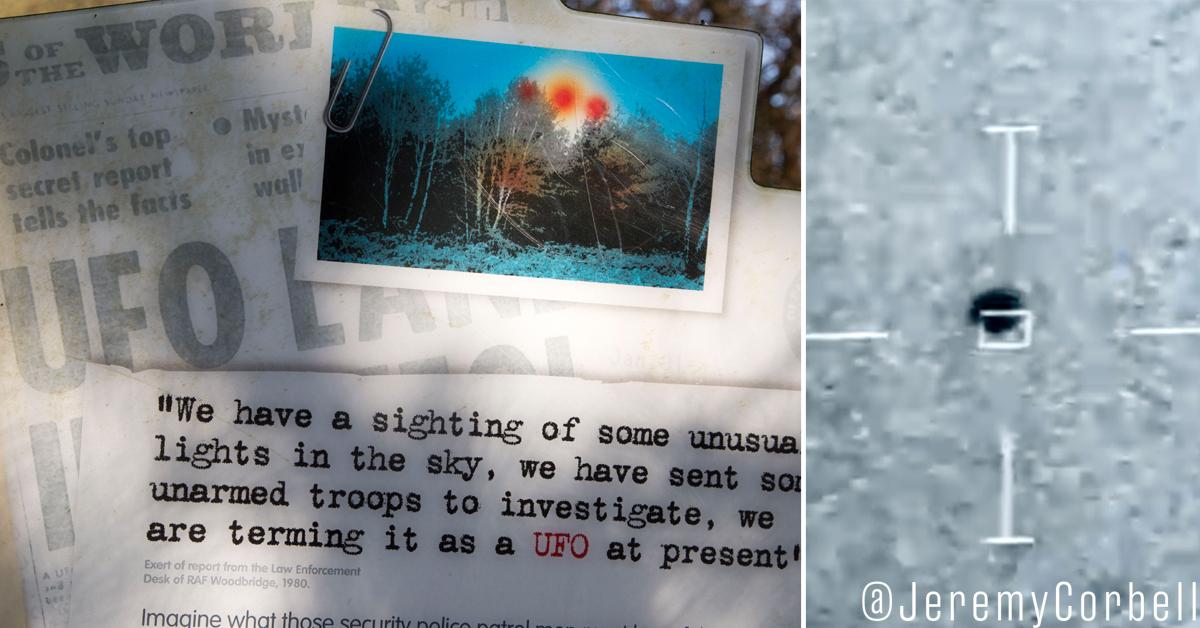 Governmental and general public interest in unidentified flying objects (UFOs) continues to skyrocket, after a newly leaked Navy video appeared to show one flying around in the sky before disappearing into the Pacific Ocean near San Diego.
Article continues below advertisement
According to documentary filmmaker Jeremy Corbell, the footage was captured in July 2019 by one of the United States Navy's stealth ships off California's southern coast, before it was reported to the USS Omaha's Combat Information Center. It was then obtained and published by NBC News.
Article continues below advertisement
"Whoa, it's getting close," military personnel can be heard saying at the top of the blurry, black-and-white clip, which shows a spherical object moving quickly from left to right and hovering above the water. After a few minutes, the object juts down into the sea. "It splashed! It splashed!" one excited witness exclaims.
The United States Department of Defense has confirmed that the video was recorded by Navy personnel and said it will be reviewed by the Pentagon's Unidentified Aerial Phenomena Task Force, which was created last year to "gain insight" into the "nature and origins" of UFOs. That task force is set to brief Congress next month on its findings.
Article continues below advertisement
Last month, Corbell released another video of an upside-down pyramid-shaped UFO hovering above a Navy destroyer.
Article continues below advertisement
"What we're seeing are a number of distinct, different things," Christopher Mellon, former Deputy Assistant Secretary of Defense for Intelligence, told TODAY. "Sometimes, we're seeing a 50-foot object that can travel at hypersonic speeds and seemingly go into orbit, or come down from altitudes above potentially 100,000 feet."
When asked if he believes the public will ever receive conclusive answers from the government, Mellon said, "There is more that could be shared – will be shared – with Congress, for certain. I don't see that coming to the public soon."
Article continues below advertisement
Indeed, everything from the new video's high-definition version, to the sonar and RadarOnline.com data associated with it, are currently considered classified.
Article continues below advertisement
Following the clip's release, two former Navy fighter pilots appeared on CBS' 60 Minutes, where they spoke about their experiences with seeing UFOs. They recalled being dispatched to investigate "multiple anomalous aerial vehicles" that descended 80,000 feet in less than a second, again near San Diego, back in 2004.
One of the pilots, former Commander Dave Fravor, said he and his team found a "little white Tic-Tac-looking object" hovering above the water before it disappeared. Seconds later, his ship reported seeing the object reappear on its RadarOnline.com, 60 miles away.
Article continues below advertisement
Though UFOs have really only started to make headlines over the last few years, people have apparently been seeing this sort of stuff for decades.
"There seems to be a lot of continuity there," said Mellon, adding that one of the biggest obstacles is overcoming the general stigma associated with the topic.
Article continues below advertisement
The other fighter pilot, former Commander Alex Dietrich, echoed those sentiments on 60 Minutes, saying she and three others saw a 40-foot flying object disappear back in 2004.
"You know, I think that over beers, we've sort of said, 'Hey, man, if I saw this solo, I don't know that I would've come back and said anything because it sounds so crazy what I'm saying," she said.
Article continues below advertisement
Senator Marco Rubio also appeared on the CBS special, warning that UFOs pose a serious threat to national security and urging fellow lawmakers to stop laughing them off.
"Some of my colleagues are very interested in this topic, and some kinda, you know, giggle when you bring it up," he said. "But I don't think we can allow the stigma to keep us from having an answer to a very fundamental question."
"I want us to take it seriously and have a process to take it seriously," he added. "I want us to have a process to analyze the data every time it comes in, that there be a place where this is cataloged and constantly analyzed, until we get some answers. Maybe it has a very simple answer; maybe it doesn't."