'Disgruntled' L.A. Firefighter Kills Colleague, Shoots Captain, Before Setting Own Home Ablaze And Inciting Police Standoff
Chaos erupted in California Tuesday morning after a gunman opened fire at Los Angeles County Fire Department Station 81 in Santa Clarita, leaving one firefighter dead and another one wounded, officials said.
Article continues below advertisement
The suspect has been identified as an off-duty firefighter who worked at the fire station. He was described by officials as a disgruntled employee and is believed to be dead.
The killed firefighter – a 44-year-old male engineer – died at the scene after suffering a gunshot wound to the torso, while the injured firefighter – a 54-year-old male fire captain – was airlifted by helicopter to Henry Mayo Newhall Hospital in Valencia, cops said.
Article continues below advertisement
Aerial video footage showed the wounded firefighter lying on a gurney, as paramedics wheeled him from a rooftop helipad into the medical center. He underwent surgery and is said to be in critical but stable condition.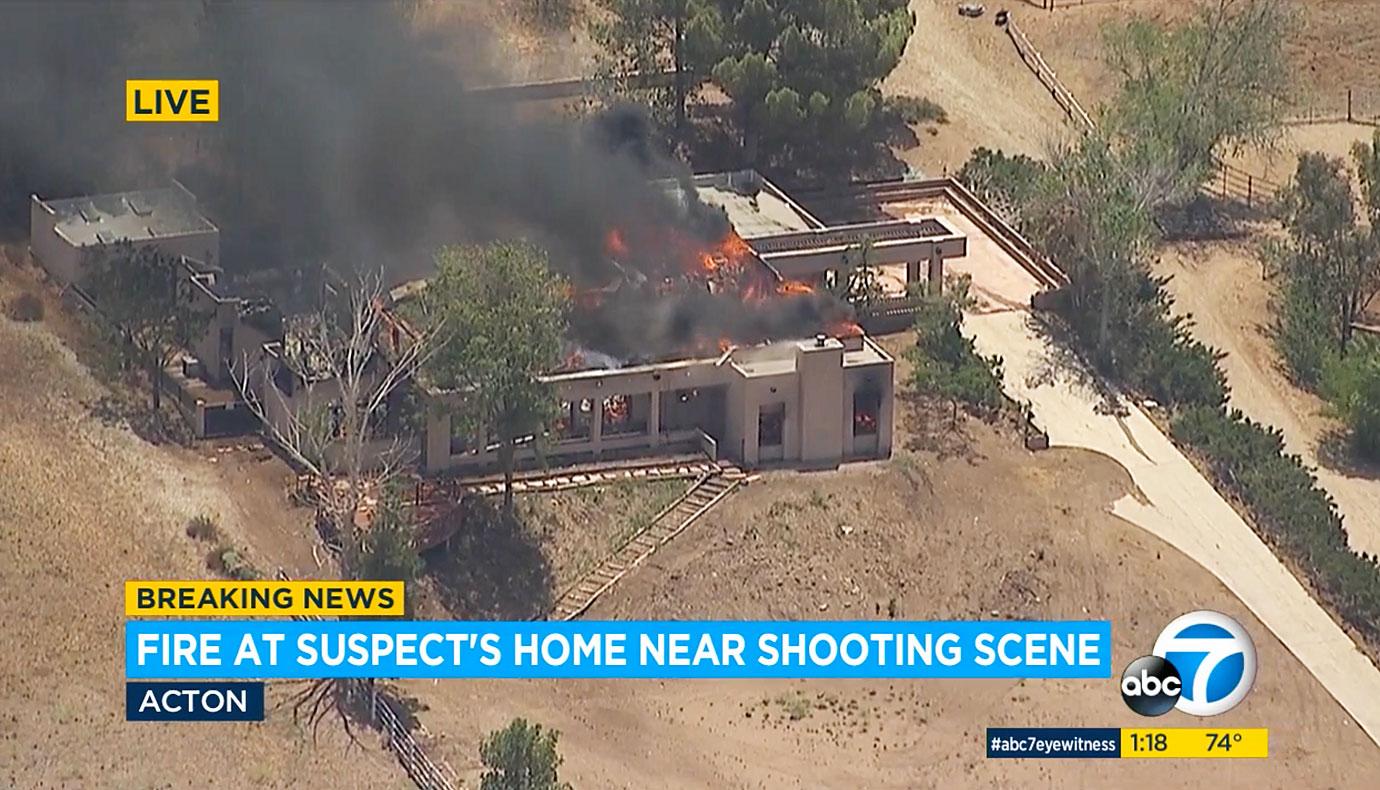 Article continues below advertisement
After the shooting, officials said the suspect fled the scene in a white Toyota Tundra pickup truck and drove to his home in Acton, about 10 miles away from the fire station. He is believed to have set the single-story residence on fire.
Law enforcement sources told the Los Angeles Times that the suspect engaged with deputies following the shooting and then barricaded himself inside the mansion on Bent Spur Drive.
Article continues below advertisement
L.A. County sheriff's deputies stood at the end of the structure's driveway, as massive flames and thick black smoke engulfed the home, police said. The fire did not appear to spread.
Firefighters initially refrained from approaching the residence to put out the fire due to an apparent threat posed by the suspect.
Article continues below advertisement
Soon, helicopters began performing multiple water drops to combat the blaze, and the structure's roof eventually collapsed.
Shortly after 1 PM local time, deputies in an armored vehicle began making their way up the driveway and toward the residence.
Article continues below advertisement
A man's body was seen in the swimming pool of the home; however, it remains unclear whose body it was.
During a press conference hours later, officials said the body in the pool had suffered a gunshot wound to the head, which they believe was self-inflicted.
The suspect is believed to have killed himself inside the home.