California Recall Candidate Larry Elder Hit With Eggs By Angry Activists In Venice Beach
Larry Elder, the republican California recall candidate making a bid to potentially take over for Governor Gavin Newsom, had eggs thrown at him by activists while walking in Los Angeles on Wednesday, Fox News reported.
Article continues below advertisement
Elder was allegedly walking through a neighborhood in Venice with a group of members from his campaign team when the attack occurred.
The incident was even caught on video. It showed an egg sailing through the air, nearly hitting the republican candidate in the head. Then, a member of Elder's campaign team can be seen trying to protect the candidate by putting his arm on Elder's back. The member of the campaign team then be heard saying: "We're getting egged from behind."
Article continues below advertisement
"Breaking: A flying egg narrowly missed the back of recall candidate @larryelder's head after it was thrown by an activist wearing a gorilla mask in Venice," journalist Kate Cagle posted to her Twitter along with a video of the incident. "A scuffle broke out and the candidate was escorted into an SUV."
Article continues below advertisement
Then, shortly after the first egg was tossed, someone hurled a second egg at Elder and his campaign team. It is currently unclear from any of the videos of the incident if the California candidate was hit by any eggs, but one of the videos posted to Twitter of the incident shows that a woman in a gorilla mask threw at least one of the eggs.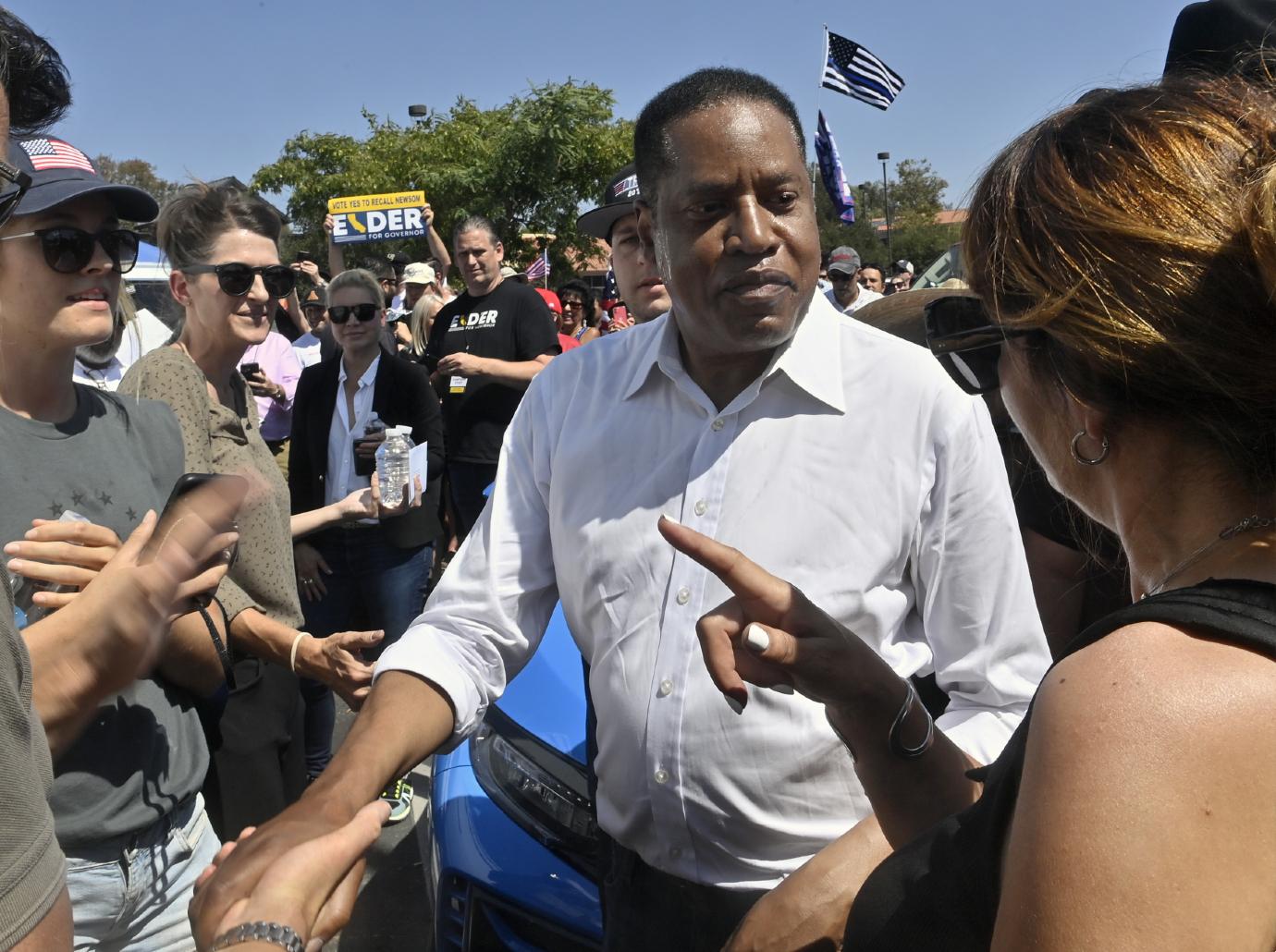 Article continues below advertisement
Besides the eggs being thrown, a group of people also reportedly became physically aggressive towards Elder and his team - including the woman in the gorilla mask who allegedly appeared to slap one of the recall candidate's staffers in the face. Another man can reportedly be heard yelling at Elder and calling him "piece of s--t" as Elder was being safely escorted into his vehicle.
If elected, Larry Elder would be the first Black governor of California. He is reportedly currently widely considered to be the leading Republican challenger to the current California Governor - Gavin Newsom - in this month's recall election.
Article continues below advertisement
So far, none of the individuals who threw eggs at or assaulted the candidate and his team have been identified by authorities.