Kathy Griffin Reveals She Has Lung Cancer Despite Never Having Smoked, Heading Into Surgery To Remove Half Of Left Lung
Kathy Griffin – a self-proclaimed non-smoker – has just revealed she has lung cancer.
Article continues below advertisement
Taking to Instagram Monday morning, the 60-year-old comedian shared the news of her diagnosis with her 688,000 Instagram followers and 2 million Twitter followers.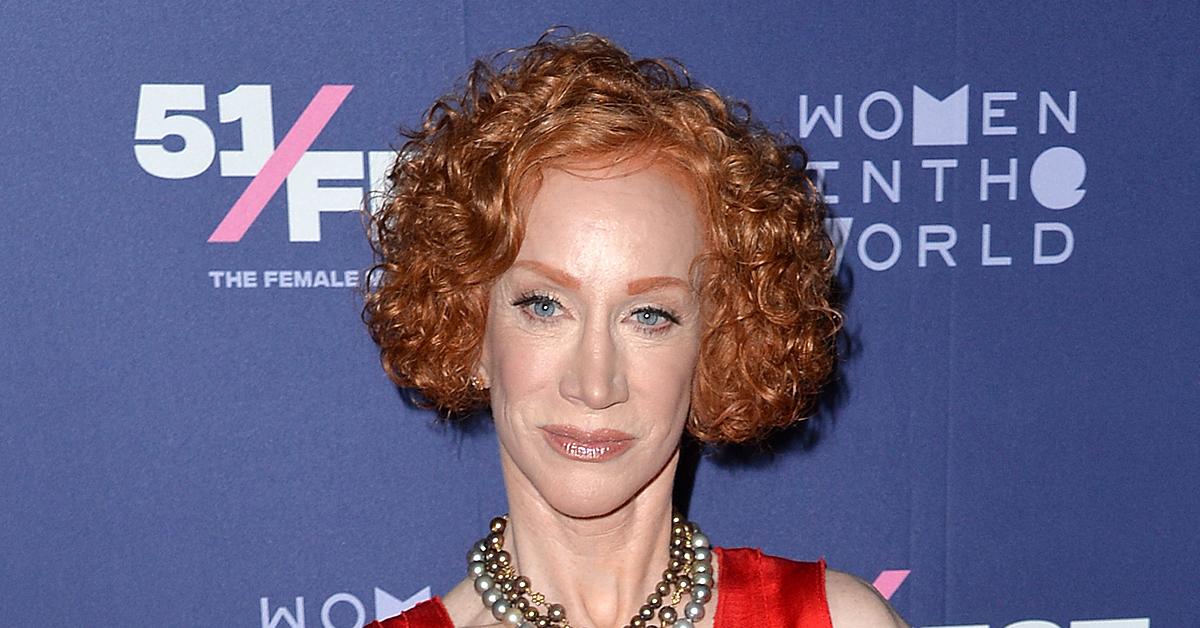 Article continues below advertisement
"I've got to tell you guys something. I have cancer," she explained in the text-based post. "I'm about to go into surgery to have half of my left lung removed. Yes, I have lung cancer even though I've never smoked!"
"The doctors are very optimistic as it is stage one and contained to my left lung," she went on. "Hopefully no chemo or radiation after this and I should have normal function with my breathing. I should be up and running around as usual in a month or less."
Article continues below advertisement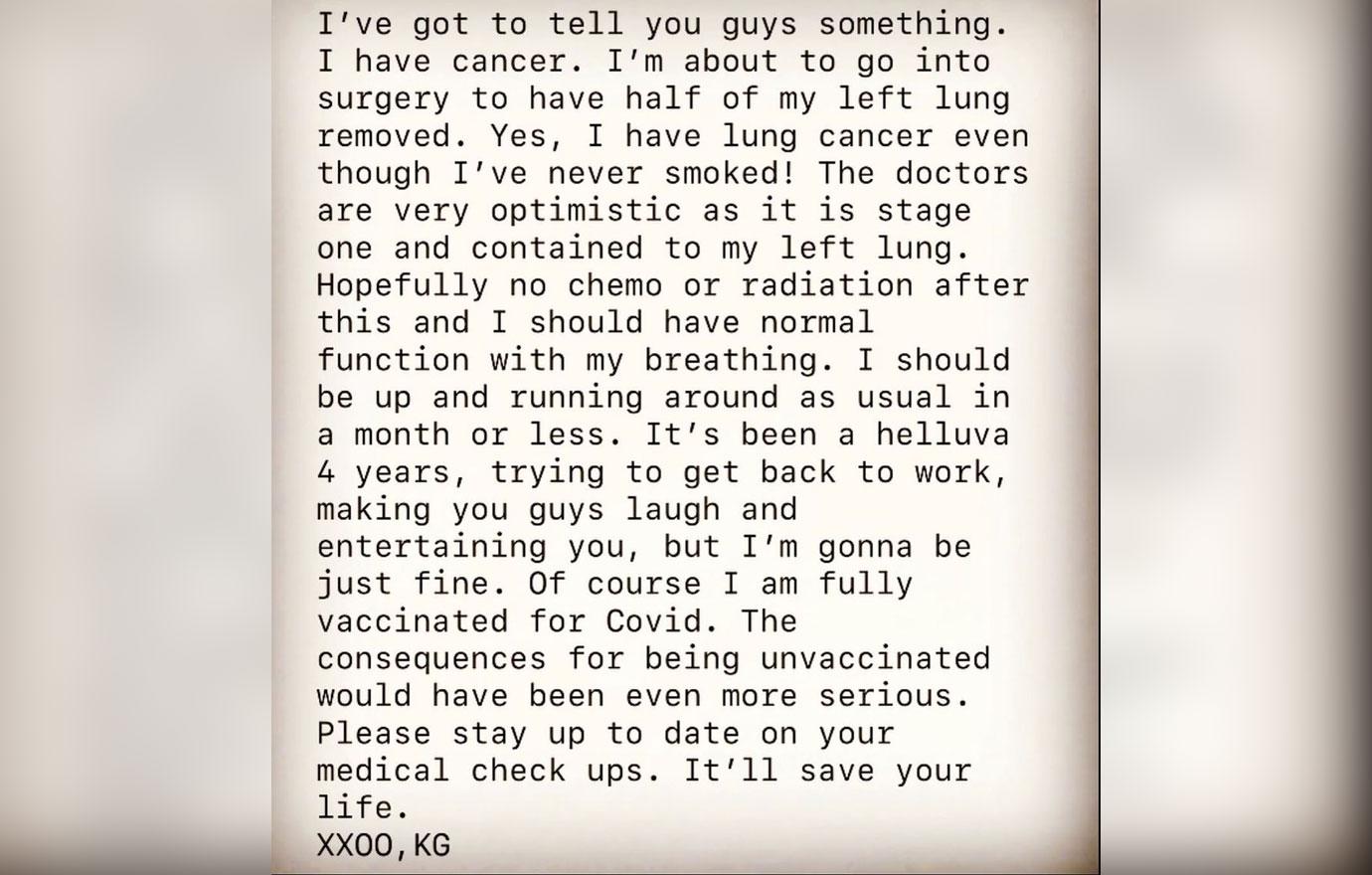 The controversial figure added that it had been "a helluva 4 years, trying to get back to work, making you guys laugh and entertaining you," but she assured her fans she's "gonna be just fine."
Article continues below advertisement
Griffin took a moment to share that she was grateful she had been vaccinated against the coronavirus prior to receiving her diagnosis.
As the Center for Disease Control has reported, COVID-19 ranges in symptoms from none to mild to fatal, with those who have been severely affected reporting shortness of breath and/or difficulty breathing that has in more serious cases led to the necessary use of a ventilator.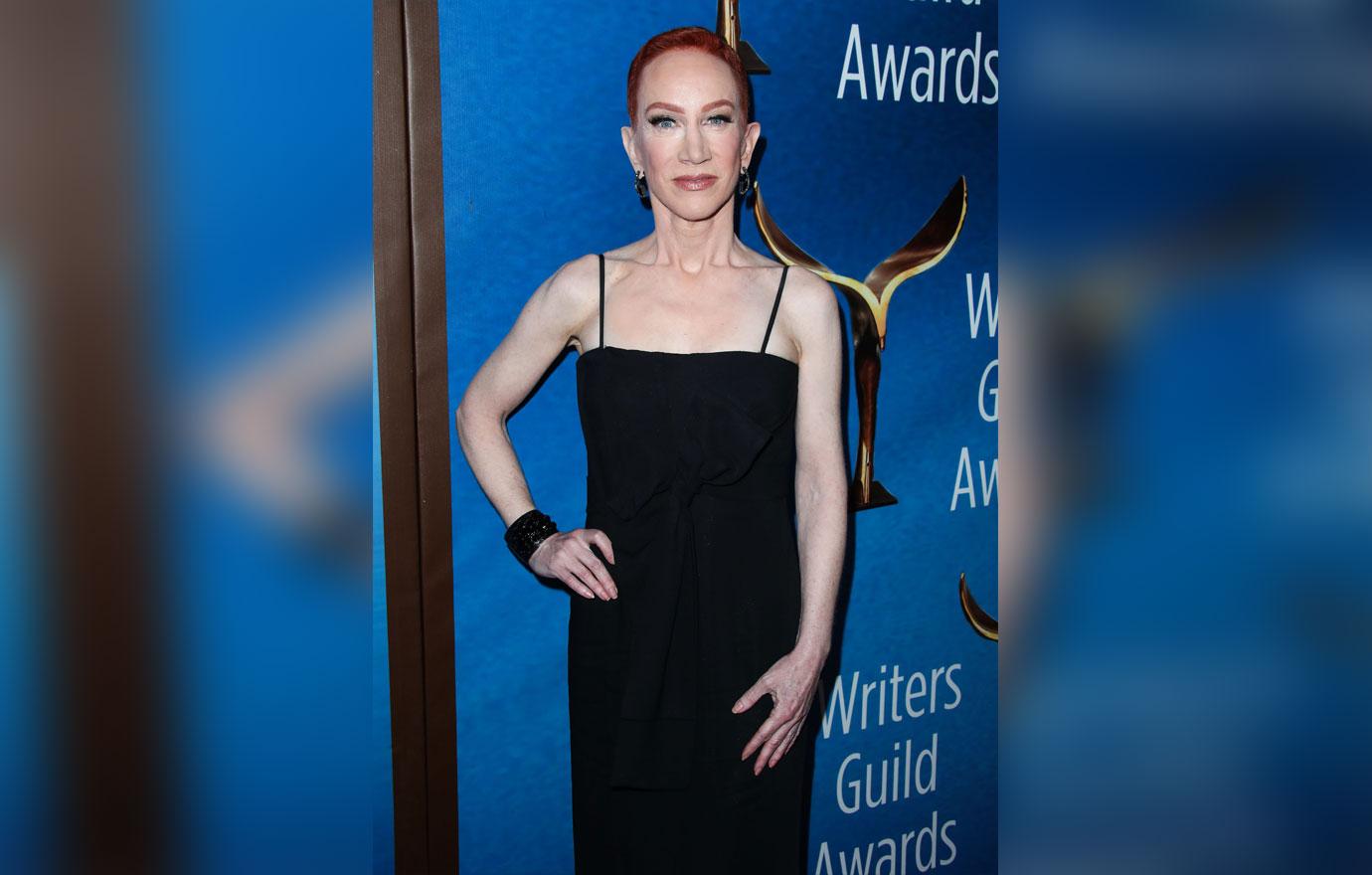 Article continues below advertisement
"Of course I am fully vaccinated for Covid," Kathy explained. "The consequences for being unvaccinated would have been even more serious."
She also urged her followers to "please stay up to date on your medical check ups" because they could "save your life."
Article continues below advertisement
In a sneak peek of her Nightline interview, set to air on Monday night on ABC, the comedian says that she was "definitely in shock" when she got her diagnosis, which she explains was approximately two weeks prior to her sit-down with Juju Chang.
"I'm still a little bit in shock, not denial, but once a day, I'll just turn to to like nobody next to me and go, 'Can you believe this s--t? Is this a b---h or what?'"
During the interview, Griffin will also open up about her mental health struggles, past addiction to prescription painkillers, suicide attempt and newfound sobriety.