Jeffree Star Hospitalized After 'Severe' Car Crash, Vehicle Flipped '3 Times' In Wyoming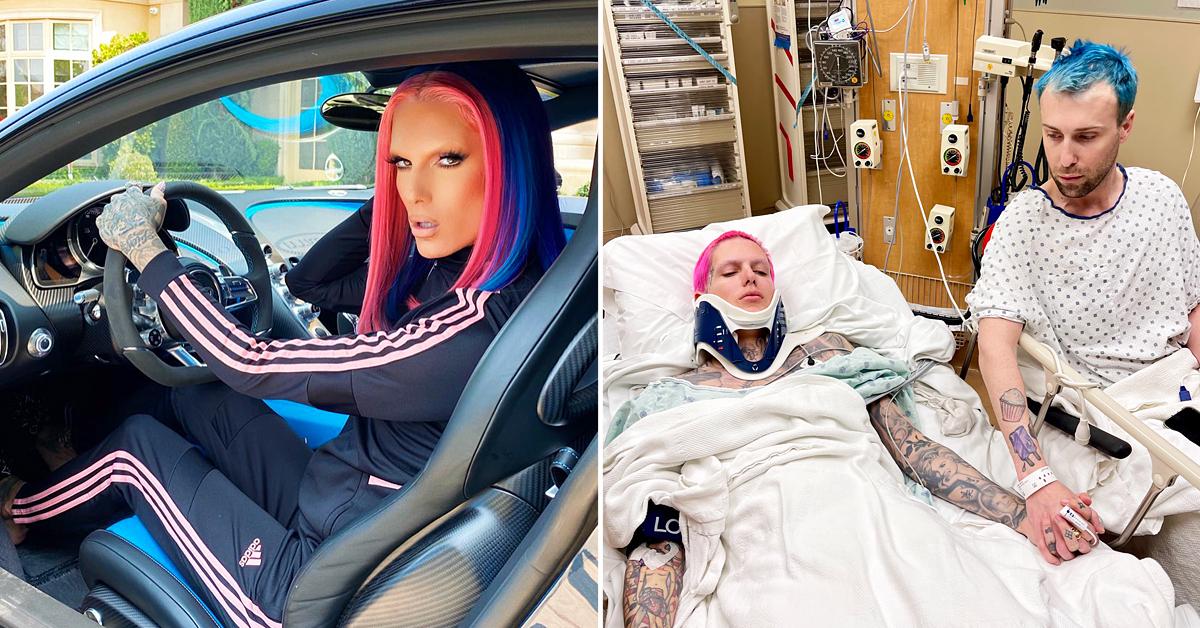 Article continues below advertisement
The 35-year-old makeup artist and influencer was reportedly driving a brand-new Rolls Royce Friday around 8:30 AM local time on Hat 6 Road when he lost control of his vehicle due to what he believes was black ice. He said the crash caused the car to flip over three times.
Star was taken to Wyoming Medical Center for treatment and is reportedly in stable condition.
Article continues below advertisement
He shared the news via his Instagram Story with a caption seemingly written by someone else.
"A few hours ago Jeffree and Daniel were in a severe car accident and the car flipped 3 times after hitting black ice," the statement read. "We will update you all when the doctor gives us more info. So thankful they are both alive."
Article continues below advertisement
The photo showed Jeffree lying in a hospital bed with a brace around his neck. His eyes appeared to be closed. Next to him was his friend, Daniel, who held Jeffree's hand as he looked down at his injured pal.
According to reports, Wyoming Highway Patrol does not suspect drugs or alcohol to have been factors in the crash, though the investigation is ongoing. Cops said both Jeffree and Daniel were wearing seatbelts.
Article continues below advertisement
Though it's unclear which of his fancy cars likely got totaled in today's accident, Star did just get his hands on a custom, "star pink" Rolls Royce in February of this year.
Taking to Instagram to boast about his new whip, he wrote at the time, "My pink fleet just got bigger! Welcome to the Star garage baby... I've waited 13 months for this car to be built & completed! Rolls Royce honestly delivered me a masterpiece! It was truly worth the wait and I'm shook at how beautiful and insane my #Cullinan turned out! 💖Paint color is called 'Star Pink' & was matched from a new lipstick color I created 💅🏻 Custom baby pink #starheadliner LED's which RR has never changed the color before! My pink world just got ALOT brighter!! 🌸 Want a FULL car tour? Link in my bio!"