The 'Blunt' Truth — Is Delta-8 THC Just A Legal Weed Alternative?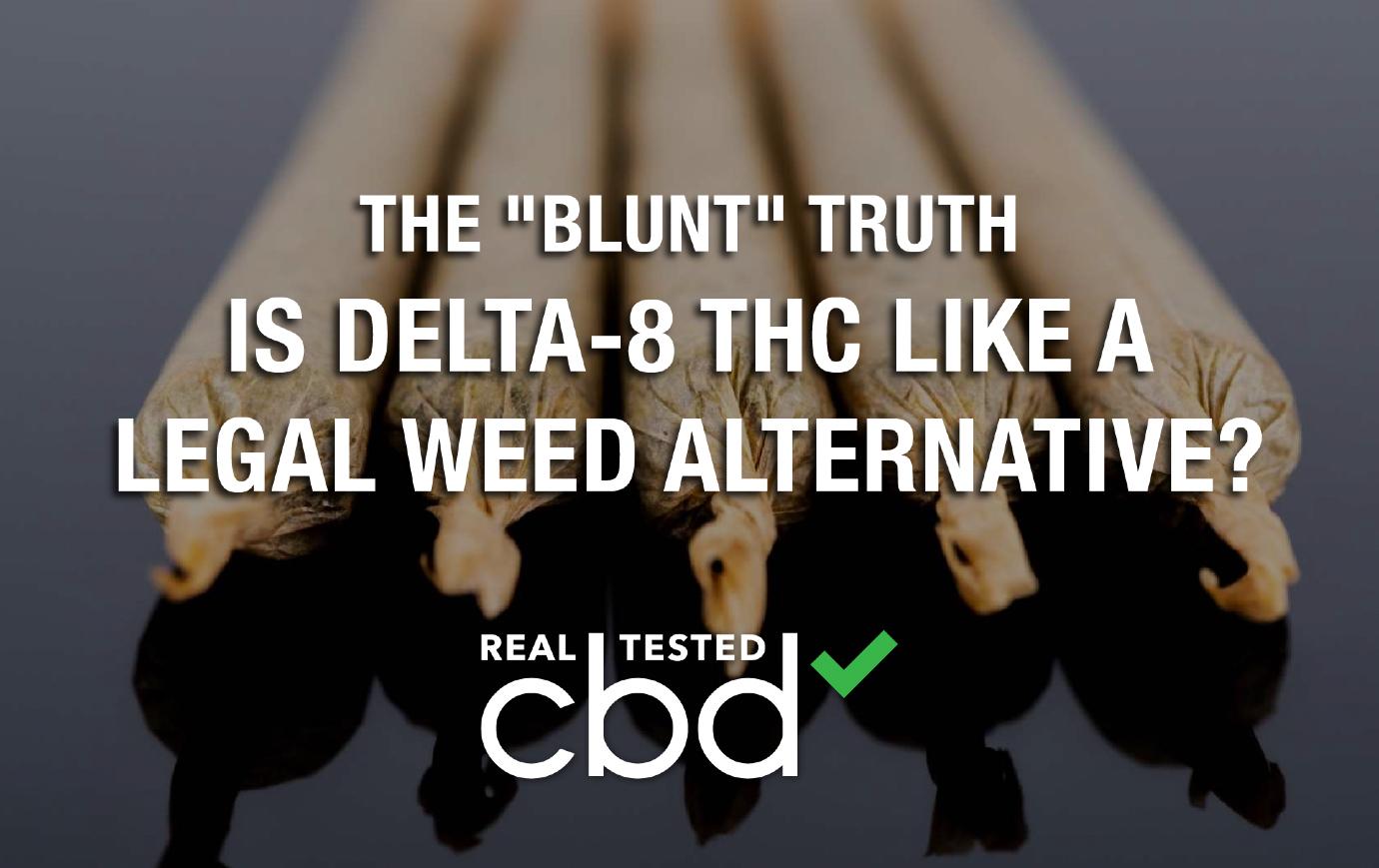 Let's not fool ourselves: Most people that get interested in delta-8 THC are looking for a legal way to get "high." Sure, delta-8 may have many unique benefits versus other cannabinoids, but the majority of people who use delta-8 want a "weed-like" experience without breaking the law.
So, does that mean the "reefer rumors" are for real? Is delta-8 THC just a sneaky way to get stoned?
Article continues below advertisement
Is Delta-8 Truly "Diet Weed?" — What We Know About Delta-8's Effects
There's no doubt that delta-8 THC has psychoactive properties. Whether you're skimming through Reddit threads or reading the latest scientific reviews, nobody doubts that delta-8 lands on CB1 receptors to provoke "high-like" effects.
Chemists involved in cannabis research also claim delta-8 THC is an all-natural hemp cannabinoid with a distinct molecular structure. Unlike other THC molecules, delta-8 has a double-bond on the eight carbon chain. While this feature may not seem like much, it may be responsible for delta-8's distinctive effects.
Article continues below advertisement
The most notable of these unique effects is delta-8's potency — or lack thereof. You see, many experienced customers who try delta-8 claim it has weaker effects versus the standard delta-9 THC. For this reason, some hemp fans have taken to calling delta-8 "diet weed."
Unfortunately, we don't have any scientific data to support these anecdotal claims (yet!). At this point, we could assume delta-8 THC is "diet weed," but we need more clinical trials to evaluate its average potency.
People who have never tried a psychoactive cannabinoid should approach delta-8 with caution. Sure, delta-8 probably isn't the most potent cannabinoid on earth, but it will have way more substantial effects versus CBD or CBG.
So, Is Delta-8 As Extreme As Delta-9 THC?
Article continues below advertisement
Again, we can't say whether delta-8 THC is distinctly less intense versus delta-9 THC depending on the product. However, there's mounting evidence that delta-8 tends to have a weaker effect on the endocannabinoid system.
For instance, researchers at the University at Buffalo recently polled hundreds of verified delta-8 users via email or Internet forums. According to this informal survey, delta-8 exhibited many of delta-9's effects without the risk for significant side effects.
74 percent of delta-8 users in this trial didn't feel intense anxiety after using this cannabinoid. Over 80 percent of survey participants claimed delta-8 did not provoke paranoia. These adverse reactions are commonly associated with delta-9 THC, particularly in Cannabis sativa strains.
Some users speculate delta-8 has a lower risk for paranoia because of its "indica-like properties." Unlike uplifting sativa strains, indicas are known to be relaxing and sedating. Unfortunately, there's no evidence delta-8 has any affinity with indica cultivars, but it appears these soothing properties cut its risk of paranoia.
Article continues below advertisement
After reviewing their survey data, professors at the University of Buffalo claimed delta-8 might offer many of delta-9's effects with a lower risk for adverse reactions. However, study authors didn't claim whether that meant delta-8 was "weaker" than delta-9 THC.
At this point, we can assume delta-8 THC doesn't hit as hard as delta-9 THC, but we'll need further evidence to back up this working hypothesis.
Is Delta-8 THC Legal Throughout The USA?
Article continues below advertisement
Use Real Tested CBD For Trusted Delta-8 Data
Article continues below advertisement
Delta-8 may have valid therapeutic potential. However, at this point, most people who want delta-8 are more concerned with using it recreationally.
Whatever your reason for trying delta-8, you need to be extra careful about ordering this cannabinoid. The hemp industry is so new, and many companies are jumping on the "delta-8 train" without putting your safety first.
Please always ask for third-party lab results to ensure you're getting the purest delta-8 imaginable. You could also use the resources on Real Tested CBD to distinguish quality delta-8 brands from charlatans.
Please check out our delta-8 page for more information on screening this new hemp cannabinoid.