George Floyd Died Of Police Use Of Force, Medical Examiner Testifies In Derek Chauvin Trial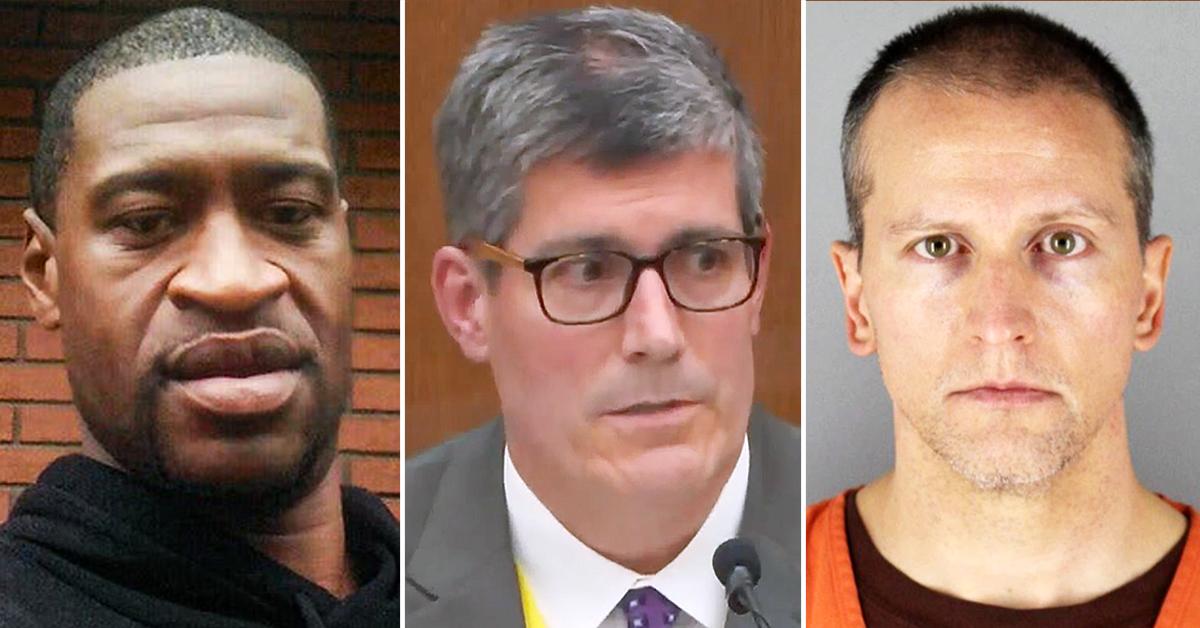 Dr. Andrew Baker – the Hennepin County medical examiner who ruled George Floyd's May 2020 death a homicide – testified Friday in the murder trial of former Minneapolis Police Department officer Derek Chauvin.
Article continues below advertisement
The expert concluded that Floyd died from cardiopulmonary arrest — meaning, his heart stopped — which he believes was aggravated by the way he was pinned down.
"In my opinion, the law enforcement subdual, restraint and the neck compression was just more than Mr. Floyd could take," Baker explained.
Article continues below advertisement
When asked how police "subdual, restraint and neck compression" led to Floyd's death, the medical examiner said Floyd had severe underlying heart disease and an enlarged heart that needed more oxygen than a healthy person's heart to function properly. Baker also stated Floyd had noticeable blockage in two heart arteries.
The expert explained that being involved in any kind of scuffle or physical altercation increases the release of adrenaline, a hormone that instructs the heart to beat faster and supply more oxygen.
Article continues below advertisement
Chauvin's defense team has been trying adamantly to convince the jury that Floyd died of drug-related causes and/or underlying health conditions and not because of the pressure Chauvin's knee put on Floyd's neck for nearly 10 minutes while the latter lied prone on the street, handcuffed behind his back.
Floyd indeed had high blood pressure and heart disease, and an autopsy did find fentanyl and methamphetamine in his system. But the report itself ruled out a heart attack, aneurysm, and other causes.
Article continues below advertisement
During his testimony, Baker said he found no "visible or microscopic previous damage" to Floyd's heart muscle during his examination and that he noticed no injury to Floyd's brain from either oxygen deprivation or trauma. Baker said he did not find any pills or pill fragments in Floyd's stomach.
Baker's testimony echoed that of other experts who have been called to the stand.
Article continues below advertisement
"This is a death where both heart and lungs stop working," said Dr. Lindsey Thomas, a forensic pathologist who retired a few years ago from the Hennepin County Medical Examiner's Office, Friday morning.
Though Thomas did not work on Floyd's case, she said she studied video footage of his death, where he could be heard saying – at least 28 times – that he couldn't breathe. She said she reached the conclusion that it was "due to law enforcement subdual, restraint and compression." The "primary mechanism of death," she said, was asphyxia.
Article continues below advertisement
Similarly, a family-commissioned autopsy report stated Floyd's death was a homicide caused by "asphyxiation from sustained pressure."
Going back to his examination findings, Baker told the court that the other significant factors listed on Floyd's death certificate may have played a role but did not directly cause his death.
Article continues below advertisement
"Mr. Floyd's use of fentanyl did not cause the subdual or neck restraint," he testified. "His heart disease did not cause the subdual or the neck restraint."
Unlike Thomas, Baker said he did not watch any footage of Floyd's death before examining his body to avoid being influenced.
Article continues below advertisement
"I was aware that at least one video had gone viral on the internet, but I intentionally chose not to look at that until I had examined Mr. Floyd," he explained. "I did not want to bias my exam by going in with any preconceived notions that might lead me down one pathway or another."
Also on Friday, for the first time since proceedings began, the seat designated for someone in Chauvin's family was occupied by a woman who was not immediately identified. Chauvin's divorce from his ex-wife was finalized in February.