Brawl Erupts Before Floyd Mayweather-Logan Paul Fight When Bryce Hall's Pal Tayler Holder Lunges At Austin McBroom
A massive brawl broke out ahead of the fight at the Hard Rock Stadium in South Florida on Sunday, and RadarOnline.com has the exclusive footage.
Article continues below advertisement
Hours before undefeated champion Floyd Mayweather, 44, went head-to-head for an eight-round boxing match against 26-year-old YouTuber Logan Paul, fellow YouTube star Austin McBroom, 29, was nearly pummeled by a member of his archenemy's posse.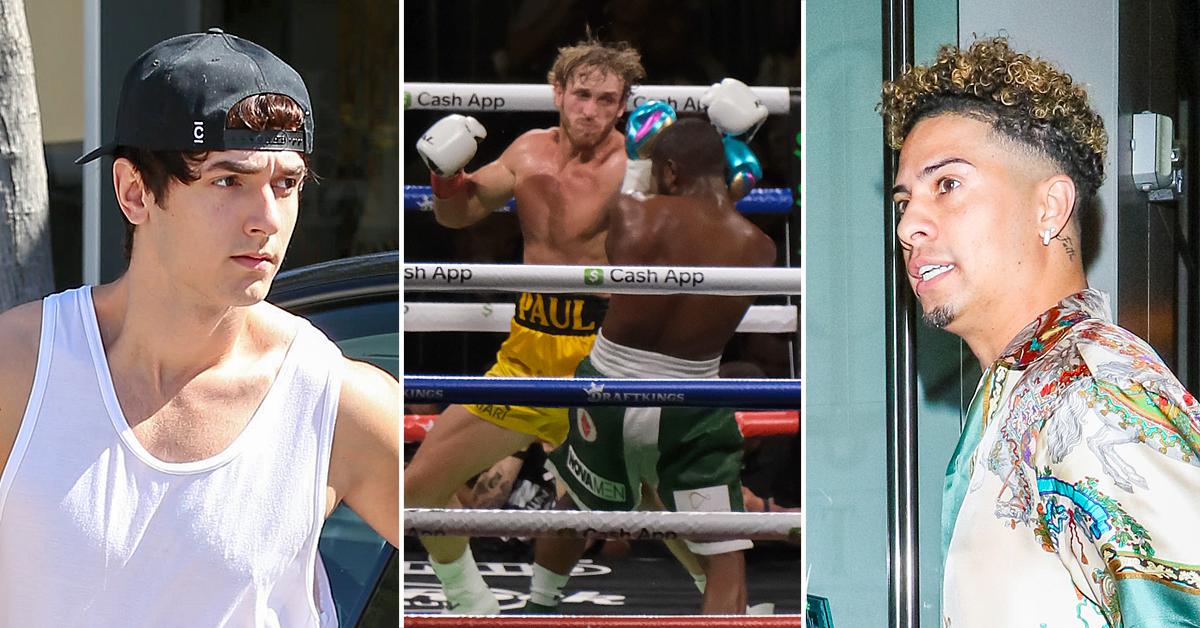 Article continues below advertisement
McBroom was walking through the stadium with his gaggle of pals and beefed-up security guards when he started talking smack to 21-year-old TikToker Bryce Hall, who's set to fight Austin this coming Saturday as part of LiveXLive's live Social Gloves event.
When the groups crossed paths, Hall's friend – 23-year-old Tayler Holder – approached McBroom, prompting Austin to shout, "Next up! Y'all little boy's next up. You ready? You ready? Come on!" That's when Tayler popped off, and the altercation went from verbal to physical in a matter of seconds.
Article continues below advertisement
Instantly, McBroom's security guards got in front of Holder, who was backed up by Hall himself ... but mostly by several other security guards, who seemed to appear out of nowhere.
Article continues below advertisement
"Six days!" one of Bryce's peeps repeated to Austin, as the former flashed a big grin. Hall added sarcastically, "This is gonna be f--king legwork!" The rumbling continued as bodies continued to lunge, bounce and fly all over the place.
From a safe distance away, Bryce mockingly shouted, "Ah! Ah! I'm scared," as a crowd of curious onlookers gathered to see what was going on. By this point, McBroom had been escorted away from the violent kerfuffle.
After all, he can't risk what happened a few weeks back happening again so close to the scheduled fight.
Article continues below advertisement
During a 1,000-person press event in Los Angeles, California, last month, Hall got up from his seat and charged at McBroom, putting hands around the YouTuber's neck and upper shoulders.
The two-man fight turned into a full-blown mosh pit, as people who weren't involved in the scuffle whipped out their phones to record. "What the f--k?! There's glass!" someone was heard shouting.
Article continues below advertisement
"I was in front row, glass and bodies flying everywhere and all of a sudden some older looking guy comes running and hits someone over the head with a bottle," an attendee told us at the time.
As for their big showdown this coming Saturday, McBroom isn't intimidated by his opponent's recent outbursts.
"As I was walking on the floor of Hard Rock Stadium before the Mayweather fight, Tayler came up to me and starting buzzing in my ear," he told us of Sunday's incident. "He should be more focused on his own fight Against Gib Saturday at Social Gloves. I'm going to knock out his boy Bryce, which will force him to stop the yapping."