Firefighter 'Desperate to Help' George Floyd Testifies Against Derek Chauvin In Court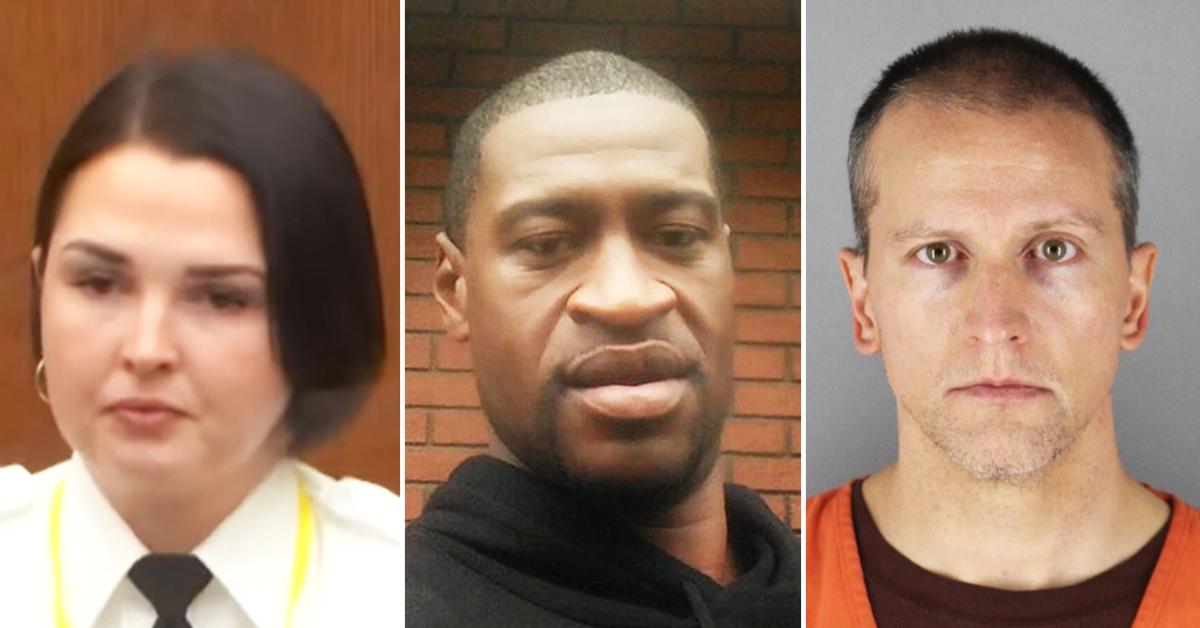 Genevieve Hansen tried "desperately" to save George Floyd's life.
Article continues below advertisement
That's what the trained emergency medical technician and Minneapolis firefighter said Tuesday in the courtroom where Derek Chauvin's murder trial – which began Monday of this week – is taking place.
Chauvin, a now-former Minneapolis Police Department officer, is accused of killing George Floyd on May 25, 2020.
Article continues below advertisement
Hansen told jurors she was off duty and walking home when she heard a woman screaming about how police officers were killing a Black man – who was handcuffed, face down and being pinned down – in the street.
Article continues below advertisement
Hansen said she made her way to the scene and identified herself as a first responder. She then demanded that the involved officers check Floyd's pulse, per video footage that played for the court.
"I had already assessed that [Floyd] was in an altered state of consciousness," she told jurors. "What I needed to know was if he had a pulse."
Article continues below advertisement
According to Hansen, one of the now-former officers who was at the scene, Tou Thao, "said something along the lines of, 'If you really are a Minneapolis firefighter, you would know better than to get involved.'"
Article continues below advertisement
Her voice quivered as she recalled feeling overwhelmingly helpless and hopeless in that moment, saying, "I got there, and I could have given medical assistance. That's exactly what I should have done." Her eyes welled and she began to cry, telling jurors the horrific situation unfolding in front of her had her feeling "totally distressed."
Hansen explained to the court that she initially addressed the officers in a sensible and respectful manner but that once she realized Floyd had possibly released his bladder – which can happen when a person is unconscious or dead – her tone shifted. In her desperation to help the man lying lifeless on the ground – whose neck she had seen be pinned under Chauvin's knee for several minutes – Hansen got louder and started using profanity, which could be heard in the video played for the court.
Article continues below advertisement
"Because I was desperate to help. ... Because there was a man being killed, and ... had I had access to a call similar to that, I would have been able to provide medical attention to the best of my abilities," she explained. "And this human was denied that."
Shortly after Floyd was loaded into an ambulance, a disheveled Hansen called 9-1-1.
Article continues below advertisement
"Hello. I'm on the block of 38th and Chicago, and I literally watched police officers not take a pulse and not do anything to save a man, and I am a first responder myself, and I literally have it on video. I just happened to be on a walk," Hansen was heard saying in the 9-1-1 call prosecutors played in court.
The heaviness of regret in her voice was palpable as she told the court she wished she had acted sooner.
Article continues below advertisement
"I should have called 9-1-1 immediately, but I didn't, and when things calmed down, I realized that I wanted them to know what was going on," she explained. "I wanted to basically report it."
During her cross-examination, defense attorney Eric Nelson noted that Hansen's training as an EMT was not equal to that of a paramedic. He also referenced alleged discrepancies between comments she had previously made to law enforcement and the testimony she had just provided.
Article continues below advertisement
Nelson then explained Hansen could not say with certainty whether or not Floyd's pulse was ever checked by the involved officers because she could not see the scene in its entirety from where she was standing. He went on to tell jurors an ambulance was already on the way by the time Hansen arrived on the scene.
Addressing Hansen, Nelson then tried to draw a parallel between "an angry crowd" distracting police officers from properly performing their job, and an angry crowd distracting firefighters from properly performing theirs. Hansen wasn't having it.
Article continues below advertisement
"Have you ever had a citizen start to yell at you while fighting a fire? ... What if there were 12 people yelling at you, telling you you were doing it wrong? You wouldn't be distracted by that?" Nelson pressed.
"Like I said, I know my job, and I am confident in my job and what I do and what needs to be done, and my training," Hansen replied tensely. "So I would continue to do that."
Article continues below advertisement
During another heated exchange, Nelson asked Hansen if she was upset at the scene.
"I don't know if you've seen anybody been killed, but it's upsetting," she stated, prompting Judge Peter Cahill to instruct her to answer the question that was asked.
Article continues below advertisement
The second day of trial concluded with Cahill "advising" Hansen to "not argue with the counsel and the court." The EMT and firefighter had spent approximately an hour-and-a-half on the stand.
Hansen's testimony continued briefly Wednesday, during which Nelson asked her if she had provided proper credentials when identifying herself to the officers. She said she hadn't, later adding that she wasn't carrying her work ID with her at the time because she was not on duty that day.