'Elvis Was The Love Of My Life, Truly': 50 Years After Their Split, Priscilla Presley Reveals She Never Stopped Loving The King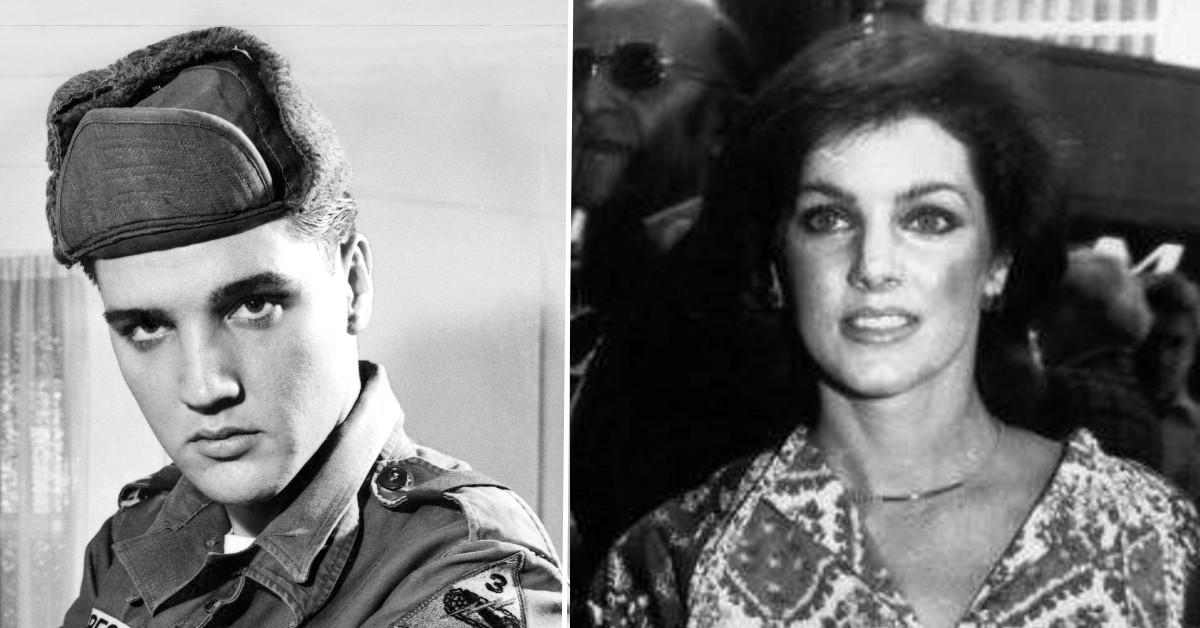 Elvis and Priscilla Presley may have divorced in 1973, but the girl he met when she was just 14 never stopped loving him. "In the courtroom, we were holding hands," she once revealed. "We were sitting there, and I was looking at his hands, and I asked him - he was dating Linda Thompson at the time - 'Is she taking care of you? Are you OK?' He said, 'Yes, I'm good. I'm all right.'"
Even though she had initiated their split, "It wasn't because I didn't love him," Priscilla insisted. "Elvis was the love of my life, truly."
Article continues below advertisement
As anticipation grows ahead of the release of Moulin Rouge director Baz Luhrmann's Elvis biopic on Friday, one woman who has already given her approval of the movie is ex-wife Priscilla, who declared this week that Elvis would have "loved" the film.
It's no surprise that Elvis and Priscilla, 77, remain connected even 45 years after his sudden death from heart failure at age 42. The legendary performer and the woman he lovingly nicknamed 'Cilla were married for only six years but shared one of America's most epic love stories.
Yet they also endured great pain. Priscilla - who fell in love with Elvis when she was just 14, married him in 1967 at 21 and left him in 1972 - tired of his obsessions and was unable to stop his downward spiral, but never stopped caring deeply for him.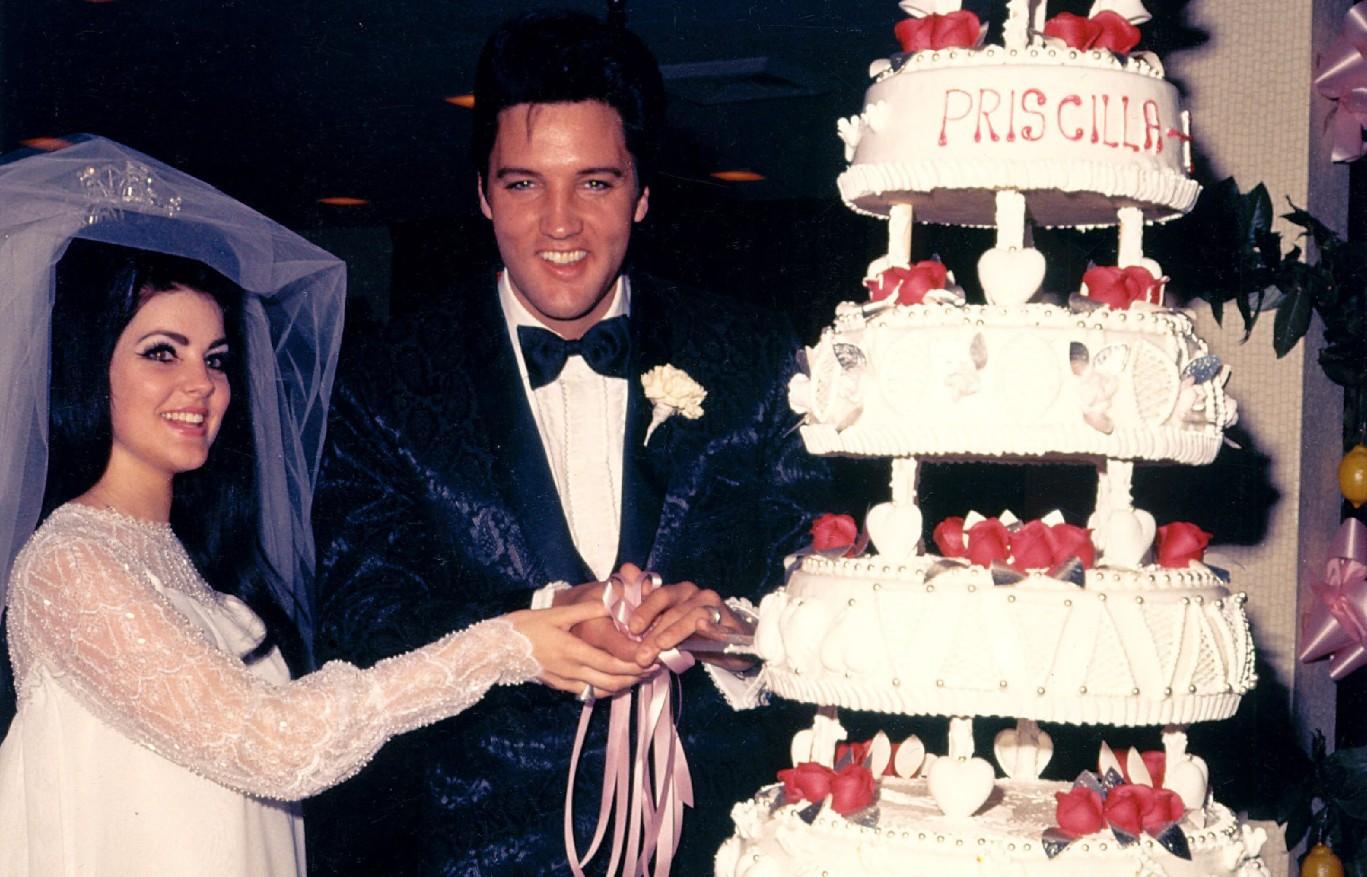 Article continues below advertisement
Meanwhile, Elvis, despite his demons, never met another woman who could replace 'Cilla. "True love never dies," says Chris Hutchins, author of Elvis: A Personal Memoir. "Two years, two hours, 20 years, it wouldn't have mattered [how long they were apart] - he was still crazy about her."
Elvis was already a superstar when first met Priscilla Beaulieu in 1959 at a party, where she recalls wearing a "little sailor dress" and being nervous. His future wife was an American schoolgirl living in Germany, where her Air Force officer dad was stationed, and Elvis, at 24, was the biggest recording and movie star in the world. "He shook my hand," she remembered. "Elvis was nice, warm and cordial but... I never thought I would see him again. Then he called."
For the King, the attraction "went far above her just being beautiful," says country musician T. G. Sheppard, a longtime friend. "Priscilla has always exuded goodness, kindness and innocence."
Conscious of her youth, Elvis pleaded with Priscilla's parents to allow him to court her. Often, they joined his father, Vernon, and future stepmother, Dee, on double dates to the movies, which put Priscilla at ease. "He was very down-to-earth," she recalled. "He was not aggressive with me. He was very gentle."
Article continues below advertisement
After Elvis' tour with the Army ended, the couple continued to exchange love letters and phone calls. He eventually persuaded Priscilla's parents to let her move into Graceland and live with his family. "He wouldn't lay a hand on her in those early years," says Hutchins. "He saw her almost as a child that he had to protect."
And Elvis spoiled her, too. "We would go roller skating," Priscilla said. "He would rent the park where we would ride roller coasters and go-carts."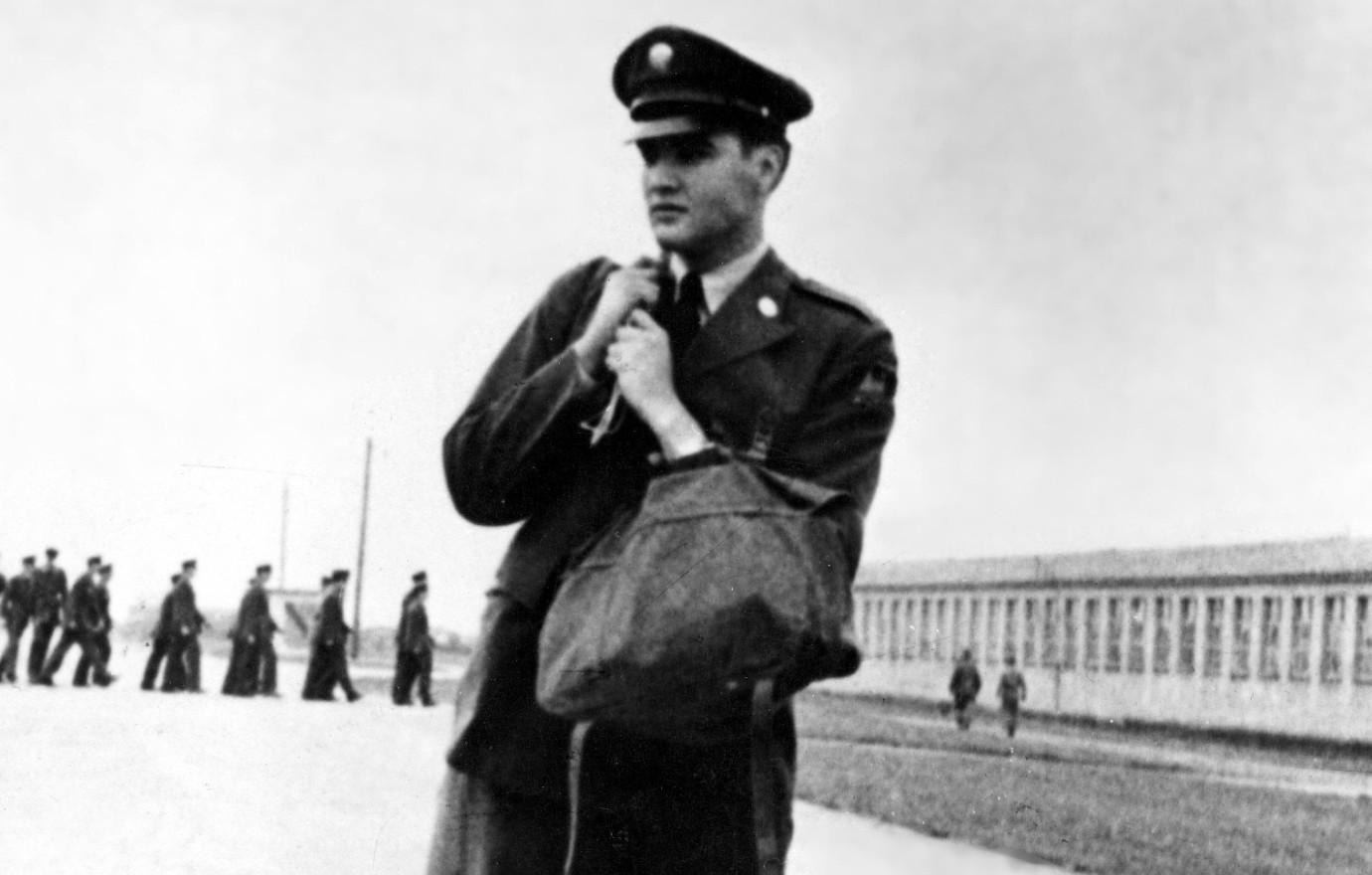 Article continues below advertisement
But life as the sweetheart of the world's biggest star had its pitfalls. Elvis was used to getting his way and liked to control every aspect of Priscilla's life.
"You lived his life," she said. "You saw the movies he wanted to see, you listened to the music he listened to." His management of her extended to her clothes and how she wore her hair. "He was very opinionated, [saying things like] 'I don't like you in that color. Brown isn't good on you,'" Priscilla recalled. "I couldn't wear trousers for ages. I couldn't wear prints or stripes. I had to wear solids."
By the time of their May 1967 marriage, Elvis had molded Priscilla in his image - she even dyed her hair jet-black to please him: "I knew what he liked, what he didn't like. I knew his thoughts."
Still, it wasn't easy for Priscilla to fit in at Graceland because, she said, "Elvis already had his inner circle."
A group of his cousins and close friends - the Memphis Mafia, as they became known - lived on the estate. Lamar Fike, a friend of Elvis' since 1954, said, "Priscilla married the group. She didn't marry [Elvis]. She didn't like it, I don't think."
Nevertheless, 'Cilla had everything she could ever want. Her husband gave her cars and other presents. But his cronies were a constant, and she didn't have friends of her own. "I was with the wives of his friends," she said. "They were pretty much chosen for me."
Article continues below advertisement
Additionally, "Elvis had told me at a young age, 'What you see here you don't share with anybody.'" That became especially difficult when she witnessed Elvis' friends being unfaithful.
"[The wives] would say I was quite cool in my relations with them," she recalled. "I knew things that I was so afraid I'd reveal. I didn't want to be put in that situation."
In February 1968, nine months after their wedding, Priscilla gave birth to daughter Lisa Marie, calling motherhood "terrifying and beautiful." But her husband still demanded her attention, which was hard with an infant. "I wanted to be a mom, yet I traveled a lot and Elvis wanted me to be with him," she said. "It was a tug-of-war of trying to make it all work."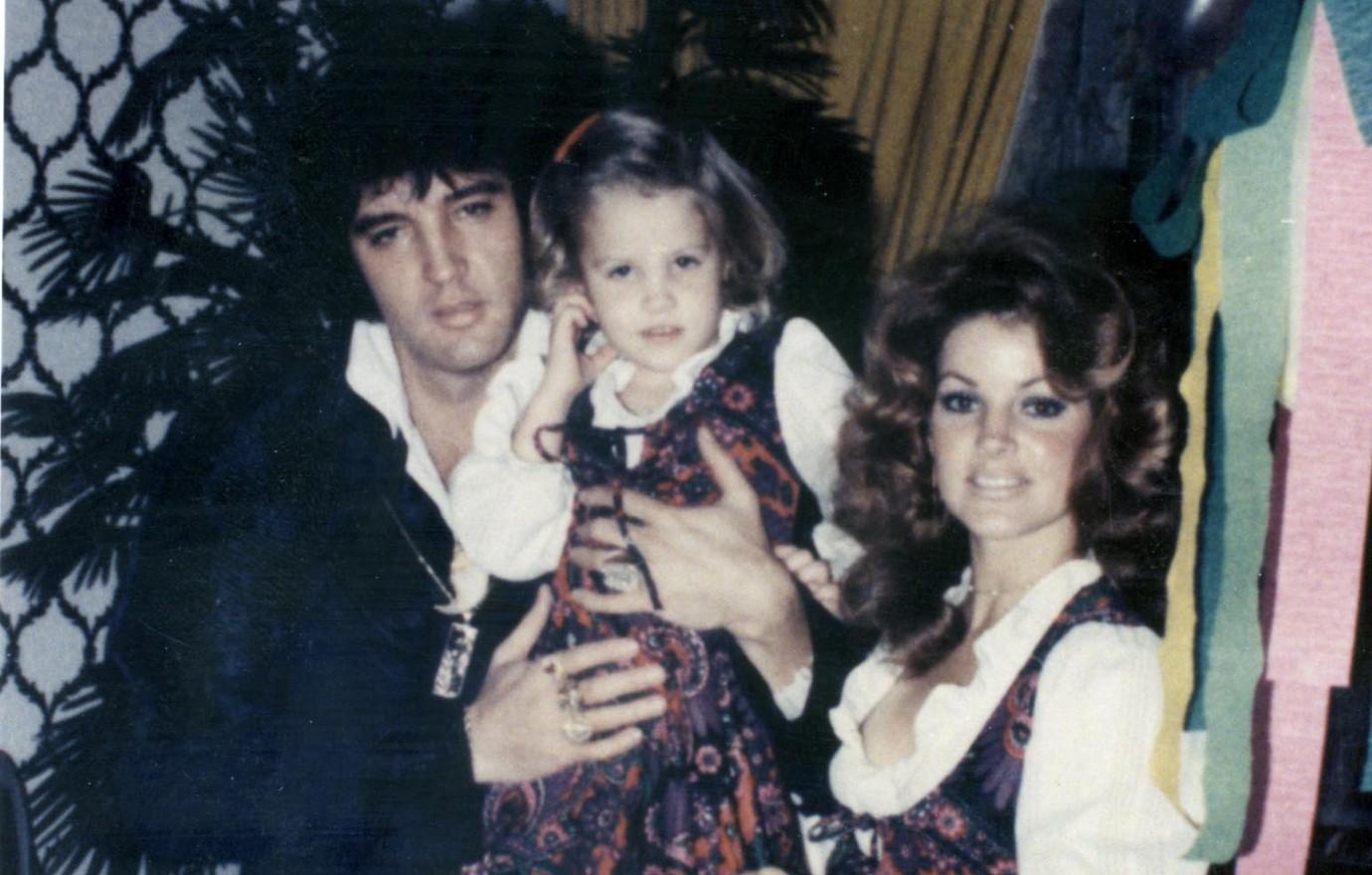 Article continues below advertisement
Priscilla also worried about the prescription drugs that had become so much a part of Elvis' life. The singer, who didn't drink or smoke during their courtship, began experiencing unpredictable mood swings that would cause him to do things like shoot out the screen of his TV. "It was very scary," she remembered. "There was no warning."
Unfortunately, Priscilla's protests about drugs were ignored. "Everyone lived on uppers," says Hutchins. "You couldn't live normally and be the amazing person everyone expected you to be without them."
At 27, Priscilla appeared to have it all, but was desperately unhappy. Her escape was a dance class she attended "to break out a little bit," she said. "I started realizing, gosh, [these] women had their own life." She also began taking karate lessons, earning a green belt, after Elvis introduced her to instructor Mike Stone. "Mike became Priscilla's closest confidant," says a friend.
In mid-1972, Priscilla finally acknowledged that things were not going to change. "We had separate lives," she said. Friends, like Hollywood veteran Michael St. John, saw the split as inevitable. "They never had a chance," he says. "Elvis' career and public persona consumed him, and it consumed his marriage in the process."
Article continues below advertisement
But Priscilla's leaving was truly traumatic for the King, and it was made worse when she began dating Stone. "He was devastated for two reasons: Elvis was still in love with her, and he had lost control over her," says Hutchins. "Suddenly, Priscilla was in another man's life, and it made Elvis very, very angry. He was a good man, but he went mad with rage."
The little girl he'd met in Germany had grown up. Elvis filed for divorce and granted Priscilla custody of Lisa Marie, but he remained an attentive father.
"It wasn't until after we divorced that I could find out who I was," Priscilla recalled. Time, their genuine love for each other and their adoration of Lisa Marie helped them move past the pain. In the years following their split, Priscilla and Elvis spoke often, right up until the end. "We talked a few days before he passed, which was very hard," she said.
Priscilla never married again and described Elvis' death in 1977 "absolutely devastating".
In 1979, Priscilla became the co-executor of the Elvis Presley estate and helped steer it from near bankruptcy to the financial powerhouse it is today. And she never stopped loving Elvis.
"She was the woman who had his back, no question," Elvis' hairstylist Larry Geller reveals. "She loved him dearly, and I think she still does."