Does CBD Help To Ease Pain?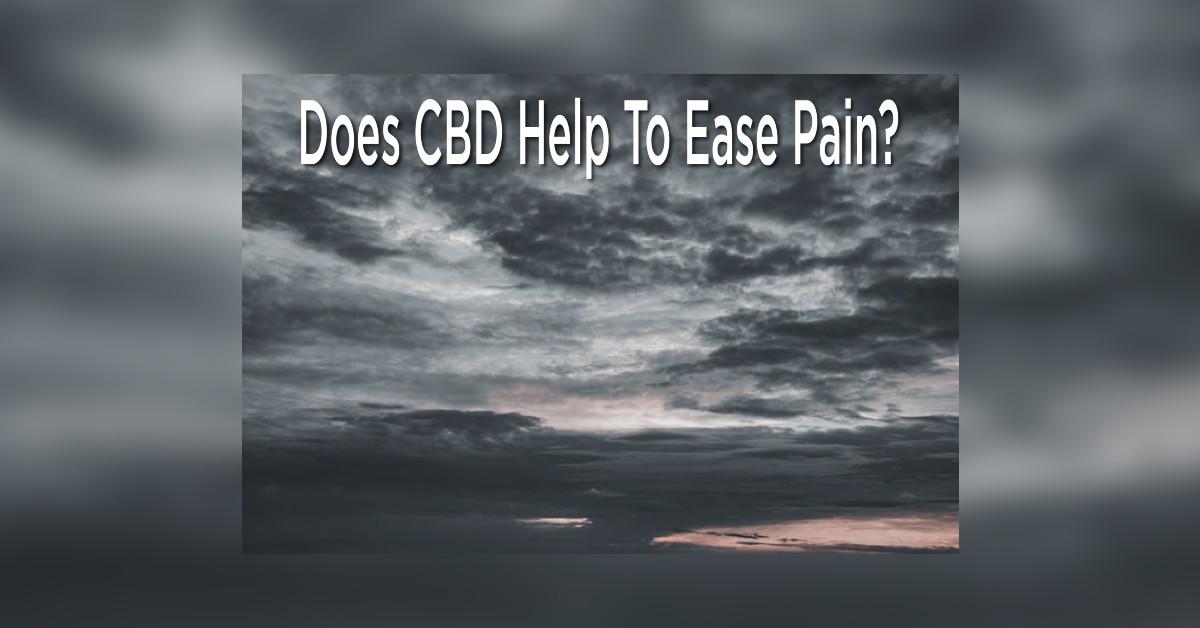 CBD can be beneficial for your health in various ways, including pain relief. Almost every benefit of this substance derived from industrial hemp is not scientifically proven. So it is semantically incorrect to ask this question: "Does CBD help alleviate pain?" A more semantically correct phrasing of it is this: "Can cannabidiol help deal with pain?"
This is because limited scientific research makes us communicate in terms of CBD's therapeutic potential.
Article continues below advertisement
What Do Cannabis Experts Say?
The consumption of cannabis to treat pain originated in old China, as per a report that came in the peer-reviewed journal named 'Cannabis and Cannabinoid Research'. Cannabidiol is thought to help alleviate chronic pain partly through easing inflammation. Besides, it is considered that CBD can promote sleep, and consequently, treat the disruption in sleep that chronic pain sufferers usually experience.
Why Do Individuals Consume CBD Oil?
Millions of US citizens suffer from chronic pain. It can considerably reduce one's standard of health, comfort, and happiness, plus make medical expenses go up and negatively affect work productivity.
Article continues below advertisement
Although standard painkillers tend to be prescribed for chronic pain, several individuals seek a natural alternative to these pain-relieving drugs. Cannabidiol is considered one of these alternatives.
Those people choose it because they wish to not have the undesirable effects of the painkillers, and avoid the possible dependence on these standard drugs. Cannabidiol is not addictive, not mind-altering/psychoactive, and it has no major side effects. Hemp CBD contains just 0.3% tetrahydrocannabinol, so you will not have a psychoactive 'high' by consuming it unless you take too much of it at once.
Some advocates of CBD imply that it could help solve opioid addiction. Unlike CBD, opioid is very addictive. Remember, there are opioid painkillers, whose misuse can contribute to addiction. These addictive drugs are also known as narcotics.
You are not going to face any of the aforesaid issues by consuming CBD. Many customers like the aforesaid positive aspect of cannabidiol, which explains why they are choosing it to deal with pain. Some CBD products come with a certain amount of flavor, which adds to the appeal of using these for customers. When you think of medicine, you tend to picture unpleasant taste and difficulty swallowing, and the like. Conversely, there are CBD gummies and other cannabidiol goods without any added flavor.
Article continues below advertisement
Potential Health Benefits Of Cannabidiol
Scientists keep attempting to find out how cannabidiol might ease the pain. There is evidence that CBD interacts with the endocannabinoid system. The ECS helps with brain functions such as mood and memory, and it influences the way in which people feel pain.
The bulk of the proof for cannabidiol's pain management effects is based on animal studies. When consumed through the mouth, cannabidiol's bioavailability is not good. Here, the term 'bioavailability' means the percentage of CBD entering the blood circulation. Applying CBD topical where you feel localized pain is thought to supply a steadier stream of cannabidiol without much systemic involvement.
Article continues below advertisement
A 2016 study, featured in the European Journal of Pain, discovered CBD-filled gel considerably eased inflammation and pain in rats having arthritis disease.
A 2017 study found that CBD topical aided in thwarting the growth of the osteoarthritis-affected rat's joint pain. The study's findings came in the online Journal of Pain.
In a 2018 study, researchers reported that topical CBD application for kids with epidermolysis bullosa caused quicker injury healing, less pain, and fever blisters. An individual could fully stop depending on opioid pain-relievers, and no side effects were found. The findings of the 2018 study were featured in the online journal 'Pediatric Dermatology'.
As per a 2018 report featured in the CDSR (Cochrane Database of Systematic Reviews), the consumption of different cannabis derivatives might be somewhat beneficial for nerve pain. This kind of pain tends to develop in those who have conditions such as multiple sclerosis and diabetes.
Article continues below advertisement
In the 2018 report, scientists have found some proof that cannabis-derived drugs may help manage pain, sleep issues, and distress. Confusion, drowsiness, and lightheadedness were some of the cannabis medicines' side effects. Still, the authors of the study said that the potential advantages of the drugs might just be greater than their possible harm. Still, that study used drugs such as inhalable cannabis, sprays, plus tablets containing tetrahydrocannabinol and/or synthetic/plant-derived cannabidiol. The items containing tetrahydrocannabinol are more likely to have the aforesaid side effects compared to the ones with no THC content.
Final Thoughts
People most commonly use medical marijuana for chronic pain. If you were unable to deal with chronic pain using the usual medicine, then consider trying CBD instead. Some users have found it to be effective for pain. Before using CBD for pain, you must discuss with a medical professional the safest method to consume it for pain management. Learn more about CBD for pain here.