Derrick Rose And Wife Alaina Anderson Hit Up Miami Beach In Rare Sighting, Still Going Strong Years After NBA Star Shut Down Rape Lawsuit
NBA star Derrick Rose and his wife, Alaina Anderson, are enjoying their summer where summer never stops – in Miami.
Article continues below advertisement
Over the weekend, the 32-year-old famed basketball player and the 26-year-old entrepreneur – who tied the knot in a secret ceremony in February of 2018 – soaked up the Florida sun while frolicking around Miami Beach looking as in love as ever.
The professional athlete sported a gray ombre T-shirt and solid gray basketball shorts, while the blonde bombshell opted for a periwinkle sports bra and navy blue spandex shorts. Both had their hair up and away from their equally attractive faces.
The two were photographed spending time wading in the water, walking on the sand, and chatting with one another.
Though they seemed to be enjoying some alone time on Sunday, Derrick and Alaina have two children.
They welcomed their first child together, 3-year-old daughter Layla Malibu Rose, the same month they got married. In May of 2019, Alaina gave birth to their second child, a 2-year-old son London Marley Rose.
Derrick's oldest child is 8-year-old Derrick Rose Jr., who he shares with his ex-girlfriend, Mieka Reese.
Article continues below advertisement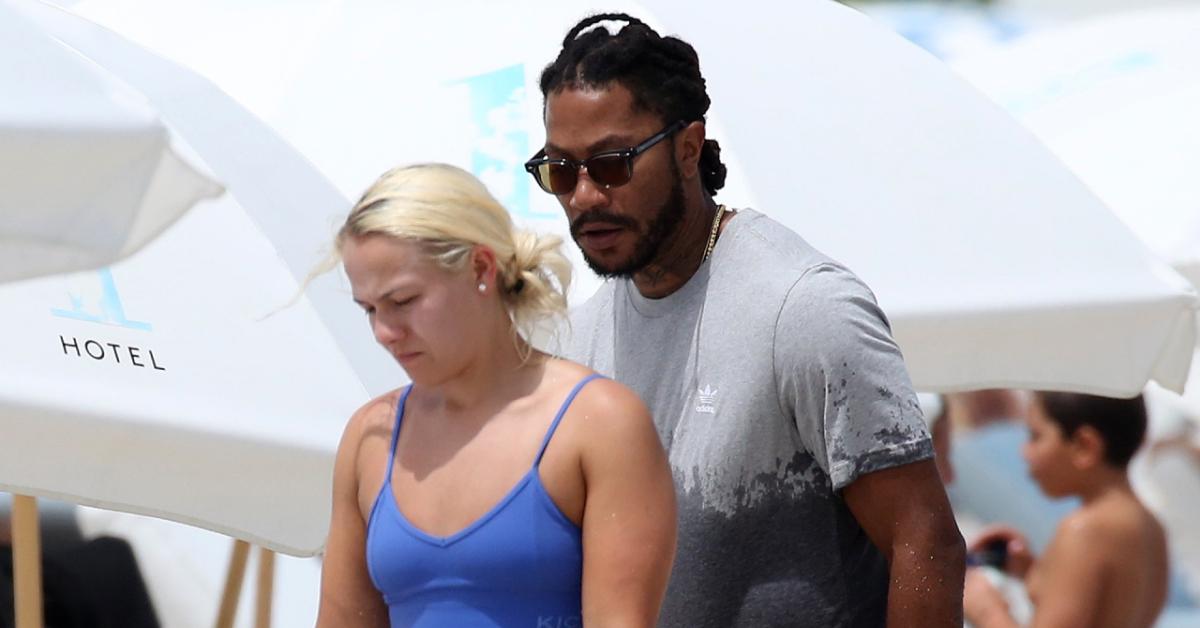 Article continues below advertisement
The NBA star has been thriving not only personally but also professionally since shutting down that infamous rape lawsuit from 2016.
At the time, Rose and two friends were accused of raping one of his unnamed former girlfriends three years prior.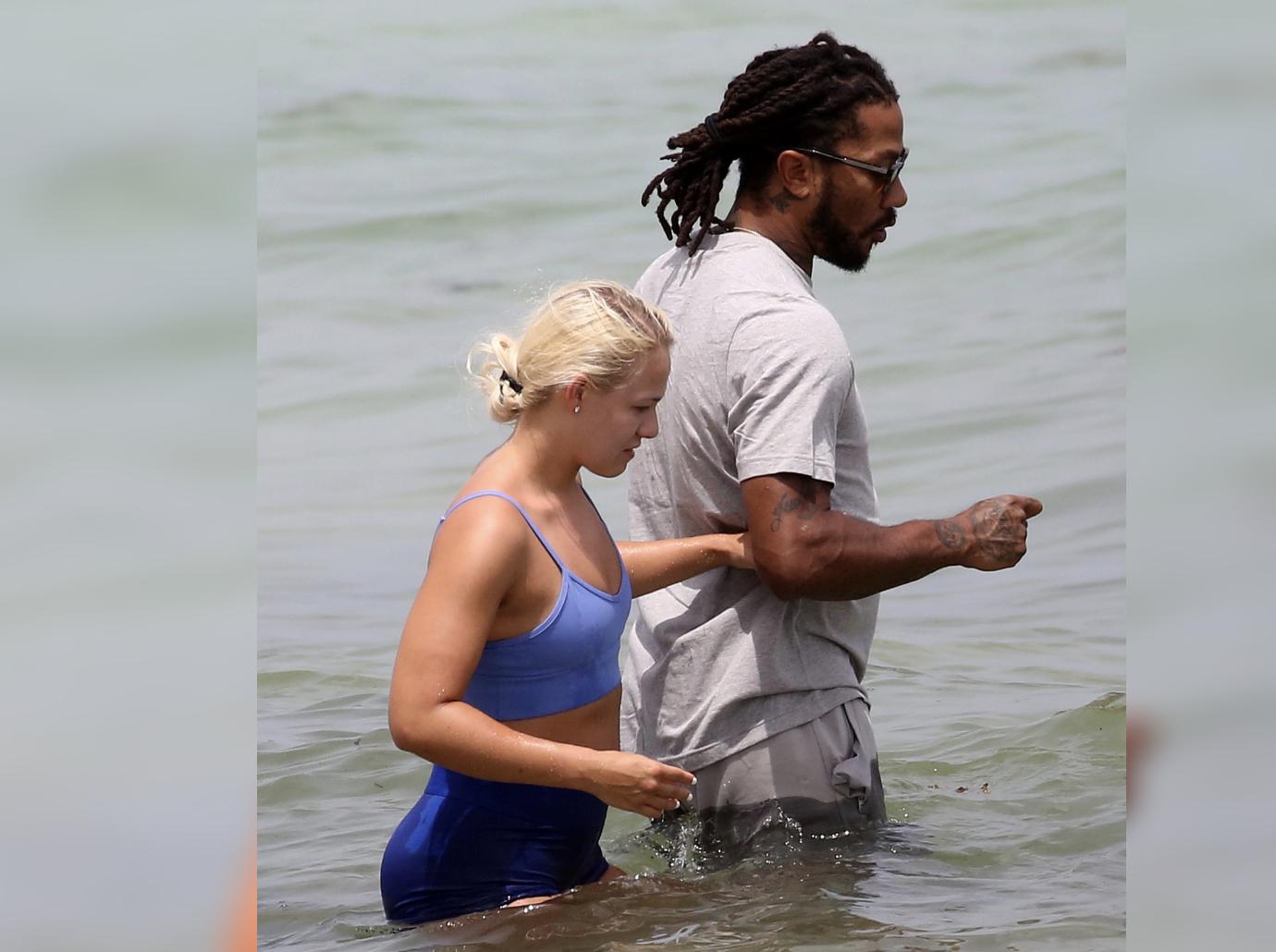 Article continues below advertisement
In the months before the alleged gang rape, his accuser, referred to as "Jane Doe," testified that the basketball player made her uncomfortable when he asked her to perform sexual acts on him and when he asked her about involving other people in their sex life. She alleged that he would get angry when she refused.
Doe also claimed that on the day of the alleged rape, she was drugged, which she alleged resulted in her weaving in and out of consciousness.
During the trial, Rose expressed difficulty understanding the definition of the word "consent;" however, an eight-member jury found him not liable. A 2018 appeal was denied.
Article continues below advertisement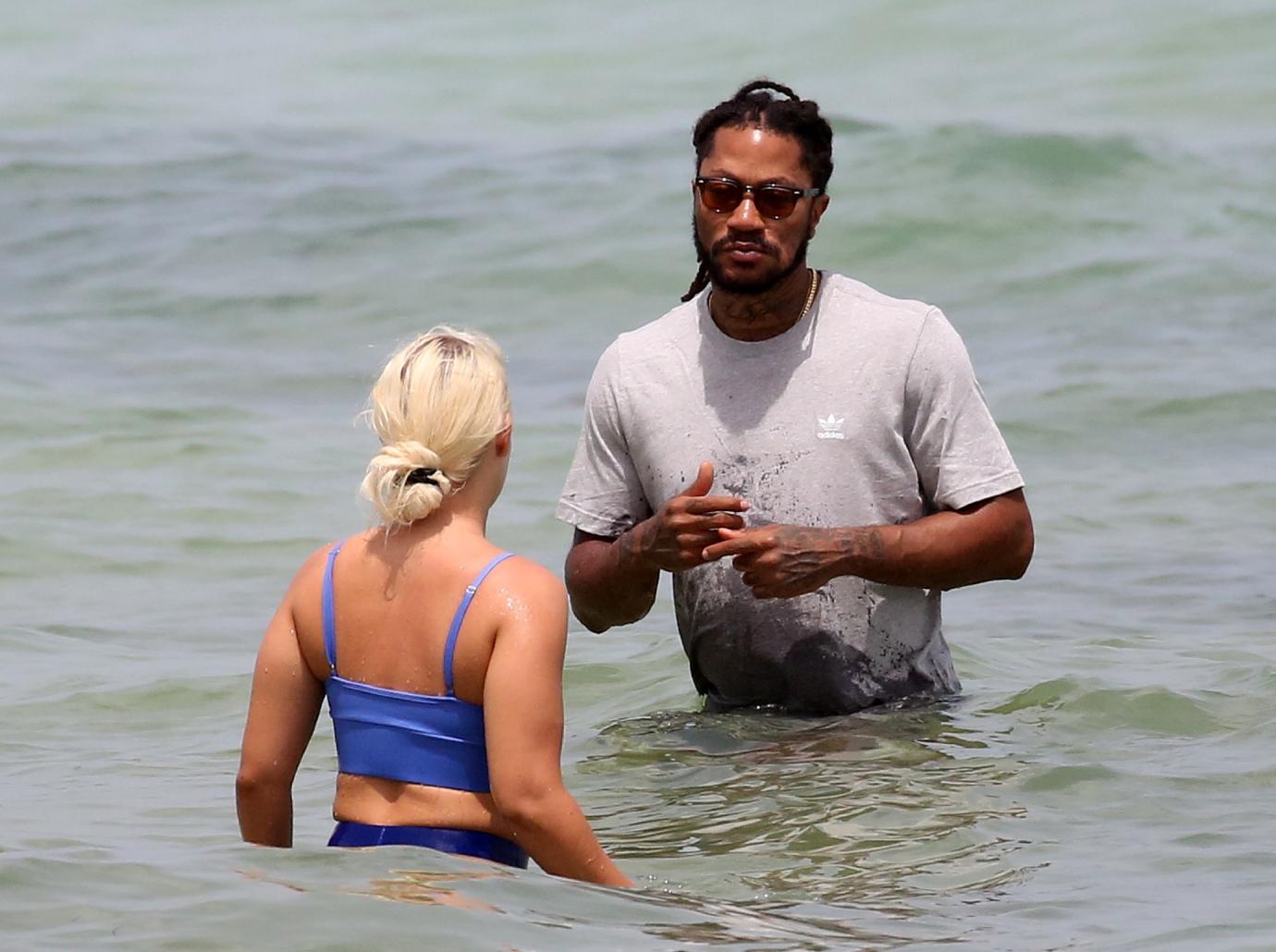 Earlier this month, Derrick signed a three-year, $43 million deal with the New York Knicks.
Clearly, he and Alaina have lots to smile about.