Growth Strategy: The Baby-Booming Feminist Icons Getting Heavily Into CBD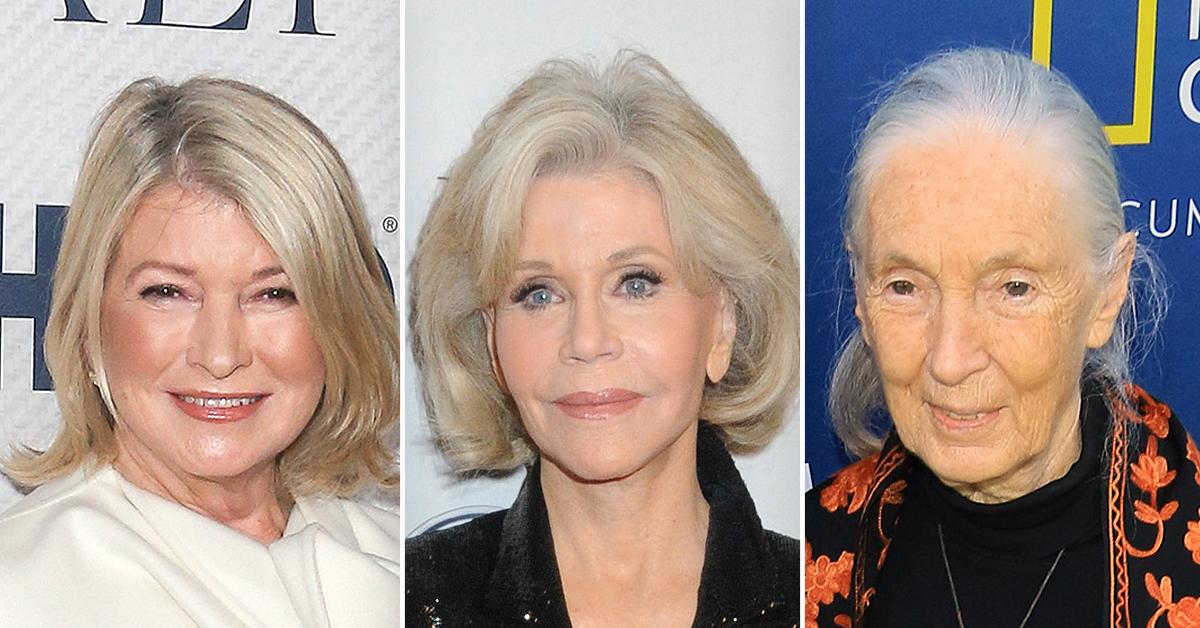 An unlikely new front has broken out in the battle for control of the growing – and highly lucrative – cannabidiol (CBD) market. Three icons of the baby-boom generation – the homemaker, the fitness guru, and the conservationist – have lent their names to leading Hemp and CBD companies, and they're each hoping their particular brand of self-empowering feminism will translate to a new generation of switched-on consumers.
Article continues below advertisement
Martha Stewart, 79, who in the 1980s and 90s taught a nation how to cook, craft, entertain and manage their homes, is now working with Canopy Growth on a line of wellness products that they describe as "combining gourmet flavors with the purest, safest CBD".
Jane Fonda, 83, who shot to fame in the spaced-out 1968 movie Barbarella before becoming a fitness guru and environmental activist, has teamed up with Uncle Bud's as their "wellness ambassador".
Article continues below advertisement
And conservationist and anthropologist Jane Goodall, 86, acknowledged as the world's foremost expert on chimpanzees, has partnered with Neptune Wellness Solutions under their Forest Remedies brand to produce a line of plant-based hand sanitizers, hemp-derived products, and essential oils that they claim are "sustainable, affordable, and socially responsible".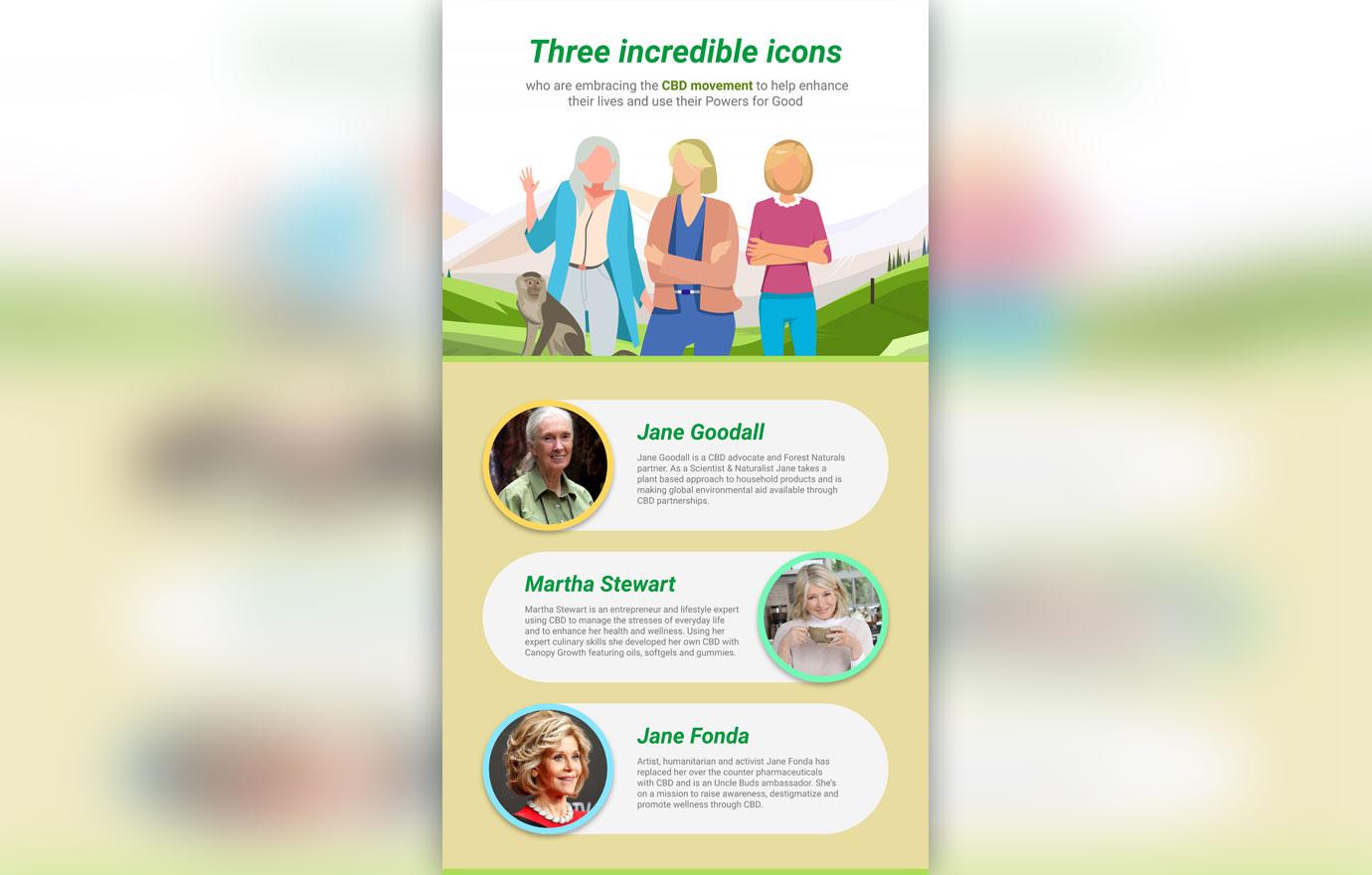 Article continues below advertisement
The moves by all three women not only represent an intriguing development in their own careers, but illustrates just how huge the market for CBD products has become. According to a February 2021 report* by Grand View Research, the global cannabidiol market was valued at $2.8 billion in 2020, and is expected to expand at a growth rate of over 21% over the next eight years. The report also concludes that North America "dominates the market" with a revenue share of 37.3%.
CBD is big business – and nothing shows that more than this latest endorsement of its properties by the women who effectively taught America's baby boomers how to live well. As far as they're concerned, the old view of cannabidiols as the preserve of stoners and dropouts couldn't be further from the truth.
Article continues below advertisement
According to Martha Stewart: "I've found that CBD supplements are a simple way to enhance my own health and wellness, especially when it comes to managing the stresses of daily life."
Her product line consists of fruit-flavored wellness gummies, soft gels, and three oil drops.
"I set out to create the most delicious CBD products on the market, drawing inspiration from some of my favorite recipes and flavor profiles from my greenhouse and gardens," she says. "My wellness gummies closely resemble the French confections, pâte de fruits, rather than the sticky, overly sweet versions you might find elsewhere. I am very proud of the end result: they taste as wonderful as they make you feel."
Article continues below advertisement
Jane Fonda's role has been less hands-on than Stewart's, and more akin to that of a beauty influencer – not bad for a woman in her 80s.
"Uncle Bud's reached out to me thinking the alignment between them and me made sense," she says. "Then I tried the products out for a few months, and I really like them. I like the skin creams, I like the aching muscle creams, I like the lip balm, I like the hand sanitizers.
"People have given me jars of different CBD products to use on my joints because I have osteoarthritis, but they never worked. Then I tried the oils and rub-ons from Uncle Bud's, which really help me with sore muscles. I'm also a fan of their overnight face mask and body lotion.
"I think using CBD will only become more common in the wellness industry and, hopefully, the manufacturing industry."
Article continues below advertisement
For conservationist Jane Goodall, the primary appeal of Neptune Wellness Solutions' CBD products is not only their effectiveness, but also the company's natural and ethical principles.
"I am very pleased to partner with Neptune Wellness Solutions to develop natural, plant-based products that support health and wellness in an environmentally sustainable and socially responsible manner," Goodall says. "This reflects our mutual goal of enabling consumers to make ethical purchasing decisions to create a better world for all living things."
Article continues below advertisement
Neptune has made an initial donation of $25,000 to the Jane Goodall Institute to support its environmental conservation and chimpanzee protection initiatives. The company will also donate 5% of sales of the co-branded products to further the group's efforts, which include support for the nonprofit organization One Tree Planted and its mission of global reforestation.
"The health of people, animals, and the environment are interconnected," she continues. "This pandemic demonstrates this. However, if we all make ethical choices, every day, our collective power for change is great. I believe there is still a window of time to heal the planet before it is too late, but only if we each make the right choices every day."
So who will come out on top in the battle of the baby boom icons in bed with the CBD companies? With three such formidable women up against each other, all bets are off!