3 Miles Of Terror: Gunman Opens Fires in Buffalo Grocery Store Just Miles From City's Previous Mass Shooting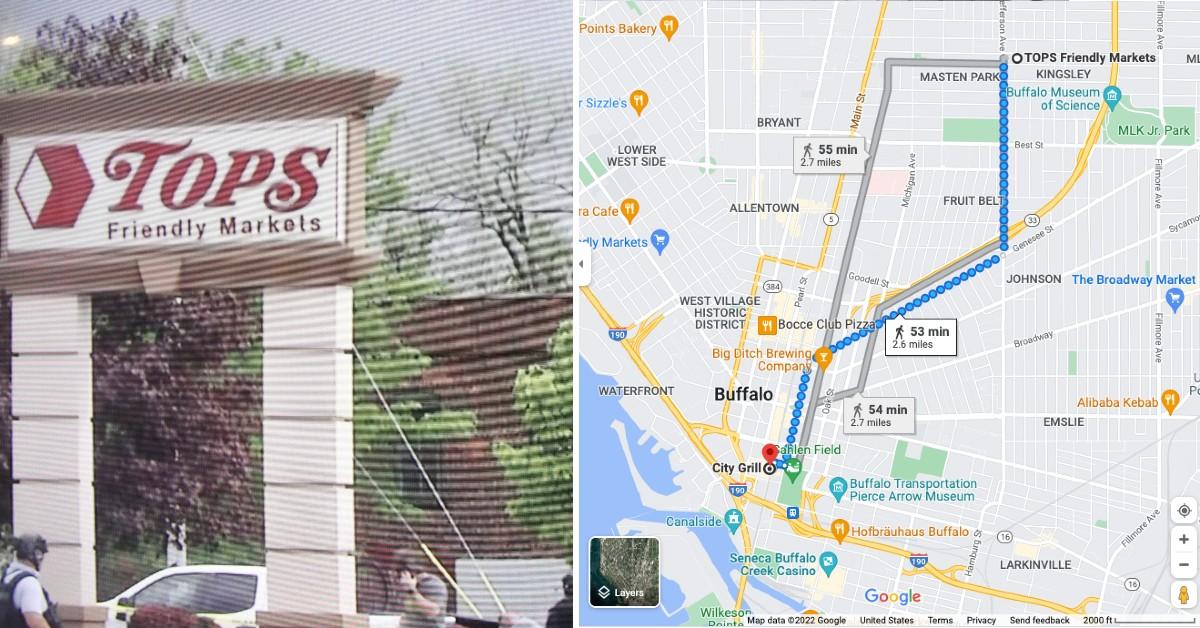 While much of the world is focused on the shooting at a grocery store in Buffalo, New York, it's not the first time the upstate city has fallen prey to a mass-shooting gunman.
In fact, less than three miles away from the Tops market, a gunman opened fire outside a restaurant in 2010.
Article continues below advertisement
On Aug. 14, 2010, Riccardo M. McCray fired 10 rounds in 17 seconds outside the now-closed City Grill restaurant, according to the Buffalo News.
The grill is less than three miles from the Tops grocery store.
Four people were killed in a 2010 massacre and another four were hurt. McCray was convicted of first-degree murder and other counts. McCray, a black man, was sentenced to life in prison without parole for that shooting, according to the Associated Press.
Article continues below advertisement
A fight inside the restaurant spilled outside and ended in the deadly shooting, that up until this month was the deadliest in Buffalo history.
On May 14, 2022, Payton Gendron opened fire inside a Trops grocery store that was less than three miles from the City Grill site, according to authorities. He visited the store in tactical gear with a rifle. He gunned down people in the parking lot before heading inside the kill more.
He has been charged with first-degree murder.
Article continues below advertisement
The officers tried to provide updates as they arrived on the scene, but the radio traffic detailed the confusion and panic of the scene. At first officers said a few people were down and noted that they were dead. But, hours later, police revealed the full count of 10 killed during the incident.
Article continues below advertisement
It took officers about five minutes from the initial call to take Grendon into custody, according to the police radio traffic.
Authorities also talked about preserving the evidence at the scene in the immediate aftermath,
"We have numerous bodies, and we have magazines and bullets and everything," a first responder said.
Article continues below advertisement
Officials estimated 50 rounds were fired inside the store, according to reports.
Gendron allegedly wrote a manifesto detailing his plan for the killing. He cited race as a motive about why he decided to open fire inside the store that is in a predominately Black community.