Sex, Drugs & Scandal: Gay Escort TELLS ALL About His Wild Night With Married Dem Superstar Andrew Gillum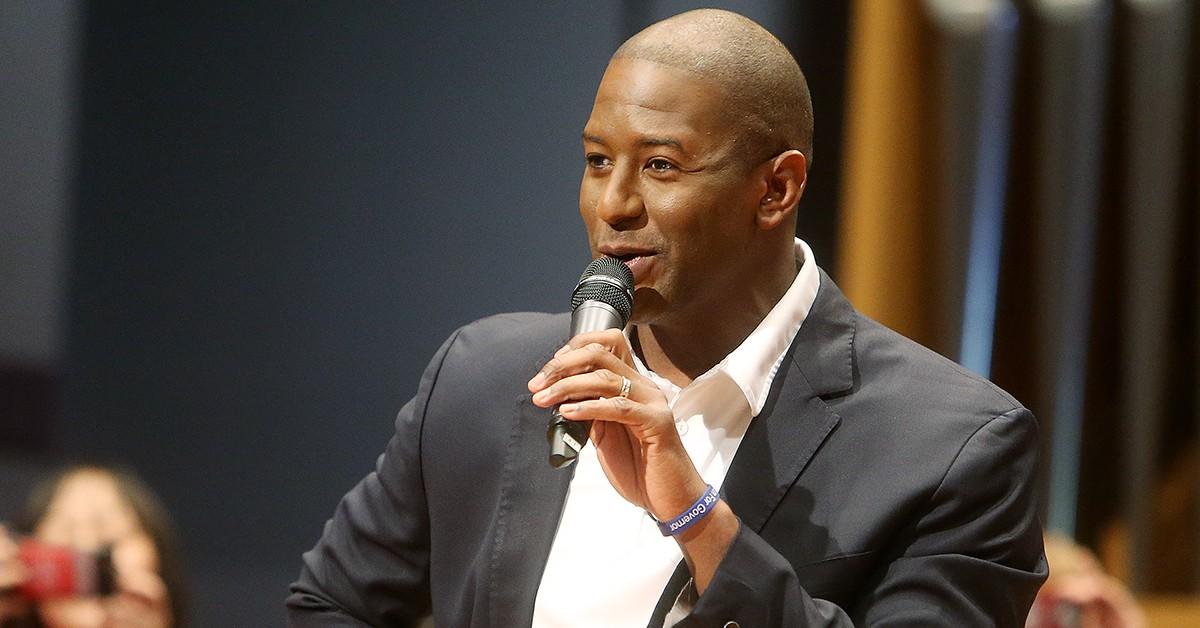 The gay sex scandal that torpedoed Florida politician Andrew Gillum's career was even worse than you know! For the very first time, the gory details of his wild night with a male escort are laid bare, as the escort himself gives a bombshell interview, RadarOnline.com has learned.
Gillum was just half a percentage point away from becoming Governor of Florida in the 2018 election. On March 13, 2020, his political prospects went up in smoke as he was found in a Miami hotel room with drugs and an orgy-sized crowd of men.
Article continues below advertisement
What Happened to Andrew Gillum?
Gillum told GQ in a new interview that on March 12, 2020, he was drinking heavily in Miami Beach during the day. That evening, he decided to see Travis Dyson, a nurse and sex worker who he claimed to have known for a couple months, and the two met up in a room at the Mondrian South Beach.
"He offers me something to drink.… I'm not really sure, like, what it is and what's in it because I'm already kind of [drunk].… The last memory that I have is sitting up drinking," Gillum recalled.
"Because I didn't take a drug test until two or three days later, I don't know if there was something in my drink. But all I know is, I'm knocked out. At the point that I come back present, it's like 11 at night and I'm in the bathroom," he revealed, noting, "I don't have any clothes on. I have no idea why. And I'm there with like five, six police officers."
A police report described the disturbing scene.
Article continues below advertisement
Andrew Gillum Police Report
"According to the document," GQ reported, "an incapacitated Gillum had been found by police in a Miami Beach hotel room with a male sex worker, baggies that the cops suspected contained crystal meth and other narcotics, and a third man, who had called 911."
"What I'm reading in this report is some tryst, some three people, this, that, and the third, and all of these are things that I have no recollection of. I never even met this third person," Gillum claimed, telling GQ he never knowingly took drugs that night. "So at this point I'm like, 'This is set up.'"
Gillum, who had been cooperating on the interview with the magazine, refused to have a scheduled follow-up conversation with the article's author after finding out that Dyson also spoke to the magazine, telling his side of the story for the first time ever.
Andrew Gillum's Male Escort Scandal
Dyson denied Gillum's allegations of a setup. Instead, Dyson told GQ, he and Gillum had known each other for just one or two weeks— not months — and first met via Grindr, a gay dating app.
The former escort claimed he and Gillum then got together multiple times for paid sex.
According to the GQ article, Dyson alleged on that March night last year that "Andrew passed out after taking 'G,' an ecstasy-type drug often used by gay men to enhance their sex drives, which when combined with alcohol can knock people out. [Dyson] said that on that night and others, both he and Andrew used G and other drugs."
Article continues below advertisement
Dyson, GQ claimed, also acknowledged he shot photos and videos of Gillum and sent them around to friends.
The magazine reported that Dyson accidentally overdosed after taking care of Gillum for several hours.
"Everything I did was trying to help Andrew," Dyson said.
According to Dyson, the third man who called for help did not know Gillum and was only there because he had shown up for an appointment.
After the scandal went public, Dyson said he lost his fiancé and had to quit his graduate nursing program.
Why Did Andrew Gillum Leave Politics?
Before he stopped cooperating with GQ, Gillum admitted he embarrassed his family, including his wife, who has known about his bisexuality for years — but he claimed he was the victim.
"All these images that I am not aware of, that I'm not conscious of, that I didn't give consent to, that I did not participate in… To see what these things have been done around you without your knowledge or consent. And then at that point you start to wonder, 'What all happened? How did I get to this?'" Gillum asked.
However, he admitted, putting himself in the sordid situation with Dyson that evening "was a mistake."
"I'm an adult, and I know that you don't put yourself in certain situations. And I still made choices to put myself in that," he said.
He announced he was stepping away from politics in April 2020.