Addison Rae Addresses Jack Harlow Dating Rumors While Embattled Ex-Boyfriend Bryce Hall Vents On Twitter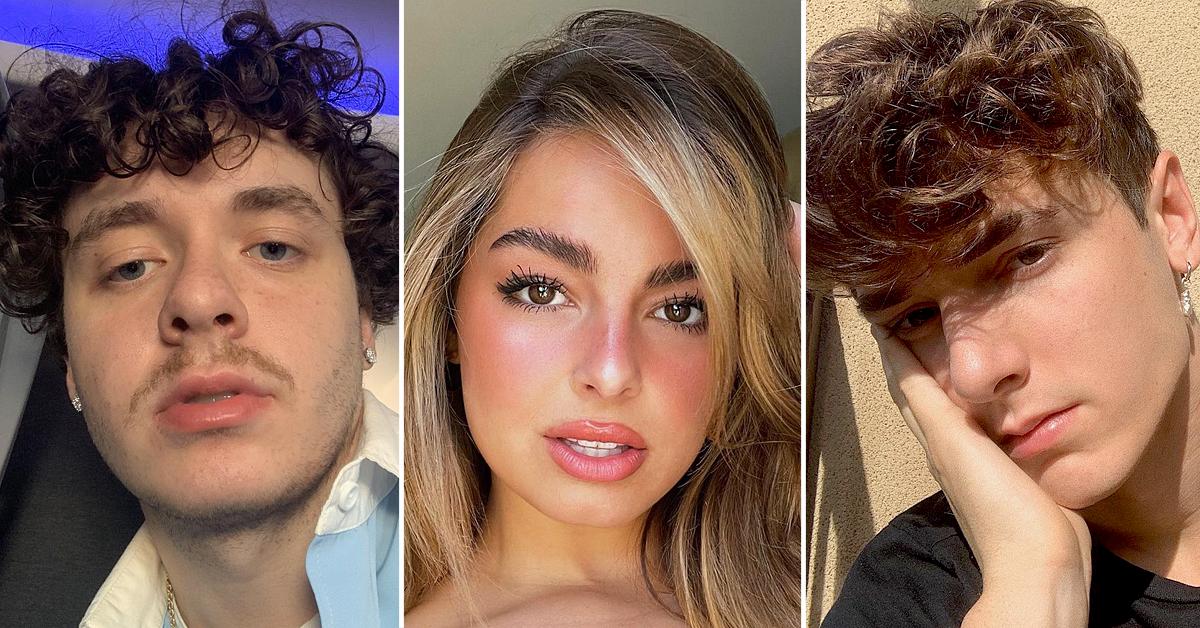 Addison Rae is setting the record straight about her dating life, and her recently embattled ex-boyfriend does not seem to know how to process it all.
Article continues below advertisement
Over the weekend, internet sleuths began speculating that the TikTok dancer-turned-Keeping Up with the Kardashians "friend of" was dating rapper Jack Harlow because the two were spotted attending the Triller Fight Club boxing match in Atlanta.
But Rae wanted her fans to know there was no truth to the rumors.
"I'm single," announced Kourtney Kardashian's 20-year-old best friend. (Is it weird we read this tweet in a nasally, drawn-out monotone voice?)
Article continues below advertisement
Fans were convinced Rae and Harlow were "a thing" after carefully analyzing their respective social media activity during the event. Zooming in on a photo of Jack, one fan claimed that Addison's hand could be seen "on him" and that "she was [with] him the whole time."
"She liked his recent post [in] under a minute and she followed his best friend," the eagle-eyed Instagrammer reported, according to screenshots posted by TikTokRoom.
That same sleuth noted the timing of Bryce's subsequent tweet, which read, "im about to explode man." Less than 20 minutes later, he posted (and then deleted), "downgrade."
But he wasn't done. The 21-year-old influencer went on, "f--king me, telling me u love me then sneaking around w/ someone else... that f--kin hurts."
Article continues below advertisement
Hours later is when Rae proclaimed her relationship status to the world, seemingly prompting the following response from Hall: "i feel like such an idiot."
While Bryce's fans were mostly supportive of his online rollercoaster of emotions, one female critic reminded the TikToker that "YOU BROKE UP WITH HER YOU CANT BE MAD , you were continually toxic towards her and when she finally moves on you wanna cry lol men are so toxic."
Hall and Rae reportedly broke things off last month after five months of dating.
Article continues below advertisement
Perhaps the most mind-boggling thing about all of this is that Hall seems to be more interested in what his ex is doing than in the legal mess in which he currently finds himself.
Hall and his buddies are being sued for assault, battery, intentional infliction of emotional distress. They allegedly attacked a man allegedly based on his ethnicity after a brawl broke out at a Mexican restaurant in Los Angeles last October.
Hernan Fernando – the co-owner of Cinco – alleged in recent court documents that Bryce, his friend, Rory Fitzpatrick, and two other guys came into his restaurant and ordered some drinks. According to Fernando, when the boys started vaping at their table, the bar manager asked them to stop. The guys allegedly disregarded that warning as well as a second one from Hernan himself.
Travis Barker Debuts New 'Kourtney' Kardashian Tattoo, As 'KUWTK' Star Gets Racy On Instagram
That's when Hernan said he instructed his staff to close out Bryce's tab, which apparently escalated the situation. In filing, a server claimed she heard Bryce refer to Hernan as a "wetback" and "the Mexican." Hernan said Bryce also blew vape smoke in his face and that Rory got physical when his employees tried to escort the group toward the exit.
Fernando said he was repeatedly hit by Bryce and Rory, with Bryce even allegedly trying to choke the restaurateur.
While waiting for cops to arrive at the scene, Hall allegedly said to Fernando, "Who the f--k are you? I'm from Bel-Air, and you're just a fat Mexican who works at a restaurant."
Hernan claims he suffered a broken hand and that he was covered in bumps and bruises.